<! MC-1 > <! MP3 02/04/09, 01/06/11 > <! outside 00/00/00 > <! pix 00/00/00 > <! icons 01/06/11 > <! still need to work on Shelagh McDonald, Shane McGowan, Loreena McKennitt > <! updates: 02/04/09 01/06/11 > <! Kevin Mitchell "I Sang That Sweet Refrain" (Greentrax, 1996) B000002408 B001EDN9LY A fine album from the popular Glasgow based Ulster singer. > <! MCDERMOTT'S HANDY - "COME TAKE THE BYROADS" >
---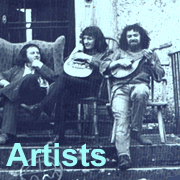 Trad & Folk
Artists and Albums
Hello! This page is part of an opinionated overview of Celtic and British folk music, with record reviews by me, Joe Sixpack... This is not meant to be taken as a "definitive" resource, but rather as a record of some of the music which has caught my interest. I am always looking for more good music to explore, so your comments and suggestions are welcome.
This is the third page covering the letter "M"
---
A | B | C | D | E | F | G | H | I | J | K | L | M-1 / 2 / 3 / 4 | N | O | P | Q | R | S | T | U | V | W | X, Y & Z | Comps | Celtic Music Labels & Links | World Music Index
---
Mick McAuley "An Ocean's Breadth" (Shanachie, 2003)



Solo(ish) stuff from the accordion player in the Solas band. He smooths out the trad sound for a more modern feel, sings on a few tunes, and is joined by bandmates Seamus Egan, Winifred Horan and Eamon McElholm, among others. Overall, I find this a bit cloying and watered-down; not really my cup of tea.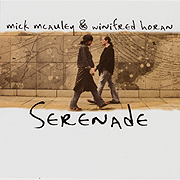 Mick McAuley & Winifred Horan "Serenade" (Compass, 2005)



Solas may have disbanded some time ago, but the popular Irish-American supergroup continues to cast a long shadow on the contemporary Celtic folk scene... Here is about the bazillionth Solas solo/spinoff project, a typically virtuosic collaboration between fiddler Winifred Horan and accordionist/piper/guitarist Mick McAuley. It's a sweet set, mostly instrumental with an oftimes sugary feel and plenty of dazzling musicanship... There's a bit much of the jigs'n'reels, jigs'n'reels repetitiveness to it, although the vocal numbers break things up a bit. I could live without their overly-languid cover of Neil Young's "After The Gold Rush," although McAuley's lovely, soulful performance on "Adieu Sweet Lovely Nancy" is an album highlight. Certainly, if you're a Solas fan to begin with, this disc'll do you no harm. Worth checking out.
The McCalmans - see artist profile
Cathal McConnell & Len Graham "For The Sake Of Old Decency" (Sage Arts, 1993)


Cathal McConnell "Long Expectant Comes At Last" (Compass, 2000)



A solo album from Irish flautist Cathal McConnell, a founding member of the fabled Boys Of The Lough. A charming and sometimes rather daft set of Irish drinking songs and pubstool ballads... Includes a lot of deliciously raunchy material, delivered in an affable old-timer style. McConnell has a slew of great guest artists on this album, including folks such as piper Joanie Madden, Dave Mattacks, Len Graham, Richard (and Linda) Thompson, and that great old American connoissuer of bawdy ballads, Oscar Brand. This is one of those albums that you have to be on the right wavelength for... but if you are, it'll really pay off well!

Alyth McCormack "An Iomall: The Edge" (Compass/Vertical, 2001)



Lovely vocals, although with somewhat overly-saccharine, synthy arrangements. It's too slick for me, but if you enjoy both the softer side of Sinead O'Connor and the rougher side (such as it is) of Enya, as well as the strange, alluring sound of the Celtic language, then this album might be for you.


<! her only album as of 01/11 >

John McCusker "John McCusker" (Temple, 1991)






<! 1995? >

John McCusker "Yella Hoose" (Temple, 2000)


John McCusker & Kate Rusby "Heartlands" (Soundtrack) (Pure, 2003)


A split album, with a collection of previously released vocal numbers highlighting Rusby's angelic voice, along with new instrumental compositions from her then-husband, fiddler John McCusker. Apparently they also perform a couple of numbers onscreen in the film itself, although I'm not sure if those songs are included here.

John McCusker "Goodnight Ginger" (Compass, 2003)



"You can't judge a book..." And, sure enough, although Scottish fiddler McCusker appears on the cover of this album sporting what seems to be a tufted mohawk haircut, this is not the goofy Celtic-pop fusion-fest such a picture might imply. Rather, it's a sweet set of original, inventive instrumental fiddle tunes (and one gorgeous vocal number featuring his ever-lovely partner, Kate Rusby)... A simple, understated album, and one that successfully sheds the sometimes-dour sensibilities of his old group, the Battlefield Band. Recommended!

Shelagh McDonald "Stargazer" (Mooncrest, 1971)


An extraordinarily pretentious and somewhat silly "lost gem" of the early '70s "progressive" English folk-rock scene, featuring lofty (some might even say warbly) Judy Collins-style vocals and dreamy, rolling music that drifts slightly towards Nick Drake terrain, but really bears a much bigger debt to Joni Mitchell. The goofy, stoned-out poetics may be worth a hoot or two for those in a properly derisive mood; more serious scholars of folk-pop may find this disc fascinating, or at least an interesting stepping stone along the way. Not for everyone, to be sure, but a notable missing link.


<! B000UXW47O - MP3 McGinn on v/a "Revival in Britain, v.1" (Folkways, 1961) >

Matt McGinn "The Best Of Matt McGinn, v.1" (Greentrax, 2003)

Matt McGinn "The Best Of Matt McGinn, v.2" (Greentrax, 2003)
This album is a straight reissue of two albums originally reissue on RCA International, featuring the rollicking, novelty-oriented folk-pop of Glasgow's Matt McGinn, who had sort of a skiffle-ish, Irish Rovers-y feel to his work, marked by a trademark bicycle horn tooting cheerfully here and there. The original album titles were Tinny Can On My Tail (1970) and Take Me Back To The Jungle, from 1972. Some of the songs are topical, many are simply absurdist; most of it's lost on me... If I were an older Glaswegian, this might take me down memory lane, but as an outsider looking in, it's kind of one big shoulder shrug.
Michael McGoldrick "Fused" (Compass/Vertical, 2000)


Michael McGoldrick & John McSherry "At First Light" (Compass/Vertical, 2002)


Michael McGoldrick/Various Artists "Tunes" (Compass/Vertical, 2005)



McGoldrick along with Frankie Gavin, Jim Murray and Sharon Shannon.

Michael McGoldrick "Wired" (Compass/Vertical, 2006)



Another solo album from a member of the Scottish folk-pop fusion band, Capercaillie, this time from flautist Michael McGoldrick, who is also a founding member of the Irish band, Lunasa. This is a slick, glossy, unapologetically muzak-y, crossover oriented album, with dips into soft jazz ("Strange Journey") and funky Celt-pop easy listening. McGoldrick is an unquestionably talented player, and this is a fine showcase for his fluid, lyrical playing, but the backing music is quite goopy, so you really have to be in the mood. Capercaillie's Donald Shaw plays keyboards and produces the album; most of the rest of the band appear on one track or another, along with a slew or top talent from the modern Celtic music scene. Worth checking out, if the slick stuff is your scene.
Manus McGuire & Seamus McGuire "Humours Of Lissadell" (Folk Legacy, 1980)

Manus McGuire/Seamus McGuire/Jackie Daly "Buttons & Bows" (Green Linnet, 1984)


Manus McGuire/Seamus McGuire/Daithi Sproule "Carousel" (Gael Linn, 1993)


Manus McGuire "Saffron And Blue" (Green Linnet, 2000)



A nice set of fiddle instrumentals by this County Clare native. Maybe a bit on the smooth side, though then again that might be nice for a change of pace. Not earthshaking, but worth checking out.
Manus McGuire "Fiddlewings" (2006)


Shane McGowan's Popes "Across The Broad Atlantic: Live On Paddy's Day New York-Dublin" (Eagle, 2002)



The world's most loveable, least huggable Irish drunkard plowing through a lively and informal -- if somewhat slurred and incoherent -- set of country/rock/trad tunes, played live before an adoring and doubtless somewhat sloshed audience. There are several trad and traddish tunes, amid the rockin' modern compositions, and it's nice to hear them included, especially in such authentically disheveled renditions. This is McGowan in his element... What a kook! (See also: The Pogues.)
Catriona McKay "Starfish" (Compass, 2008)



(Produced by Catriona McKay)
This set of inventive, modern Celtic instrumentals feature Scottish harpist Catriona McKay, along with guitarist Seamus Egan and others... The music is acoustic based and the instrumentation is traddy, though the approach is pretty jazzy, with unusual phrasing and rhythms... It's not totally my cup of tea, but folks who are looking for music that expands the boundaries of Celtic music will find this both challenging and aesthetically pleasant, sort of the trad equivalent of what David Grisman and his cohorts did for American bluegrass. Definitely worth checking out.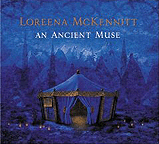 Loreena McKennitt "An Ancient Muse" (Verve, 2006)



Although it's been almost a decade since her last record came out, world-fusion diva Loreena McKennitt picks up the thread where she was last weaving together the strands of Celtic, Iberian and Arabic music. The Celtic skeins seem to be pretty well buried under the slowed-down tribal belly dance melodies, though there's a wee bit o' the islands in there still, alongside all the oud, cymbalom and Middle Eastern percussion. This is lush, ornate, lofty, slightly Gothic, slightly gooey stuff -- reminds me of the later Dead Can Dance albums -- and I'm sure McKennitt's fans will be thrilled.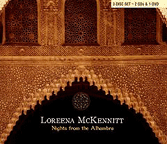 Loreena McKennitt "Nights From The Alhambra" (Verve/Quinlan Road, 2007)


Celtic, Iberian, Arabic, New Age and popular music blend in this lavish, lush concert, showcasing McKennitt's trademark mix of styles as performed at a September, 2006 concert in Spain... Fans will be thrilled at the double-disc album and accompanying DVD that mixes songs from her recent album, An Ancient Muse along with favorite songs from her decades-long career. The video portion was originally broadcast as a PBS television special; this commercial release includes that version as well as an edited cut which omits much of McKennitt's stage patter, and focusses more exclusively on the music. A fine chance for fans to see their diva in action, with her theatricality and gravitas buoyed by a large ensemble of musicians from across the globe.
Susan McKeown "Bones" (Prime CD, 1996)

Susan McKeown & Lindsey Horner "Through The Bitter Frost And Snow" (Prime CD, 1997)



Susan McKeown "Bushes & Briars" (Alula, 1998)


Dublin-born Irish expatriate Susan McKeown is a trailblazer in the more ornate side of Celtic-pop fusion; she's reasonably rootsy, but still goes a little overboard with the synths and multiculti musical arrangements for my personal tastes. Still, she could certainly sound way more Sarah McLaughlin-ed out and drippy. For the territory, this ain't bad. Andy Irvine, Shamus Egan and others pitch in, including some Nordic and East Indian musicians, to bring in a more world music" sound.
Susan McKeown & Lindsey Horner "Mighty Rain" (Depth Of Field, 2000)



Susan McKeown & Johnny Cunningham "Lowlands" (Green Linnet, 2001)



Although I'm not personally impelled to search out world-fusiony Celtic projects, I will say that McKeown is clearly at the top of the form here, producing a sleek set of highly melodic, listenable world music. She mixes in Indian, African and a variety of European styles, all effortlessly woven in, while her clear vocal lines guide each song. I'm not that interested in the mixing of these styles, but for folks who are, this is a mighty fine album.
Susan McKeown & Johnny Cunningham "A Winter Talisman" (Sheila-Na-Gig, 2001)


Susan McKeown "Prophecy" (World Village, 2002)


Susan McKeown "Sweet Liberty" (World Village, 2004)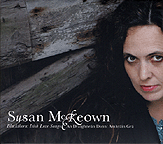 Susan McKeown "Blackthorn: Irish Love Songs (An Draighnean Donn: Amhrain Gra)" (World Village, 2006)



A lovely set of vocal tunes, mostly sung in Gaelic, with McKeown's bright, crystalline voice gliding amid sweet, innovative arrangements. In addition to a rich, tastefully modernized Celtic trad sound, McKeown weaves in melodies and rhythms from the Basque regions. This disc took a couple of listens to grow on me, but once it took hold, it revealed multiple layers of creativity and depth. Most of all, it's a great showcase for her voice, one of her finest albums for pure beauty and emotional power. Worth checking out!
Tony McManus "Tony MacManus" (Greentrax, 1996)


Tony McManus & Tony McManus "Return To Kintail" (Culburnie, 1999)


Tony McManus "Ceol More" (Compass, 2002)



Tony McManus & Alain Genty "Singing Sands" (Compass, 2005)



Instrumental world/soft-jazz duets featuring hotshot Celtic guitarist Tony MacManus and French bassist Alain Genty... This is on the soft side, even a tad goopy, but it's quite listenable and full of motion... Genty has a fondness for Pat Metheny-esque echo, an '80s-ish production technique that some listeners may find off-putting, though overall this is a substantive album, exploring pan-Celtic forms and adding a healthy dose of Balkan and Arabic melodies as well... Not something I necessarily need to revisit, but I did find it quite listenable and lulling... almost even guilty pleasure material. Even if you're averse to easy listening, you might find yourself lulled by this one... And if you do enjoy the softer end of the Celtic folk spectrum, you will love it.

Tony McManus "The Maker's Mark: The Dream Guitar Sessions" (Compass, 2009)



(Produced by Tony McManus)
Delicious, contemplative, gentle guitar instrumentals from this Scottish master musician. McManus gathers music from a variety of sources, mostly Celtic and English folk tunes, but also contemporary material and songs from African and Eastern European sources, all handled with great soulfulness and skill. The album is also a showcase for the guitars that McManus plays, an assortment from some fabled music store in North Carolina (Dream Guitars, no less...) whose individual luthiers are even credited in the liner notes, and the guitars themselves are pictured and described within. If you like mellow acoustic guitar records to chill out to -- old John Renbourn and stuff like that -- then this disc is a doozy. Definitely recommended.
Brian McNeill "Unstrung Hero" (Temple, 1985)


Solo work from the one-time fiddler of Scotland's fabled Battlefield Band.
Brian McNeill "The Busker And The Devil's Only Daughter" (Temple, 1990)


Brian McNeill "The Back O' The North Wind" (Greentrax, 1991)


Brian McNeill & Iain MacKintosh "Stage By Stage" (Greentrax, 1996)


Brian McNeill "No Gods" (Greentrax, 1996)






<! 02/09: several other Brian McNeill albums listed on Amazon > <! Brian McNeill "Monksgate" recorded in 1977, but unreleased until 2002 >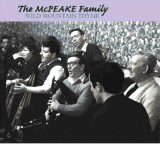 The McPeake Family "Wild Mountain Thyme" (Topic, 2009)



(Produced by Bill Leader)
A wild and unruly set of traditional (and traditional-sounding) folk songs from this venerable Belfast family band. This album is a reissue of their 1962 album for the Topic label, along with a four-song EP that introduced the world to the song "Will Ye Go Lassie Go," which is often thought of as a traditional ballad, but was actually written by the family patriarch Francis McPeake, a uileann pipe player who was well into his seventies when these recordings were made. In the 1950s, the McPeakes played to great acclaim in several folk concerts and large festivals; on this record they presented a wide range of styles and sounds, including lyrical ballads, rough-hewn folk tunes and several songs with rather unusual arrangements. It's a fascinating, invaluable snapshot of the early years of the Irish folk revival, from one of the nation's most influential groups. Recommended!


<! McPeake Family http://www.informatik.uni-hamburg.de/~zierke/folk/records/mcpeakefamily.html ~The McPeake Family "The Rights of Man, Francie (Da) and Francie II, 1952 The McPeake Family "The McPeakes, Prestige, 1960 The McPeake Family "The McPeake Family" (Topic, 1963) The McPeake Family "At Home with the McPeakes, Fontana, 1967 Shoe the Donkey, Francie McPeake with The Clonard, 1989 The McPeake Family "Wild Mountain Thyme" (Topic, 2009) B002MYYOIG B002QKDLOY >

Jacqui McShee/Gerry Conway/Spencer Cozens "About Thyme" (Pinnacle/GJS, 1995)


Yeesh. Well, on the plus side, I'd say that Jacqui McShee -- best known as a pinch-hitter vocalist for later editions of Steeleye Span -- has never sung better or with more consistent grace. On the downside, the soft-pop/soft-jazz affectations of this disc are simply drippy and horrendous, one thin-toned synth wash and soprano sax tootle-toot after another, with guest stars such as Ralph McTell, Albert Lee and John Martyn doing little to energize the proceedings. I'm sure there are Muzak-oriented Brit-folk fans out there who would love this Enya-esque/Capercaillie-ish outing, but I find it almost unbearably bland and even somewhat embarassing. Not my cup of tea.
Jacqui McShee's Pentangle "Passe Avant" (Park, 1999)


Jacqui McShee's Pentangle "At The Little Theatre" (Park, 2000)


Jacqui McShee & John Renbourn "In Concert" (DVD) (Grossmans' Guitar Workshop, 2004)

Jacqui McShee's Pentangle "Feoffees' Lands" (GJS, 2005)

John McSherry & Michael McGoldrick "At First Light" (Compass, 2002)



John McSherry & Donal O'Connor "Tripswitch" (Compass, 2006)



This is a consistently inventive, all-instrumental Celtic set, branching off from the well-trod paths of traditional jigs and reels, but not so far as to alienate old fans or invite cries of "foul" from the anti-crossover contingent. Fans of instrumental trad music will want to check this out... Piper John McSherry and fiddler/keyboardist Donal O'Connor, who work together in the band At First Light, weave East European melodies in with Irish motifs... There are new, intriguing rhythms and start-stop patterns that'll make you sit up and take notice. Pretty nice!
---
Celtic/Brit Folk Albums -- More Letter "M"
---



Main Celtic/Brit Index
Main World Music Index


---