<! MP3 01/06/11 > <! outside 00/00/00 > <! pix 00/00/00 > <! icons 01/06/11 > <! UPDATES: 12/04/14 - added Moving Hearts info, and other "M" adds > <! The Millen Family "Down Yonder Green Lane" (Open Records) pretty obscure - no AM ASIN, still no ASIN 12/2014 http://www.veteran.co.uk/English.htm#Stick "A rare family harmony singing tradition from Kent. Their performances have mainly been for local charity events, seldom overlapping with the world of folk clubs and festivals. Research by George Frampton who compiled the extensive notes and archival photographs" >
---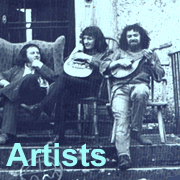 Trad & Folk
Artists and Albums
Hello! This page is part of an opinionated overview of Celtic and British folk music, with record reviews by me, Joe Sixpack... This is not meant to be taken as a "definitive" resource, but rather as a record of some of the music which has caught my interest. I am always looking for more good music to explore, so your comments and suggestions are welcome.
This is the fourth page covering the letter "M"
---
A | B | C | D | E | F | G | H | I | J | K | L | M-1 / 2 / 3 / 4 | N | O | P | Q | R | S | T | U | V | W | X, Y & Z | Comps | Celtic Music Labels & Links | World Music Index
---

Meav "Meav" (Hearts O' Space, 2000)


Soprano vocalist Meav, a featured performer with the group Anuna and the Riverdance ensemble, leads this goopy, lofty set of classical-Celtic crossovers. She has a pretty voice and all, but this is way too saccharine for me. I'll pass.

Mellow Candle "Swaddling Songs" (Deram, 1972)


Fans of vintage Steeleye Span (and likeminded Brit-Celt folk-prog bands) will definitely want to check this one out... A forceful yet fanciful album with undeniable folkie elements, this is also clearly a rock record, with driving electric guitars throughout, guiding the sound every bit as much as the keening female vocals. Hailing from Ireland, Mellow Candle boasted two female singers, Clodogh Simonds (who also played keyboards) and Alison Williams, and their vocals may remind you of Steeleye alumni Maddy Prior and Jacqui McShee: shrill, chaotic, utterly earthy and charismatic. The band's blunderbuss rhythmic approach was in keeping with the psychedelic times, as were the stream-of-consciousness lyrics, and the faint whiff of elves capering about in the forests. They can be fairly pegged as a "prog" band, although to their credit, the non-rock, non-folk influences drew on more straight jazz elements than on classical or baroque pretensions. Although this isn't an album I'm likely to listen to much for purely recreational purposes (it's a bit too difficult for me) it's certainly striking enough to have around to throw into the mix now and then. Plus, it's a bloody landmark and legendary lost gem and all... So one must have it around, right?
Mellow Candle "The Virgin Prophet -- Unreleased Sessions: 1969-1970" (Kissing Spell, 2004)





<! Paul Metsers "Caution To The Wind" (Highway, 1981) Paul Metsers "Momentum" (Highway, 1982) (LP) B00IF3S4Z2 Paul Metsers "In The Hurricane's Eye" (Sagram, 1984) (LP) B00Q5223Q6 Paul Metsers "Pacific Pilgrim" (Sagram, 1985) (LP) B00OJ98ZQ4 >

Dick Miles "Cheating The Tide" (Greenwich Village, 1984)



<! Dick Miles has been singing at Folk Festivals, Folk Clubs and Maritime Festivals, for thirty two years. His special love is traditional song and the concertina. He has recorded 4 cd's and 5 lp's, one of them, "Cheating The Tide", features excellent guitar playing from Martin Carthy. He also has written two concertina tutors, one on song accompaniment, and one book of self penned songs (The Sailors Dream), available from his website. Musicians: Dick Miles: vocals, concertina, baritone concertina Martin Carthy: guitar Sue Miles: bass clarinet, clarinet, chorus Sam Richards: piano, harmonica, whistle, chorus Tish Stubbs: vocals, guitar, chorus Stephen Cassidy: recorder, bass recorder, bass crumhorn Jenny Critchley: tenor crumhorn no ASIN - 12/2014 >

Dick Miles "On My Little Concertina" (Brewhouse, 1989) (LP)


Milladoiro "Castrellum Honesti: Celtic Music From Spain" (Green Linnet, 1991)


Erm. This set of Celtic music from Galicia presents an intriguing historical and ethnomusicological case study, but this particular album is a bit offputting. I mean, yeah, it's interesting that this musical tradition arose in an area of Spain (partly because Galicia was a cultural crossroads during the Middle Ages) but the music within is terribly overwrought, and sounds quite a lot like bad soundtrack music; also, the sound mix is quite shrill and unpleasant. The musicianship can't be faulted, but the production values and arrangements are a bit iffy.

Milladoiro "As Fadas De Estrano Nome" (Green Linnet, 1997)


A somewhat prim concert recording by these Galician Celts; apparently there is a longer version of this set which came out in Spain, and which includes several more boisterous tracks. This set has a fairly formal, folkloric feel to it (and not enough vocals, for my tastes...) though the Argentine audience in Buenos Aires seemed to love them nonetheless. Impressive technically, but the overall feel is a bit static and monotonous. It's not bad, just not my preferred style of trad.

Milladoiro "Agua De Maio" (Green Linnet, 2000)


A lovely, (almost) all-instrumental album, moving effortlessly from Arabic-flavored themes to elegant Iberian-Celtic crossovers. While many sets of similar material can be monotonous or grating over the course of an entire album, Milladoiro have a knack for making it all sound fresh. There's a textural richness to the production that softens the sound, and the mix of bagpipes and flute, along with harp and other instruments, is very warm and well balanced. It's sugary sounding, but nice, and very engaging. Worth checking out; these folks are certainly at the top of their game.


<! 01/11: thirteen albums(!) on AM MP3 list - though none of these ones... :-) >

Mr. Fox "Mr. Fox" (Transatlantic, 1970)


Mr. Fox "The Gipsy" (Transatlantic, 1971)


There's a bit of an elves-in-the-woods flavor to these old albums by an obscure hippie-era folk-fusion band that hailed from Yorshire, England. Bob and Carole Pegg wrote original tunes based on traditional regional melodies, with an emphasis on local fiddling styles, as well as story-songs that have a disarmingly authentic air about them. The music is only slightly sprawling and ramshackle; overall, it's quite appealling and nice to see these two rare recorded reissued on a single CD. (Apparently, though, one song has been omitted in order to cram all the rest of the music on, much to the dismay of hardcore fans...) Trad fans should enjoy this unusual set of tunes, which have a shaggy wildness to them similar to the best work by Yorkshire's other great group, the Watersons.

Mick Moloney/Robbie O'Connell/Jimmy Keane "Kilkelly" (Green Linnet, 1988)



A robust record featuring the guitar and vocals of O'Connell and Maloney, and the accordion work of Keane. This disc features the trio on several zippy instrumental numbers and a sweet song or two, but its centerpiece is the 22-minute long "operetta" medley, "Green Fields Of America," which strings together over a dozen songs associated with the Irish migration to the New World. The medley foreshadows Moloney's extensive scholarly work on the subject, and has all the good humor of his later recordings of many of these same songs. A nice, strong set... recommended!

Mick Moloney/Eugene O'Donnell/Seamus Egan "3 Way Street" (Green Linnet, 1993)



A fairly low-key collaboration between flautist Seamus Egan, songcatcher Mick Moloney and fiddler Eugene O'Donnell. Moloney sings a few jocular old ditties, while the rest of the album is taken up with brisk, energetic (though slightly brittle) instrumentals. This record didn't reach in and touch my heart, but the performances are uniformly solid and the instrumental work is pretty compelling... Worth checking out.

Mick Moloney "Far From The Shamrock Shore" (Shanachie, 2002)



There are plenty of albums that explore the Irish-American diaspora, but this is certainly one of the best that I've ever heard. This disc recalls the various political feuds, famines and failed rebellions that led half the Irish nation to come to American shores, and goes on to describe their reception in the hallowed land of the free. "No Irish Need Apply" and "Paddy On The Railway" deal with labor issues faced by a new immigrant group inching its way into the economic mainstream; on songs like the Civil War-era "Irish Volunteers" the ferocity with which the Fenians attached themselves to the egalitarian republicanism of the New World is almost shocking in its propagandistic fervor. There are also love songs and tall tales, all rendered in a sparse, impassioned style that is quite effective at telling each tale. Great record -- well worth checking out. (By the way, this is the companion disc to Moloney's book by the same title, and authoritative account of this history in music.)

Paddy Moloney & Sean Potts "Tin Whistles" (Claddagh/Atlantic, 1973)


There may be newer, younger performers such as Joanie Madden who have brought greater nuance to the humble Irish tin whistle, but few who can match the skill and dexterity of these two old timers. This is a captivating album from the early '70s, when bands such as Planxty were just beginning to bring the Celtic folk revival home. Sprightly, traditionalist instrumentals, with a nice variety to them that's untypical of many contemporary Irish recordings.
Matt Molloy/Various Artists "Music At Matt Molloy's" (Real World, 1992)



Piper Matt Molloy, a veteran of the Chieftains and numerous other bands, sets up the pints and lets loose on the pipes, in this vibrant live set, recorded at his very own pub in County Mayo, Ireland. This is a nice, no-nonsense set with Arty McGlynn (of the band Patrick Street) and Molloy the only two celebrities... the rest of the players are just talented locals! Well, now I know where I'll be stopping for a beer when I'm out on the West Coast and had my fill of Galway... Nice stuff... recommended!
The Mollys "Hat Trick" (Apolkalips Now, 1997)



(Produced by The Mollys)
This Tucson, Arizona band cannily mixes Celtic and indie/alt/Americana influences, with accordion, tin whistles, snare drums and mandolin in support of a rough-hewn acoustic rock sensibility. The raspy female vox by lead singers Nancy McCallion and Catherine Zavala remind me of old-timers such as Concrete Blonde's Johnette Napolitano, or Maria McKee, with musical accompaniment that's fluid and wildly diverse. Deftly shifting from Irish reels to Cajun waltzes and polkadelic Tex-Mex ranchero rhythms, the band crosses a lot of borders -- the only time I felt pulled out of the album was on straight-up Celt/Brit tracks, such as their cover of "All Around My Hat," which aims for a Pogues-ish punkiness, but falls a little flat. Overall, though, this is an energetic, enthusuastic album, and definitely worth a spin for musical eclecti-holics. Highlights include "Long Is The Dark" and the honkytonk weeper, "Came For A Dance."




Monroe "Folk Weave" (Polydor, 1974)
An early album from the Irish folk renaissance of the early 1970s, featuring singer-songwriter Mick Hanly and guitarist Michael O'Domhnaill (who later went on to be a founding member of The Bothy Band). I haven't heard this album yet, but I hope to someday soon... Anybody got a copy?


<! 12/2014 - still no ASIN >


Christy Moore - see artist profile




Ann Moray "Presents Gaelic Songs And Legends" (Spoken Arts, 1959) (LP)





<! - also B00Q7D7SAY - LP >

Pan Morigan (with Frank McCourt & Roma Downey) "CASTLES OF GOLD: SONGS AND STORIES OF IRISH IMMIGRATION" (Green Linnet, 2002)



A 2-CD set, with one disc of recitations and tales by writers Downey and McCourt, and a second disc of songs, delivered in a somewhat flowery, over-stuffed style by Pan Morigan. This isn't the first album that's explored these themes, and were it not for the spoken word, I wouldn't consider this one too noteworthy... For other, more lively albums dealing with the Irish diaspora you might try Mick Moloney's Far From The Shamrock Shore or Celtic Thunder's Hard New York Days. This one I thought was kind of a snoozer.
Morrigan "By Land Or By Sea" (Smithsonian Folkways, 1980)


The Morrigan "Spirit Of The Soup" (Morrigan Music, 1988)





<! - same band as the one on Smithsonian Folkways? - >

Moving Hearts "Moving Hearts" (WEA, 1981)

Moving Hearts "The Dark End Of The Street" (WEA, 1982)

Moving Hearts "The Storm" (Tara, 1985)


Celtic/soft pop crossover stuff. Fine musicianship, but pretty wimpy, drippy production. The use of synthesizers is unfortunate, as is the electric bass and pop-style drum set. Everything else winds up falling into the tone set by those instruments: Davy Spillane's fine piping is a musical highlight, but don't look to Donal Lunny to save the day -- he's the one playing the synths. Then, add the (ugh) soprano saxophone, and it's really "game over" on this one.
Moving Hearts "Live Hearts" (WEA, 1986) (recorded 1983)

Moving Hearts "Live In Dublin" (Alliance, 2008)


Moving Hearts "The Platinum Collection" (WEA-Rhino, 2007)

Moving Hearts "Donal Lunny's Definitive Moving Hearts" (Warner, 2008)





<! Moving Hearts "Moving Hearts" (WEA, 1981) B000024Q7P Moving Hearts "The Dark End Of The Street" (WEA, 1982) B000024Q7Q Moving Hearts "The Storm" (Tara, 1985) B000006NYG Moving Hearts "Live Hearts" (WEA, 1986) (recorded 1983) B000024Q9E Moving Hearts "Live In Dublin" (Alliance, 2008) B0018OAOZS B001D4RHT4 Moving Hearts "The Platinum Collection" (WEA-Rhino, 2007) B000MV91SO Moving Hearts "Donal Lunny's Definitive..." (Warner, 2007) B0002ADX3O http://en.wikipedia.org/wiki/Moving_Hearts >
Mozaik "Live From The Powerhouse" (Compass, 2004)



Irish folk veterans Andy Irvine and Donal Lunny collaborate with American old-timey phenom Bruce Molsky, as well as Dutch guitarist Rens Van Der Zalm and Nikola Parov, of Hungary. All five are virtuoso multi-intrumentalists, well versed in many styles of music beyond their primary field of expertise. Irvine, who has long been enamored of Eastern European music, is the group's guiding force, and for the first part of this album, they work through a Celtic-flavored set that seems like familiar territory. Then, as the Balkan and gypsy influences come into play, including some remarkable cross-cultural medleys, the unique capabilities of this super-talented quintet become more apparent. This is a fine set of lively, soulful, acoustic world folk, vigorous and and unadulterated by any of the saccharine touches that many modern folkies use to "soften" the rough spots of their intercultural fusions. No need for that here -- these guys are so powerfully skilled that they can zip from one style to the next without batting an eye. It's a tour de force performance -- definitely worth checking out.

Mozaik "Changing Trains" (Compass, 2008)



I'm pretty sure that when the dust settles, this dazzling, pan-Euro-Celtic tour-de-force will still be on the top of my list for 2008. It's a stunning showcase for the combined talents of Irish folk legends Andy Irvine and Donal Lunny, along with American old-timey icon Bruce Molsky, Hungarian flautist/multi-instrumentalist Nikola Parov and Dutch guitarist Rens van der Zalm. Where previous Mozaik releases were more experimental, this one tilts firmly towards a traditional sound, which makes it catnip for my ears. Yours, too, I'll bet. The set opens with with "O'Donoghue's," a tribute to the early 1960s folk club where Andy Irvine found his calling and formed his first trad band, Sweeney's Men. The song tells the tale of Sweeneys, but also of the many other performers, patrons and assorted characters involved with the pub... The sound is classic Irvine (his voice is as fine as ever) and the topic is completely fascinating. Several other Irish-trad songs follow in a similar vein, bracketed by equally soulful, lively instrumentals and a few American hillbilly songs, courtesy of Mr. Molsky. The Appalachian standard, "Reuben's Train," gets a musical update -- with Celtic and Slavic motifs skillfully woven in -- and reemerges as "Reuben's Transatlantic Express," while fiddle tunes like "Sail Away Ladies" also get lively readings. The Balkan and Slavic elements leap out at you, but they are used sparingly and rarely dominate... Irvine's interest in East European music goes back a long, long way, but even longtime fans may be surprised by how smoothly he's integrated it into his Celtic repertoire -- no big deal is made about it, it's just another part of his considerable sonic palette. All five musicians are working in perfect synch here. clearly enjoying each other's wealth of knowledge and the ability to slide their different styles together. This disc's a gem, especially for fans of pure, old-fashioned trad: this album may be pushing the music in new directions, but it still has a classic sound. Highly recommended!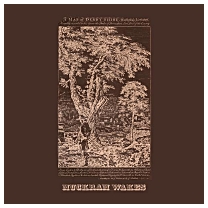 Muckram Wakes "Map Of Derbyshire" (Trailer, 1973)
(Produced by Bill Leader)
Delightful, stripped down English folk-trad and country dances, showcasing the traditional music of Derbyshire. The trio of John Tams, Roger and Helen Watson formed the core of this band, each playing a variety of instruments, notably harmonium and concertina, with additional fiddle and banjo from Philip Langham and guitar by Graham Cooper. The music is marvelous, a strong repertoire of songs and styles identified with Derby and Derbyshire, delivered soulfully and subtly with the male voices generally taking the lead, and Helen Watson (nee Wainwright) providing solid, retrained harmonies. Previously the trio had backed Roy Harris on his 1971 album, The Bitter And The Sweet, and emerge here as a potent group in their own right.
Muckram Wakes "Muckram Wakes" (Trailer, 1976) (LP)







Muckram Wakes "Warbles, Jangles & Reeds" (Highway, 1980)



<! also on: The Pick & the Maltshovel (contributed) (Traditional Sound Recordings) > <! Muckram Wakes was a folk band from the north-west midlands of England. The original line up of Muckram Wakes was Roger and Helen Watson and John Tams. Their album Map of Derbyshire, on Trailer Records, contributed greatly to the promotion of folk music from that county. The name Muckram Wakes derived from a small township in the region of Somercotes where Tams originated and Wakes, the local and northern word for a fair or holiday. When John Tams left the band he was replaced by John and Suzie Adams. The exact date of the invitation to join was November 14 1973, when all four went into the Derbyshire hills on a day out to escape the Royal Wedding of that day. Within 2 years, Muckram Wakes were a full time professional outfit, touring Britain and Europe, appearing at folk clubs, concerts and festivals plus radio and bits of TV. This line up of Muckram Wakes also constituted half of The New Victory Band, a seminal English folk concert & dance band. In the early 1980s, following the departure of Roger and Helen Watson, the band continued for a short while with John and Suzie Adams joined by Keith Kendrick, Barry Coope and ultimately Ian Carter, all members of the Ram's Bottom Band. Barry Coope eventually joined the circle by working in duo with John Tams. > <! David Munrow "Two Renaissance Dance Bands" (EMI, 1971) (LP) B004C3GS4S - early music? not folk >

Phil, John & Pip Murphy "The Trip To Cullenstown" (Claddagh)





<! Wexford family showing how the humble mouthorgan can cope with the complexities of Irish music. This album is a revelation! >

---
More Celtic/Brit Folk Albums -- Letter "N"
---



Main Celtic/Brit Index
Main World Music Index


---