<! MP3 01/09/09, 01/07/11 > <! outside 00/00/00 > <! pix 01/07/11 > <! icons 01/07/11 > <! updates: 01/09/09 01/07/11 - created Martin Simpson and Silly Wizard pages; both still need bios > <! "Silver Birch" (Brayford, 1973) (LP) B004ER38M2 This is one of the most highly sought after original UK folk private presses and extremely hard to find. This lovely 6 piece of traditional covers and self composed tracks with gentle honest harmonies was created by a group from Grimsby (originally known as the Forestry Commission) comprising Martin Bartlett (vocals , fiddle ), Jayne Clark ( vocals , harmonium ), Geoff Liles ( vocals , harmonium , mandolin , autoharp , guitar , bells ), Derek Rushmer ( vocals , guitar , autoharp , recorder , bells ), Angie Seal ( vocals , tambourine bells ), Dave Woods ( vocals , autoharp , guitar , bells , recorders ) and who produced this sole album. ItŐs one of those records which is a treasure to own, the history and impossible nature of itŐs survival. This copy is very strong, it plays with occasional light noise in quieter moments but nothing compromising, looks real clean, has a great private label and cover is real nice. Strictly graded.Ttrack listing : side 1 - ushers well, come by the hills, daddy fox, crazy man Michael, dance tunes, flower and young man, bells. side 2 - lord franklin, lyke wake dirge, wild flying dove, bold reynold, orange, balloon, trees, glimpse of heaven. > <! Tom Shepley's Band "How Do You Do?" (Tradition, 1978) Scottish and north of England folk songs played on cittern, piano, harmonium, fiddle, flute etc. Musicians include: Jamie Knowles; Pat Knowles; Nan Trench; Martin Colledge; with guests: Nick Denneley; Ian Stewart. > <! Alan Stivell >
---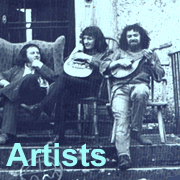 Trad & Folk
Artists and Albums
Hello! This page is part of an opinionated overview of Celtic and British folk music, with record reviews by me, Joe Sixpack... This is not meant to be taken as a "definitive" resource, but rather as a record of some of the music which has caught my interest. I am always looking for more good music to explore, so your comments and suggestions are welcome.
This is the second page covering the letter "S"
---
A | B | C | D | E | F | G | H | I | J | K | L | M | N | O | P | Q | R | S / S-2 / S-3 | T | U | V | W | X, Y & Z | Comps | Celtic Music Labels & Links | World Music Index
---
Sileas "Beating Harps" (Green Linnet, 1987)



Sileas "Play On Light" (Green Linnet, 1999)



The Scottish duo of Mary MacMaster and Patsy Seddon, who have also played in the Poozies and Clan Alba. I must confess, I'm not overly fond of the Celtic harp... it's one of those instruments, like the soprano sax, that lends itself to just one kind of musical experience, and is very difficult to place inside a new context, so that you can hear something new in the instrument itself. To their credit, while Sileas are drenched in the sugary confines of the harp, their vocal work -- two female voices singing harmony in Celtic -- do help in this regard. This is still too goopy for me, but there is a depth and a pleasant feel to this music that certainly makes this disc worth checking out.


<! 1996 on Greentrax? >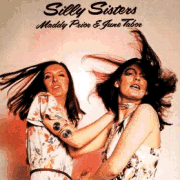 Silly Sisters "Silly Sisters" (Shanachie, 1976)



What a wonderful record. One of the greatest '70s trad albums... Maddy Prior and June Tabor's voices and musical sensibilities are a perfect match, and the material they chose is also a delight. The elusive English traditionalist Nic Jones plays fiddle or guitar on most of these tracks. (Followed up by the 1988 album, No More To The Dance... HIGHLY RECOMMENDED.

Silly Sisters "No More To The Dance" (Shanachie, 1988)



A nice follow-up to their first legendary pairing, although this time around the music is a bit glossier and less strictly trad. A couple of songs go over the line for my personal sensibilities (into "new age-y" territory) but these tunes are definitely the exception. On the whole, a lovely album. Includes a fine version of Colm Sands' delightful cautionary tale, "Almost Every Circumstance"... Worth checking out.
Silly Wizard - see artist profile
Martin Simpson - see artist profile

Sin'e "Deep Water Dropoff" (BMG-Wicklow, 1999)


Yikes. Pretty tacky, jazz-tinged, world-beat-y crossover material, with undulating, amorphous soundbeds, ostentatious use of congas (and what sound like tablas) and many an irritating key change and production touch. Plus, the bovine, Gothish vocals of singer Taz Alexander give me a sweet pain: she has a terrible voice. Besides all the horrid aesthetic choices, this band also seems to have little natural flow, their performances sound rigid and unrelaxed... That may be because so much of it is a studio creation: the meter is kept all-too perfect, and the fiddling, etc. is just one more tightly contained element in a stiffly constructed, high-tech musical morass. Trust me: this is a horrible, horrible album, one that you are well-advised to stay away from. I feel like I need to flush my ears out now. Yuck.
Sin'e "It's About Time" (Rhian, 1999)

---
Celtic/Brit Folk Albums -- More Letter "S"
---



Main Celtic/Brit Index
Main World Music Index


---