<! MP3 01/09/09, 01/07/11 > <! outside 00/00/00 > <! pix 00/00/00 > <! icons 01/04/11 > <! updates: 01/09/09 01/07/11 - several bio pages ready to go - Stockton's Wing, etc > <! Stonefield Tramp "Full Circle" - reissued on vinyl > < The Stewarts Of Blair "Traditional Ballads, Songs And Pipe Music" (Topic, xxxxx) (LP) B00OKQ4V9G The Stewarts Of Blair "The Stewarts Of Blair" (Lismor, xxxxx) B008UB7RBQ - MP3 - only three women pictured on cover - 1987(??) The Stewarts Of Blair "Alex, Belle, Cathie And Sheila Stewart" (Topic/Ossian) B000FTHQGC The famous travelling family who have made a major contribution to the collection of folk music in Scotland. Originally released on Topic. > <! Belle Stewart "Queen Among The Heather" (Topic, 1977) B0000252CJ B0037BFH5W The head of the legendary Blairgowrie family. > <! Sprangeen "Sprangeen" (Springthyme Records, 1984) (LP) B007P3WYYA is a band of seven women musicians based in Edinburgh, Scotland. They play a wide range of Scottish traditional roots music including Gaelic waulking songs, border fiddle tunes, Highland pipe music and traditional songs. > <! Margaret Stewart "Fhuir Mi Pog" (Greentrax, 1998) B0000062AI B003B7T5T6 Songs from Lewis in the Outer Hebrides mostly accompanied by piper Allan McDonald. > <! Sheila Stewart "From The Heart Of The Tradition" (Topic) B00004TYQA B000QZUMES The first album from one of Scotland's best singers. > <! Jasper Smith/The Smith Family "The Travelling Songster: An Anthology From Gypsy Singers" (Topic, 1977) (LP) B00EO7IV2E An anthology of English gypsy folk songs sung by Jasper Smith, Levy Smith, Minty Smith and Phoebe Smith > <! Davie Stewart "Go On Sing Another Song" (Rounder) Davie Stewart "Davie Stewart" (Greentrax) The famed travelling street singer in all his glory, singing with his unique melodeon accompaniment. > <! John Strachan "Songs From Aberdeenshire" (Rounder, 2002) B00005V468 B0056D6Z6O Born in 1875 he farmed most of his life and had a fine repertoire of songs all delivered in his inimitable Doric fashion. Part of the ALan Lomax collection > <! Willie Scott "The Shepherd's Song" (Topic, 1968) B0000252CH B002SIJ15W The classic album of the great Border singer available again. > <! Swan Arcade "Swan Arcade" (Trailer, 1972) (LP) B002VAV1J6 Swan Arcade "Together Forever" (Fellside, 1983) (LP) B004ER4XMG Renowned for their potent a capella vocals and intricate close harmonies, Swan Arcade was a leading light of the British folk revival, drawing upon gospel, blues, and pop music traditions to create a unique bridge between past and present. Swan Arcade was led by Yorkshire native Dave Brady, who began singing traditional folk songs in local pubs while still in his teens. After losing an arm in a motorcycle accident at age 19, he was forced to abandon the guitar but was still able to play the concertina. At a Leeds folk club Brady met his future wife, Heather, and together they began performing as a duo. With the 1970 addition of bass Jim Boyes, the couple launched Swan Arcade, taking the name from a Bradford-area shopping district recently demolished per the order of city officials. Considered direct descendants of the unaccompanied close-harmony approach of mid-'60s acts like the Young Tradition and the Watersons, Swan Arcade nevertheless presented an eccentric and confrontational interpretation of folk traditions, including in their repertoire such rock & roll hits as the Beatles' "Paperback Writer" and the Kinks' "Lola" alongside more conventional protest anthems. Upon signing to the Trailer label, Swan Arcade issued their self-titled debut LP in 1971. Despite critical acclaim the record fared poorly, and when relocation forced Boyes to resign, the group's continued future looked dim. Instead, former Young Tradition bass Royston Wood agreed to assume Boyes' position, exiting a year later to make way for Brian Miller. Despite the admiration of the influential BBC Radio DJ John Peel, who played Swan Arcade regularly and hosted three live broadcast sessions, their sophomore album, Matchless, was not released until 1976, by which time Boyes had returned to active duty. The trio split two years later. The Bradys next relocated to the Seascale area, opening their own hotel. While Heather oversaw kitchen duties, Dave served as maĒtre d', often adopting a different costume for each successive course of dinner and regaling guests with folk songs after dessert. At this time Brady also emerged as a leading opponent of nuclear energy, and for a time served as the electoral agent for the Carlisle faction of the Labour party. Swan Arcade reunited in 1983, releasing Together Forever to critical favor and commercial shrugs. The trio nevertheless remained a fixture of the folk festival circuit, and during an August 1986 appearance at Whitby Folk Week teamed with members of the Watersons as the Boggle Hole Chorale, delivering an impromptu charity performance for a local school. The gig proved such a success that in 1987 the Bradys and Boyes agreed to revisit the experience, teaming with the Watersons and Martin Carthy to form the folk revival supergroup Blue Murder. However, upon releasing the LP Diving for Pearls later that year, Swan Arcade dissolved for good, and as the Bradys began channeling more of their time and energy into politics, they did not contribute to subsequent Blue Murder performances and recordings. Dave Brady also worked as transport manager for the Scottish Chamber Orchestra, a position he maintained for close to two decades; he also returned to singing with Mr. McFall's Chamber, an experimental cabaret project led by SCO violinist Robert McFall. The Bradys ended their marriage in 1998. Shortly after retiring from the SCO, Brady died of a chest infection in London on May 29, 2006. ~ Jason Ankeny, All Music Guide > <! Mick Softley "Any Mother Doesn't Grumble" 1972 - folk-rock? produced by tony cox - no ASIN, but several other albums > <! The Songwainers "The Songwainers" (Argo, 1971) > <! Spriguns Of Tolgus "Rowdy Dowdy Day" (1974) Spriguns Of Tolgus "xxxxxxxxxxxxxxxx" (xxxxxx) Spriguns "xxxxxxxxxxxxxxxx" (xxxxxx) Spriguns "xxxxxxxxxxxxxxxx" (xxxxxx) Spriguns "xxxxxxxxxxxxxxxx" (xxxxxx) Spriguns "xxxxxxxxxxxxxxxx" (xxxxxx) Spriguns "xxxxxxxxxxxxxxxx" (xxxxxx) Spriguns "xxxxxxxxxxxxxxxx" (xxxxxx) Spriguns "xxxxxxxxxxxxxxxx" (xxxxxx) > <! Dave Swarbrick & Friends "The Ceilidh Album" 1978 Dave Swarbrick, fiddle; Beryl Marriott, piano; Roger Marriott, melodeon; Alan Robertson, piano, accordion Simon Nicol, acoustic guitar, bass; Dave Pegg, bass; Bruce Rowland, drums, tambourine > <! Dave Swarbrick & Simon Nicol "Live At The White Bear" (White Bear Records, 1981) Recorded in Yorkshire... After Fairport Convention "split up" in 1979 (later to re-form of course), the individual members went their separate ways. Dave Pegg went straight into Jethro Tull, Simon Nicol re-joined the Albion Band as well becoming a regular part of Richard & Linda Thompson's band, and Dave Swarbrick decided to retire to a cottage in Scotland. At least that was the plan.... But only a year or so later, amongst the occasional Fairport re-union gigs, Simon & Swarb decided to join forces and tour the folk clubs as an acoustic duo. Swarb was an old hand at this after his highly acclaimed work with Martin Carthy a decade previously and the new combination was to prove just as effective. The duo spent the next five years playing hundreds of gigs throughout the UK and the USA and went down a storm everywhere they played. In the process they recorded three albums - 1982's 'In The Club', a limited issue tape sold at the club gigs (& now reissued, extended & available from us); later that year the live album 'Live At The White Bear', and in 1984 a studio album 'Close To The Wind'. >
---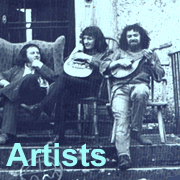 Trad & Folk
Artists and Albums
Hello! This page is part of an opinionated overview of Celtic and British folk music, with record reviews by me, Joe Sixpack... This is not meant to be taken as a "definitive" resource, but rather as a record of some of the music which has caught my interest. I am always looking for more good music to explore, so your comments and suggestions are welcome.
This is the second page covering the letter "S"
---
A | B | C | D | E | F | G | H | I | J | K | L | M | N | O | P | Q | R | S / S-2 / S-3 | T | U | V | W | X, Y & Z | Comps | Celtic Music Labels & Links | World Music Index
---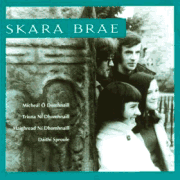 Skara Brae "Skara Brae" (Gael-Linn, 1971)



The lone album by this charming (and high-powered!) Irish folk group, which featured three musical siblings -- Maighread Ni Dhomhnaill, Mícheal O Domhnaill and Triona -- along with guitarist Daithi Sproule. All four musicians went on to become pillars of the Celtic music scene: Michael and Triona co-founded the Bothy Band (and several later groups as well), Maighread sang with Triona and on several solo albums, and Daithi Sproule helped anchor the Altan band in the 1980s and '90s. On this early album, the college-age group sang all in Gaelic, performing with gusto and youthfulness -- the performances are a little uneven and rough-hewn, but the raw power of the artists is clear, and the repertoire is a delight. An important early touchstone for the Gaelic trad scene, and a lovely album still... Definitely worth a spin!

James Scott Skinner "The Strathspey King" (Topic, 1975/Temple, 2002)



An impressive archival set of turn-of-the-Century fiddle tunes by Scottish composer James Scott Skinner (1843-1927), whose professional career began in the 1860s (!) and spanned through the early years of the vinyl record industry. Skinner was a volatile figure and prolific composer who mixed classical elements with traditional Scottish motifs (much to the dismay of some folk purists of the time...) He was also a dazzling bowsman who specialzed in "Strathspey" tunes (the nature of which is not well explained in the CD liner notes...) and who recorded both on early vinyl discs and pre-vinyl cylinder discs (which is where these records come from...) This is an interesting record, both for its historical and musical qualities... It's very squeaky stuff, but all you fiddle fans out there will probably want to check it out; many Celtic artists still delve into Skinner's repertoire, notably Aly Bain, and if you bend the bow yourself, you'll doubtless be wowed by Skinner's dexterity and unusual, fluid phrasing. Worth checking out!
Skylark "Skylark" (Claddagh, 1987)


Skylark "All Of It" (Green Linnet, 1989)


Singer Len Graham and fiddler Gerry O'Connor form the backbone of this fine acoustic ensemble. O'Connor's unusual fiddling style, which leaves quite a few of the gaps and gallops of the old-fashioned rural styles intact, gives this album a distinctive stamp, as do Graham's soulful, understated vocals. A nice, highly listenable record, from beginning to end... Great source material, beautiful renditions. Recommended!
Skylark "Light And Shade" (Claddagh, 1994)

Skylark "Raining Bicycles" (Claddagh, 1996)

Smithfield Fair "Scotland Owns Me" (Stevenson Productions, 2001)



Smithfield Fair "Jacobites By Name" (Centaur, 2002)


A surprisingly strong, independently released American folk album, waving high the banner of Scottish folk-trad, in a charmingly amateurish, Ren Fair-y kinda way. I suppose we Yanks, when revisiting the music of the Old Country, can feel free to stay more "true" to the old sounds than folks who still actually live there. There's better trad out there, to be sure, but these folks certainly are enthusiastic and into what they're doing, and they exude a sincere sense of enjoyment... which counts for a lot, as far as I'm concerned.
Smithfield Fair "Burns Night Out!" (Stevenson Productions, 2002)



Scottish poet-icon Robert Burns gets the full works and, as with their other albums, this is a pretty perky, heartfelt affair. Not dazzling, but energetic and fairly fun.
Smithfield Fair "20 For 20" (Stevenson Productions, 2006)



Smoke Fairies "Through Low Light & Trees" (Year Seven Records, 2011)



A weird, magical album... Although this is mostly a rock record, this gauzy, mysterious mix has obvious nods to lofty English trad artists such as Shirley & Dolly Collins in the '60s, and the Unthanks, more recently. Mixed in is a strong dose of hypnotic rock, with droning repetitions that bring Stereolab to mind, as well as their krautrock and prog-rock forebears such as Can and Brian Auger. It's an alluring album - my conscious, critical mind would say, oh, this is too pretentious, but my ears and my heart would keep listening, and every time the album played from end to end, I enjoyed it a lot. If you like weird, wonderful indie-freak folk hybrids, then this album is for you!
Solas "Solas" (Shanachie, 1996)


Solas "Sunny Spells And Scattered Showers" (Shanachie, 1997)


Solas "The Words That Remain" (Shanachie, 1998)



Solas "The Hour Before Dawn" (Shanachie, 2000)



Modern, traddish Celtic pop, with an overall smoothness and proclivity towards egregious key changes and chord modulations that, well, doesn't do much for me. Deirdre Scanlan replaces Karan Casey as the band's lead singer, and while she's okay, she doesn't have that little incandescent ooompf that makes the best singers so great. Like the band itself, she has a youthful, modern feel about her, which undercuts their connection to Celtic music's deepest roots. While I am aware that these guys were the biggest thing in Celtic music, they just feel too blithe and callow for me; I understand where their mainstream appeal derives, but I just can't feel much excitement about their records.
Solas "The Edge Of Silence" (Shanachie, 2002)



Solas "Another Day" (Shanachie, 2003)



Opening with an exuberance and assertiveness that should attract pretty much anyone's ear, this is a simply breathtaking set of melodic reels and songs, including fine interpretations of well-known works such as "I Wandered By The Brookside" and "Maire Mhilis Bhrea" that are performed on a calibre equal to that of any of the great performers who have sung them before. At times, however, Scanlan's vocals start to sound rather stuffy and bland. Again, I can see where someone who likes modern adult pop might be drawn to the Solas style; I just find that they alternate wildly between sounding exciting and fresh, or frightfully dull and saccharine.
Solas "Reunion: A Decade Of Solas" (Compass, 2006)



WOW. Nice record... cool video! Solas are without question the preeminent Irish-American trad band, and an uber-allstar cast took part in this slam-bang, ten-year anniversary/reunion concert... Karan Casey and Winifred Horan shine as lead vocalists (while the combined female harmonies are astounding), and the instrumental work by John Doyle, Seamus Egan, Mick McAuley, John Williams and the rest will floor you as well. From the opening notes, there is a vibrant, propulsive, electrical feel to this album -- the giddy momentum and sense of joy never stops. A second, all-video disc features an entirely different set of songs, and that's a real treat as well. Fans of the band will be overjoyed, and anyone sitting on the fence will be won over, too. This is contemporary Celtic folk music at its finest... Highly recommended!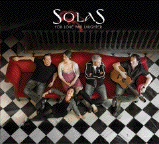 Solas "For Love And Laughter" (Compass, 2008)



(Produced by Seamus Egan & Solas)
Contemporary Irish-American folk at its best, from one of the finest bands in the field... The album opens with a lively instrumental piece, showing the group's solid foundation in traditional roots, although it quickly settles into a more modern mode, with numerous songs with a more contemporary folk feel. The group that spawned the careers of solo greats such as Karan Casey, John Doyle and John Williams now sports a new lead vocalist, Mairead Phelan, who glides through a number of airy, ethereal songs. The set is balanced out with a number of tunes composed by guitarist/multi-instrumentalist Seamus Egan and fiddler Winifred Horan (the band's two remaining founding members) and accordionist Mick McAuley. The group is still a powerhouse, although reactions of fans to the modern folk style that predominates on this disc will vary, depending on the listener's devotion to (or rejection of) strictly traditional material. Folks with more modern tastes should be quite happy with this one!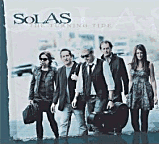 Solas "The Turning Tide" (Compass, 2010)


(Produced by Seamus Egan)
A fairly safe, slightly pop-tinged Celtic trad album... The rougher edges of Irish folk are carefully buffed down in favor of smoother, streamlined melodies, simpler rhythms, a more mainstream feel. It's not an all-out pop-fusion or world-fusion album, but it's notably un-jarring and accessible. Newcomer Mairead Phelan has a very nice voice, reminiscent of Sandy Denny, and the band hums along like a well-oiled juggernaut, playing tightly synchronized riffs, all with a buoyant melodic bounce. It's pleasant and effective, easy on the ears, but some trad fans may wish there were a little more bite.

Davy Spillane "The Sea Of Dreams" (Covert, 1998)


Sure, Spillane is a phenomenally talented piper, and he's been around forever and a day, playing on everyone's albums... but this disc is a big, stinky pile o' New Age-y shite. Bring it to your next aromatherapy session, if you must, but please, please, please don't put it on the stereo if I come over to visit.. (Thanks!) The highlights of the album are a pair of duets with Sinead O'Connor on "The Dreaming Of The Bones" and a fairly effective rendition of "Danny Boy." While the harmony and interplay of her voice and Spillane's equally ethereal pipes is quite striking, it's not enough to make up for the utter chessiness of the album... Search for them instead on some sort of Sinead rarities collection.
Daithi Sproule - see artist profile

Spud "A Silk Purse" (Philips, 1975)
(Produced by Donal Lunny)
Cheerful, lightly electrified trad from a once-popular but dimly remembered Irish folk-rock band. They bring to mind contemporary bands such as Steeleye Span and Horslips, but they're much less clompy or pretentious... The first part of this album tilts towards the traditional, with mandolin, fiddle, bass and guitar bouncily framing the reedy vocals... Then they dip into gently psychedelic folk, and more overtly modern material. It's quite charming, musically accomplished, but still with a definite whiff of amateurishness and wide-eyed, vaguely dorky enthusiasm. Definitely worth a whirl!


<! their line-up consisting of Dermot O'Connor (guitars), Don Knox (fiddle), Austin Kenny (mandolin, 5-string banjo, recorders) and Michael Smith aka 'Smithy' (bass guitar) with vocals shared. >

Spud "The Happy Handful" (Philips, 1975)





Spud "Smoking In The Bog" (Sonet, 1978)



<! different lineup >

Stained Glass "Open Road" (Sweet Folk And Country, 1974)
A sometimes-appealing, sometimes strained set of traddish psychedelic folk, with light acoustic instrumentation and a bit of dreamy electric keyboards, framing mixed (but mostly female) vocals that seem inordinately rooted in the lofty, declarative style of the early 1960's folkies (Joan Baez, et. al., with perhaps a whiff of Maddy Prior in there as well...) Personally, I found Sylvia Kelly's vocals to be irritating and pretentious, although certainly earnest and fully committed to the material... This Canterbury-based band wrote most of their own songs, notably the eerie "Poll Miles," an epic ballad about the persecution of witches and pagans in England... They also cover some classics, such as "Lord Franklin" and "Jolly Beggar..." My crabbiness aside, this is an album that would definitely appeal to the legions of "folk-freak" cratediggers out there... just didn't really ring my bells.


<! 1. Wild And Free 2. Winter Traveller 3. Just A Day 4. Black Jack David 5. Kiss The Day Goodbye 6. City Song 7. Poll Miles 8. Jolly Beggar 9. Lord Franklin 10. White House Blues >

Stairheid Gossip "Stirrin' It Up" (Greentrax, 2002)



A vocal quintet from Edinburgh that seems roughly modeled on Sweet Honey In The Rock, mixing a wee bit of Celtic trad with South African choral works and songs by Holly Near, et al. It's not bad for the style; underwhelming overall, but their hearts are in the right place, and they sound like they were having fun.
Davy Steele "Chasing Shadows" (Temple, 1998)



The lone solo album from the late Davy Steele, a onetime member of the Battlefield Band, Gael Force, Drinker's Drouth and Dick Gaughan's Clan Alba, who died in 2001. (Also see the Drinker's Drouth tribute album that came out after his untimely death in 2001...) Overall, this album is a little too sweet and contemporary-folkie for me, even many of the songs that are traditionally oriented. Maybe it's the prominence of the harp -- Patsy Seddon plays throughout -- but I think it's mostly an artistic choice in the tone of the whole album. Fans of, say, Dougie MacLean will probably dig this, but I would have loved it if the soulful, talented Steele had played things a little more roughly. Oh, well. A couple of tunes were keepers -- "Calton Weaver" and "Scotland Yet," which features Dick Gaughan on guitar -- but I was content to pass this one along to someone who'll like it better.


<! album engineers - Nick Turner & Roy Ashby - no "producer" listed > <! Product Description Released in 1998, just before he joined Battlefield Band, this is a solo album from a fine singer/songwriter & musician who was well known on the Scottish music scene, having played and recorded with various groups over the years including Ceolbeg and the feted but short-lived Clan Alba. The album offers a wide range of material, from songs by Scotland's bard - Robert Burns, through traditional songs, to Davy's own compositions. All have been received with great enthusiasm by the reviewers. Musicians appearing on this album along with Davy include Mike Travis, Nick Turner, Patsy Seddon, Aaron Jones, Brian McAlpine, Alan Henderson, Mary Macmaster, Rob Handley, Peter Haigh & Dick Gaughan.> <! Davy Steele 10th December 1948 - 11th April 2001 Davy Steele was born in the small East Lothian mining and fishing community of Prestonpans, on the shores of the Forth, a little to the east of Edinburgh, Scotland. Davy and his music became very well known in Scotland, and quickly gained ground internationally as a songwriter and "one of the finest singers in contemporary Scottish folk music'' (Scotsman 1992). Davy had become known initially for his work with the five-part close-harmony group, Drinkers Drouth, followed by Gael Force, Urbn Ri, Ceolbeg, Clan Alba, and Caledon. In 1997, Davy and his music took the international stage when he joined Battlefield Band. Davy appears on two Battlefield Band albums: 'Rain, Hail or Shine' (Temple Records COMD2074) & 'Leaving Friday Harbor' (Temple Record COMD2080) and he also released a solo album just prior to joining Battlefield Band - 'Chasing Shadows' (Temple Records COMD2071) >


Steeleye Span - see artist profile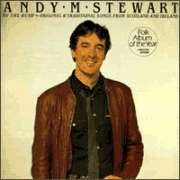 Andy M. Stewart "By The Hush" (Green Linnet, 1982)


Scotland's Andy M. Stewart (not to be confused with Andy Stewart, from a generation or two earlier) is an artist who tends towards softer arrangements, and occasionally drifts into rather goopy, even saccharine material. This early album -- his first solo work -- strikes the perfect balance, and frames his sweet vocals just perfectly. Lovely stuff, and highly recommended... (be careful when exploring later solo stuff...) Also check out his work with the band Silly Wizard.


<! 01/11: iffy GIF >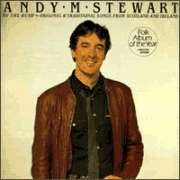 Andy M. Stewart/Phil Cunningham/Manus Lunny "Fire In The Glen" (Green Linnet, 1985)


Andy M. Stewart & Manus Lunny "Dublin Lady" (Green Linnet, 1987)


Andy M. Stewart & Manus Lunny "At It Again" (Green Linnet, 1990)


Andy M. Stewart "The Songs Of Robert Burns" (Green Linnet, 1991)

Andy M. Stewart "Man In The Moon" (Green Linnet, 1994)



Andy M. Stewart "Donegal Rain" (Green Linnet, 1997)



A mature, later effort by a fine Scottish singer... Some of this is really wimpy and drearily "folk," some of it is quite nice. Stewart still has quite a nice voice, but his aesthetic sense drifts into questionable territory from time to time. Guitarist Gerry O'Beirne and fiddler John McCusker anchor the band and Phil Cunningham plays piano and accordion of a couple of tunes that close the album; McCusker's work is what really adds the greatest depth.
Margaret Stewart & Allan MacDonald "Colla Mo Run" (Greentrax, 2001)



Two locals from Glendulg, Scotland, with a pleasant, low-key set of fairly mellow bagpipe tunes, paired with doleful vocal songs. This isn't an electrifying album or anything, but it is quite nice and quite listenable. Worth checking out!
Wendy Stewart "About Time" (Greentrax, 1994)


Wendy Stewart "About Time II" (Greentrax, 1997)



Wendy Stewart "Standing Wave" (Greentrax, 2003)



This Scottish harpist offers a dreamy, gentle set of tunes which -- though a bit on the soft side, for me -- has a real emotional resonance, particularly when she sings. Worth checking out...

Alan Stivell "Symphonie Celtique: Tir Na Nog" (Disc AZ, 1980)


This is all a bit much, actually. Blobby, bloated, orchestral Celtic prog made pretty explicitly for the stoner crowd. I'm sure this fits in nicely with other artsy-fartsy music that was being made at the same time, particularly the stuff on the ECM label, but that doesn't make it any easier to listen to now. It's horribly strained and pretentious, and notably lacking in either melody or restraint.

Alan Stivell "Back To Breizh" (Disques Dreyfus, 2000)


Well, this was a surprise. Yeah, it's all high-tech and trip-hoppy, but it's also quite good. Moody, synthy, broody and French as all get-out. But it's also got a certain relaxed splendor to it, and Stivell's confidence as a veteran performer permeates the album, particularly on the opening tracks. A few of the more hip-hoppish and rock-flavored tracks go overboard and get irritating, but on the whole, this is a lot better than you might expect to hear from an old fart like this. The vocals help a lot.
Alan Stivell "Beyond Words" (Disques Dreyfus, 2002)


Well, okay, honestly... this is a pretty drippy, New Age-y album. Not for me, thanks.


<! Alan Stivell "Telenn Geltiek / Harpe celtique (1964) Alan Stivell "Reflets/Reflections (1970-1) Alan Stivell "Renaissance de la Harpe Celtique (1972) Alan Stivell "A l'Olympia - Live (1972) Alan Stivell "Chemins de terre/From Celtic Roots (1973) Alan Stivell "E Langonned / A Langonnet (1974) Alan Stivell "Grand SuccŹs d'Alan Stivell (c 1975) Alan Stivell "E Dulenn /Live In Dublin / Dublin (1975) Alan Stivell "Celtic Rock (1976) Alan Stivell "Trema'n inis/Vers l'ile (1976) Alan Stivell " Raok Dilestra/Avant d'accoster/Before Landing (1977) Alan Stivell "Un Dewezh barzh gźr/Journée a la maison / A Homecoming (1978) Alan Stivell "International Tour / Tro ar Bed (1979) Alan Stivell "Symphonie Celtique ( Tir na-nOg) / Celtic Symphony (1979) Alan Stivell "Terre des vivants / Tir an dud bew (1981) Alan Stivell "Alan Stivell (1982) Alan Stivell "Legende / Legend / Mojenn (1983) Alan Stivell "Harpes du Nouvel Śge / Telenn a' Skuih-dour (1985) Alan Stivell "The Mist Of Avalon (1991) Alan Stivell "Again (1993) Alan Stivell "Brian Boru (1995) Alan Stivell "70/95 Zoom (1997) Alan Stivell "1 Douar/1 Earth (1998) Alan Stivell "Back To Breizh (1999) Alan Stivell "Au-delą des mots/Beyond Words (2002) Alan Stivell "Explore (2006) > <! Stockton's Wing Scottish > <! http://ceolas.org/artists/Stockton%27s_Wing.html Stockton's Wing "Stockton's Wing" (Tara, 1978) B00001NFG7 Stockton's Wing "Take A Chance" (Tara, 1980) B00005T7VK Stockton's Wing "Light In The Western Sky" (Tara, 1982) Stockton's Wing "American Special" (Tara, 1984) Stockton's Wing "Live: Take One" (Tara, 1985) B000FQJMXU B004F9IUOA Stockton's Wing "Full Flight" (1986) Stockton's Wing "Celtic Roots Revival" (1988) Stockton's Wing "The Stockton's Wing Collection" (Tara, 1991) (date?) B00001P4TK Stockton's Wing "The Crooked Rose" (Tara/Shanachie, 1992) B000001JB7 B004F9EVTI Stockton's Wing "Letting Go" (Tara, 1995) B000001JBM B0040ESIAQ > <! Saffron Summerfield "Salisbury Plain" (Mother Earth, 1974) Saffron Summerfield "Fancy Meeting You Here!" (Mother Earth, 1976) (UK Folk, SSW 1974, 1976) Saffron Summerfield "Salisbury Plain" (CD reissue with both albums) Saffron Summerfield started singing around the London folk clubs in the early seventies. She was soon invited to join Fairport Convention spin-off band Trader Horne and although the group recorded several tracks for Dawn records the album was never released. Trader Horne gigged in London and France and recorded John Peel's "Sounds of the Seventies" on the same show as rock band Free. Saffron remembers hearing Free's fans screaming so loudly outside the studio during rehearsals that she couldn't hear herself sing! Trader Horne split up and Saffron continued her solo career. After several attempts at recording songs for several record companies including EMI getting her to record a 'pop' song called "The Lonely Ones" she decided to produce her own record. Mother Earth Records was set up and Saffron's first two albums were also leased to Polydor and Negram in Holland and Germany. >
Saffron Summerfield "The Early Years" (Mother Earth Music, 2003)



The female lead singer of the British folk-rock band Trader Horne, Saffron Summerfield went solo in the early 1970s, releasing two albums of ambitious pastoral pop. This album combines the tracks from both these albums, Salisbury Plain, from 1974, and Fancy Meeting You Here! from '76. It's a wee bit precious, but has plenty of texture and depth, as well as some interesting spins on traditional themes. The tone wavers between serious and flighty -- fans of the psychedelic folk era will want to check this out, although you have to have a high tolerance for meandering lyrics to stick with this with this for more than a tune or two at a time.
Swansea Jack "The Seven Wonders" (Arfolk, 1975) (LP)





<! Format: Vinyl LP album. Arfolk Records, French release from 1975. Only release from Welsh folk band playing Celtic folk music. Recorded in Edinburgh, release only on French label. Tracks: The Seven Wonders; Machynlleth; All Among The Barley; Brian Boru's March; Gallopede/Walter Bulwer's Polka/Heel and Toe Polka; Pigau'r Dur; Rolling Down To Old Maui; Ty Coch Caerdydd/Pant Corlan yr Oen; Llydaw; Palatine Man; Arches; Ceiliog yr Rhedyn. >

Dave Swarbrick "Smiddyburn/Flittin' " (Raven, 1981/1996)



Fans of the instrumental side of Fairport Convention should dig this pair of recordings by their longtime fiddler, Dave Swarbrick. A bunch of his Fairport buddies, Richard Thompson among them, join in on this mostly-instrumental outing... Both albums were recorded at the same time in 1981, but released separately for whatever reason. It's nice stuff, though surprisingly heavy on standard-issue reels and such. For my personal tastes, there are too few numbers that really moved me (I tend to like aires and more melodically evocative tunes...) but I'm sure fans of fiddling in general and Fairport in particular will find plenty to enjoy here. A couple of songs do include vocals -- a rare opportunity to hear Swarbrick step up to take the mic...

Dave Swarbrick "English Fiddler: Swarbrick Plays Swarbrick" (Naxos, 2003)



A nice all-instrumental set, featuring ten Swarbrick originals, in turns sprightly, mournful, gleeful and drenched with soulfulness. This album includes contributions from button accordionist John Kirkpatrick, several mates from the Fairport crowd, and pianist Beryl Marriott (who was an early patron of the young Mr. Swarbrick, way back in the 1960s...) I'm not sure of the exact provenance of these recordings, but the music is mighty fine.

Sweeney's Men "Sweeney's Men" (Transatlantic, 1968)



Sweeney's Men "The Tracks Of Sweeney" (Transatlantic, 1969)



One of the first Irish bands to emerge in the late 1960s, this Dublin trio cast a long shadow on the Celtic renaissance that followed. Largely this is due to the group's membership, which included Planxty co-founder Andy Irvine, as well as bouzouki player Johnny Moynihan (also later in Planxty, as well as De Danaan), and Terry Woods, who went on to be a founding member of Steeleye Span, and -- much later, in the 1980s -- a part of the punk-trad outfit, The Pogues. On their first album, Irvine looms large, and the style may feel familiar to fans of his early work; Irvine and Moynihan also pioneered the mandolin-bouzouki sound that would become a staple of Irvine's style. The original trio only lasted for a couple of years, with Irvine moving on to even grander (and more traditionally oriented) horizons -- this swell twofer CD also includes the second Sweeney's album, which is an odd, dreamy, folk-flavored, slightly mystical-psychedelic collaboration by the two remaining members. The stuff from '69 is far more distinctive than their straight Celtic material, although their trad ain't bad, either. It took a while for Sweeney's Men to grow on me (mostly because I originally only owned an LP copy of their first album, and wasn't aware of their more "out there" material), but now I'm a confirmed fan. If you can find their music in any form, check it out.
Tufty Swift "Hammers, Tongues And A Bakewell Tart" (Free Reed, 1981/1996)


This CD reissues an album by English melodeon whiz Tufty Swift, How To Make A Bakewell Tart along with Sue Harris' 1978 solo album, Hammers And Tongs.




Tufty Swift "You'll Never Die For Love" (Shark Records, 1985)



<! Tufty Swift, English melodeon player and a pillar of Derbyshire's folk music community, collected dance tunes & songs from Derbyshire source musicians, and popularised the dance tunes of the Yorkshire Dales. He set up the first folk club in Belper, Derbyshire, and formed the influential country music band Umps & Dumps with John Kirkpatrick. He died in his sleep on 14th October, 1999, after a long battle with cancer. >

---
More Celtic/Brit Folk Albums -- Letter "T"
---



Main Celtic/Brit Index
Main World Music Index


---