<! MP3 12/22/08, 01/04/11 > <! update 12/22/08 > <! outside 00/00/00 > <! links 00/00/00 > <! pix 12/22/08 > <! icons 01/04/11 >

---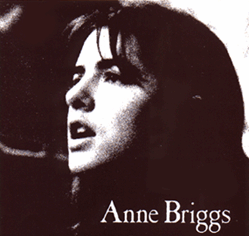 Although her recorded output was not vast, Anne Briggs' influence on the British and Celtic trad revival has been profound. A member of the first wave of trad revivalists, she is universally cited as the role model for an entire generation of female singers, including Sandy Denny and Maddy Prior, who in turn became inspirations for artists further down the line. While much of Briggs' early work is a bit on the stark side, there are also transcendently lush moments, such as her stunning rendition of "Blackwater Side," recorded in the early 1960s. Her records are hard to find in the States, but well worth looking for.
---
Discography
---

Anne Briggs "Anne Briggs" (Topic, 1971)





<! 1. Blackwater Side - Anne Briggs, Traditional 2. The Snow It Melts the Soonest 3. Willie O Winsbury 4. Go Your Way - Anne Briggs, Briggs, Anne 5. Thorneymoor Woods 6. The Cuckoo 7. Reynardine 8. Young Tambling 9. Living by the Water 10. Maa Bonny Lad reissued on Water/Runt, 2008 >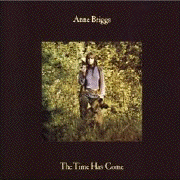 Anne Briggs "The Time Has Come" (Epic, 1971)


Backed by guitar and dulcimer, the willowy character of Briggs' voice is free to emerge. This album is solidly in a UK hippie/folkie vibe, dreamy and reflective, with gentle, sprawling, Nick Drake-ish songs, over half of which were written by Briggs. A nice, stare-out-the-window-in-early spring kind of record. Highly recommended!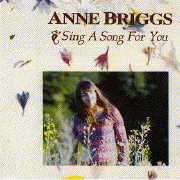 Anne Briggs "Sing A Song For You" (Fledg'ling, 1996)



Word has it that this is actually an unfinished album which Briggs herself put the nix on back in the 1973. Apparently she was pregnant at the time, and felt unable either to devote her full attention to the recordings, or to hit her full range while carrying her child. So, the album was cancelled, and the tracks remained a bit rough. Nonetheless, there are lovely moments here, and it's a nice chance to hear her working with a full band, rather than with the usual bare-bones backing. A rare glimpse at Briggs working in a very different style... also highly recommended!

Anne Briggs "Classic Anne Briggs: The Complete Topic Recordings" (Fellside, 1990)


What a voice! This is the Anne Briggs motherlode, encompassing her four original 1963-1971 EPs and sole LP recorded for the Topic label. As mentioned above, this music is a bit on the stark side, mainly a capella, though some tracks have sparse instrumental arrangements. But, heck, it's worth it for "Blackwater Side" alone. Highly recommended.

Anne Briggs "Anne Briggs: A Collection" (Topic, 1999)



But wait! There's more! This retrospective has the exact same material as the Fellside disc, with the same sequencing, except for the inclusion of two live tracks taken from a couple of early '60s performances at the Edinburgh Folk Festival. Since Topic has recently undertaken a massive CD reissue campaign, this disc is readily available... plus, it has extensive liner notes and great sound. Recommended!

Various Artists "THE BIRD IN THE BUSH: TRADITIONAL SONGS OF LOVE AND LUST" (Topic, 1966/1997)



A saucy collection of ribald folk songs from the British Isles -- one of the many Topic collections that the Briggs catalog is drawn from. This disc includes performances by Anne Briggs, Louis Killen, Frankie Armstrong, Norman Kennedy, and the venerable master of the early Britfolk scene, A. L. Lloyd. They all shine on this set, and though you have to be attentive to follow the long narratives and sometimes rather complicated sexual metaphors, this disc has a lot of bang (if you'll pardon the expression...) for the buck. This was originally just a split EP with Lloyd and Briggs, but has since been expanded to include material by the other singers -- presumably of similar vintage. All three of the Briggs tracks -- "Gathering Rushes In The Month Of May," "The Stonecutter Boy" and "Martinmas Time" -- have since been gathered on retrospectives of her work, but the overlap is negligible, considering how delightful the other songs on here are. A nice find for fans of forbidden music.
---
Links
---
Topic Records still somewhat sparse website is this is the place to go if you're interested in hardcore traditional UK folk music. They have the complete Anne Briggs in print, as well as many other great artists.
Selected English Folk Singers has a nice Briggs site... and pages for other cool UK folkie types!
Nice new entry on the Wikipedia
---



Main Celt/Brit Index
International Music Index



---