<! MP3 01/07/09, 01/14/11 > <! update 01/07/09 > <! outside 00/00/00 > <! links 00/00/00 > <! pix 00/00/00 > <! icons 01/14/11 >

---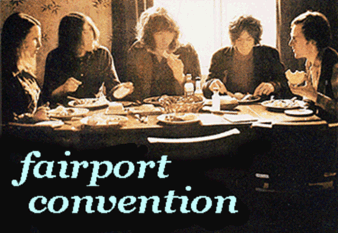 This is the second page of a discography ofFairport Convention, indisputably one of the great bands of the English folk/rock revival of the late 1960s. This page covers the band's numerous best-of collections and some of their numerous side projects; reviews of Fairport's regular albums are included on the first page.
---
Best-Ofs
---
Fairport Convention "History Of Fairport Convention" (Island, 1972)


A straight reissue of the first Fairport best-of, with material from the first seven albums... Can't complain about that, now can ya?
Fairport Convention "Heyday" (Hannibal, 1987)


Live recordings made for the BBC, back in 1968-'69. This set has recently been rereleased in an expanded version by Island-UK... (see below)
Fairport Convention "Fiddlestix -- The Best Of Fairport: 1972 -1984" (Raven, 1997)

Fairport Convention "The Wormwood Years" (Resurgence, 1997)


A quick overview of their work from 1985-91, including some solo work by various bandmembers...

Fairport Convention "Meet On The Ledge: The Classic Years" (A&M, 1999)



Many consider this 2-CD set to be the optimum Fairport retrospective, and if you're willing to forego the actual album-by-album approach, this is certainly a generously programmed set. If you want to check the band out, this is probably your best starting place, other than picking up the Liege And Lief album. Recommended.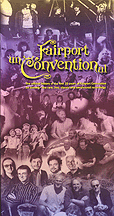 Fairport Convention "Fairport unConventionAL" (Free Reed, 2002)


This hefty 4-CD box set covers a lot of turf, spanning back to the band's early demos, up through its late-'90s concerts and more current albums. It's not a "greatest hits" box set in the normal sense (which is fine, since the world is hardly lacking in Fairport best-ofs...) but rather a sweeping overview of the band's career, reaching back to the early demos and BBC appearances up through more current concert appearances at the band's Cropredy festival. Unfortunately, the sound quality on some of the broadcast appearances leaves a lot to be desired, but I think the chance to hear the band in all its experimental glories and blunders is worth a bit of tin and muffle. (Besides, correct me if I'm wrong, but my understanding is that the BBC didn't always archive these live appearances, and in many cases fan airchecks taken straight off the air are the only source material left... so in some cases these are the *only* recordings that exist...) At any rate, here's a fine opportunity to hear the band's full stylistic range, from uber-folkie heaven, to proto-proggery, SF Sound-influenced psychedelic wailing, graceful trad, just plain goofing around, and all points in between. As far as the technical issues go, I suppose it simply depends on your temprament, and whether iffy sound quality will bug you more than a chance to hear the band innovate and grow will entice you... In addition to all the music, there is an incredible profusion of Fairport-abilia crammed into this package. The 170-page booklet has tons of insider-y info and reproductions of countless old press clippings, behind-the-scenes memorabilia and endless asides about the band's creative process and convoluted history. It goes year by year, tracking the band's history and commenting on each album and many of their side projects, then switches gears and goes through the songs included on each CD, track by track, detailing where the songs were first released and where each version on the box set came from. An accompanying hand-written "family tree" chart is amazingly dense and informative, while a separate booklet commemorating the Cropredy Festivals has its own oddball charm. Like many Free Reed releases, the graphic design leaves something to be desired, but, hey... you can't have everything! After all, I'm not gonna sit around listening to the artwork. Four CD's worth of Fairport rarities and outtakes may be more than enough for casual listeners, but I would think that hardcore fans will be pretty pleased with this collection, and the wealth of information that comes with it.

Fairport Convention "The Best Of Fairport Convention: The Millennium Collection" (A&M, 2002)



With so many groovy Fairport retrospectives floating around, this 10-track best-of may seem a bit humble, but it is quite a nice introduction to the band, concentrating on 1969-71, when Denny and Thompson were still prowling about. It's a well-programmed, solid set, with one good song after another. Nothing to complain about here.
Fairport Convention "Heyday" (Island UK, 2002)


Live recordings made for the BBC, back in 1968-'69. This is an expanded edition of the original BBC/Ryko collection listed above.
Fairport Convention "Some Of Our Yesterdays: 1985-1995" (Castle, 2002)

Fairport Convention "A Lasting Spirit: The Collection" (Castle, 2005)



A 3-CD set... including a lot of overlap with other releases, and a heavy dose of latter-day concert tracks from the Cropredy festival.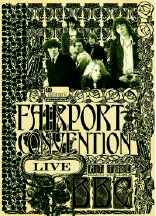 Fairport Convention "Live At The BBC" (Universal/Hip-O, 2008)



A 4-CD set of live performances on the venerable British Broadcasting Corporation... Pretty much everything the Fairport band played on the Beeb over the years. There's also a shorter, single disc version with highlights from the series... Either one is sure to be a treat for fans. (See my Fairport Convention discography for more info...)
---
Related Records
---

Dave Swarbrick "Smiddyburn" (Transatlantic, 1981)
Dave Swarbrick "Flittin' " (Transatlantic, 1983)
Dave Swarbrick "Smiddyburn/Flittin' " (Raven, 1996)


Fans of Fairport's instrumental side should dig this pair of recordings by their longtime fiddler, Dave Swarbrick. A bunch of his Fairport pals, Richard Thompson among them, join in on this mostly-instrumental outing... Both albums were recorded at the same time in 1981, but released separately for whatever reason. It's nice stuff, though surprisingly heavy on standard-issue reels and such. For my personal tastes, there are too few numbers that really moved me (I tend to like aires and more melodically evocative tunes...) but I'm sure fans of fiddling in general and Fairport in particular will find plenty to enjoy here. A couple of songs do include vocals -- a rare opportunity to hear Swarbrick step up to take the mic...
Simon Nicol "Before Your Time" (Wormwood, 1987)


Re-released on CD along with Consonant Please Carol.
Simon Nicol "Consonant Please Carol" (Wormwood, 1992)

Re-released on CD along with Before Your Time.
---
Links
---
---



Main Celt/Brit Index
International Music Index



---