<! cd = 01/15/11 > <! MP3 01/15/11 > <! update 01/15/11 > <! outside 01/15/11 > <! links 01/15/11 > <! pix 00/00/00 > <! icons 01/15/11 >

---
So far, I have only heard two albums featuring English folksinger Keith Kendrick but I was floored by them both, and am eagerly on the prowl for the others. (It's nice to have goals in life...) Kendrick, who hails from Derbyshire, is one of the finest exponents of British traditional song, and in particular of an odd corner of tricky, antiquated vocal harmonies that are quite arresting and distinctive. Kendrick started off in in the late 1960s with a short-lived but highly-regarded group called The Druids; over the decades he's been in a variety of bands and other partnerships and, like many traditionally-oriented artists, has made his music largely on the periphery of the music industry. His records are practically impossible to track down in the United States (thank you, Down Home Music! but well worth the search. Here's a quick look at his work...


https://folkcatalogue.wordpress.com/2009/06/10/1970-the-druids-burnt-offering">

---
Discography
---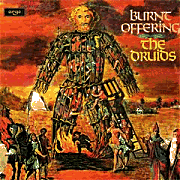 The Druids "Burnt Offering" (Argo, 1970) (LP)


An absolutely stunning acoustic-based traditional British/Celtic folk, with solid musicianship and beautiful group and harmony vocals. The band features vocalist Keith Kendrick anchoring a group chorus that achieves some truly distinctive, arresting harmonies, keening sounds in unusual combinations heard (as far as I know) only in the English countryside. Counterbalancing Kendick is the quintet's female lead, Judi Longden, who has one of those piercing, plaintive voices like Maddy Prior's -- indeed, this album reminds me quite a bit of Steeleye Span's best, most traditionally-oriented work of the early 1970s, except that the Druids album is much, much better, at least from a traditionalist's standpoint. There are no forays into rock or jazz, no clunky attempts at crossover-y relevance, just a solid set of delightful traditional songs, lively and lusty and delivered with great intelligence and charm, and Longden's stunning voice is better and more consistently framed than Prior's. The repertoire is of the same caliber as the performers, a beguiling parade of bawdy singalongs and unusual ballads... Highlights include the eerie "The Prickly Bush," sung from the standpoint of a man on the gallows, imploring the members of his family to save him, and the sailing song, "Our Captain Called All Hands." Of the many bawdy songs, some, like "The Cuckoo's Nest," are in code while others, such as "The Butcher And The Parson," are shockingly blunt. The most modern song is the wicked and witty "Salvation Army Band," which tells the tale of a lad led astray by a religious revival. All in all, this is one doozy of a disc and still sadly, sorely in need of reissue. Highly recommended!


<! "...Two years, three albums and lots of semi-pro touring, concerts, radio concerts and folk dances later, The Druids split up... And more on those three albums – the collaboration with Martyn Wyndham Read and the Band of the Scots Guards on 'Songs of the Redcoats' (1971), their own 'Pastime with Good Company' (1972) and the collaboration with Trevor Crozier on 'Giles Farnaby's Dream Band' (1972) – in later posts." SEE BELOW: >
The Druids "Pastime With Good Company" (Argo, 1972) (LP)
(Produced by Kevin Daly)



<! Produced by: Kevin Daly Recorded by: Iain Churches, Peter van Biene Recorded at: Paramount Organ Works, Bolton, 4th and 5th March 1972 Availability: long deleted, never issued on CD Musicians The Druids: Keith Kendrick – English concertina, guitar, vocal John Adams – accordeon, fiddle, bells, vocal Judi Longden – drum, guitar, recorder, vocal Mick Hennessy – bass, vocal Dave Broughton – fiddle, chorus vocal with Derek Hale – concertina Derek Pearce – mandolin Tracks Side One 1 To Drive Cold Winter Away/Father Kelly's Jig/The Rollicking Irishman 2 Congleton Bear (Tams) 3 Three Merry Men of Kent – group unaccompanied 4 All's Dear but Poor Men's Labour (tune Druids) – concertina DH 5 Marquis of Lorne/Locomotive Hornpipe 6 The Digger's Song – group unaccompanied 7 The Leaves of Life (The Seven Virgins) Side Two 1 Oddjob's Polka/Sally Gardens 2 Three Jolly Sportsmen – group unaccompanied 3 The Pick and the Maltshovel (Roger Watson) – DP mandolin 4 The Irish Girl (tune Druids) 5 The White Cockade – group unaccompanied 6 Marrowbones 7 Flowers of Edinburgh/Come Let Us Dance and Sing/Kate Dalrymple All words and tunes trad arr Druids, apart from where indicated 00:00 >
The Druids/Various Artists "THE REDCOATS" (Argo, 1972) (LP)
(Produced by Kevin Daly)
Music inspired by a book written by Lewis Winstock, Songs and Music of the Redcoats: A History of the War Music of the British Army 1642-1902... The Druids sing a few tunes, as well as balladeer Martyn Wyndham-Read, with other tracks performed by members of the Band of the Scots Guards...


<! Argo issue number: ZDA 147 Produced by: Kevin Daly Recorded by: Adrian Martins and Iain Churches The album was inspired by Lewis Winstock's book of the same title: Songs and Music of the Redcoats: A History of the War Music of the British Army 1642-1902, Leo Cooper Ltd, London 1970. Performers Martyn Wyndham-Read – vocals, guitar The Druids: Keith Kendrick – vocals, concertina, guitar John Adams – vocals, accordion, mandolin Mick Hennessey – vocals, bass Musicians from the Band of the Scots Guards Major James H. Howe, MBE – Director of Music L/Sgt. Michael Gray – oboe Sgt. William Verdon – clarinet Musician Allan Timperley – clarinet Musician Tony Jeffrey – bassoon Sgt. Gerald Manvell – percussion Gerry Fox – vocals, guitar, mandolin Jim Younger – concertina Dennis Clarke – flute, chorus Vin Garbutt – whistle, chorus Frank Grubb – chorus Kevin Daly – chorus Lewis Winstock – chorus Tracks Side One Civil War The English March – Scots Guards John Gwyn's Air – Scots Guards When the King Enjoys His Own Again – MW-R vocal, guit, VG whistle, DC flute When Cannons Are Roaring – KK, JA, MW-R Marlborough Over the Hills and Far Away – MW-R Sergeant Morris' Song – JA Seven Years War The Marquis of Granby – Scots Guards The Girl I Left Behind Me – MW-R How Stands the Glass Around? – Druids Hot Stuff – Gerry Fox >
The Druids/Various Artists "GILES FARNABY'S DREAM BAND" (Argo, 1973)


(Produced by Kevin Daly)



<! Argo issue number: ZDA 158 Produced by: Kevin Daly Recorded by: Iain Churches Sleeve notes: Kevin Daly Availability: long deleted by Argo; issued on CD in 2004 by German label Valhalla (WH90324) Performers St George's Canzona: Frank Grubb – rebec, recorder John Grubb – lute, harpsichord Derek Harrison – rebec John Lawes – crumhorn, recorder Mike Oxenham – crumhorn, clarinet, curtal, recorders John Sothcott – citole, crumhorn, rebec, recorders, whistle Leila Ward – crumhorn, recorders Trevor Crozier's Broken Consort: Trevor Crozier – vocals, banjo, cittern, guitar, harmonica, mandolin Annie Crozier – concertina, bowed psaltery Vic Gammon – concertina, guitar The Druids – vocals Judi Longden Keith Kendrick John Adams Mick Hennessy Plus Jeff Clyne – bass guitar Dave MacRae – electric piano Trevor Tomkins – drums, percussion TRACKS Side One 1 The Hare's Maggot (trad. arr Gammon) 2 Rufty Tufty/Beau Stratagem/Apply House (trad. arr Gammon) 3 The Hole In The Wall/The Chirping Of The Nightingale (trad. arr Sothcott) 4 Pastime With Good Company (Henry VIII arr Adams/Sothcott) 5 Daphne (trad. arr Sothcott)/Nonsuch/Jack Maggot/Childgrove (trad. arr Gammon) 6 Shrewsbury Lasses (trad. arr Sothcott) 7 Newcastle Brown (Sothcott/Daly) 8 Helston Furry Dance (vocal Trevor Crozier)/Picking Of Sticks/The Butterfly (trad. arr Sothcott) Side Two 1 The Indian Queen (trad. arr Sothcott) 2 The Happy Clown (trad. arr Sothcott) 3 Ratcliffe Highway (trad. arr Adams/Sothcott) 4 The Twenty Ninth Of May (trad. arr Sothcott) 5 The Black Nag/Poor Robin's Maggot/Greensleeves (trad. arr Gammon) 6 Portabella (trad. arr Sothcott) 7 The Draper's Maggot (trad. arr. Grubb)/Tower Hill (trad. Arr. Grubb) 8 Mr. Beveridge's Maggot (trad. arr Gammon) /The British Toper/Londons Glory (trad. arr. Sothcott) >

Ram's Bottom "The Young May Moon" (Tradition, 1981) (LP)

The Anchor Men "Nautical - But Nice!" (VOR, 1994)


Keith Kendrick & Lynne Heraud "Stars In My Crown" (Wild Goose Studios, 2000)


Two veteran performers of the UK folk scene join forces for a beautiful, moody set of ballads and chants. Heraud, who is apparently nicknamed "the Hertfordshire Nightingale," has a more classically "pretty" voice than many likeminded English trad singers; it's quite lovely heard in combination with Kendrick's throaty growl and a simple concertina accompaniment. The repertoire is also fascinating, ranging from morbidly bloody religious carols such as "Awake Awake (New Year's Carol)" to love ballads, historical songs and rousing anthems such as the title track. I love this sort of record, with its rich, rustic, minor key harmonies and the full weight of English history behind it -- fans of Martin Carthy or the Watersons should also enjoy this album quite a bit.
Keith Kendrick "Me 'Umble Lot" (VOR)

Keith Kendrick "Home Ground" (Fellside, 2000)

Keith Kendrick "Well Seasoned" (Wild Goose Studios, 2004)

The Anchor Men "All Tide Up" (Cock Robin Music, 1994)

Keith Kendrick "Songs From The Derbyshire Coast" (Wild Goose Studios)

Keith Kendrick & Sylvia Needham "Well Dressed" (Wild Goose Studios, 2012)


---
Links
---
Wild Goose Records, which has put out several of his records, has a nice, informative profile of Kendrick's career...
Folkworld magazine hosts an interesting profile of Kendrick and his work, as well as an interview with Mr. Kendrick...
---



Main Celt/Brit Index
International Music Index



---

<! other Keith Kendrick: The Druids Ram's Bottom "The Young May Moon" (Tradition, 1981) Muckram Wakes East Kent Hoppers - any records??? The Anchor Men produced one CD 'Nautical - But Nice!' for VOR, 1994 singing shanties with '3 Sheets To The Wind' (Geoff Higginbottom and Derek Gifford) and they have a brand -new CD just out for Cock Robin Music called 'All Tide Up'. His solo career has rolled steadily through all this and there are three solo CDs - 'Me 'Umble Lot' (VOR), 'Home Ground' (Fellside) and the recent 'Well Seasoned' (Wildgoose). From Wildgoose: http://www.wildgoose.co.uk/displayArtist.asp?ARTIST_ID=53 Keith has worked in the national and international folk scene for some 35 years, first coming to prominence with the all-round folk band The Druids', which also contained John Adams, Mick Hennessey, Dave Broughton and Judy Longden ultimately specialising in a unique blend of four-part harmony singing. The Druids also formed and became the resident band for the the 'Druids Folk Club' in 1968 and from there went on to play most of the major folk clubs and festivals in England. They produced two of their own albums and several project recordings for the 'Argo' label including 'Songs and Music of the Redcoats' with Anglo/Australian songster Martyn Wyndham Read. After 'The Druids' came `TUP', a three piece accapella group with Jim Boyes and Lester Simpson (now of Coope, Boyes and Simpson). Around the same time Keith founded and led the all-singing, all-dancing English Country Dance Band 'Rams Bottom' producing just one, but widely acclaimed album, 'The Young May Moon'. Just to show what a tangled web we weave, Keith also sang with Barry Coope for nigh on 12 years until his move to Kent in 1988. Amid all this came a four year stint with the last line-up of the much lamented 'Muckram Wakes'. Despite a return to his native Derbyshire in 1995 Keith still performs with Kent based ceilidh band 'The East Kent Hoppers' and maritime duo 'The Anchor Men' both formed while living in the South East, the latter having produced one CD 'Nautical but Nice' (VOR) in 1994. Keith returned to full time performing in 1991 but this time as a soloist. Since then he has again guested at many of the folk clubs and festivals in England and all over the world with two albums 'Me 'Umble Lot' (VOR) and 'Home Ground' (Fellside) to his credit. >