<! MP3 02/11/09 > <! outside 00/00/00 > <! pix 00/00/00 > <! cd = 02/11/09 > <! icons 01/10/11 - not thorough, nor MP3s > <! UPDATES: 02/11/09 - posted 03/20/14 - completed LP ASINs >

---
Squeezebox king John Kirkpatrick is one of the great team players in the English folk revival... From the early 1970s onwards, he has been integral in helping shape the rural, rootsy sound of innumerable bands and artists, including Richard Thompson, Shirley Collins, The Albion Band, Ashley Hutchings and his goofy-loveable Morrison dance ensembles, Leon Rosselson, Brass Monkey, and even a brief stint with Steeleye Span. He has had close associations with Martin Carthy and others, including a string of excellent albums with dulcimer player Sue Harris, who he was married to for the better part of the 1970s and '80s... A "free reed" player, Kirkpatrick is notable for his contributions in reviving the English folk dance tradition, particularly the Morris dance, bringing in into vogue during the heyday of the electrified folk-rock scene. Here's a quick look at his long and fabled career...
---
Discography
---
John Kirkpatrick "Jump At The Sun" (1972) (LP)





<! with Richard Thompson, uncredited >

Ashley Hutchings/Various Artists "Morris On" (Island/Carthage, 1972)


A silly and affectionate homage to the ancient art of Morris dancing, featuring the varied and considerable talents of Ashley Hutchings, John Kirkpatrick, Richard Thompson, Dave Mattacks and other Fairport-related folkies. I'm no expert on Morris dancing, but I gather it's a medieval pagan fertility ritual which had all but died out before being documented by folklorists and revived during the early 20th Century. It eventually became for trad music/Renaissance Fair crowd what line dancing is to honkytonk country -- a bit silly, but a vital part of the scene. This is an odd album, in that sometimes the band dashes these traditional songs out in an offhand, occasionally fragmentary fashion, as if their affection for the material were enough to explain the lapses... Still, this is lovely stuff -- great old story-songs, obviously intended to entertain a liquored-up audience, and full of bouncy, Steeleye Span-ish rhythms and loping melodies. The salacious "Cuckoo's Nest" is particularly fun. Recommended.
John Kirkpatrick/Ashley Hutchings/Various Artists "The Compleat Dancing Master" (Island, 1974)

John Kirkpatrick & Sue Harris "The Rose Of Britain's Isle" (Topic, 1974) (LP & MP3)



John Kirkpatrick "Plain Capers: Morris Dance Tunes From The Cotswolds" (Free Reed/Topic, 1976)


Martin Carthy, Sue Harris and others join squeezebox master John Kirkpatrick on this sprightly but somewhat sparse, all-instrumental set of English country dance tunes. These loping, clompy melodies will grow on you, but you have to be sort of a fanatic to really get into this stuff. Still, it is a classic of the genre, and a nice showcase for Kirkpatrick's virtuoso talents.
John Kirkpatrick & Sue Harris "Among The Many Attractions At The Show Will Be A Really High Class Band" (Topic, 1976) (LP)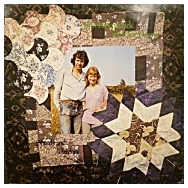 John Kirkpatrick & Sue Harris "Shreds And Patches" (Topic, 1977) (LP & MP3)



An absolute delight, showcasing these frequent collaborators at their best. In instrumental numbers are odd and playful; the vocal songs are bizare, craggy and compelling. More fun and more varied than his all-instrumental albums, and definitely worth tracking down.
John Kirkpatrick "Going Spare" (Free Reed, 1978)

John Kirkpatrick & Sue Harris "Facing The Music" (Topic, 1980) (LP)





<! pic available >

John Kirkpatrick/Maddy Prior/Various Artists "Lovely In The Dances: The Songs Of Sydney Carter" (1981)





<! w/ Melanie Harrod, , others. Religiously themed >

John Kirkpatrick & Sue Harris "Ballad Of The Black Country" (1981)



<! Jon Raven album by the same name on Broadside label - B00CFHY732 >

John Kirkpatrick "Three In A Row" (1983)

John Kirkpatrick "Sheepskins" (Frea Records, 1988)







John Kirkpatrick/Kepa Junkera/Riccardo Tesi "Trans-Europe Diatonique" (1993)



<! three accordionists >

John Kirkpatrick "Earthling" (Frea Records, 1994)

John Kirkpatrick Band "Force Of Habit" (Fledg'ling, 1997)



(Produced by John Kirkpatrick)
Alternately enchanting and clompy, this live set features Kirkpatrick and crew playing at full tilt, with a high level of musicianship and precision. I like the all-acoustic numbers, but the electrified numbers get old quick. I suppose if you're a fan of the clasic folk-rock sound -- Fairport Convention, Richard Thompson, et. al. -- then Graeme Taylor's growling electric guitar will be a treat, but I found it grating and distracting. The drums, tuba and electric bass are just fine, though, and the acoustic tracks at the beginning of the set are lots of fun.

The John Kirkpatrick Band "Welcome To Hell" (Wing And A Prayer, 1997)


Despite the foreboding album title, this is a fine set of English folk (and contemporary folk) tunes... Fiddler Paul Burgess and guitarist Graeme Taylor join Kirkpatrick as part of this larger, louder ensemble. On some songs they get electrified and clompy, in a Steeleye Span-ish way, though other songs stick to Kirkpatrick's more delicate traditionalist sensibilities... But if you wanna hear him plugged in and rowdy, this is the record to look for.


<! 1977 ??? >

John Kirkpatrick "One Man And His Box" (Frea Records, 1998)


John Kirkpatrick "Blue Balloon" (Frea Records, 1999)


John Kirkpatrick "Mazurka Berzerker" (Fledg'ling, 2001)


John Kirkpatrick "The Duck Race" (Fledg'ling, 2004)


John Kirkpatrick & Chris Parkinson "Sultans Of Squeeze" (Fledg'ling, 2005)


John Kirkpatrick "Make No Bones" (Fledg'ling, 2007)



2-CD set...
---
Best-Ofs & Other Stuff
---

John Kirkpatrick "A Short History Of John Kirkpatrick" (Topic, 1995)


A brief best-of that highlights the great button accordion and concertina whiz John Kirkpatrick working in a variety of settings, including the Brass Monkey ensemble and various solo projects. Recommended for anyone who's more than a little curious about this Brit-folk stalwart. (Speaking of John Kirkpatrick, here are links to a few fine sites devoted to his work... Bee's Knees has a great discography, and Johnkirkpatrick.co.uk is a very comprehensive resource for his music.)
---
Related Records
---

The Albion Band "Battle Of The Field" (Harvest/Beat Goes On, 1976)


Recorded in 1973, but not released until '76... Guitarist Martin Carthy steers the band, along with Sue Harris, John Kirkpatrick, Simon Nicol and, of course, Albion's main proprietor, Ashley Hutchings. Carthy is in the limelight as the album's primary vocalist, but this is clearly a group effort, with a fun, pleasant, playful feel througout. The loping beat of the country dances fills this disc, a bit goofy-sounding if you're disinclined, but if you're into it, it's only one of this album's many charms. Certainly one of the best of the Albion albums, and well worth tracking down!
The Albion Band & Kevin Dewhurst "Lark Rise To Candleford" (Charisma, 1980)

Brass Monkey "See How It Runs" (1986)

Brass Monkey "Sound And Rumour" (Topic, 1999)


Brass Monkey "Going And Staying" (Topic, 2001)


Brass Monkey "Flame Of Fire" (Topic, 2004)


Brass Monkey "The Complete Brass Monkey" (Topic, 1993)


A delightful set for listeners of a very peculiar bent. Brass Monkey takes the hypertraditionalist impulse and adds another layer, performing the material to a brass-band accompaniment, which -- as it turns out -- is a perfect counterpoint for the croaking vocals of Martin Carthy and the playful musical wiles of John Kirkpatrick. The music is wilfully obscure and semi-inaccessible, but it's also a delight. There's not much else in the world that sounds like this ensemble, which makes them that much more special. Recommended!
Brass Monkey "The Definitive Collection" (Highpoint, 2005)


Steeleye Span "Storm Force Ten" (Chrysalis, 1977)


Martin Carthy briefly returned to the fold for this fine, and meticulously crafted album. I'm not sure I understand why some Steeleye fans have howled about how this is some sort of disco-tinged nightmare. Sure, there's a disasterous version of Brecht's "The Black Freighter," but that seems to be the extent of the band's crimes on this disc. The production is a bit glossy, but it's certainly not that big a departure from their other work. I actually think this has some of Maddy Prior's best vocal work to date, and it's fascinating to hear the ever-craggy Carthy successfully applying himself to a rock-flavored idiom. An overlooked and much-maligned album, certainly worth checking out.

Steeleye Span "Live At Last!" (Chrysalis, 1978)


The band's first live album, recorded with Martin Carthy still briefly in the lineup... He adds a lot of rawness and vigor, and a gorgeous Carthy-Prior duet on "Hunting The Wren" makes you wish they'd done a whole album together, back in the good old days. This set opens with a somewhat stilted, stagey air, and is by and large rather heavy on the clompy Morris dance melodies... But as the album gathers steam, the charm of the material takes hold and you may find yourself humming a tune or two after the album over. Worth checking out, although I confess it didn't completely grab me.
Umps And Dumps "The Moon's In A Fit" (1980)





<! John Kirkpatrick & Sue Harris "English Canals" (1981) John Kirkpatrick/Sue Harris/Various Artists "The Bold Navigators: The Story Of England's Canals In Song" (Fellside, 2000) John Kirkpatrick/Various Artists "Wassail!" (1997) (with Rosie Cross, Georgina Le Faux, Michael Gregory, Jane Threlfall, Carl Hogsden) Maddy Prior, John Kirkpatrick, Frankie Armstrong, Nic Jones, Gordeanna McCulloch "Ballads" (1997) > <! Jon Raven audiobook 0946757194 >

---
Links
---
Wikipedia <! Solo albums * Jump At The Sun (1972) * Going Spare (1978) * Three In A Row (1983) * Sheepskins (1988) * Earthling (1994) * One Man and His Box (1999) * Blue Balloon (1999) * Mazurka Berzerker (2001) * The Duck Race (2004) * A Short History of John Kirkpatrick (anthology) (1994) * Make No Bones (2 CDs) (2007) John Kirkpatrick and Sue Harris * The Rose of Britain's Isle (1974) * Among The Many Attractions at the Show will be a Really High Class Band (1976) * Shreds and Patches (1977) * Facing the Music (1980) * Ballad Of The Black Country (1981) * English Canals (1981) Ashley Hutchings with John Kirkpatrick * Morris On (1972)[1] * The Compleat Dancing Master (1974) John Kirkpatrick and Martin Carthy * Plain Capers (1976) With the Albion Band * Battle Of The Field (1976) * Lark Rise To Candleford (1980) With Steeleye Span * Storm Force Ten (1977) * Live At Last! (1978) With Brass Monkey * See How it Runs (1986) * Sound and Rumour (1999) * Going And Staying (2001) * Flame of Fire (2004) * The Complete Brass Monkey (anthology) John Kirkpatrick Band * Force Of Habit (1997) * Welcome To Hell (1997) With Umps and Dumps * The Moon's In a Fit (1980) John Kirkpatrick, Maddy Prior and Sydney Carter * Lovely in the Dance (1981) Kepa Junkera, Riccardo Tesi, John Kirkpatrick * Trans-Europe Diatonique (1993) John Kirkpatrick, Rosie Cross, Georgina Le Faux, Michael Gregory, Jane Threlfall, Carl Hogsden * Wassail! (1997) Maddy Prior, John Kirkpatrick, Frankie Armstrong, Nic Jones, Gordeanna McCulloch * Ballads (1997) John Kirkpatrick and Chris Parkinson * Sultans of Squeeze (2005) >
---



Main Celt/Brit Index
International Music Index



---