<! cd 01/11/11 > <! MP3 01/11/11 > <! update 01/11/11 > <! outside 01/11/11 - WP, Squidoo > <! links 00/00/00 > <! pix 00/00/00 > <! icons 01/11/11 >

---
Hailing from County Donegal, Ireland, siblings Maighread Ni Dhomhnaill, singer-keyboardist Triona Ni Dhomhnaill, and the late Michael O Dhomhnaill, were foundational artists in the modern Irish and pan-Celtic folk revival. Together, solo and in a series of bands (notably the fabled Bothy Band, Relativity and Nightnoise) these Irish trad-folk icons explored the boundaries of traditional and experimental Celtic music, adding their own distinctive spin to the music... Here's a quick look at their work...
---
Discography
---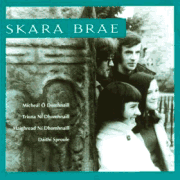 Skara Brae "Skara Brae" (Gael-Linn, 1971)



The lone album by this charming, youthful, high-powered Irish folk group, which featured all three of the musical Ni Dhomhnaill siblings -- Maighread Ni Dhomhnaill, Micheal O Domhnaill and Triona -- along with guitarist Daithi Sproule. All four musicians went on to become pillars of the Celtic music scene: Michael and Triona co-founded the Bothy Band (and several later groups as well), Maighread sang with Triona and on several solo albums, and Daithi Sproule helped anchor the Altan band in the 1980s and '90s. On this early album, the college-age group sang all in Gaelic, performing with gusto and youthfulness -- the performances are a little uneven and rough-hewn, but the raw power of the artists is clear, and the repertoire is a delight. An important early touchstone for the Gaelic trad scene, and a lovely album still... Definitely worth a spin!


<! Skara Brae was a traditional Irish music group with origins in Rannafast, County Donegal, Ireland. The group consisted of three siblings, Maighréad Ní Dhomhnaill, Tríona Ní Dhomhnaill and Mícheál Ó Domhnaill with Dáithí Sproule. Though brought up in County Meath, the Uí Dhomhnaill siblings had their roots in Rannafast (Rann na Feirste), where their father's family originated. Mícheál and Tríona came together with Dáithí when they went to University College Dublin in the late 1960s. They played gigs around Dublin and Mícheál and Dáithí spent a summer as the house band at Teach Hiúdaí Bhig in Gaoth Dobhair (Gweedore), Donegal. Around 1970, the three siblings -Mícheál, Tríona and Maighréad - teamed up with Dáithi Sproule to form Skara Brae. Skara Brae produced one album and broke up in 1972, but re-grouped in 1998 for a concert in Gweedore, County Donegal. >

Mick Hanly & Michael O'Donnell "Celtic Folkweave" (Polydor, 1974) (LP)


(Produced by Donal Lunny)
A collaboration between singer Mick Hanly and guitarist O Domhnaill (or "O'Donnell," as he was credited on this album...) In the early 1970s, the two toured together at the time as an acoustic duo called Munroe... Haven't heard this one, but I sure would like to!

Triona Ni Dhomhnaill "Triona" (Gael Linn, 1972) <! date? per Triona's site >



Triona's beautiful (and somewhat quirky) solo debut. Released before the first Bothy Band album, this also includes her brother Michael and fellow Bothy player, Paddy Keenan, on the uilleann pipes. Triona's vocals are both playful and majestic, singing in both Gaelic and English on a series of powerful songs. She plays the cruitchorda (harpsichord) on many tracks, which adds a genteel, antique feel, and certainly gives the album a distinctive sound. Highlights include the album's humorous opener, "When I Was A Fair Maid," a girl-sailor song in the tradition of "Willie Taylor" and "Canadee-I-O," as well as a number of gorgeous, evocative Celtic ballads. Nice stuff, highly recommended, and certainly a classic.

Bothy Band "The Bothy Band" (Polydor/Green Linnet, 1975)



A classic! Along with Planxty, the Bothy Band were one of the key groups to bring a new, revitalized spirit to the Irish trad scene in the early 1970s. This is their first album, originally released in 1975, and first reissued in America in 1983, showing the emerging band already at the height of their powers. And with a lineup that included Paddy Keenan, Donal Lunny, Matt Molloy, Triona and Micheal O'Domhnaill and Tommy Peoples... well, how could they miss?? At the time, folks praised the Bothys for the infusion of "rock'n'roll" energy they brought to their work... That's misleading, however, as there are no drums, electric instruments or, indeed, nontraditional elements to this album, simply a sense of enthusiasm and drive that was lacking in albums by '60s folkies such as the Irish Rovers, et al., who generally approached the music with a mellower, more reserved sensibility. The Bothy recordings are also notable for the softer melodic edge they placed on their instrumental work -- while this album is typically heavy on reels and jigs (although with several lovely songs), it lacks the almost puritanical severity of some of the early Planxty albums. Great stuff.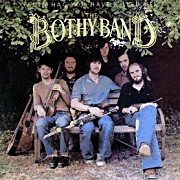 Bothy Band "Old Hag Ye Have Killed Me" (Mulligan's Music/Green Linnet, 1976)



One of the best records by this traditionalist Celtic band... includes plenty of mysterious ballads and thick accents galore. Recommended!
Maighread Ni Dhomhnaill "Mairead Ni Dhomnaill" (Gael Linn, 1976)



Bothy Band "Out Of The Wind, Into The Sun" (Mulligan's Music/Green Linnet, 1977)



Tommy Peoples had left the band, but the rest of the heavy-hitters were all in place, and in fine form. This disc is heavy on instrumental performances, with only three out of ten tracks being songs, and one of those -- "The Streets Of Derry," sung by Triona -- is a bit of a snooze. Thus, if you're not that into jigs, slip jigs and reels, this disc might not be for you. But if you let yourself settle into it, you may find it quite rewarding.
Bothy Band "After Hours: Recorded Live In Paris" (Green Linnet, 1979)


Bothy Band "Live In Concert" (Green Linnet/Windsong, 1995) <! date? >


BBC recordings...
Michael O Dhomhnaill & Kevin Burke "Promenade" (Green Linnet, 1979)


Michael O Dhomhnaill & Kevin Burke "Portland" (1Green Linnet, 982)


Touchstone "The New Land" (1982)


Relativity "Relativity" (Green Linnet, 1985)



The first album by this Irish-Scottish supergroup, featuring Michael and Triona, along with brothers Phil and John Cunningham, who had most recently been in the Silly Wizard band.
Nightnoise "Nightnoise" (Windham Hill, 1984)


An easy-jazz/world-Celtic/New Age ensemble featuring an all-star lineup, showcasing the brother/sister pair of Michael Ni Dhomhnaill (on guitar) and Triona Ni Dhomhnaill (keyboards and vocals). Also worth checking out is their band, Relativity, which paired these siblings with Phil and Johnny Cunningham...
Nightnoise "Something Of Time" (Windham Hill, 1987)


Relativity "The Gathering Place" (Green Linnet, 1987)


Nightnoise "At The End Of The Evening" (Windham Hill, 1988)


Nightnoise "The Parting Tide" (Windham Hill, 1990)


Maighread Ni Dhomhnaill "Gan Dha Phingin Spre (No Dowry)" (Gael Linn, 1991)



A notable solo album by Maighread Ni Dhomhnaill, sister of Michael and Triona, and a fellow member of the short-lived but influential Irish trad band, Skara Brea. Accompanied by her siblings and the venerable Donal Lunny, Liam O'Flynn, and others, Maighread sings a fine selection of haunting, Gaelic-language romantic ballads... In theory, I'm totally down with this, though I have to admit I find the tone of her voice to be grating and a bit unruly. For other folk fans, though, this may be a pure, unadulterated delight.
Nightnoise "Shadow Of Time" (Windham Hill, 1993)


Nightnoise "A Different Shore" (Windham Hill, 1995)

Nightnoise "The White Horse Sessions" (Windham Hill, 1996)

Maighread Ni Dhomhnaill/Triona Ni Dhomhnaill/Donal Lunny "Idir An Da Sholas" (Gael Linn/Green Linnet, 1999)


Triona Ni Dhomhnaill "The Key's Within" (Self-Released, 2010)
(Available through Triona's website.)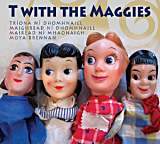 T With The Maggies "T With The Maggies" (Compass, 2011)



The "T" would be Triona, along with her sister Maighread, and Maighread Ni Mhaohaigh of Altan, as well as Moya Brennan of Clannad, singing a mostly-Gaelic set. Man, talk about your Celtic super-groups! The overall vibe is pretty mellow, and even sugary at times (though never quite saccharine...) with some gorgeous harmonies and a nice sense of self-assurance and purpose. Highlights include the English-language songs that bookend the set, the exuberant "Wedding Dress" and a nice version of Richard Thompson's "Farewell, Farewell"; there are also a couple of politically-themed songs, reflecting on the Irish troubles, both historical and ongoing. Although this may be a bit restrained for some trad fans, I think fans of any of these four artists will enjoy this set... Definitely worth a spin!
---
Best-Ofs
---
Bothy Band "The Best Of..." (Green Linnet/Polydor, 1983)


Nightnoise "Nightnoise: A Windham Hill Retrospective" (Windham Hill, 1992)

Nightnoise "Pure Nightnoise" (Windham Hill, 2006)

---
Links
---
---



Main Celt/Brit Index
International Music Index



---

<! 1975 The Bothy Band - 1975 Polydor 2383379 Green Linnet 3011 1976 Old Hag You Have Killed Me Polydor 2383417 Green Linnet 3005 1977 Out of the Wind Polydor 2383456 Green Linnet 3013 1979 After Hours (Live in Paris) Green Linnet 3016 1983 Best Of the Bothy Band Polydor 3170583 Green Linnet 3001 1995? The Bothy Band - Live in Concert WindSong WIN060 Green Linnet 3111 > <! Triona Ni Dhomhnaill http://en.wikipedia.org/wiki/Triona_Ni_Dhomhnaill http://www.squidoo.com/celtic-music-relativity also in Touchstone: Touchstone "The New Land" (1982) B000005CME B001OCCVYG Touchstone "Jealousy" (1984) B000005CMM B001UDNI4Q Relativity "Relativity" (Green Linnet, 1985) B000005CMT B001HAZ0CK Relativity "The Gathering Place" (Green Linnet, 1987) B000005CN8 B001UDMQP8 > <! Nightnoise -- new age-y, with Triona Ni Dhomhnaill http://ceolas.org/artists/Nightnoise.html Nightnoise "Nightnoise" (Windham Hill, 1984) B000000NFU Nightnoise "Something Of Time" (Windham Hill, 1987) B000000NGR B0013AZPQK Nightnoise "At The End Of The Evening" (Windham Hill, 1988) B000000NH8 B001VA7RNG Nightnoise "The Parting Tide" (Windham Hill, 1990) B000000NHZ Nightnoise "Shadow Of Time" (Windham Hill, 1993) B000000NJT B00138KOT0 Nightnoise "A Different Shore" (Windham Hill, 1995) B000000NKT Nightnoise "Nightnoise: A Windham Hill Retrospective" (Windham Hill, 1992) B000000NJ0 Nightnoise "The White Horse Sessions" (Windham Hill, 1996) B000000NLS Nightnoise "Pure Nightnoise" (Windham Hill, 2006) B000FNO1DY > <! Maighread Ni Dhomhnaill "Mairead Ni Dhomnaill" (Gael Linn, 1976) B00029R5SE B003768O5C Maighread Ni Dhomhnaill "Gan Dhá Phingin Spré (No Dowry) (1991) Maighread Ni Dhomhnaill/Tríona Ní Dhomhnaill/Donal Lunny "Idir An Da Sholas" (Gael Linn/Green Linnet1999) B00004Z3YM B00377VG60 Maighread Ni Dhomhnaill "T With The Maggies" (2010) B004APSJPE Maighread Ni Dhomhnaill "TBC" (2011) Maighread Ni Dhomhnaill/Various artists "Ceol Cheann Dubhrann" (Various artists, 2009) >