v

<! MP3 01/02/09, 01/14/11 > <! outside 00/00/00 > <! links 00/00/00 > <! pix 00/00/00 - need most pix > <! icons 01/14/11 > <! UPDATES: 01/02/09 03/27/15 - RIP >

---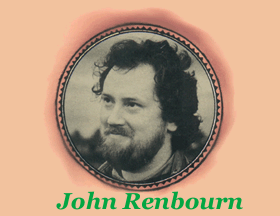 Many of the world's great guitar players are technically adept, yet palpably flashy. England's John Renbourn (1944-2015), however, was proficient beyond mortal means, yet richly soulful, with a poetic grace that few could hope to match. As a leading member of the English folk band Pentangle, Renbourn fused an intimate appreciation of Medieval, Renaissance and folk material with a love of American jazz and blues. He further refined this mix on his solo albums, the best of which are the late '70s masterpieces described below. Here's a quick look at the catalog of one of the world's great master guitarists.
---
Discography
---
John Renbourn & Dorris Henderson "There You Go!" (EMI/Columbia, 1965)


Renbourn's first album, cited as a "long-lost gem" of the Brit-folk scene. The truth is, this is pretty dreadful -- Henderson's sub-Baez vocals epitomized all the snide things critics used to say about the earnest 'Sixties folkies -- all enthusiasm and false bluster, with no sense of melody or restraint. A true believer might find this charming, but they'd have to work at it. Plus, Renbourn's guitar work, besides being drowned out by her swoops and slurs, is nowhere near as sublime as it would later become.
John Renbourn "John Renbourn" (Transatlantic, 1965)


John Renbourn & Bert Jansch "Bert And John" (Transatlantic, 1966)



(Produced by Bill Leader)

John Renbourn "Another Monday" (Transatlantic, 1966)

John Renbourn & Dorris Henderson "Watch The Stars" (Fontana, 1967)



John Renbourn "Sir John A Lot..." (Transatlantic, 1968)



An interesting transitional album, made around the time of the first Pentangle albums... Renbourn's love of jazz lingers in this all-instrumental outing, particularly in tracks like his cover of Charles Lloyd's "Transfusion..." But it's a deepening fascination with medieval themes that shines through on here... Occasionally the musicianship falters, mostly when the players feel compelled to gallop, when they should simply lope... But clearly this album points to the meditative, textured direction of Renbourn's future work. Worth checking out, though a bit wobbly in spots.

John Renbourn "The Lady And The Unicorn" (Transatlantic/Reprise, 1970)



A beautiful instrumental album that reflects Renbourn's growing appreciation of older, more stately medieval forms, combining Italian and French music from the 1300s along with well-known English folk themes such as "My Johnny Was A Shoemaker" and "Scarborough Fair," liberated from its recent inclusion into the Simon & Garfunkel catalog and placed into Renbourn's newly expansive folk revivalism. The inclusion of romantic baroque material, such as Bach's "Sarabande" points to the increasingly lush techniques he would apply on later albums. All in all, a very lovely record.
John Renbourn "Faro Annie" (Transatlantic, 1971)



Although there's a beautiful version of "Willie O'Winsbury," this album largely shies away from trad material in favor of a return to more American styles, with mellow blues jams and Appalachian folk tunes like "Little Sadie" and "Kokomo Blues." This is a nice album, more magical than some, though not as enchanting as others...

John Renbourn "The Hermit" (Transatlantic, 1976)


John Renbourn & Stefan Grossman "Stefan Grossman & John Renbourn" (Transatlantic/Kicking Mule, 1976)



Renbourn returns to his blues roots, albeit with a great deal more mastery and panache than he had in the old days. Grossman is an able collaborator; at times they get quite playful, as on the oddball electric guitar flights of the second side of the disc. This doesn't bowl me over the same way Renbourn's ethereal solo stylings do, but it's a very nice entry into the acoustic music canon.
The John Renbourn Group "A Maid In Bedlam" (Transatlantic/Shanachie, 1977)



This album features Pentangle stalwarts Tony Roberts and Jacqui McShee, and will probably have a familiar ring to fans of the old band. The emphasis here is pretty strictly traditional, with an impressive repertoire of sprightly old-world aires, court music and ballads from Italy and France, as well as Renbourn's usual font of great British material. Nice, smoothly integrated use of the Indian tabla as percussion throughout. This doesn't have as loose and sensuous a feel as some of his other stuff, but it's an impressive bit of folklore, nonetheless.

John Renbourn "Black Balloon" (Transatlantic/Kicking Mule, 1979)



Absolutely stunning. Absolutely stunning. Absolutely stunning. For me, this is Renbourn's great masterpiece. An envious mix of styles -- Elizabethan aires, with English, French and Irish roots. Renbourn's medley, "The Mist Covered Mountains/The Orphan/The Tarboulton" is perhaps my favorite of all his recordings. Although the credits read "John Renbourn - Guitars," I was never sure if there was a second player on this tune or not. Turns out, there isn't. When I saw him play this song live I was floored to see him play all the parts -- melody, harmony, counter-point and all -- in a dazzling yet elegant display of Renbourn's considerable prowess.
John Renbourn "So Early In The Spring" (Denon, 1979)


A Japanese-only release, on a Columbia imprint. Haven't heard it...
John Renbourn & Stefan Grossman "Under The Volcano" (Kicking Mule, 1979)


The John Renbourn Group "The Enchanted Garden" (Transatlantic/Kicking Mule, 1980)



One of the Renbourn Group's finest albums. This starts off with an exquisite rendition of the French medieval pavane, "Belle, Qui Tiens Ma Vie," and continues along in fine fashion, finally arriving on Eastern shores with the Indian classical-flavored "Sidi Brahim," which highlights the tabla playing of Keshav Sathe. Jacqui McShee's vocals were never finer, and the album as a whole is simply a delight. Not a forced or iffy moment on here, just plenty of great, graceful music. Highly recommended!
The John Renbourn Group "Live In America" (Flying Fish, 1982)


John Renbourn & Stefan Grossman "Live In Concert" (Shanachie, 1984)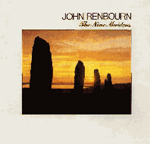 John Renbourn "The Nine Maidens" (Transatlantic/Flying Fish, 1985)



An absolutely gorgeous set of meticulously crafted, super-delicate instrumentals, with Renbourn tip-toeing his way through fields of pavanes, sarabandes, tarantellas and Renbourn-ized reels. Absolutely stellar musicianship, infused with greatly soulful emotion. Highly recommended.
John Renbourn & Stefan Grossman "The Three Kingdoms" (Shanachie, 1986)


John Renbourn's Ship Of Fools "Ship Of Fools" (Run River/Flying Fish, 1988)



A modest album which unhurredly unfolds its charms... Renbourn works with a small trad ensemble, which includes the ever-present Tony Roberts, along with singer Maggie Boyle, whose voice bears a more than passing similarity to Maddy Prior's. The presentation is fairly straightforward and has less of the transcendant feel of Renbourn's early albums. Still, this is very nice trad-folk -- a bit on the languid side, and quite pleasantly so.

John Renbourn & Robin Williamson "Wheel Of Fortune" (Flying Fish, 1993)


A pleasant live album, on which former Incredible String Band frontman Williamson upstages the more demure Renbourn, with exaggerated Scottish humor. One highlight is a version of the Archie Fisher classic, "Lindsay," which features Renbourn on vocals. Williamson's tale tales also have their charm, but he overdoes it on a couple of tunes. Best joke on the album: Renbourn's aside that they had thought of calling the collaboration "the Incredible String Tangle..."
John Renbourn "Lost Sessions" (Edsel, 1996)





<! pricey OOP! >

John Renbourn "Traveller's Prayer" (Shanachie, 1998)



The great Brit guitarist takes an Irish sojourn, dipping deeper into the Celtic fount than usual. Included on these Dublin-based sessions is the great Irish vocalist Mairead Ni Dhomhnaill (of the band Relativity), who croons on a couple of tunes. Her vocals are a little more formal than I'd prefer, but still quite nice... lovely, as a matter of fact! Another mellow, beautiful album... Recommended!
John Renbourn "Live In Italy" (Castle, 2006)

John Renbourn "Palermo Snow" (Shanachie, 2011)


---
Best-Ofs & Retrospectives
---
John Renbourn "John Renbourn/Another Monday" (Castle, 2000)


A handy single-CD reissue of his first two solo albums.
John Renbourn "So Clear" (Transatlantic, 1973)


The original LP best-of covered much of his early work on the Transatlatic label; the new CD is a 2-disc set with nearly three times as many tracks.
John Renbourn "The Definitive Transatlantic Collection" (Castle, 1998)


John Renbourn & Stefan Grossman "Snap A Little Owl" (Shanachie, 1988)


John Renbourn & Bert Jansch "After The Dance" (Shanachie, 1992)


John Renbourn & Stefan Grossman "Keepers Of The Vine" (Shanachie, 1999)


John Renbourn "Nobody's Fault But Mine: The John Rebourn Anthology 1966-2005" (Sanctuary/Transatlantic, 2008)


---
Links
---
John Renbourn's Home Page aims at settling the rumours, etc. that flutter about the haloed legend of all great British folkie legends. Nice, easily navigable website, with down-to-earth presentation and lots of good info, especially in the biographical section.
Thanks to Music That Means Something is nice site, with a personalized, opinionated touch that is easily appreciated by yours truly. Also has separate entries on Pentangle and Bert Jansch.
Folk, Blues & Beyond is a UK-based website that not only has a John Renbourn webpage, along with some similar discographies of other classic British folk-fusion artists... And if you'd like to hear a few new artists with a similar blues-folk vibe, they have recommendations for some new bands as well!
---



Main Celt/Brit Index
International Music Index



---