<! MP3 04/01/09, 01/11/11 > <! update 00/00/00 > <! outside 00/00/00 > <! links 00/00/00 > <! pix 00/00/00 > <! icons 01/11/11 >

---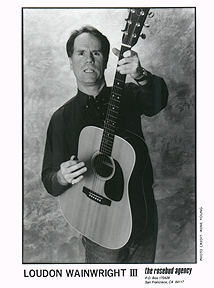 Folk scene icon Loudon Wainwright III is a compelling songwriter, a powerful lyricist and skillful performer who combines genuinely wrenching self-exploration with lightheartedly misanthropic, deceptively buffoonish showmanship. Wainwright was one of the early golden boys in the post-Woodstock singer-songwriter boom, when "who-will-the-next-Dylan-be?" was the cliche of the day. Although he got tagged early on as a novelty singer (due to his unexpected radio hit, "Dead Skunk"), Wainwright's ouvre is anything but lightweight. One of the most striking aspects of his work is his continued emphasis of the emotional life of the American family, a theme he has addressed first as errant son, then as young lover, young parent, divorcee, estranged parent, single dad, feuding sibling, newly-appreciative grown-up son of only-human parents, grieving child and finally as a (fairly) mature adult member of society. In dozens of songs that span decades of albums, Wainwright has explored the prickly nuances of family ties with a deftness and persistence that few novelists -- much less songwriters -- could hope to match.
---
Discography
---

Loudon Wainwright III "Loudon Wainwright III" (Atlantic, 1970)



A really swell debut. You can see why this put Loudon's name on the map... Looking back, this album is perhaps a bit dense, more literary than his later efforts. Well, in short, despite having wit to spare, Loudon had not yet discovered the power of the "novelty" song, and this disc is a bit more on the serious side than his fans have since become accustomed to... Wainwright as angry young man, instead of rueful old geezer. My favorite song on here (and one of the best in his canon...) is "School Days," a wry memoir in which Loudon perforates his own ego, lampooning the romantic pretensions of the teenage poet inside us all.. Another striking song is the scalding "Black Uncle Remus," which probably isn't in Loudon's repertoire anymore due to the prickly, potentially un-PC nature of the lyrics.

Loudon Wainwright III "Album II" (Atlantic, 1971)



Helping define the "singer-songwriter" genre was no easy chore, but the young, brash, snotty, undeniably witty LW3 certainly got his licks in on this jagged, whiny sophmore outing. A lot of the songs are episodic, many are rather strained and you can practically hear him piecing the themes together, all these decades later. And yet, there was nothing else like it at the time... Although Loudon hadn't yet found his artistic voice, wobbling between scabrous, angry-young-man viciousness and attempted poetics, there are several striking, noteworthy songs. The best of his venal novelty numbers is "Motel Blues," in which a musician on the make says everything he can to get an underage groupie to spend the night with him, including promising to write a song about her -- it's a merciless, incisive blast at the nature of lust and the license given to celebrities (especially back in the '70s...) The most audacious of the songs is "The Suicide Song," in which he advises anyone despondent enough to just go for it, pull the trigger, take the pills, tie the noose, whatever. There's also a funny time-capsule period piece, in which a hippie-era Samson pleads with a redneck cop not to shave off his peach-fuzz mustache and freak-flag hair -- the song kinda picks up where "Alice's Restaurant" left off, and it doesn't have much durability in the post-Nixonian world, but it is an amusing historical footnote... The rest of the album... Well, it's pretty sketchy and doesn't hold together musically... Still, it's worth checking out if you're a devoted Wainwright fan... It's interesting to see him developing his craft, even if he had to work a few kinks out first.
Loudon Wainwright III "Album III" (CBS, 1972)


Loudon Wainwright "Attempted Mustache" (CBS, 1974)



Loudon Wainwright III "Unrequited" (CBS, 1975)



Easy to peg this one as a misguided effort, what with full-on rock and disco arrangements on Side One, and the live acoustic show recorded on Side Two. But it's also interesting to hear Loudon toying -- seriously -- with big pop arrangements, a style he shied away from, employing it later on only for satiric effect. The opening song, the discoed-out "Sweet Nothings," is absolutely awful, and it's actually hard to tell whether he meant it seriously or not. But the album picks up steam even as it slows the tempo down. There are some easily overlooked songs on here, and it's unusual to hear Loudon play the singer-songwriter role so straight for once. I'm sure it didn't work, and this album must have been a dismal failure... But it's worth checking out. He's notably more of a goofball on the live tracks, sardonic and mean-spirited, but also playing up to the audience. Nice to hear him singing along with Kate & Anna McGarrigle (on "Absence Makes The Heart Grow Fonder," an acoustic track on the studio side...)
Loudon Wainwright III "T-Shirt" (Arista, 1976)


Loudon Wainwright III "Final Exam" (Arista, 1978)


Loudon Wainwright III "A Live One" (Radar, 1979)



Loudon Wainwright III "Fame And Wealth" (Demon/Rounder, 1982)



On the title track, Loudon ruminates on the vagaries of, well, fame, at least... Typically rueful and wry, he plugs away on "The Grammy Song", and rips his guts out for "April Fool's Day Morn," a super-harsh and remarkably honest song which examines the ugliness of his own alcoholism and excessive drinking. It's one of my favorite LW3 songs -- I've heard very little like it anywhere else. He softens up a bit on tunes like the distracted-and-dissolute "Dump The Dog", and "Five Years Old," another song written for his kids, though a mournful message with an ebullient melody. Yet another groovy, great album.

Loudon Wainwright III "I'm Alright" (Demon/Rounder, 1985)



This Grammy nominated album is one of Loudon's most celebrated records...


<! Listen 1. One Man Guy 4:15 $0.99 Buy Track Listen 2. Lost Love 3:22 $0.99 Buy Track Listen 3. I'm Alright 2:23 $0.99 Buy Track Listen 4. Not John 4:25 $0.99 Buy Track Listen 5. Cardboard Boxes 3:15 $0.99 Buy Track Listen 6. Screaming Issue 4:51 $0.99 Buy Track Listen 7. How Old Are You? 2:08 $0.99 Buy Track Listen 8. Animal Song 2:16 $0.99 Buy Track Listen 9. Out Of This World 3:17 $0.99 Buy Track Listen 10. Daddy Take A Nap 3:59 $0.99 Buy Track Listen 11. Ready Or Not (So Ripe) 4:17 $0.99 Buy Track Listen 12. Career Moves >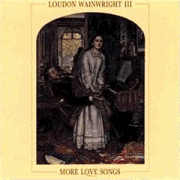 Loudon Wainwright III "More Love Songs" (Demon/Rounder, 1986)



If I had to pick, this Grammy-nominated gem would probably be my favorite LW3 album... It's a beautifully conceived, compactly arranged, deeply emotional and soulful collection of songs, borne of Wainwright's years-long self-exile to the United Kingdom. It's also just about the only album Richard Thompson ever worked on that didn't profoundly irritate me in some way: for a while there, Thompson and Wainwright hung out together nonstop, and picked up the nickname, "Loud and Rich..." Along with Thompson comes a full compliment of his UK folkie cohorts, including the likes of Dave Mattacks, Danny Thompson, John Kirkpatrick and Martin Carthy. Mostly what makes this album great, though, is the stunning calibre of the song writing, and its piercing emotional tenor. Several songs, such as "Unhappy Anniversary," "Expatriate," and "Overseas Call," reflect on the loneliness of divorce, and isolation from one's family. Looking outwards from his own internal misery, Wainwright also takes time to reflect on the sad state of global affairs, in "Hard Day On The Planet", and finally, in the album's coup de grace, he clobbers us with "Your Mother And I," a gut-wrenching parental explanation of why Mommy and Daddy aren't together anymore... One of the most striking songs I've ever heard, in any genre of music. Highly recommended.
Loudon Wainwright III "Therapy" (Silvertone, 1988)


Loudon Wainwright III "If Jesse Don't Like It" (Ryko/Hannibal, 1990)
Sure, it was only a single... but what a single it was! The picture-perfect skewering of radical rightwinger Jesse Helms' attack on arts funding in the United States. Loudon didn't halt the tide of creeping moronism, but he did lighten the shock with a spot of laughter... (Later reissued as part of the Social Studies CD...)

Loudon Wainwright III "History" (Virgin, 1992)



One of Loudon's best and most openly confessional albums. Along with several topical tunes (about health care, violence against children, and the comic foibles of the patriarchy...) are presumably autobiographic gems such as "A Father And A Son", written during what must have been a bad patch between him and his son, cabaret popster, Rufus Wainwright. The best comedic zinger is probably "Talking New Bob Dylan," in which Loudon uses Dylan's 50th birthday as an opportunity to poke fun at the whole singer-songwriter phenomenon. This is an incisive and nicely-produced record; well worth checking out.
Loudon Wainwright III "Career Moves" (Virgin, 1993)



Loudon Wainwright III "Grown Man" (Virgin, 1996)



One of his best, and most "musical" recent albums. This has its fair share of exaggerations and longshots, but also a lot of great material. The opening tracks are mediations on aging, and the foibles of middle aged men... One of the most striking songs -- at least as far as the Wainwright family-song canon goes -- is "Father/Daughter Dialogue", in which Martha Wainwright (herself long the focus of Loudon's musical musings) gets to call dad on his shit for once. I don't quite buy Loudon's reply that "the guy singing the songs is not me", but nonetheless it's a fascinating track, given the decades-long context. (And unless I'm mistaken, I think Martha is now a solo singer on the folk circuit...)

Loudon Wainwright III "Little Ship" (Virgin, 1997)



This is probably one of Loudon's most strained albums... The opening blasts of folk-rock hoo-hah seem a bit misguided, and working deeper into the album, there seems to be a sort of removed, abstracted feel to the disc as a whole. There are, of course, some great lines and a few nice tunes, but this is not the first album I would recommend to anyone new to his oevre...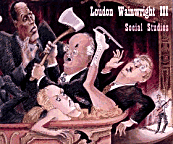 Loudon Wainwright III "Social Studies" (Rykodisc, 1999)



Over the years, Loudon has extended his satire away from the interpersonal and into the socio-political... On his studio albums, these topical songs have usually been balanced by all the weepy and funny stuff, but on this disc, we are treated to an undiluted dose of Wainwright the social critic. Most of these songs were originally commissioned by NPR's Morning Edition show, and they include jabs at Hillary, Bill, Jesse Helms, Christmastime commericalization, anti-smoking campaigns, the Beatles and other fake musical reunions and (remember these ones...?) O.J. Simpson, Tanya Harding and Y2K. Wainwright's pretty witty, and even at his most pessimistic, he offers us some hope that intelligence (or at least a sense of humor) may save the day. Perhaps the biggest surprise on this disc is how compassionate he is towards the Olympic figure skaters, lamenting the loss of innocence in the sport. Great collection of his topical material.

Loudon Wainwright III "Last Man On Earth" (Red House, 2001)



Sounding even bleaker than usual, at age 53 Loudon looks at loneliness, loss, death and, naturally, the family. Inspired, if you can use that word, by the death of his mother, this album is the culmination of a years-long bout with depression. It's a bit crushing and seems more sincerely downcast than... well, just about anything else he's ever done. Still, this can hardly be characterized as simply wallowing in it. Loudon's as witty and literate as ever, although he seems to have dispensed with the lighter novelty songs altogether -- the title track is closest thing on here, and it's an examination of his middle-aged alienation from 21st Century googaws such as cell phones, SUVs and computers ("I hate that letter 'e'..." he croons). He also has a song wherein he asks a friend if it's okay to list them as an emergency contact, since his family members are all either dead or dispersed from his life; this is followed by a tune equating sleep with death... A powerful, thought-provoking album with nice arrangements, but also a real downer. Worth checking out.

Loudon Wainwright III "So Damn Happy" (Sanctuary, 2003)



Another fine live album. Drawn from shows at a couple of different venues, this shows Loudon at his best -- clever, crass, intimate, enthralling, brilliant and yet a known factor. This time around he eschews the oldies, and mostly concentrates on material written in the 1990s, which is fine since we all know hte old songs so well (His Tonya Harding song seems to be the new "Dead Skunk," though... enough already! :-) Also noteworthy are the cameos by other musicians: Richard Thompson, Van Dyke Parks and daughter Martha Wainwright all pitch in; it's nice to hear him up there with someone else for a change! Another fine LW3 album.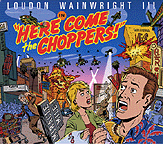 Loudon Wainwright III "Here Come The Choppers" (Sovereign Artists, 2005)


Goofy ol' Loudon backed by the sleek, dreamy guitars of Bill Frisell? Yup. That's right, he's hooked up with Frisell and a buncha high-powered fellas like Jim Keltner, Greg Leisz and David Pilch, and they provide a pretty backdrop for the decidedly mature musings of this album... Wainwright's trademark bite is subsumed by a softer sound; the opening track, "My Biggest Fan," although apparently based on a real person, skewers all us Loudon-aholics on the same spit, whiel the title track chaotically evokes the paranoia and permanently apocalyptic state of mind that is Los Angeles. The rest of the album largely eschews the "novelty song" style Wainwright is known for, and these denser, more poetic new songs may throw some fans for a loop. His vocals also seem slightly muffled or blended deeper in the mix than usual, so this is an album you'll have to work at to really "get." But hey, after all these years of spoonfeeding us his wit and wisdom, Loudon deserves the chance to shift gears and get a little artsy. This also includes a full-band version of his elegy to the September 11th bombings, "No Sure Way." Personally, I prefer the sparser acoustic version heard, lo, those many years ago on NPR, but it's still a great song, either way.


<! 10/11: B000UTM5ZO defunct MP3 ASIN >

Loudon Wainwright "Strange Weirdos: Music From And Inspired By The Film Knocked Up" (Concord, 2007)


Loudon Wainwright III "Recovery" (Yep Roc, 2008)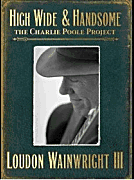 Loudon Wainwright III "High Wide And Handsome: The Charlie Poole Project" (Second Story Sounds, 2009)



(Produced by Dick Connette & Loudon Wainwright III)
A bold, brilliant tribute to Charlie Poole, one of the early country music superstars of the Great Depression. Poole was a notorious rascal and ne'er-do-well from a small town in North Carolina who became a star in the 1920s, but like many artists of the era, he was poorly paid for his work, and while his records sold well, he found it hard to make ends meet. He was also an accomplished musician, one of the best clawhammer banjo players of his time, and a sly, humorous singer. Eventually, the hard-living performer drank himself to death in 1931, as the economy collapsed and record sales fell flat -- Wainwright explores this legacy, both the glory and the pathos, crafting a remarkable portrait that pierces the veil of time to present Poole as a three-dimensional character, playful, boisterous, flawed and charismatic. Wainwright bookends cover versions of old classics with new compositions that illuminate Poole's life. The first is the title track, "High Wide & Handsome," a masterpiece of bragadoccio that paints the singer as a lusty, vibrant scoundrel, a charming, charismatic braggart and lover of the good life -- in short, a rock star. Other Wainwright originals include "Way Up In New York City," which tells the tale of Poole going to the big city to record his first big hit, "Don't Let Your Deal Go Down Blues," a single on Columbia that sold over a 100,000 copies in 1925 -- Poole and his trio got paid seventy-five bucks, a pat on the back and a train ride home. Nonetheless, he went on to be an immensely popular performer with the wide palette of a classic vaudeville entertainer. Here, Wainwright moves deftly through Poole's repertoire of ribald comedy songs (such as "Moving Day," "If I Lose" and "I'm The Man Who Rode The Mule Around The World") as well as sweet, lachrymose, shamelessly sentimental weepers such as "The Letter That Never Came," "Old And Only In The Way," "Mother's Last Farewell Kiss," and the gorgeous "My Mother And My Sweetheart." In a similar vein are several religious songs that Poole is reported to have performed regularly, but not recorded, and these are performed by Wainwright and his crew with stunning sincerity and emotional depth. Joining LW3 are co-producer Dick Connette, Wainwright's wife, Suzzy Roche, their daughter Lucy, and Lucy's immensely talented aunts (aka the Roches) as well as Loudon's own sibling, Sloane Wainwright and others in their orbit. Suzzy Roche delivers a grand slam on the weary waltz that opens Disc Two, "Man In The Moon," in which the character of Poole's wife laments married life with a irredeemable rambling man -- for me, this is the song which cements the biographical-literary elements of this album, with its haunting melody and a beautiful performance by Roche. And then there's Loudon: a wry, sarcastic performer, he taps directly into the humorous elements of Poole's work, and brings them into a modern framework... Leaving behind the raspy, antique sound of Poole's old recordings, Wainwright lets modern listeners tap directly into the humor of the songs, without hearing them as mere museum pieces. He also shows a not-too-surprising ability to connect with the sentimentality of the old-style weepers, and the passionate, otherworldly yearnings of the gospel tunes. In short, this collection in a real knockout: look for Loudon up on the platform when they're announcing the Grammys... (Postscript: Hey, I was right! He did win the Grammy for Best Folk Album! Congrats, L. You deserve it.)
Loudon Wainwright III "10 Songs For The New Depression" (Cummerbund Music, 2010)


Loudon Wainwright III "Older Than My Old Man Now" (StorySound, 2012)


Loudon Wainwright "Haven't Got The Blues (Yet)" (429 Records, 2014)






<! Where does one go after death n decay? asks Loudon Wainwright, contemplating the genesis of his new LP, Haven t Got The Blues (Yet). The answer: Alternate side street parking, of course! The follow up to 2012 s acclaimed Older Than My Old Man Now is a 14-song, genre-busting collection of sharp, poignant songs about depression, drinking, senior citizenship, gun control, heartbreak, pet ownership and yes, New York City s arcane practice of alternate side parking. Haven't Got The Blues (Yet) features fourteen original songs written by Loudon, and was produced by his long-time musical collaborator David Mansfield, who also backed Loudon on 2010s Grammy-winning High Wide & Handsome-The Charlie Poole Project. The new album also features banjo master Tony Trischka, saxophonist Steve Elson (David Bowie, Radiohead, Stevie Ray Vaughn), drummer Sammy Merendino (Michael Jackson, Billy Joel, Lou Reed) and bassist Tim Luntzel (Rosanne Cash, Bright Eyes). In addition, Aofie O Donovan and Loudon s daughter Martha Wainwright lend backing vocals. >

---
Best-Ofs
---
Loudon Wainwright III "One Man Guy - The Best Of: 1972-92" (Music Club, 1994)


A pretty spiffy collection. I'd still suggest checking out Loudon's best albums first, but if you really are one of those fast-living types who can't stand anything other than a really zippy best-of album, this one is pretty darn good. Features a lot of his most heart-wrenching emotional material from the early '80s... highly recommended!

Loudon Wainwright III "The BBC Sessions" (Varese Sarabande/Fuel, 2000)


Recorded between 1971-93 for the BBC's Radio One pop programmes, this solo acoustic disc highlights Loudon at his rawest, most sardonic and most dire, with little of the lighter humor that mitigates his regular albums. Many of these tracks were recorded when Wainwright was living as an expatriate in the UK, and was a bit of a celebrity on British TV. It's pretty good stuff, showing him at his most skillful as well.... definitely worth checking out!
Loudon Wainwright III "40 Odd Years" (Shout Factory, 2011)

---
Related Records
---
Rufus Wainwright "Rufus Wainwright" (Dreamworks, 1998)



A striking debut, full of rueful, carefully crafted orchestral rock songs with a heavily theatrical, cabaret-influenced jazz tone about them. It's not light material, certainly nothing like what his dad does, but this Wainwright is clearly also an exceptionally gifted musician. A major talent, as they say... Recommended.
Rufus Wainwright "Poses" (Dreamworks, 2001)



Which, indeed, he does. This is another rather stagey, grandly conceived album, but it also packs a wallop. Fans of the first album will not be disappointed. I gotta confess, though, I could never quite get on the Rufus bandwagon... he seems to take himself waaaaay too seriously...
---
Links
---
The Rosebud Agency, Loudon's management company, keeps tabs on the lad (tour dates, media appearances), has a nice discography, and can also help you book a show in your own hometown... Also has links to the other truly groovy LW3 sites out there...
Rufus Wainwright is also worth checking into. His website has all the usual -- tour info, press clippings, info on his albums, etc.
---



Main Celt/Brit Index
International Music Index



---