! MP3 02/06/11 > <! update 02/06/11 - need to do Frank London > <! outside 02/06/11 > <! pix 02/06/11 > <! icons 02/06/11 >
---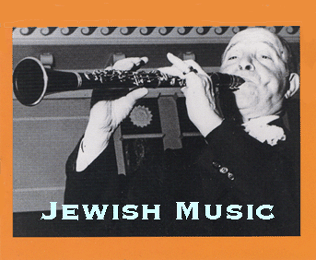 This is the third page of reviews of Jewish music from across the world, including numerous klezmer records. I'm not a huge Jewish music maven or anything, but along with all the other "world music" albums I was listening to, a bunch of these albums started floating my way... So I figured, what the heck, let's review these as well... So, what little I know on the topic, I am sharing with you now...
---
Jewish Music Albums
---

Frank London/Lorin Sklamberg/Uri Caine "Nigunim" (Tzadik, 1998)



Jewish Hasidic mysticism is the focus of this album, with a set of lively, galloping tunes set to various Lubavitcher nign texts and other lyrics... I'm sure there must be considerable wordplay and hidden meanings galore, although many of the songs also reel off into wild, swirling, dervish-like choruses, and others softly linger on the melodies.... At any rate, this is an album with a strong cultural and intellectual depth, as well as a strong sense of playfulness... A class act, worth checking out of you're really into this stuff.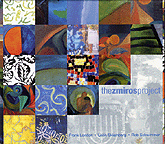 Frank London/Lorin Sklamberg/Rob Schwimmer "The Zmiros Project" (Traditional Crossroads, 2002)



A glorious exploration of Jewish zmiros, an informal style of Sabbath songs with a rich historical tradition. Frank London and Lorin Sklamberg of the Klezmatics are joined by pianist Rob Schwimmer to lovingly embellish these religious songs with an distinctive modern twist. These tunes have a playfulness and a melodic repetitiveness that draws you in, yet what makes this album particularly striking is the expansive, richly innovative approach taken by the trio. The Zmiros Project weaves art song, haunting electronica and subtle avant garde jazz with the rabbinical tradition in a fashion that is both lullingly pleasant and musically quite complex. They've managed to modernize Jewish music yet completely avoid the numerous cliches and traps of contemporary "world music" crossovers. This album is truly unique -- a precious commodity in a world as awash with commercial drek and iffy experimentation as ours. Definitely worth checking out!
Frank London's Klezmer Brass Allstars "Carnival Conspiracy" (Piranha, 2005)



Opening as another mad, manic klez-fest that careens into ecstatic release at the drop of a hat, this ends with a sweet, solemn dirge, and tosses in a kitchen sink or two along the way... The presence of multiple oompalicious tubas sometimes gives this set a high-school marching band feel, but it would have been at a really, really weird high-school. There are also canny infusions of other world musics, such as the samba drums on "Who Knows One," the dubby feel of "A Time Of Desire" and the loopy, kooky, jazzy, Brazzy rhythms of "Out Of What," one of the coolest tracks on the disc. This is a pretty joyful, energetic album, one that dramatically pushes past the stylistic confines of standard-issue modern klezmer... If you're into the genre, you'll definitely want to check this disc out.

Shelly Manne "Steps To The Desert: Modern Jazz Versions Of Favorite Jewish And Israeli Songs" (Fantasy, 1962)


Jazz drummer Shelly Manne strides through pepped-up, boppin' versions of "Bei Mir Bist Du Schoen," "Hava Nagila," "My Yiddishe Momme," and several less well-known Jewish melodies, with Teddy Edwards, Victor Feldman, Shorty Rogers and Al Viola all in tow. Overall, this has a much more "jazz" feel to it than anything else; in general the lilting melodies seem sidelined by the bouncy rhythms and funky downbeats. It's a very different take on this material than, say, Benny Goodman's more streamlined Jewish-influenced swing of the 1930s and '40s, but change is healthy, Bubbie... For folks who like straight jazz better than I do, this might be a very rewarding album. (Note: the 2004 reissue includes several bonus tracks - versions of four of the songs that were edited to be singles, back in '62.)

The New Klezmer Trio "Short For Something" (Tzadik, 2000)



Clarinetist Ben Goldberg is one of the best, brightest and most capable of the modern klezmer interpreters... Here he opens with a soft, beautiful tune called "The Because Of," which wonderfully frames his more lyrical playing. From there it devolves into more standard jazz tropes... whirlagig loop-de-loops, swingin' drum solos... the whole works. It's a bit too jazzy and downtown-New York for me, but Goldberg's pure tone and bright presence certainly stand out. Not as "Jewish" as the band's name might imply, but still a strong set in musical terms.
Psamim "Abi Gezint!" (Tzadik, 1999)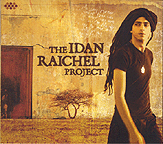 Idan Raichel "The Idan Raichel Project" (Cumbancha, 2006)



Richly layered, densely packed, but joyous and buoyant, this is a fascinating set of modern, sample-heavy electronic folk-pop composed by Israeli keyboardist-producer Idan Raichel. This set blends the strains of Arabic, Jewish and African culture that course through modern Israel, particularly the music of the Ethiopian and Yemenite Jewish minorities, who Raichel worked with, first as a school teacher, and then as an artistic collaborator. The result is seamless and convincing, and offers a gentle, haunting pan-culturalism that speaks to the inherent strengths and idealism of the global "world music" community... It's both a subtle "can't we all get along" exhortation and an alluring aural wash, a super-mellow space-out album, drawn from Raichel's first two album (each apparently huge successes on the Israeli charts...) If you like artists such as Habib Koite of Mali, or Portugal's Mariza, modernists who drawn on deep cultural wellsprings while creating music that stretches cultural boundaries, you might want to check this album out. Might be too slick and trip-hoppy for more traditionally-oriented listeners, but it's definitely worth checking out.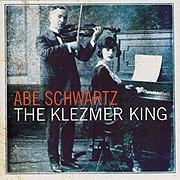 Abe Schwartz "The Klezmer King" (Columbia Legacy, 2002)



Fans of Jewish klezmer music should get giddy about this swell archival release, featuring some of the finest pre-Depression (1917-1927) recordings of violinist Abe Schwartz, a Rumanian immigrant who is generally credited as the founder of the modern American klezmer style. Here he appears with a variety of musicians, including his daughter, Sylvia Schwartz, and clarinetists Naftule Brandwein and Dave Tarras (who was humorously refered during the big band era to as "the Jewish Benny Goodman"). Although this shares the aura of overall musical sameness as many klezmer records, Schwartz's brisk joyfulness and melodic ease cannot be denied -- these old recordings cut through the decades and sound as vibrant today as they did back then. Playful, inventive and artistically vital historical recordings. This collection is joined by two other domestic releases of Schwartz's early work, included below.
Abe Schwartz "Volume 1: Master Of Klezmer Music" (Global Village, 1995)

Abe Schwartz "Volume 2: National Hora" (Global Village, 2001)


Gregori Schechter & The Wandering Few "Klezmer" (Arc Music, 2003)



Warm, intelligent, multi-textured modern klezmer from this inventive British-based ensemble. The material is almost entirely from traditional folkloric sources, and some of the tunes sound like the same-old Jewish dance material, although the band is quite accomplished and the album is well-recorded and soft-edged, shorn of the often-shrill edge that klezmer bands often have... They shine on the quiet numbers that center around Schecter's clarinet or saophone, such as the delicate "Hora From Romania," and other more contemplative pieces that speckle this album. Recommended.
She'koyokh Klezmer Ensemble "Sandanski's Chickens" (Arc Music, 2008)



A lively, cross-cultural Jewish klezmer outing by a band from London that includes musicians asa diverse as their repertoire. Among them is bassist Oliver Baldwin, whose father played in Dunav, one of the first bands in England to play Balkan music, and members from as far afield as San Francsco and Zambia. Accordingly, the Balkan brass band sound is deeply embedded throughout this album, as well as dollops of Turkish music and flamenco. The band follows both the relentless tempo and the sly, textured melodies of the style -- klezmer fans will find plenty to enjoy here.

Solomon & Socalled "HipHopKahsene" (Piranha, 2003)



Frank London, Michael Alpert, Dave Krakauer and other modern Jewish music luminaries take a whirl at modernizing old Jewish khasene, or wedding songs, at least partly through a hip-hoppish filter. (There ought to be a clever, appropriate word in Yiddish that sort of, but not entirely, means "remix"... I'm just not sure what it is...) Anyway, they don't quite sustain the hip-hopization of the material throughout the whole album, but it certainly sounds like they had fun on this project. Definitely puts a new spin on some old, old tunes, and klezmer enthusiasts will appreciate the originality and audacity of these recordings.

Socalled "Ghettoblaster" (JDub, 2007)



A densely-layered, kooky audio montage, mixing traditional and contemporary Jewish music, hip-hop and avant-garde tomfoolery. Socalled in the alter-ego of Canadian-born Josh Dolgin, who has a fairly fearless approach to cross-cultural mashups. I wouldn't really say that this is music that I would listen to recreationally, but it is certainly clever and continually surprising. If you're into the new Jewish renaissance, and particularly into artists who are tapping into pop sounds outside of the klezmer orthodoxy, you might wanna check this guy out. Also, this disc represents a big leap forward from his previous work -- definitely worth checking out.
Andy Statman -- see artist discography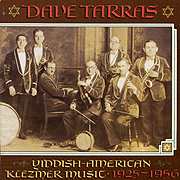 Dave Tarras "Yiddish-American Klezmer Music: 1925-1956" (Yazoo, 1992)



One of the founding figures of modern Jewish music, Russian-born clarinetist Dave Tarras was seen as the great rival to the garrulous and rough-edged Naftule Brandwein. Both men were European immigrants who dominated New York's Jewish music scene in the 1920s and '30s, though their temperaments and musical styles wer markedly different. A prolific session player, Tarras worked with the Columbia label's "ethnic" A&R man and bandleader, Abe Schwartz, as well as touring with Joseph Cherniavsky's Yiddish-American Jazz Band, where he wrested the prized position of lead clarinet away from Brandwein, whose erratic behavior overshadowed his fiery performing skills. As Tarras' reputation grew, he was hired for countless recording sessions, working in a wide variety of styles, including Greek, Polish, Russian and gypsy recordings in addition to Jewish music. Tarras viewed himself as more of a formally trained musiker, rather than an untutored "klezmer," and his approach to his performances -- a smooth, measured style that stood in contrast to the uninhibited approach favored by many Jewish musicians. Personally, I like his sound quite a bit... While Tarras himself was a bit "proper," his wide-ranging studio work placed him in sessions that were quite playful. This disc, which was being compiled just before Tarras passed away, has him playing jazz and polkas as well as plenty of first-class Jewish dance tunes...

Dave Tarras "Tanz With Dave Tarras And The Musiker Brothers" (Sony Legacy, 1955/2002)



This later recording session, featuring Tarras alongside Sam Musiker, an alumna of the Gene Krupa band, in a set of hot, swing-oriented klezmer tunes... It's a little smooth, and a little out of step with its time (both swing and "ethnic" music recordings were long out of fashion, as pop vocals and early rock music dominated the airwaves in the 1950s...) but it's still pretty nice... Definitely worth checking out!

Tummel "Klezmerised" (Arc Music, 2004)



Like jazz, blues, bluegrass and Celtic music, klezmer is a form that in some ways is stylistically boxed in -- well-defined, and with a "classic" sound that can be as confining as it is comforting. The band Tummel is one of those that choose to push against the boundaries, and stretch the music into new forms. Elongating some melodies, galloping through some meters, sliding through others, the group has a distinctive sound which, again, may capture the imagination of listeners too used to the manic style of classic klezmer, but may be a little too "out there" for others. You certainly have to give them credit for trying something new, and for helping breathe new life into the style. This record may not be for everybody, but it's suffused with an adventuresome, playful spirit, and folks looking for something new may find this disc fairly captivating.
---

More Jewish Artists | Compilation Albums

---


---

<! cd=8/29/04 >