<! MP3 03/03/09, 09/15/10 > <! pix 09/15/10 > <! archived 00/00/00 > <! icons 01/07/11 >
---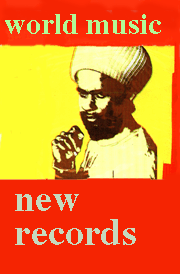 Welcome to my "Recent World Music" reviews page, which highlights new(ish) African, Asian, Latin American and Celtic records, as well as your plain old "miscellaneous" categories... Basically, whatever catches my interest amid the roar and thunder of our global music marketplace...

These records were reviewed in the year 2003.


---
Recommended Records: 2003 | Review Archives | World Music Index
---

Antibalas Afrobeat Orchestra "Talkatif" (Ninja Tune, 2002)



America's finest Afrobeat band, with a fab follow-up to its debut album. Here they shift, appropriately enough, from the harder-edged Afro-Beat of Fela Kuti into something closer to the sleek juju highlife of King Sunny Ade, who became Nigeria's next superstar, when Fela's star faded. This is a beautiful record, and probably a lot more accessible to the casual listener who might have been put off a bit by the squonking saxes and rugged rhythms of the first Antibalas album (or the entire Fela catalog!). Hypnotic and graceful, this is a superior space-out groove album. Highly recommended. (For more info on this band, check out the Antibalas website.)
Baka Beyond "East To West" (Narada World, 2002)



This glitzy mix of West African, Celtic, Asian and North American folk is the type of world-beat fusion goulash that stirs its fans into joyful conniptions and drives world music purists up the wall. This is their fifth album, showing a continuing refinement of the eclectic approach that brough them widesread fame back in the 1990s. At times, particularly on the more Irish-flavored numbers, UK-based vocalist Su Hart drifts in Enya-esque territory... however, I'm sure that won't be much of a problem for already-devoted Baka fans.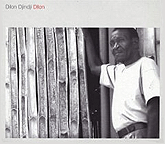 Dilon Djindi "Dilon" (World Music Network/Riverboat, 2002)



Mozambiquan old-timer Dilon Djindi has a subtle grace and melodic softness that is similar to Madagascar's Dama and D'Gary, a plainspoken acoustic sound that will appeal to folks who like their world music sweet and unpretentious. Amazingly, this is Djindi's first album, although he was 75 years old and has been performing professionally for many decades when this set was recorded. Well, better late than never! I don't think anyone will complain about the wait once they hear this sweet set of gentle acoustic tunes.

Etoile De Dakar with Youssou N'Dour "Rough Guide To..." (Rough Guide, 2002)


A perfect overview of the band that brought Senegalese superstar Youssou N'Dour into the international spotlight. There's a wide variety of styles, ranging from more acoustic and traditional-sounding material, to expansive, hypnotic electric guitar tunes that are closer to the lushly produced, lavish pop that N'Dour makes nowadays. Anyone interested in African pop owes it to themselves to check this disc out; it may open up a whole new world of sound for you!
David Hillyard & The Rocksteady 7 "United Front" (Do Tell Records, 2003)


A jazzy take on the old-fashioned ska instrumental genre, veering into experimental territory than many fans of the style may be used to. A bit of mournful Miles Davis-informed atonality creeps into the normal, familiar buoyancy of the old Jamaican dance tunes. A nice new approach to the music!

Andy Iona "Hawaiians In Hollywood v. 1: Smooth Sweet & Swinging" (The Old Masters, 2002)


A great collection of classic Hawaiian guitar tunes recorded by multi-instrumentalist Andrew Aiona Long (he shortened his Hawaiian name when he moved to California in the late '20s). Great stuff recorded when Iona was working in Hollywood on films such as Rhythm Of The Islands and Hawaiian Buckaroo. This disc concentrates on Iona's sessions for the Columbia label; he also recorded extensively for several other companies before and after these mid-thirties dates. As with other Old Masters releases this has superior sound quality and informative liner notes... Highly recommended!

Jalilah's Raks Sharki 6 "In A Beirut Mood" (Piranha, 2003)



A mostly-instrumental album of raks sharki, or modern Oriental dance (don't call it "belly dancing," or the band will get mad at you!), with one vocal tune sung in Lebanese dialect. This disc didn't rock my world, but it's fine for the style...

Mamani Keita & Marc Minelli "Electro Bamako" (Palm/Universal-France, 2003)



A canny world-beat interweaving of West African pop and jazz-tinged, tres, tres Euro electronica. Keita's high, keening vocals -- pure Mali -- cut through the tightly-wound, somewhat fastidious arrangements in a manner that makes the whole project mesh together better than one might imagine. This album is very much a creature of programming-heavy modern studio production, but it has a certain soulfulness and innovative breadth that makes it sound original and appealing. I find it a little too slick, yet it's also an album that wins me over the more I listen to it... worth checking out!

Tania Libertad "Costa Negra" (World Village, 2002)


South American diva Tania Libertad has specialized in romantic boleros and leaned heavily into glitzy pop production; here she gets a little folksier, with acoustic arrangements bouyed by Afro-Peruvian percussion. She digs pretty deep into the style, offering music similar to her fellow Peruvian, Susana Baca. It's a little lighter and more engaging than other recent records; fans of the Latin American "new song" movement may enjoy this disc.
Gary Lucas "The Edge Of Heaven: Gary Lucas Plays Mid-Century Chinese Pop" (Indigo, 2002)


Avant-pop guitarist Gary Lucas, known for his work with the ever-freaky Captain Beefheart, delves into the work of Chinese vocalists Bai Kwong and Chow Hsuan, film actresses whose work is obscure to Western ears, but which was quite popular in Taipei and Hong Kong during the 1940s and '50s. As might be expected, Lucas approaches the music from unusual angles, playing some classic-sounding Chinese themes as moody ambient pop, others as they might have been imagined by bluegrass pickers or acoustic guitar legend John Fahey. Interesting, unusual take on familiar old melodies.

Lunasa "Redwood" (Green Linnet, 2003)



Yet another fine set of lighthearted Irish instrumentals by this skilled, creative ensemble. Jigs and reels shorn of the stylistic severity that most Celtic players have held as a mark of authenticity, yet also thankfully free of goopy modern production. No synthesizers or misplaced electric instruments, just solid musicianship and a very listenable selection.

John McCusker "Goodnight Ginger" (Compass, 2003)



"You can't judge a book..." And, sure enough, although Scottish fiddler McCusker appears on the cover of this album sporting what seems to be a tufted mohawk haircut, this is not the goofy Celtic-pop fusion-fest such a picture might imply. Rather, it's a sweet set of original, inventive instrumental fiddle tunes (and one gorgeous vocal number featuring his ever-lovely partner, Kate Rusby)... A simple, understated album, and one that successfully sheds the sometimes-dour sensibilities of his old group, the Battlefield Band. Recommended!

Nicolas Menheim & Le Super Sabador "Commandante Che Guevara" (Popular African Music, 2002)


Senegalese bandleader Nicolas Menheim is one of his country's most accomplished salseros, mining deeply into the cross-connections of African pop and Afro-Cuban dance music. This album, drawing from two cassette-only releases that came out in 1999 and 2000, is an impressive set of smooth, hypnotic, classic '70s-style salsa grooves, a bit slack-sounding at times, but basically performances that could stand side by side with the best that Havana, Miami or New York has to offer. Menheim is an old-timer, having apprenticed in the 1980s with mbalax stars Papa Seck and Nico, and was a founding member, along with Seck, of the highly regarded Africando band. This is material that's pretty similar to the Africando sound, but which hews more closely to the Cuban/Carribean side of the equation, with most of the vocals sung in Spanish. For fans of modern African pop, this disc will be a bit of a revelation!

Old Blind Dogs "The Gab O Mey" (Green Linnet, 2003)



A soft-edged, pop-tinged trad album, which, despite the presence of conga drums and other dubious percussion touches, successfully manages to walk a fine line between the shrillness of "real" trad, and the synth-drenched excess of other modern crossover bands. For the most part, these Scots make pretty straightforward, enjoyable music -- it's maybe just a wee bit too sugary for me, but I'd still recommend this record to just about anyone looking for a nice, listenable new Celtic folk album. It's quite lovely, with flawless, soulful playing and several good tunes, particularly the vocal track, "Lads O The Fair." Check it out!

Eddie Palmieri "Ritmo Caliente" (Concord, 2003)



Another surprisingly strong album from this Latin Jazz old-timer... This disc starts off with a bang, with swift salsa tunes like "La Voz Del Caribe" and "Grandpa Semi-Tone Blues" showing that Palmieri's still got the fire in the belly, and a band that can match his passion. He moves steadily into a jazzier, smoother mode, but it's all top-flight material. Even all these decades into his career, Palmieri still seems like a force of nature: nothing can slow him down or make a dent in his soulfulness and love of the music. If you're a fan of modern Latin Jazz or salsa, then this is an album you'll appreciate.
Kate Rusby "10" (Compass, 2003)



Another gorgeous set of richly-arranged Celtic folk ballads from this rising trad-folk star. Rusby's longtime partner John McCusker recently quit his day job as fiddler in the renowned Battlefield Band to devote himself full-time to working with Rusby; his work on fiddle, piano and cittern ably compliment her vocals, although really the show is all hers. Rusby has a simply gorgeous voice, one of the best in the acoustic music scene today. Recommended!
Ryukyu Underground "Ryukyu Underground" (Riverboat/Respect Records, 2002)



Beautiful Asian ambient-dance electronica from the island of Okinawa, south of Japan. The mixing is skillful and the Asian elements are both intact and integral to the music. The opening tracks feature Japanese vocals and koto strings mixed in with standard-issue beats; later the album shifts into mellower material, with spacy songs such as "Shinkaichi" and the alluring "Tinsagu Na Hana Dub." Nice stuff... definitely worth tracking down!

The Skatalites "From Paris With Love" (World Village, 2002)


The surviving members of the original Skatalites cruise through a pleasant set of mellow, steady-rockin' tunes. Mostly instrumentals and tried & true oldies, with a couple of soul-y vocal tunes that feature Doreen Schaffer singing her little heart out.

Tinariwen "The Radio Tsidas Sessions" (Wayward/World Village, 2001)



Slow, hypnotic West African music, very much in keeping with the griot-pop crossovers of Ali Farka Toure and Toumane Diabate. These guys have a colorful back story: apparently the bandmembers are all originally part of the Tuareg guerilla movement of their native Mali. They met in a military training camp, and somehow made the transition into music, winning acclaim with critics in Europe and, presumably, getting some good press for their political cause as well. I'm not so enamoured of the shoot-'em-up aspect of their history, but their music is pretty groovy. As with much of the music in this style, I found this disc to be a bit on the monotonous side -- it's very pretty, but not very dynamic or varied. Still, if you're a fan of Ali Farka Toure, then you should enjoy this album quite a bit -- it doesn't cut any new roads, but it's got a modern sound and is very mellow and nice to chill out to.

Wapa Sakitanou "The Music Of Martinique" (Arc Music, 2003)


Raw, vibrant Afro-Caribbean percussion, presented by a lively folkloric ensemble that has been at the forefront of preserving Antillean cuture since its founding in 1990. A surprisingly engaging, powerful album... drumming fans will not want to miss this one!
Zemog El Gallo Bueno "Zemog El Gallo Bueno" (Aagoo, 2002)



An intriguing blend of world beat and Afro-Latino dance styles, leaning more towards the salsa end of the mix. Unusual booty-shaking party music, with weird dips into the wellspring of free-jazz and what sounds like Eastern European dance music. Bandleader Abraham Delgado-Gomez has been at this mix'n'match approach for a while now, his last Boston-based band, Jayuya, turned people's heads a few years back; this disc may have a similar effect.
---
---



World Music Index
Other Recent Reviews


---