<! MP3 03/02/09, 09/15/10 > <! pix 03/02/09, 09/15/10 > <! archived 00/00/00 > <! icons 02/23/11 >
---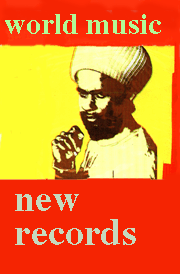 Welcome to Slipcue.Com's "Recent World Music" page, which highlights new(ish) African, Asian, Latin American and Celtic records, as well as your plain old "miscellaneous" categories... Basically, whatever catches my interest amid the roar and thunder of our global music marketplace...

These records were reviewed in the Spring, 2004.
<! New Brazilian music >

---
Recommended Records: Spring, 2004 | Review Archives | World Music Index
---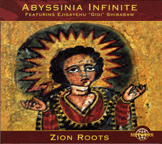 Abyssinia Infinite "Zion Roots" (Network, 2003)


What with the album title and all, you'd be forgiven for thinking this was a reggae album, but back in Ethiopia, they actually take that whole Land of Zion thing pretty literally. But no, this isn't another rasta lovefest -- rather, it's a quite lovely, subtly textured and dreamalicious Bill Laswell-produced project which picks up where Ethiopian pop pioneers such as Mahmoud Ahmed left off. Singer Ejigayehu "Gigi" Shibabaw has a lovely voice, and her smooth style stands in welcome contrast to the normal shrillness of much of the older, classic Ethiopian pop and traditional recordings. The soundscape here is spacy, hypnotic and amorphous, akin to Sheila Chandra or Natacha Atlas in their mellower moments; although lushly produced, the album doesn't lapse into outright trip-hop -- unlike previous Gigi/Laswell collaborations, this disc is relatively circumspect and retains a distinctively local sound. Fans of the fabled ETHIOPIQUES series will definitely want to check this disc out to get a sense of where that style has gone, and anyone looking for some relaxing yet substantive world music will like this as well.

Benjamin Biolay "Negatif" (Virgin, 2003)



Captivating French trip-pop, with elaborately layered, slickly produced, acoustic-to-orchestral soundscapes and cool, laconic vocals. Biolay, who cops an idea or two from Serge Gainsbourg, is also known as the producer of Coralie Clement's recent Salle Des Pas Perdus album... This disc seems more rich and resonant -- it's actually a 2-CD set, with the first disc a full-on display of his arranging techniques, and the second disc a quieter, mainly acoustic affair. It's all pretty good, even if at times it's almost painfully lofty and arch... But then again, he's just being true to his sources! If you like Serge Gainsbourg, Bertrand Burgulat, Francoise Hardy and the like, then this is an album worth checking out...
Karan Casey "Distant Shore" (Shanachie, 2003)



Another fine solo album by this crystal-voiced singer, formerly of the Celtic trad band, Solas... Here, Casey pursues a more modern, folky singer-songwriter strain on many of these tunes, but also finds time for some lovely traditional material, and a little bit of elves-in-the-woods action as well. Her fans will not be disappointed, and those new to the fold should be intrigued. Definitely worth checking out!
Daara J "Boomerang" (Wrasse, 2003)



Senegalese pop-rap. Not really my style of world music, but very well produced and listenable.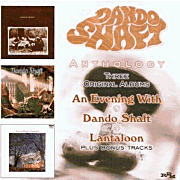 Dando Shaft "Anthology: Three Original Albums" (RPM, 2002)


An extraordinary 2-CD reissue of three early-'70s folk-fusion albums by this little-known but quite accomplished English group out of Coventry. This collects all the material from the LPs An Evening With Dando Shaft (1970), Dando Shaft (1971), and Lantaloon, from 1972, along with a few added outtakes and rarities. The musical calibre and adventurousness on all three albums was quite high: at a time when many of their hippie contemporaries were groping in the dark (both literally and figuratively...) the members of Dando Shaft were quite solid in their musical abilities and conceptual/compositional structure. Their original material was marked by jazzy, dancing mandolin work, hearty trad-folk vocals and a touch of loping Balkan melodies, the group sounded quite accomplished and assured, and yet loose and limber enough to be kinda fun as well... and still as fresh sounding today as it was back then! Fans of contemporary acts such as The Incredible String Band, Pentangle and Planxty owe it to themselves to check this one out.

Danu "The Road Less Traveled" (Shanachie, 2003)



Although there are several nice songs on here, including some notable contemporary compositions, the overwhelming tilt of this album is towards instrumentals material... those darn jigs and reels! There's no denying that the band is masterful in its delivery, but the attack is too driving and aggressive for me, personally. This would be amazing to see live, but -- old geezer that I am -- I'd prefer something more lulling to listen to at home.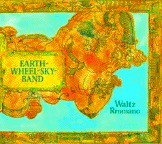 Earth-Wheel-Sky-Band "Waltz Rromano" (Asphalt-Tango/Piranha, 2003)



Experimental, but somewhat cluttered, gypsy world-beat fusion... This group is lively and dynamic, but the songs seem too dense and driving to me. Folks who are more into the genre might find this disc pretty exciting and fresh, though.

Ensemble Ibn Arabi "Chants Soufis Arabo-Andalous" (Institut Fran Ais De L'Oriental, 2003)



While Sufi music is often known for its wild, ecstatic performances, this Moroccan ensemble plays with utmost restraint, building up melodies ever-so slowly and ever-so elegantly. Their repertoire is drawn from the half-lost Anadlusian strain of Sufi folklore that is still heard within the zaouia tradition of Tangiers. Many of these songs follow a pattern similar to some Indian classical performances, starting with slow, unaccompanied vocals, then adding a lightly plucked oud to further establish the melody, and finally bringing in percussion to fill in the sound. This is a gentle, contemplative album, one which may bring renewed rewards to repeat listenings. Recommended!

Mahmoud Fadl "The Drummers Of The Nile In Town" (Piranha, 2003)



An excellent rhythmic instrumental set, uniting Nubian percussionist Mahmoud Fadl with several well-known Egyptian musicians from the city of Cairo, including drummer Mohamed Sobhi and the Hasaballah Brass Band (which has a rather klezmer-like sound to it!) Consistently engaging and fresh; belly dancers and more passive world music fans alike should enjoy this set!

Kayhan Kalhor & Ali Akbar Moradi "In The Mirror Of The Sky" (World Village, 2004)



Ghazal's renowned Kayhan Kalhor in yet another far-reaching collaboration which mixes classical Persian music with other Middle Eastern styles... This time it's Kurdish culture which he embraces, in a stark, evocative set featuring vocalist Ali Akbar Moradi, who also plays a brisk, 14-stringed tanbur, in soft counterpoint to Kalhor's searching kamencheh work. If you've enjoyed Kalhor's other work, this disc will please you as well... and it'll give you goosebumps, too!

Shujaat Husain Khan "Hawa Hawa" (World Village, 2003)



Quite simply, one of the most beautiful, alluring and contemplative sets of North Indian music to come down the pike in while. Sujaat Husain Khan, a member to the celebrated Indian/Persian supergroup Ghazal, originally hails from the province of Simla, and draws on that regions folk tradition to gather this stellar set of a half dozen romantically themed songs, sung in both Hindi and Punjabi. If you've ever found Indian music a bit daunting or inaccessable, then try this disc out -- it's rich and relaxing, without a single discordant moment... I've spent days on end without it ever leaving my stereo, and really can't recommend it highly enough.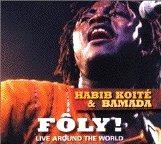 Habib Koite & Bamada "Foly! Live Around The World" (World Village, 2003)



When I saw Habib Koite and his band Bamada play live, opening for Oumou Sangare a few year back, I was a little surprised by how rock'n'roll they were, with Koite slinging his electric guitar about and even striking a rock pose or two... This double CD concert set captures some of that vibrancy and playfulness, although it sticks closer to his more "African" musical roots. It's every bit as fine as the studio albums that precede it, and also provides some considerable incentive for you to go out and see him in concert, if you get the chance.

Baaba Maal "The Best Of The Early Years" (Wrasse, 2002)


A fine, representative collection of this Senegalese superstar's work from 1988-94. The opening tracks are gorgeous -- loping, sensuous jams with the classic West African guitar sound of the 1970s, and even a few dips into the Afro-Pop sound of Fela Kuti. The second half of this disc, though, lingers on lush, overwrought pop production styles that I personally find kind of a turn-off, but other world music fans may adore. For an even-handed look at his Maal's early career, this is a very good introduction. The liner notes are very good, too, and may help steer you towards individual albums that may be to your liking.

Ustad Farida Mahwash "Radio Kaboul" (Accords-Crosses/Harmonia Mundi, 2003)


Well now, here's a record with a real story behind it! Prior to the advent of broadcast radio in the 1940s, musicians in Afghanistan held an indeterminate place in their culture: many were cultivated by the rich as a source of entertainment, yet there were still largely associated with questionable social elements (taverns, houses of ill repute, etc.) and seen as marginal figures, near outcasts. That changed when radio helped democratize culture and brought music into the lives of the masses -- the decades that followed were golden years for Afghani music, with countless composers and performers suddenly in high demand. This album was recorded in honor of the musicians of Radio Kabul, who were persecuted under the Soviet occupation of Afghanistan, and banned under the hyper-Islamist Taliban, which suppressed popular song and banned musical instruments altogether. The set features vocalist Farida Mahwash, whose ascent in the 1970s established her as one of her country's most celebrated singers, and who earned the title of "Master" (Ustad) towards the end of the decade. The ensemble is led by the elder Hossein Arman, one of the original musical composers of the Radio Kabul broadcast station (the others died under deprivation or in exile), and his son, multi-instrumentalist Khaled Arman, who co-founded the Ensemble Kaboul with his father. The music may seem familiar, quite similar to Indian and Pakistani popular song and romantic ghazals; Mahwash still has a lovely voice, and the music, though somewhat formal and restrained is also quite elegant and rich. Worth checking out!

Miriam Makeba "The Best Of The Early Years" (Wrasse, 2002)


Makeba's years with the Manhattan Brothers, the Skylarks and in her Guinean exile are all gathered together on this nice overview. Occasionally the transitions between her early "jive" style and the more plush folk-oriented material seem a little rough, but it's still a fine collection, and an excellent overview of her career.

Miriam Makeba "The Definitive Collection" (Wrasse, 2002)


Ditto with this set. There's signifcant overlap between this disc and the Wrasse label's Early Years best-of listed above, though this well-chosen collection dips further into her later years, including glossy remakes of of classics such as "Pata Pata," and collaborations with the likes of Dizzy Gillespie and Nina Simone. The inclusion of "The Click Song" makes this more of a must-have for American fans who grew up with it as part of their background, after it became a hit in 1962.

Boban I Marko "Boban Markovic Orchetar - Balkan Brass Fest" (Piranha, 2003)



I'm not, as a rule, a huge fan of Balkan and Eastern European music, but I gotta admit, I was pretty blown away by this disc. The opening track, "Balkan Fest," is a wild, modern mix of styles -- Balkan gypsy dance rhythms interlocked with soul-funk grooves, hints of Latin melodies and Native American chants, and numerous other elements that pass as fleetingly from the tip of my tounge as they do from the ever-shifting medley of the band. The group doesn't resort to any "tricks" -- the performance is straight-up brass band, with no high-tech elements, but with a tremendous sense of musical playfulness and an inventive spirit that's pretty infectious. Accessible to melody-oriented world music fans as well, I'd imagine, to folks who are into more "difficult" music, such as the whole John Zorn/Tzadik scene. Recommended!

Juanito Marquez "Arrimate Pa'ca" (Caney, 2003)


A real mixed bag of sometimes-driving, sometimes-kitschy performances by Cuban guitarist-composer Juanito Marquez, who worked with Omara Portuondo and other stars of the '50s and early '60s, and who later became a session player in Miami, during the 1970s. His dance tune, "Arrimate Pa'ca," became a hit in 1964, on his first recording as a bandleader, and is featured among these early '60s recordings, made in '61 and '64. Marquez moves between straight-up son material and lighter arrangements more akin to the American easy listening/pop jazz popular at the time... The prominence of the amplified guitar in these recordings is unusual; mostly this is pretty fun stuff, though it does get pretty goofy at times.

Dorothy Masuka "The Definitive Collection" (Wrasse, 2002)


An early contemporary of Miriam Makeba, Dorothy Masuka was part of the 1950s South African "jive" scene, mixing American-style group vocals and swing beats with local melodic and harmonic styles. She's best known as the author of the song, "Pata Pata," which was one of Makeba's earliest and biggest international hits. Like Makeba, Masuka found herself in exile in the early 1960s, as the campaign against apartheid intensified, and artists seen as sympathetic to the African National Congress were proscribed and placed under threat of arrest. Unlike Makeba, she was unable to crack into the international market in Europe and the USA, performing (and for a while retiring from music, in order to keep a low profile) mainly in the other African countries that were able to shelter her. This collection gathers some of her rare early work on the Gallo label, off of stellar albums such as Hamba Notsokola, (her 1950s debut), and moves on to include later, glossier material from the early 1990s, when she made her comeback. It's the old stuff that I find irresistible: I just love the original "jive" sound. It's nice, though, to see Masuka finally getting her due, and this retrospective is a most welcome addition to any African pop library. Recommended!

Pablo Milanes "The Definitive Pablo Milanes: 60 Years On" (Wrasse, 2003)


I've never been a big fan of Cuban nueva trova troubadour Pablo Milanes, and this set of his later work (mostly from the 1990s) has plenty of the florid, softcore pop production touches that turn me off from his work. For fans, I suppose this would be a nice set. Not bad when he sticks strictly to the acoustic, but those tracks are few and far between.

Peru Negro "Sangre De Un Son" (Times Square, 2001)



Peru Negro "Jolgorio" (Times Square, 2003)


Blending Afro-Caribbean percussion with the Andean melodies of Peru's black regional enclaves, Peru Negro is one of South America's preeminent folkloric theatre groups. Founded in 1969, the troupe helped gather and formalize the music and dance of Afro-Peruvian creole culture, particularly the songs of the rural Chincha province. Peru Negro introduced Afro-Cuban percussion into the local styles such as the festejo, creating a sound that mixed prominent percussion with circular, multitextured rhythms and chanted vocal refrains. The group flourished in the 1970s, and waned in the 1980s and '90s, as political turmoil undermined Peruvian civic life. Here, they are resurgent in the new century, with a lineup that features percussionist Rory Campos, son of the group's late musical director Ronaldo Campos, and lead vocalist Monica Duenas -- the style is a bit formal, similar in spirit to Andean folk ensembles such as Inti-Illimani or Grupo Raiz, but fans of regional music may find much to captivate them here.

Tommy Peoples "Waiting For A Call" (Shanachie, 2003)



Another fine, fine instrumental album by this Irish master fiddler. When you're playing at the level Peoples is at, the need to push yourself and to find unusual new material -- or fresh takes on familiar tunes -- must be immense. On this new set, Peoples lives up to all our expectations... and then some! Odd, angular melodies, broken, unhurried rhythms, and keening, slight dissonances that create intricate new keys of their own are the hallmarks of his rugged yet eloquent, soulful style. Tune after tune will draw you in and richly reward close listening... I've never been a big fan of the endless jigs and reels of Celtic trad, but this album is a delight, full of surprising approaches to seemingly familiar music. No studio trickery or crossover touches either -- these tunes are played with the sparsest of instrumentation, either solo, or with a bit of guitar, but People's playing is ornate enough to match any hotshot trad band you can think of... An impressive performance... highly recommended!

Ravi "The Afro Brazilian Project" (Arc Music, 2003)



The British-based kora player known as "Ravi" went over to Brazil to enlist some fine musicians for this project, including saxophonist Paulo Moura and indigenous music diva Marlui Miranda. Their voices seem lost in the shuffle, however, as is most of the "Brazilian" side of this project -- for the most part an acid-jazzy, easy listening/world beat vibe is what predominates, laced with his easy-on-the-ears kora work. Too sugary and mellow for me, but others may enjoy.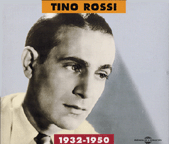 Tino Rossi "Compositions: 1932-1950" (Fremeaux & Associes, 2003)


Corsican-born crooner Constantino Rossi (1907-1983) had a bright, inviting voice, that dipped into flowery operatic culicues, but also lent itself to the sparkling charm of 1930s popular song. He may be a bit corny for some, but unforgettable for others. This is a fine 2-CD set, spanning the first two decades of his career, including sons taken from his numerous film appearances, and including glowing but useful liner notes in English and French. Other Tino Rossi collections may be more compact and more fun to listen to, but this one is fairly authoritative, and gives a good sense of Rossi's stylistic range.
Gregori Schechter & The Wandering Few "Klezmer" (Arc Music, 2003)



Warm, intelligent, multi-textured modern klezmer from this inventive British-based ensemble. The material is almost entirely from traditional folkloric sources, and some of the tunes sound like the same-old Jewish dance material, although the band is quite accomplished and the album is well-recorded and soft-edged, shorn of the often-shrill edge that klezmer bands often have... They shine on the quiet numbers that center around Schecter's clarinet or saophone, such as the delicate "Hora From Romania," and other more contemplative pieces that speckle this album. Recommended.

Solas "Another Day" (Shanachie, 2003)



Opening with an exuberance and assertiveness that should attract pretty much anyone's ear, this is a simply breathtaking set of melodic reels and songs, including fine interpretations of well-known works such as "I Wandered By The Brookside" and "Maire Mhilis Bhrea" that are performed on a calibre equal to that of any of the great performers who have sung them before. This much-vaunted Irish-American ensemble continues to live up to its reputation, as well as mature and ripen into a grand old band. Keep 'em coming!

Idrissa Soumaoro "Kote" (Wrasse/Syllart, 2003)


Unusual, atypical Malian pop music, with a softer, folkish edge to it, dipping into blues, acoustic musings and what seems almost like French musette music, on the album's opener, "Cherie." Although Soumaoro is a Bamako old-timer, an erstwhile member of Salif Keita's 1970s band, Les Ambassadeurs, this is actually his first solo album, recorded after decades of musical activity. In his day job, Soumaoro is a teacher for the blind, and has even formed a musical group whose members are all visually impaired. For something mellow and a bit different than the standard Malian fare, this is a record worth checking out.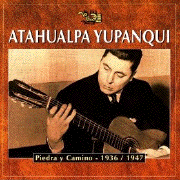 Atahualpa Yupanqui "Piedra Y Camino: 1936/1947" (Discmedi, 2002)



Entrancing early works from this soulful Argentine guitarist and troubadour... Although on the opening notes you can tell that these recordings are much earlier than the better-known recordings issued on Odeon and Barclay in the 1950s and '60s (Yupanqui's voice is more youthful), the distinctive, alluring guitar style that he is known for is already well developed. Yupanqui is, quite simply, one of the most arresting and immediately compelling musicians I know of: one listen and you'll be hooked.

Atahualpa Yupanqui "Buenas Noches, Compatriotas..." (Acoua/Fremeaux Associes, 2000)


A live performance from 1983, at Argentina's Mar De Plata, replete with spoken recitations and asides... And plenty of gorgeous guitar glissandos and soulful strumming. Even in his golden twilight years, Yupanqui was a superior, transcendant performer. Recommended, even though you may find the audience applause a distraction from Yupanqui's gorgeous performances.
Various Artists "AFRICA STRAIGHT AHEAD" (Heads Up, 2003)



South Africa, in particular, has a long and deep jazz music tradition (witness Dollar Brand and Hugh Masekela, for example...) This disc collects straight jazz recordings from several different countries (and not just from Africa -- American jazzman Andy Narell leads on one of these tunes as well...) From a jazz perspective this all seems well and fine, though it's not particularly "African" for the most part, i.e. not a world fusion collection.
---



World Music Index
Other Recent Reviews


---