<! MP3 03/02/09, 09/15/10, 02/23/11 > <! pix 03/02/09, 09/15/10 > <! archived 00/00/00 > <! icons 02/23/11 >
---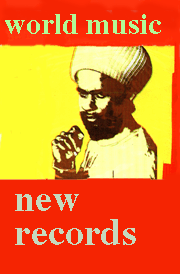 Welcome to Slipcue.Com's "Recent World Music" page, which highlights new(ish) African, Asian, Latin American and Celtic records, as well as your plain old "miscellaneous" categories... Basically, whatever catches my interest amid the roar and thunder of our global music marketplace...

These records were reviewed in the Fall, 2004.
<! New Brazilian music >

---
Recommended Records: Fall, 2004 | Review Archives | World Music Index
---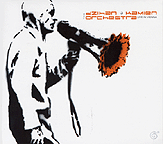 Dzihan Kamien Orchestra "Live In Vienna" (Six Degrees, 2004)



It's a groovy gypsy world beat retro-fusionfest, with '70s-style funk drumming laying down the beat for folks to dance to, while the Eastern Europeans play their little hearts out. Producers Vlado Dzihan and Mario Kamien have carved out a reputation on the European electro scene, and a second disc on here includes remixes by pals and compatriots like Richard Dorfmeister... This kind of club music isn't really my bag, but I'm sure plenty of y'all will enjoy it quite a bit. If this is your scene, I bet their live shows are a lot of fun.

Fula Flute "Fula Flute" (Fula Flute Music, 2004)



This New York-based ensemble features the tambin, or Fulani flute of West Africa, played here quite strikingly by soloist Bailo Bah, who growls and vocalizes as he plays, producing an unnerving effect which recalls the defiant, playful saxophone work of jazzman Rashaan Roland Kirk (who also sang while he played) as well as the spectral, droning quality of African author Francis Bebey, on some of his sanza finger piano albums. The ensemble also features instruments such as the kora, balafon and berimbau, in a mix that is lively and immediate. This is one of those albums that will stop you in your tracks and force you to listen: it's an arresting sound, unlike anything else you're likely to have heard. Highly recommended!

Ely Guerra "Sweet & Sour, Hot & Spicy" (Higher Octave, 2004)



Mexico's Ely Guerra cuts loose with her most rock-oriented set to date, wailing and playing hard with as aggressive a rock en espanol album as you're likely to hear. The distinctive Latin American themes and electronic music touches of her previous album, Lotofire, are subsumed to driving electric guitars and emotive vocals. While in some ways this may be a less adventurous record, it does keep pace with the harder pop sound of fellow rockers such as Aterciopelados and Cafe Tacuba and, in the English-speaking world, P.J. Harvey and Alanis Morissette. It's not really my cup of tea, but I can recognize the strength of her performance.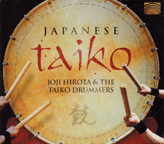 Joji Hirota & The Taiko Drummers "Japanese Taiko" (Arc Music, 2004)



Another fine album by one of the major stars of the modern taiko drumming scene... Hirota's innovative compositions are audacious and ambitious; the skill and precision with which his ensemble perform them is nothing short of amazing. There are modernizations and meter shifts that may be questionable -- depending on your personal tastes or inclinations -- but for taiko fans, even those who prefer a more traditional style, this disc is a must. This is the music being played at its highest and most challenging level... Recommended!
Stephen Kent "Oil & Water" (Family Tree, 2004)



The mere mention of the Australian digiridu is enough to make some nonbelievers cringe in terror: several years ago it was adopted as an instrument of choice by world music's fusion-y New Age contingent, and since then its status has never been the same. What's most remarkable about this album, though, is that it's really quite good, although it is pretty much what you'd call a "world fusion" album. To start with, Californian Kent is a virtuoso performer, capable of delving deep into the tonal richness of the oboe-ish instrument, but also of playing shorter notes and not just the long, resonant drones the digiridu is known for. These controlled percussive bursts are so unlike most digiridu playing that at first I wondered if they'd been sampled or digitally manipulated; but no, I think he's just an amazingly skilled performer. Naturally Kent also explores a wide variety of musical styles and it's the album's odd multicultural combinations -- the "oil and water" of elements you wouldn't expect to mix -- that bring life to this album. Some parts work better than others: in general, the Western funk and pop mixes seem tacky, but the tracks that borrow from various "world music" styles -- Tuvan throat singing, Arabic percussion, West African pop, East Indian flutes -- are pretty nice. One song which features a shimmering cascade of Rajasthani flutes, "Edge Of Three," is particularly beautiful. Though this record edges into territiory that I don't normally go for, there are several songs on here that I could see working into a mix. Worth checking out!
N'faly Kouyate & Dunyakan "Kora Grooves From West Africa" (Arc Music, 2004)



I've never been a big fan of Kouyate's main band, the crossover-y world-beat band, Afro-Celt Sound System... That, and the somewhat generic and clubby-sounding album title had me going into this album with my guard up. Turns out it's a pretty nice record... It's more inventive and outgoing than many traditionally-oriented kora albums, but not so far out there the groove gets lost, and not so groovalicious that the music's acoustic base gets buried under some bland electronica-crossover soundscape... Instead, it's a lively set with a nice mix of vocals and instrumental work... worth checking out!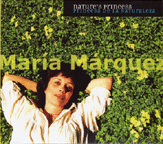 Maria Marquez "Princesa De La Naturaleza" (Adventure Music, 2004)



I've long found the much-vaunted Brazilian diva Virginia Rodrigues' contralto vocals to be a bit unpleasant and her musical approach to be dull; but I've also wondered if it was just her voice that bugged me, or if I might like her better in a less stuffy surrounding. Well, here's the answer. Venezuelan jazz singer Maria Marquez has a remarkable vocal similarity to Rodrigues, but her arrangements are infinitely more varied and adventuresome, and her music is much more interesting. Although ultimately this album was too noodly and "jazzy" for me, it was still pretty engaging, and I would recommend it to folks who appreciate similar efforts by Marlui Miranda or Nana Vasconcelos and Egberto Gismonti. She's aided here by the cream of Northern California's younger generation of Latin Jazz musicians, notably John Santos and Omar Sosa... A strong effort with some nice, lyrical passages.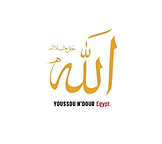 Youssou N'Dour "Egypt" (Nonesuch, 2004)



Senegalese pop superstar Youssou N'Dour has long been an African cultural icon, a champion and success story, a hero for his region and his continent. This album, however, marks his exploration of religious, rather than secular musical, themes. At a time when Islam and "The West" seem to be facing off in preparation for some sort of idiotic death struggle, N'Dour bravely explores his own connection to his Muslim heritage. N'Dour starts from the Sufi tradition of his native country and works outwards into the wider Egyptian and Arab musical modes... It's a very accomplished and moving album, more vigorous and much less sugary or poppish than many of his own recent recordings. His heart is clearly in this effort, and the emotional resonance of the work is refreshing. Worth checking out!

Gonzalo Rubalcaba "Paseo" (Blue Note, 2004)



Latin-jazz bandleader Gonzalo Rubalcaba, guiding on piano and percussion, dips deeper into the "Latin" side of his art, with tracks like the opening number, "El Guerrillero" and "Paseo Con Fula," which delve into the older styles which led to the modern-day Afro-Cuban son and salsa we know and love today. Overall, this is too jazz oriented for me, but Latin-jazz fans will find these explorations of the tradition's roots refreshing and true... The playing is certainly vigorous and earnest... I just might not be the right kind of jazz fan to properly savor it...

Tinariwen "Amassakoul" (World Village, 2004)



Another fine offering by one of Sub-Saharan Africa's best new bands, the Touareg ensemble known as Tinariwen... Their slow, hypnotic groove style has mellowed even more, inviting comparison, perhaps, to American "jam bands" such as the Grateful Dead, et al. Granted, for many folks in the rock world, a statement like that might be the kiss of death... But for a band as deeply drenched in Arabic and Africa musical styles, the additional groove-a-delic droning becomes a strong selling point. Tinariwen picks up the meandering, bluesy style pioneered by Malian superstar Ali Farka Toure, and adds a much more nuanced, textured coloring, creating a new, modern African pop style that can become quite addictive, once you get in the right frame of mind. If you liked their last album, Radio Tsidas Sessions, you really ought to love this one!

Tummel "Klezmerised" (Arc Music, 2004)



Like jazz, blues, bluegrass and Celtic music, klezmer is a form that in some ways is stylistically boxed in -- well-defined, and with a "classic" sound that can be as confining as it is comforting. The band Tummel is one of those that choose to push against the boundaries, and stretch the music into new forms. Elongating some melodies, galloping through some meters, sliding through others, the group has a distinctive sound which, again, may capture the imagination of listeners too used to the manic style of classic klezmer, but may be a little too "out there" for others. You certainly have to give them credit for trying something new, and for helping breathe new life into the style. This record may not be for everybody, but it's suffused with an adventuresome, playful spirit, and folks looking for something new may find this disc fairly captivating.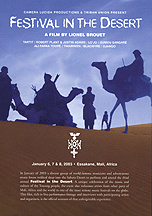 Various Artists "FESTIVAL IN THE DESERT" (World Village, 2004)


This hour-long documentary captures some of the mystery and excitement of the third annual Festival In The Desert, a multicultural music festival held in Essakane, Mali, in the heart of the Sahara Desert. The event partly centers around the ongoing cultural struggle of the nomadic Touareg tribes, whose way of life has been threatened following a prolonged drought and a failed military rebellion in the 1990s... Shots of the tribal members, many mounted on camels and wearing highly stylized clothing, are among the most evocative images in this film -- this is a culture largely beyond the reaches of Western consumer culture, and these are powerful images. Unfortunately, the film doesn't provide a very complete or very comprehensible picture of the plight of the Touareg tribes; the presentation here is cursory and fuzzy around the edges, with more allusions than information, and ultimately it's a bit frustrating. Similarly, the musical performances are a bit on the short side -- brief clips of great artists, intercut with interviews and pictures of the crowds -- and many artists are seen only in tantalizingly brief encounters. One of the most complete sequences features ex-Led Zepper Robert Plant, who's apparently gotten the Sub-Saharan musical bug, and while I guess an old dino-rocker like Plant has more celebrity draw than someone like vocalist Oumou Sangare or Malian superstar Ali Farka Toure, it still seems like the locals are getting shortchanged a little. (I assume the clipped pace of the film was a result of trying to keep it under an hour in length, so that it could be broadcast on televison, but it's still a bit regretable...) Nonetheless, there are some great artists to be seen here, including Sangare, the eclectic French world-beat ensemble, Lo'Jo, and the electrified Touareg jam band, Tinariwen, whose extended family ambience and loose, relaxed stage presence make them seem quite a bit like an African version of the Grateful Dead (and I mean that in a good way!) All in all, this film provides an rich glimpse into a distant culture, as well as tantalizing exposure to some of the greatest musicians in Africa... It's certainly worth checking out!
---



World Music Index
Other Recent Reviews


---