<! MP3 03/03/09, 09/15/10 > <! pix 03/03/09, 09/15/10 > <! archived 00/00/00 > <! icons 02/23/11 >
---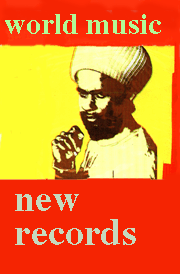 Welcome to Slipcue.Com's "Recent World Music" page, which highlights new(ish) African, Asian, Latin American and Celtic records, as well as your plain old "miscellaneous" categories... Basically, whatever catches my interest amid the roar and thunder of our global music marketplace...

These records were reviewed in January, 2005.
<! New Brazilian music >

---
Recommended Records: January, 2005 | Review Archives | World Music Index
---

Brazilian Girls "Brazilian Girls" (Verve, 2005)



Mellowed-out club music. This is guilty pleasure material, pure and simple: uncomplicated makeout-scene dance-tronica, with blase, Bjork-ish, Blondie-esque femme fatale vocals by Italian chanteuse Sabina Sciubba (the only "girl" in this four-member band...) and slinky, trip-hoppy rhythmic beds with downtempo sex beats designed to bring out the sleazy Eurotrash in us all. There's a shamelessly unchallenging, lightweight aspect to this album that makes it oddly endearing... these folks aren't pretending to any great artistic heights or grand, crosscultural mindblowing-ness... They're just making preprogrammed pop music tailormade for car ads, Bond films or slightly tacky dinner parties. The chorus to one reggae-flavored track says it all: "Pussy, pussy, pussy, marijuana... Pussy, pussy, pussy, marijuana..." Need I say more? Oh, and they're also not Brazilian, but if you've taken enough drugs, I suppose that wouldn't matter either.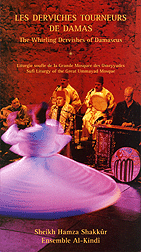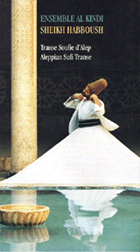 Ensemble Al-Kindi & Sheikh Hamza Shakkur "Les Derviches Tourneurs De Damas" (Le Chant Du Monde, 1999)


Ensemble Al-Kindi & Sheikh Habboush "Transe Soufie D'Alep" (Le Chant Du Monde, 2003)


Beautifully packaged, with classy, luscious graphic design and copious, highly informative liner notes, this handsome pair of 2-CD sets present some of the world's greatest Sufi music from one of the most revered modern ensembles, the Ensemble Al-Kindi of Damascus, Syria. Sufi worshippers and fans of world music alike will find these albums quite compelling -- the music is drenched in transcendant, ecstatic spirituality, quite heartfelt and melodically rich. HIGHLY RECOMMENDED.
Ladysmith Black Mambazo "No Boundaries" (Heads Up Africa, 2004)



It's funny how so many artists from so many genres -- aging dino-rockers, bloated Nashvillers, pretentious indie-niks -- will turn to classical music as a way to give their career a shot in the arm. Usually these "projects" (as they are loftily called) are flaccid and dispiriting, and thus I involuntarily winced when I saw the new Ladysmith disc... Sure, these guys are one of the world's premiere vocal ensembles and all, but still... Oh, god, I thought, this is going to be painful. The thing is, though... it's not! This is actually a fine record, with an engaging mix of African and clasical European motifs. The English Chamber Orchestra, under the direction of Ralf Gothoni, adopt a playful, not-too-stuffy approach that lends a surprising bounce to the proceedings, and the Ladysmith members seem to be having fun as well. They reprise old favorites such as Paul Simon's "Homeless," one of their signature pieces, as well as songs from the European vocal canon, such as "Dona Nobis." The album loses some of its punch in the final few tracks, but for the first two-thirds of the disc, it's surprisingly strong and pleasantly engaging... Worth checking out, even if you were never a huge Ladysmith fan to begin with...

Lo'Jo "Ce Soir La..." (World Village, 2004)



Fans of this uber-electic French world-band will be thrilled by this live concert album... All their elements come together -- the acoustic musette, the dark cabaret jazz, moody electronica and the more manic rock influences... It's a bit too serious and self-serious for me, but very accomplished in its way, and an excellent representation of what this band does... Worth checking out if you're Lo'Jo curious; a must-have if you're a fan.

Masters Of Persian Music "Faryad" (World Village, 2003)



A stunning 2-CD set of live performances by the Persian supergroup now known as the Masters Of Persian Music... Kalhan Kalhor (also of the group Ghazal) played the ur-fiddle known as the kamancheh, with rhythmic accompaniment by Homayoun Shajarian on tombak and melodic counterpoint by Hossein Alizadeh on the tar lute. One of Persia's greatest modern vocalists, Mohammad Reza Shajarian leads with lyrical, soulful interpretations of mystical poetry by various classic Persian poets. Both the vocals and the instrumental sections rely heavily on improvisation, and this element of all the artists being fully in the moment adds to the sense of conviction and emotion that characterize all the recordings by this widely lauded group. The first disc is mellower and more introspective, while several songs on the second set build towards a more frenzied, ecstatic release... If you've enjoyed earlier albums by Ghazal or the Masters ensemble, this live album will thrill you as a well. Recommended!

Orchestra Makassy "Legends Of East Africa: The Original Recordings" (Arc Music, 2005)



This Tanzanian-Zairean band, led by Kitenzogu Makassy, was one of many hardworking East African soukous groups in the 1970s and '80s. This disc reissues their first album, Agwaya, which was originally released in 1982 on Virgin Records. As the liner notes point out, these sessions were the first time the Makassy band had gone into a studio and recorded all the instruments separately, instead of the whole band playing the songs live. It shows. The album doesn't exactly feel flat as much as, well, simply professional and workmanlike. It's not bad, it just isn't as joyous and rapturous as some of this African guitar pop can get. That changes, though, on the two (previously unreleased) tracks that end this disc, where the band comes alive and shows the sparkle that must have amazed their fans, lo those many years ago. Particularly noteworthy is lead guitarist Mose Se Fan-Fan, who went on to record some scintillating guitar music under his own name. Those songs alone are worth the price of admission!

Paris Combo "Motifs" (Universal/DRG, 2004)



Nice and mellow. In the past, I've found the Combo to be a bit precious and self-consciously clever, but on this album they hit a sweet, soulful groove -- in particular, singer Belle Du Berry seems tapped into the poised sophistication of the best old-school bossa nova, and takes her most serious turn as a vocalist to date. It's quite a lovely album... worth checking out!

Chango Spasiuk "Tarefaro De Mis Pagos: Sounds From The Red Land" (Piranha, 2004)



An Argentinian accordion master with East European (Ukranian) roots, the youthful Chango Spasiuk is an uncommonly fluid, creative performer, fusing a global melodic sensibility with Chamame, the joyful dance style of his native region, the remote Argentine province of Misiones, known for its red-colored soil. Spasiuk's update of the music he grew up with is resonant and playful, shifting from style to style with flecks of jazz, blues, pop and folk laced together around distinctive Latin American melodies. Now I know you folks who like accordion music really like accordion music, and this disc ought to be a real treat for you! The approach is fresh and consistently engaging, and the warmth of the performance is evident on every track. Recommended!
---



World Music Index
Other Recent Reviews


---