<! MP3 03/03/09, 09/15/10 > <! pix 03/03/09, 09/15/10 > <! archived 00/00/00 > <! icons 02/23/11 >
---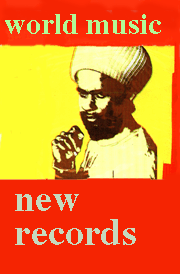 Welcome to Slipcue.Com's "Recent World Music" page, which highlights new(ish) African, Asian, Latin American and Celtic records, as well as your plain old "miscellaneous" categories... Basically, whatever catches my interest amid the roar and thunder of our global music marketplace...

These records were reviewed in February, 2005.
<! New Brazilian music >

---
Recommended Records: February, 2005 | Review Archives | World Music Index
---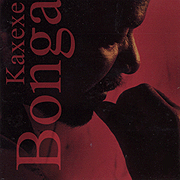 Bonga "Kaxexe" (Lusafrica/Times Square, 2004)



A rich, resonant, beautiful acoustic-based album by Angolan pop star Bonga, who has been recording since the early 1970s. The years have treated him well, and this is one of his best albums yet, with the calm melancholy of age apparent in every performance. Hints of Portuguese fados and Cape Verdean mornas creep in on several tracks, but mostly it's the power of his considerable charisma that comes through loud and clear -- this is a fine, melodic album by a veteran performer... Well worth checking out!

Branko Krsmanovic Group "Music Of Serbia & Montenegro" (Arc Music, 2005)



Branko Krsmanovic is the latest incarnation of a folk music ensemble founded in the 1950s, with its home at Belgrade University. Folks who are enamored of Balkan dance music will like this -- the musicianship is solid and the playing quite forceful. If you're not into the whole East European vibe, though, this might be rough going. The first few tracks have a slower, dark, classical-tinged richness to them, but then it quickly settles into a manic, manic, manic breakneck pace with plenty of wild accordion playing. It's not really my cup of tea, but I can certainly recognize the authority with which they play...

Charanga Cakewalk "Loteria De La Cumbia Lounge" (Artemis/Triloka, 2004)


This is pretty cool... Working out of Austin, TX, auteur Michael Ramos (formerly of the rock band, the Bo-Deans) tackles Latin American dance music and gives it an odd, eerie, playful, kitschy twist... Ramos plays almost all the instruments on this album -- piano, Hammond organ, accordion and trumpet -- and wrote or cowrote all but one of the songs. It's similar in some ways to the avant-Cuban crossovers of Marc Ribot, but a little less cerebral and more of a mind candy album. It's fun. At first I wasn't that into this album, but then its goofy indie-rockish playfulness started to come through and I got into it. There are a lot of textures and layers to this album... Some of it's pure camp, some of it's deep musicianship and much of it is just some groovy tunes to have on at your next margarita-drenched backyard barbeque. Worth checking out!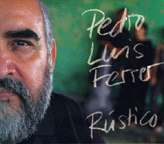 Pedro Luis Ferrer "Rustico" (Escondida, 2005)



Nice-sounding acoustic music with a political edge, from Cuban dissident Pedro Luis Ferrer (who I'm told has been banned from Cuban TV for several years, and releases records outside of the country...) This combines the popular changui style with less familiar modes from Central Cuba, where Ferrer hails from. The tres guitar playing is quite nice and typically seductive, although the female vocals by Lena Ferrer (presumably his daughter?) are more folkie, in the protest-song tradition of the Cuban trova, and seem at odds with the elegance of Papa Ferrer's skillful guitar work. His lyrics weave between oblique romantic versification and relatively blunt critiques of those in power; I imagine that to some Cubans this is still controversial stuff, though I suspect that for many, the political struggles of Castro's waning years is less about manning the barricades, and more a matter of simply running the clock down. Guess we'll find out someday. Anyway, if Cuban politics intrigue you, Ferrer does his best to assume the role of a gadfly, which certainly makes his music different than other musicians who keep their heads down and stick to traditional themes... But the musicianship is solid as well, so you don't necessarily have to fret over whether this guy is a reactionary or a poet... You can also just enjoy the pretty music.

Jim Jensen & The Hawaiian Hotshots "Volume One: Here Is Happiness" (Cumquat, 1997)
Lovely, mellow instrumentals featuring the drifting, dreamy lap steel work of slide guitarist Jim Jensen, along with his pals in the Australian-based Hawaiian Hotshots (a group that also included guitarist Bruce Clarke, owner of the Cumquat label, which is the best source of this fine album...) Originally recorded in 1991, this album is a studious though quite soulful homage to the old-school Hawaiian music of the 1940s -- this really is a beautiful record; I've listened to it for days on end and never grown tired of it. Recommended!

The Klezmatics with Joshua Nelson & Katheryn Farmer "Brother Moses Smote The Water" (Piranha, 2005)



A dicey crossover effort featuring one of the world's premiere klezmer bands and a couple of contemporary African-American gospel singers in a live mash-up concert that mixes their two traditions. The key word here is "contemporary": those who enjoy poppy modern gospel music, with it's showy, soul-drenched vocal acrobatics and emotive drama may find this Judeo-Christian musical fusion a fascinating, energizing effort. Folks who prefer the older, rawer, blues-based gospel style may simply find this album vexing and awkward. The musician's attempts to summon an ecstatic presence are clearly sincere, but this may be rough going for all but the truest true believers.

Ana Moura "Guarda-Me A Vida Na Mao" (World Village, 2005)


A beautiful, melodic set of modern Portuguese fados. Vocalist Moura takes a much softer approach to the music than the traditional, keening style popularized by Amalia Rodrigues and her generation of fadistas. She's no less passionate, however, and this is quite a lovely album... Recommended!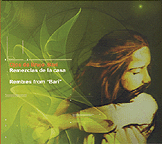 Ojos De Brujo "Remesclas De La Casa" (World Village, 2005)



Dance-y remixes of songs off the 2004 album, Bari, by this flamenco-based mix'n'match world beat band out of Barcelona, Spain. I don't care much for electro dance music, so this didn't do much for me. Still, it is well produced, and folks who do like this kind of remix project will probably love this EP.

Rachid Taha "Tekitoi -- Who Are You?" (Wrasse, 2005)



A two-disc set by Algerian pop innovator Rachid Taha, who moves forward from the rai style that has dominated North African pop for decades, into a booming, mammoth Arabic-electro-dance sound that I suppose could be described as "world big beat." It's a little too clubby and dance-oriented for me, but folks who like world fusion music with a bite will find this a pretty exciting album. It includes a tounge-in-cheek cover version of the old Clash hit, "Rock The Casbah," turning the original song's Arabic kitsch on its head, and reclaiming it for folks who actually live in the desert... Meanwhile, pop exoticist Brian Eno even collaborates with Taha on one track... The second disc (included on the American version of the album) is a DVD that shows Taha in action... It's not my cup of tea, but fans will be psyched.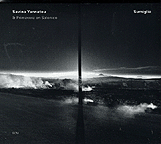 Savina Yannatou "Sumiglia" (ECM, 2005)



An eclectic, evocative, ambient'n'classical-tinged set, drawing on the music of Greece, Spain, Italy and various Eastern European locales to weave a not-too-artsy tapestry that should enchant world music fans on the more rarified end of the spectrum. Yannatou, a Greek singer who has explored a variety of Mediterranean musical traditions, incorporates a healthy dose of avantnik influences as well, but without allowing it to overwhelm the rest of the music and make it seem overly arid or academic. I wasn't completely drawn in by this disc, but I can see how for the right listeners, it would be utterly enchanting.

Various Artists "ANCIENT CIVILISATIONS OF SOUTHERN AFRICA" (Arc Music, 2005)



A beautiful, wonderfully varied collection drawing from several albums previously out on the Arc Music label... From older traditional chants and story-songs to complex percussive numbers and softer, more modern and melodic mbira (finger piano) numbers, this generously packed album gathers music from the tribal cultures of the Bushman, Tswana, Venda, Xhosa and Zulu traditions... It's a well-programmed set, with a fluid feel from track to track, with each transition as intriguing as the last... The liner notes are concise yet informative, with an easy but authorative presentation... After hearing this collection, you may be tempted to track down some of the individual albums that this draws from, and while those are also quite rich, this is a very listenable disc in itself... Well worth checking out!

Various Artists "MUSIC OF SARDINIA" (Arc Music, 2005)


The island of Sardinia, located smack dab in the middle of the Mediterranean Sea, off of Italy's western coast, has a musical culture that will still sound exotic and fresh to all but the most jaded world music fan. This collection, which draws on several European labels, is packed with unusual sonic treasures, music that will perk your ears up and make you sit up and take notice. Only towards the end of the album, when a few more modern-sounding recordings were included, did my attention start to wander...
---



World Music Index
Other Recent Reviews


---

*