<! MP3 03/04/09, 09/15/10 > <! pix 03/04/09 - Brazil pix still need tweaking; 09/15/10 > <! archived 00/00/00 > <! icons 02/23/11 >
---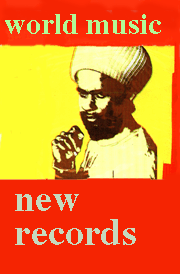 Welcome to Slipcue.Com's "Recent World Music" page, which highlights new(ish) African, Asian, Latin American and Celtic records, as well as your plain old "miscellaneous" categories... Basically, whatever catches my interest amid the roar and thunder of our global music marketplace...

These records were reviewed in June-July, 2005.
<! New Brazilian music >

---
Recommended Records: June-July, 2005 | Review Archives | World Music Index
---

Salma Al Assal "Women Singers Of Sudan -- Songs Of Al Sabata" (Arc Music, 2005)



Stark, soul-piercing vocal chants with simple percussive accompaniment on the Sudanese dalloukas, or clay drums. Al Assal, who has sung with the Mahmoud Fadl ensemble, takes a markedly traditional approach, and the purity of her performances makes them quite compelling, despite the lack of stylistic variety. Folks who like the similarly stark gnawa style will probably also enjoy this type of music, known as "Al Sabata." Recommended.

Fanfare Savale "Speed Brass Of The Gypsies" (Sub Rosa, 2004)



Insanely fast gypsy brass band music from the tiny Romanian village of Zece Prajini, which is renowned for its deep musical traditions. If you dig Eastern European brass music, or are drawn to stuff that sounds just plain weird, then this disc is definitely for you. Impressive musicianship that pushes the music into the sphere of the avant-garde, then twirls it around and around until it gets dizzy and starts to stagger... then offers it a drink and gets it spinning again. Pretty wild!

The Gnoua Brotherhood Of Marrakesh/Master Musicians Of Joujouka "Moroccan Trance II: Sufi" (Sub Rosa, 2005)



More weird, wonderful music from Morocco, raw, captivating performances of a musical style that sounds foreign and strange, passionate and dark. I'm not sure I entirely buy into the whole marketing of gnawa as "trance music" -- seems a little trendy to me -- but the style's diehard fans don't seem to mind... so let's let it pass. Anyway, this is a fine set of recordings from the mid-1990s, featuring two of the best-known gnawa groups, in a series of odd, unadorned, untamed recordings, stark-sounding tribal music that seems pure and uncompromised, and which features unique, alluring rhythms and patterns... If you like gnawa, you'll want to check this out!

A Hawk And A Hacksaw "Darkness At Noon" (Leaf, 2005)



An odd, engaging, avant-klezprov album from indie-rocker Jeremy Barnes (a veteran of bands such as Neutral Milk Hotel and Bablicon)... Although the record is mostly Barnes's work, he has collaborators from the avant-jazz, rock and klezmer community on board, and while the album has obvious Jewish roots, it stretches into Arabic and Balkan motifs, as well as a sheen of manic noisepop as well... The eclectic, frantic feel of some of the Neutral Milk Hotel albums is funnelled here into a tighter form, and while this record pushes the boundaries of the klezmer genre, it is also surprisingly strong compositional aspects, while simultaneously feeling freer and less staid than much of the contemporary klezmer that it branches off from... There's also a sense of fun and abandon, as well as a moody, whimsical side that's kind of cool as well. If you like the newer, experimental klezmer of groups such as Hasidic New Wave, but find their orientation towards the free jazz of Ornette Coleman et al., to be a bit taxing, this multi-layered, sometimes spacy sonic odessey might be more to your liking. Definitely worth checking out!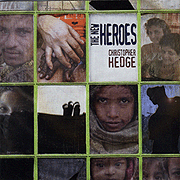 Christopher Hedge "The New Heroes" (Triloka, 2005)


A soundtrack companion to a PBS series, The New Heroes, which celebrates social innovators and humanitatians working to solve health and development crises in the Third World... Composer Christopher Hedge provides a mix of global styles, threaded together with a soft, contemplative feel and the requisite snippets of spoken word samples... There's a familiar feel to a lot of this, but the album is pleasantly listenable and compelling, and doesn't slide into any of the goopy, florid traps of many standard-issue "world fusion" records. Many of the solutions presented in the documentary are pretty simple -- foot-powered water pumps for people in drought-striken, low-tech rural areas, or small personal "micro loans" given to individuals in countries where only a few dollars can represent a month's worth of work. Hedge's musical approach is also simple and spare, taking a "more is less" approach that's a welcome change of pace from the often overwrought world beat scene. Nice and listenable.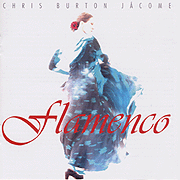 Chris Burton Jacome "Flamenco" (CBJ, 2004)



An extraordinary and fresh-sounding, passionate album... Yeah, sure, everybody and their brother who's had classical guitar training can zip off a few sweet-sounding flamenco riffs; the style has no shortage of amateur enthusiasts, but this Arizona-based composer-performer brings a brightness and originality to the music that is a real treat to hear. Jacome skirts past the forceful muscularity of popular bands such as the Gipsy Kings, et al., in favor of a far wider musical palatte. Each song has its own unique feel, with tunes that recall the work of Segovia as well as Leo Kottke and even a bit of the brooding, Gothic tone of Brazil's master guitarist Baden Powell. Many of the arrangements are ambitious and dynamic, with a lively vocal chorus added into an imaginative, well-sculpted sound design. It's quite impressive for an independent release, and what's even better, it's fun to listen to and quite compelling... If you're looking for a record that your world music-savvy friends and relations probably haven't heard yet, this one comes highly recommended, with the Joe Sixpack seal of approval. (For more info, check out his website at www.chrisburtonjacome.com" )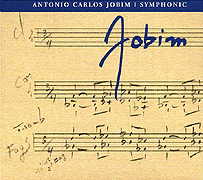 Antonio Carlos Jobim (composer) "Symphonic Jobim" (Adventure Music, 2005)


Grand, romantic treatments of various Jobim classics such as "A Felicidade" and a number of lesser-known works, including some early compositions from the 1950s that had gone unrecorded until this album. The Orquestra Sinfonica do Estado de Sao Paulo, conducted by Roberto Minezuk, slide gracefully through this 2-CD live set, with arrangements by Jobim, Dori Caymmi, Eumir Deodato, Claus Ogerman, Nelson Riddle, and the project's producers, Paulo Jobim and Mario Adnet. Milton Nascimento contributes vocals to two songs, "Matita Pere" and "So Todos Fossem Iguais Voce," and his performances actually provide an emotional core to the concert. These symphonic renditions may be a bit florid and formal, but it is nice to hear Jobim's work in a new context; the reverent audience in Sao Paulo certainly shows there was plenty of hometown enthusiasm... Worth checking out, though you may not find it as overtly sensuous or cool as Jobim's classic bossa nova recordings.

Ananda Shankar "Ananda Shankar" (Reprise, 1970)



A kooky kitsch classic, featuring sitarist Ananda Shankar -- a nephew of Ravi Shankar -- playing psychedelic rock-fusion covers of pop hits like "Jumpin' Jack Flash" by the Rolling Stones and the Doors' "Light My Fire," as well as several original tunes. The backing band is mainly made up of American pop studio pros, pumping out punchy, high-test muzak, with a monstrous Moog synthesizer competing with Shankar's energetic, boing-boing-boinging sitar. Obviously this isn't the most subtle or profound Indian music around, but it was a landmark album of sorts... There were zillions of sitar-laced rock songs that came before this in the late 'Sixties, with every hippie and their brother following the lead of George Harrison and the Beatles, but this was one of the first crossover records that was of full album length and that came at the music from the Eastern side of the East-West equation, rather than the other way around. I'm not sure it really transcends novelty status, but there's certainly a through-line from here to artists such as Ashwan Batish, Monsoon and Cornershop. Worth checking out, although it is pretty silly. (Re-released on the Collector's Choice label.)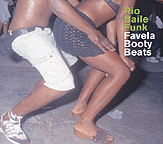 Various Artists "RIO BAILE FUNK: FAVELA BOOTY BEATS" (Essay, 2004)


A groovy, well-programmed collection of Brazilian party music, lively stuff that springs from a Brazilian fascination with the "Miami bass" style of dance/hip-hop music... As heard here, the insistent, often obnoxious baile funk doesn't always highlight the heavy low end of its Miami-based ancestors, but it does share a gleeful sense of hedonism, frivolity and abandon. This disc is a slick mix of no-brainer dancefloor favorites by artists such as Dennis DJ, Furacao 2000, MC Jack and others; although its hardly in the Brazilian pop mainstream, the baile funk scene had an explosive growth in the 1980s and '90s, fronting huge, rave-like dance parties amid monstrously large sound systems. As described in the album's liner notes, the scene fell prey to incidental violence and for a time the dances were legally procribed following a few notably disasterous shows. Still, it's hard to imagine such a spunky sound being kept down for long: I'm hardly a fan of club culture, dance music or 'lectro beats, but this is a fun album, with spazzy sampled beats, kooky, rapid-fire lyrics (often sampled and manipulated) that are more like rally chants than rapping or dancehall... The superfast, dat-datdat-daadad-dah beat somehow, miraculously falls short of simple monotony, and the whole effect is rather giddy and captivating. It's hardly your typical Brazilian pop, but it's definitely worth checking out.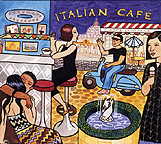 Various Artists "PUTUMAYO PRESENTS: ITALIAN CAFE" (Putumayo, 2005)


Super cool! For me, Italian music has always borne the mark or terrible, terrible, terrible bad taste, from their love of watered-down disco and bland, overripe romantic pop to the kitschy croonings of various American pop vocalists (Dean Martin, et al) which just consigned the nation's music to the back bins, as far as I was concerned. Well, I take it back, at least some of it: this is a superb collection that reveals Italian music's hitherto unsuspected depth, variety and good humor, drawing on several decades of somewhat off-the-radar Italian artists, musicians who dip into playful acoustic jazz and swinging pop vocals. Following World War Two, the playful beat of American swing entered the Italian musical vocabulary, and that tradition is still strong today, as herad here. Some of the early Italian swingers are featured here, such as Fred Buscaglione and Quartetto Cetra, whose stars rose in the late 1940s and early 1950s, up through playful modern artists who cheerfully mix Italian tradition with acoustic jazz, swing, and gypsy rhythms... The well-known eclectic crooner Paolo Conte is sadly absent from this set, but his brother Giorgio fills in, one of many musicians here whose bright performances light up this disc. This album is a real treat, a collection full of surprises and one artist after another that seem worth checking into at greater length. Nice when a whole new country's worth of music opens up before you... Bravo, Putumayo! Keep up the good work.

Various Artists "SON CUBANO NYC -- CUBAN ROOTS, NEW YORK SPICES: 1972-82" (Astralwerks, 2005)


This swinging set of New York salsa/son cruises through the sweet, summery sounds of old-timers such as Chocolate Armenteros, Henry Fiol, Rey Roig, Roberto Torres and several less well-known (but no less thrilling) Cuban-American dance bands. It's great stuff, a collection that easily holds its own next to all the other salsa and boogaloo reissues out there these days. The liner notes are funny, though, with two parallel perspectives on the "salsa" vs. "son" nomenclature -- there's one strident argument that says the word "salsa" was all marketing/public relations BS, and another, mellower version that says, Who cares? It's the same music, and it's all really good. I guess I slide into the second camp: when you've got stuff that sounds this sweet, why get all hung up on the name? This is a great collection, definitely worth checking out.
---



World Music Index
Other Recent Reviews


---

*