<! MP3 03/04/09, 09/15/10, 02/23/11 > <! pix 03/04/09, 09/15/10 > <! archived 00/00/00 > <! icons 02/23/11 >
---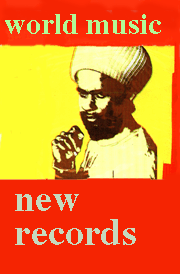 Welcome to Slipcue.Com's "Recent World Music" page, which highlights new(ish) African, Asian, Latin American and Celtic records, as well as your plain old "miscellaneous" categories... Basically, whatever catches my interest amid the roar and thunder of our global music marketplace...

These records were reviewed in August, 2005.
<! New Brazilian music >

---
Recommended Records: August, 2005 | Review Archives | World Music Index
---

Kiran Ahluwalia "Kiran Ahluwalia" (Triloka, 2005)



A very pleasant, very listenable record which blends Punjabi ghazals and folk songs with modern pop and world music, with quite satisfying results. Ahluwalia lays claim being a torchbearer of tradition, as a formally trained ghazal singer, but I think it's her strengths as a moderizer that really make her stand out. There's a strong Celtic streak to this album, notably on the tracks where Canadian fiddler Natalie McMaster pitches in, but also laced throughout, where a gentle acoustic guitar helps shape the sound of many songs, along with the Indian flutes, percussion, and Ahluwalia's own work on the tanpura. This is a lovely record, one which you'll enjoy coming back to time and again.


<! 03/09: Amazon linked to wrong MP3 >

Baka Beyond "Rhythm Tree" (March Hare Music, 2005)



The first Baka Beyond album, from 1993, was a groundbreaking if somewhat gooey world music set, melding samples of the pure, simple music of Cameroon's nomadic Baka tribespeople with a more modern, multitextured production style... The record garnered numerous fans, as well as numerous critics who found it facile and exploitative. Since then, the Baka project has become more of a routine affair -- a brand name, practically -- with producer Martin Cradick soldiering on, continuing to fuse African, Celtic and other global styles into a smooth, honeyed world music mix... It's a little too easy-sounding for me; it sounds pretty and all, but doesn't really challenge us much. Fans will find this new album pleasant enough, though few of Baka's skeptics will be mollified or won over... Six of one, half dozen of the other.

Compay Segundo "El Compadre Again" (Escondida, 2005)



A sweet set of Cuban guajira music from the masterful, lively acoustic musician nicknamed Compay Segundo... This disc is a gem, filling in the gaps between his early years as part of the Duo Los Compadres (in the 1950s) and his late 1990s "comeback" as part of the Buena Vista Social Club crew. These vintage recordings from the '70s and '80s show him in fine form, as nimble and compelling as any of his other work... These are wonderful recordings, capturing the inventive, playful spirit of one of Cuba's finest musical forms... Highly recommended!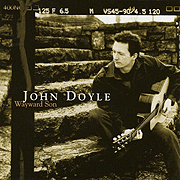 John Doyle "Wayward Son" (Compass, 2005)



WOW. I mean, DOUBLE WOW. Now, I was never a huge fan of the Irish-American supergroup, Solas, but I was totally floored by this jaunty, jovial, trad-oriented acoustic album by their guitarist John Doyle... Accompanied by the ubiquitous bassist Danny Thompson, Doyle has asserted himself as a worthy heir to the trad-folk line of Nic Jones, Martin Simpson, and others who infused hypertraditionalist repertoires with soulfulness, good humor and rich melodic depth. He even covers a Nic Jones tune, and gets the diving, plunking guitar style down to a "T." His impassioned version of the Australian robber ballad, "Jack Dolan" (aka"The Wild Colonial Boy") may be considered a definitive version for years to come. Doyle's fetwork is both lightning fast and soulfully fluid; with guest artists that include Liz Carroll, John McCusker, Kate Rusby and Linda Thompson, this album is brimming to overfull with talent and class. I was loathe to let this one leave my stereo, but eventually I had to... the CD was starting to wear down! This is really good... highly recommended!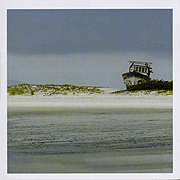 Daniel Gonzaga "Areia" (Dabliu, 2004)



Quite nice! The grandson of Brazilian forro legend Luiz Gonzaga (and the son of 1970s MPB composer Gonzaguinha), Daniel Gonzaga may be one of Brazil's "next big things..." He shares his dad's affinity for modern pop, but sticks much closer to straight guitar rock. The mature-sounding, multitextured album opens with a cool blues song, a John Lee Hooker-ish tribute to Milton Nascimento, and then slips into some softer, slinkier songs that have some gentle slide riffs that remind me of George Harrison. The mood and listenability is sustained throughout the length of the album, and though I could live without the funk hooks (and semi-rapping) on some later tracks, overall this is a very strong record. Fans of Os Paralamas or Renato Russo will probably love this one... Recommended!

Tony MacManus & Alain Genty "Singing Sands" (Compass, 2005)



Instrumental world/soft-jazz duets featuring hotshot Celtic guitarist Tony MacManus and French bassist Alain Genty... This is on the soft side, even a tad goopy, but it's quite listenable and full of motion... Genty has a fondness for Pat Metheny-esque echo, an '80s-ish production technique that some listeners may find off-putting, though overall this is a substantive album, exploring pan-Celtic forms and adding a healthy dose of Balkan and Arabic melodies as well... Not something I necessarily need to revisit, but I did find it quite listenable and lulling... almost even guilty pleasure material. Even if you're averse to easy listening, you might find yourself lulled by this one... And if you do enjoy the softer end of the Celtic folk spectrum, you will love it.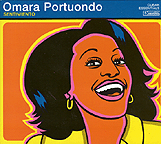 Omara Portuondo "Sentimiento" (Escondida, 2005)



Folks who were turned on to Ms. Portuondo's romantic style when they saw her sing that sizzling duet in the Buena Vista Social Club movie will find this disc useful in helping fill in her backstory a bit... This features vintage recordings from the early 1970s, and the '80s and '90s as well, providing a sweeping cross-section of her pre-BVSC career. I have to admit, I found much of it a bit too florid for my tastes, and while I do like romantic Cuban material, the straight-up boleros kinda turn me off... But this is a good introduction to Omara's ouvre, and is certainly recommended for anyone who wants to delve into her older stuff. Good, concise liner notes as well... Worth checking out!

Ritmo y Canto "Ritmo y Canto" (Everlovin' Records, 2005)



Traditional Afro-Cuban son montuno featuring a wide swath of LA's finest Latin-oriented musicians... The group is headed by drummer Adam Topol, whose day job is slapping the skins for the Jack Johnson Trio; it's pretty cool to hear a "pop" musician like that who has delved so deeply (and so effectively) into this music, and has stayed so true to its authentic core. Also on board are members of Latino agit-pop band Ozomotli, some folsk from the UCLA music department and various other bands. Lead vocalist Tesesita Dome Perez has one of those true, timeless, wailing voices that anchors this album and provides an emotional core... But the musicnship backing her up is rock-solid, and this is a fine, fine record for the style. If you like Los Munequitos De Matanzas, for example, you will probably love this as well.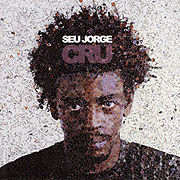 Seu Jorge "Cru" (Wrasse, 2004)



A wonderfully low-key record, which starts off with a lively, cavaquinho-led acoustic number, recalling the glory years of the '70s pagode scene, and moves into a series of equally subtle, understated performances. On track after track, Seu Jorge implies more musical power than he displays, and even on the few tunes where he dips back into his soul roots, it is with the greatest of restraint... A couple of moments are mildly taxing -- his vocal duel with a cuica, for example -- but nothing will interfere with your enjoyment of what is clearly a superior album. Features mostly original material, including a couple of songs by collaborator Fernando Brant (who also plays guitar on about half the album) and an old samba number by Noca Da Portela, as well as an updated version of an old Serge Gainsbourg song, "Chatterton," which is like capnip for all the Euro-hipsters eager to get a healthy dose of cool new Brazilian music as well. Very nice and very listenable... Recommended!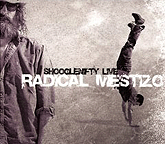 Shooglenifty "Radical Mestizo" (Compass, 2005)



The second live album by this Celtic/world fusion ensemble. The acoustic parts are nice (mandolin, etc.) and there's an interesting strain of Balkan/Arabic melody running through much of the album. The more clunky rock/funk aspects don't do much for me, though. This album doesn't break new ground as far as the band is concerned, but it is a nice showcase for their musical chops and stylistic breadth; it's also nice to hear them play outside of the studio, where they are less tempted to go overboard with the fancy rock-funk crossover gimmicks.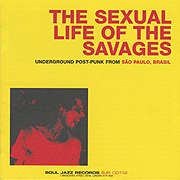 Various Artists "THE SEXUAL LIFE OF THE SAVAGES: UNDERGROUND POST-PUNK FROM SAO PAULO, BRASIL" (Soul Jazz, 2005)


Make no mistake about it: this disc is a fascinating, well-researched and invaluable exploration of some of the rarest Brazilian rock -- jittery, angular, no-wave-ish art-rock from the early-'80s Sao Paulo underground scene. Generally speaking, punk and indie rock have historically made little traction in Brazil, particularly the bands of this era and this style of music, so a disc is of tremendous historical value, filled with way-off-the-radar bands such as Mercenarias (whoever they were...), Gang 90 (hunh?), and Akira S E As Garotas Que Erraram (hey wait, they're not in the Trouser Press Guide, either...!!) The trouble is, for me at least, that I never really liked this kind of music, even though half the people at my radio station dutifully venerated bands like ESG, James White, Gang Of Four, Lora Logic, et al., back when I was first immersed in the murky world of 1980s college radio... But man, if my artsy little pals had known about this collection back then...!! Wheeww... they really woulda wet themselves. Anyway, I've never been much for the arid, super-cerebral side of the punk and post-punk scene -- crunchy, messy guitars, snotty attitudes and sheer hormonal release were always kinda more my style. But it's instantly clear that these kids in Sao Paulo were really pretty hip and up-to-date, and they were getting all the "right" imports for the time... The spirits of Joy Division and Pere Ubu hang like patron saints over this remarkable album... Great liner notes, too, that delve into the particulars of the Brazilian punk/rock scene, including some info about the fabled Baratos Afins label and record shop... I doubt I'll ever really listen to this disc again, but I'm certainly not going to give up my copy any time soon...
---



World Music Index
Other Recent Reviews


---

*