<! MP3 03/04/09, 09/15/10, 02/23/11 > <! pix 03/04/09, 09/15/10 > <! archived 00/00/00 > <! icons 02/23/11 >
---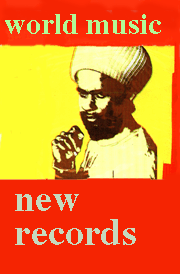 Welcome to Slipcue.Com's "Recent World Music" page, which highlights new(ish) African, Asian, Latin American and Celtic records, as well as your plain old "miscellaneous" categories... Basically, whatever catches my interest amid the roar and thunder of our global music marketplace...

These records were reviewed in September, 2005.
<! New Brazilian music >

---
Recommended Records: September, 2005 | Review Archives | World Music Index
---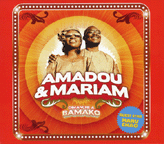 Amadou & Mariam "Dimanche A Bamako" (Nonesuch, 2005)



Modern African pop that'll really bend your ears sideways. What's most striking about this album is its remarkable tonal and textural palatte; producer and co-performer Manu Chao brings a powerful technical proficiency to bear, capturing and isolating individual sound sources and giving each element a distinctive coloration and feel. Rather than use studio multi-tracking to create the illusion of an organic live performance, Chao opts to use technology as an instrument in itself, a tool to amplify and expand the group's stylistic depth and variety... While the results may initially feel a bit rigid or overly artificial, bit by bit the underlaying fluidity of the music will begin to assert itself, and the album will win you over. Amadou and Mariam's earlier albums have all had a peculiar magical appeal, but Chao's inventive, kaleidoscopic production nudges their brand of Malian pop into new directions... This album will doubtless get great press and blow a lot of people's minds: this time you can believe the hype and check it out... It's pretty cool.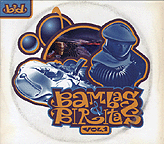 BiD "Bambas & Biritas, v.1" (MCD/Soulcity, 2005)


Featuring a veritable who's-who of Brazilian hip-hop'n'soul, both old and new, this is a fairly sophisticated, mellow set, with a funky soul-fusion feel. Eduardo BiD is the main artist, playing host to an impressive cast of Black Rio samba-soul elders and contemporary hip-hoppers... Carlos Dafe, Seu Jorge, Marku Ribas and Elza Soares are among the big-name guests... which is kinda cool, although the now-over-the-hill Soares brings things to a painful, grinding halt when she croaks her way through an extended solo on "Mandinguera." (I know she's lauded as a living legend and all, but Ella Fitzgerald she ain't...) This isn't really my cup of tea, but it is one of the finer contemporary albums of its kind, and it thankfully forsakes the louder, more confrontational rap attacks of groups such as Afro-Reggae or the irritating techno-bleats of the "funk carioca" crowd. So, for folks looking for a low-key middleground to help them explore the booming Brazilian hip-hop scene, this is a pretty cool record to start your explorations. Worth checking out. (Available through www.soulcity.com.br. )

Liz Carroll & John Doyle "In Play" (Compass, 2005)



A fantabulous two-person Celtic trad jam session featuring Chicago-based fiddler Liz Carroll (of Cherish The Ladies) and guitarist John Doyle (late of the band Solas). Carroll generally takes the lead, but Doyle's subtle, constantly shifting accompaniment is a tour-de-force in and of itself, contrasting the old-country sawing with a deft, pop-and-jazz inflected acoustic commentary. These are two top-flight Irish-American trad virtuosi, each performing at their absolute peak. I'm not generally that into all-instrumental trad albums, but this one's a doozy. Definitely worth checking out!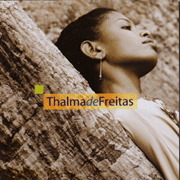 Thalma De Freitas "Thalma De Freitas" (EP) (EMI/Cardume, 2004)



Very nice! The daughter of '70s MPB/jazz fusion keyboardist Laercio De Freitas, Ms. De Freitas has a gorgeous voice, with crystal-clear tone and very precise diction; she glides atop these light, funky tunes, an easygoing, jazzy mix crafted by her father (who plays throughout) and modern indie-popster Kassin (perhaps best known for his work with Moreno Veloso). Kassin contributes the centerpiece of this 6-song EP, a light, bouncy, irresistible rumba-flavored tune called "Tranquilo." Her father's touch is heavy on the rest of the record, which is as much a showcase for his keyboards as it is for her voice, and drifts into some jazzy flights that recall Gal Costa's funkier albums of the mid-1970s. Veteran bassist Bebeto and drummer Wilson Das Neves round out this compact ensemble -- this disc is short, but it's sweet -- one of the best new Brazilian records I've come across in quite some time!

Boris Kovacs & La Campanella "World After History" (Piranha, 2005)



A big change of pace from the normal manic tempo of Balkan brass band music... Mixing lyrical, reflective jazz, Mediterranean melancholy and a touch of tango and gypsy lilt, saxophonist Kovac and his latest cohorts -- an inventive Italian acoustic ensemble -- craft an unusual pan-European style, music that drifts into soundtrack-ish territory, but may be pleasing to those looking for something lush and romantic to settle into.

Old Blind Dogs "Play Live" (Green Linnet, 2005)



A fine live Celtic set from this new Scottish supergroup, mixing lightning-fast musicianship with moments of quiet grace... The audio mix seems a bit muffled at times -- surprising in this day and age -- but nonetheless, the band never sounded better. Their piper, Rory Campbell, deserves special praise, solidly anchoring the group in their roots, while providing a deft, nimble playfulness, while many of the vocal tunes are also quite haunting. If you like Celtic trad, you'll want to check this one out.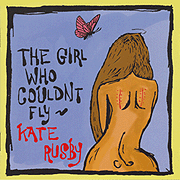 Kate Rusby "The Girl Who Couldn't Fly" (Compass, 2005)



Oh, it's so sweet! I can't help it: I hear a Kate Rusby album and I just melt and get all gushy... She's just really, really good, one of the most striking and creatively vital British folk artists of the last thirty years. This album is no exception... It doesn't blast off in new directions (thank god) but hews close to the winning formula of her last few albums, which is a gorgeous, rich combination of traditional material and original new tunes that have a softness and sleekness that belie the depth of the writing. If you're a fan already you will definitely not be disappointed; if you're new to Rusby's work, this disc is as fine an introduction to her work as you could ask for. Highly recommended!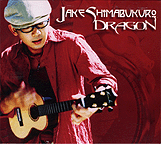 Jake Shimabukuro "Dragon" (Hitchhike/Sony-Japan, 2005)



Twentysomething whizkid Jake Shimabukuro is to Hawaiian music and the 'ukulele what Bela Fleck is to bluegrass and the banjo. A fearless modernizer and virtuoso picker, Shimabukuro dips liberally into lite-jazz and muzak styles, so much so that his 'uke work is sometimes obscured by the flowery pop arrangements... But when he keeps it simple, as on the acoustic-based "Me & Shirley T," his fretwork is nothing short of stunning. This album also includes the rock-flavored "With You Always," a song used in a tourism campaign aimed at Japanese travelers, where Shimabukuro swaps licks with an electric guitarist. This isn't my kind of Hawaiian island music, but after seeing the success that IZ had with similarly florid material, I wouldn't be surprised to see Shimabukuro emerge as a major Hawaiian star.

Ciaran Tourish "Down The Line" (Compass, 2005)



A lovely Irish trad album from Altan's new fiddler, with top-flight musicianship, and a heady melodic momentum. The fleet-fingered Tourish favors both songs and instrumentals, and he is one of those welcome rare few who can slide through a set of jigs and reels and not simply make it sound like the same old stuff -- there's a lot of feeling and warmth here, and a softening of tone that takes out none of the music's liveliness or bite. Plenty of high-power guests on here as well, including Paul Brady, who plays keyboards or guitar on several tunes, and turns in a fine vocal perfromance on his own "Dreams Will Come." Phil Cunningham, Arty McGlynn and Maura O'Connell also pitch in, as well as bluegrassers Tim O'Brien, Alison Krauss and several of their buddies, who play on a doleful, bittersweet rendition of the old Carter Family standard, "Are You Tired Of Me, My Darling." From start to finish, this album is eminently listenable, delivering fine Celtic trad, music that never flags or falters, nor strays too far from its roots. Recommended!
Boubacar Traore "Kongo Magni" (World Village, 2005)



A moody, deceptively simple-sounding, vaguely hypnotic album with Malian acoustic guitarist and songwriter Boubacar Traore playing slow, repetitive lines that gradually bend and evolve as each song unfolds... Like his famed contemporary, Ali Farka Toure, Traore works a strong blues thread into his music, recalling the droning, chunky riffs of John Lee Hooker and Muddy Waters... There's a sense of sorrow to this music, and indeed many of the songs reflect on life in the impoverished, rural Malian nation, and tend to have explicit social messages (at least that's what it seems, glancing at the partial translations inside... ) Although this sadness is palpable, so is Traore's tenacious, weary embrace of life and humanity, with all its flaws and foibles... This album may take a while to get into, but it definitely casts a spell if you give it half a chance. Worth checking out.
Zuco 103 "Whaa!" (Crammed Disc/Six Degrees, 2005)



A great, giddy modern Euro-Brazilian world-pop album, marking a quantum leap up from the band's first two albums from a few years back. On the opening track, "Na Magueira," singer Lilian Vieira bursts forth with an incandescent homage to the sprightly jazzy rhythm style of Elza Soares -- Vieira's version being draped in a contemporary techno-tinged sound mix... The band's roots in Europhilic dance music come back to the fore in a few of the house-ier tracks, but their explorations of African pop (on "Duele Le Le") and cameos by dub reggae legend Lee "Scratch" Perry make this album their richest, most resonant album to date. Nice stuff; as catchy as it is clever, and as propulsive as it is playful. Recommended.
---



World Music Index
Other Recent Reviews


---

*