<! MP3 03/04/09, 09/15/10, 02/23/11 > <! pix 03/04/09, 09/15/10 > <! archived 00/00/00 > <! icons 02/23/11 >
---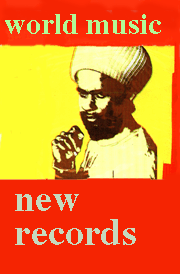 Welcome to Slipcue.Com's "Recent World Music" page, which highlights new(ish) African, Asian, Latin American and Celtic records, as well as your plain old "miscellaneous" categories... Basically, whatever catches my interest amid the roar and thunder of our global music marketplace...

These records were reviewed in October, 2005.
<! New Brazilian music >

---
Recommended Records: October, 2005 | Review Archives | World Music Index
---

Bantu, Featuring Ayuba "Fuji Satisfaction: Soundclash In Lagos" (Piranha, 2005)



Contemporary Nigerian pop known as "fuji" music, which picks up where juju and afrobeat left off... This new, hyper, hybrid incorporates hip-hop and raggamuffin reggae, two styles that I'm not that into, so I guess I might not be the right guy to ask about this album. It didn't do much for me, although I could tell that this group was pretty good, for the genre. Just not my cup of tea.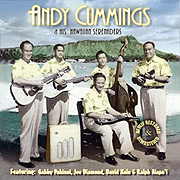 Andy Cummings "Andy Cummings And His Hawaiian Serenaders" (Hana Ola, 2004)



Hawaiian bandleader Andy Cummings grew up on Kauai, but headed off for the bright lights of Honolulu, and later toured the mainland, where he pursued a long, fruitful career in music... It was while travelling through a freezing Michigan winter that the homesick bandleader wrote "Waikiki," one of the most famous Hawaiian pop songs of the pre-WWII era... Cummings formed his own postwar band, which is featured here, and wrote prolifically throughout the 1940s, later moving away from touring and into advertising work... But -- oh!! -- those great recordings from his heyday as a bandleader... A wonderful blend of authentic Hawaiian showbiz hulas and lively steel guitar music, with big band and other non-island styles in the mix... Plus, his band included the great slack key legend, Gabby Pahinui, early in Pahinui's career... Folks looking to fill in some knowledge of Gabby's early years will do well to check this disc out! Nice stuff from the golden era of Hawaiian music, and still plenty of fun to listen to... Recommended!

Follow, Follow "Afro-Groove" (Ombu, 2005)
Canadian devotees of Fela Kuti's driving afrobeat sound, this Quebec-based sextet throw themselves wholeheartedly into the material, covering a half dozen Fela classics, one tune by Maceo Parker (tipping us off to their funk-jazz leanings) and add a couple of original compositions to the afro-funk canon, written by guitarist Rainier Weins, who has kind of a Terry Haggarty vibe going on... These guys aren't as tight as other revivalists such as Antibalas (for example) but they also aren't as rigid or jittery... They're pretty loose and funky, and this disc seems like a good approximation of what their live sets must be like; certainly worth checking out if you're into the whole Fela sound, or even into the more danceable jam-band stuff... (Available through the band's website: www.ombu.ca )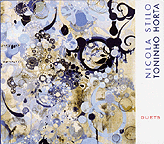 Toninho Horta & Nicola Stilo "Duets" (Adventure Music, 2005)


Suuuuuper-mellow instrumental duets between Brazilian guitar legend Toninho Horta and Italian flautist Nicola Stilo (who once played in Chet Baker's band...) Make no mistake: this is lite-jazz easy listening, but if you go for that kinda stuff, this is also very good lite-jazz easy listening... Certainly worth checking out, if this sounds up your alley

Kronos Quartet & Asha Bhosle "You've Stolen My Heart: Songs From R. D. Burman's Bollywood" (Nonesuch, 2005)



San Francisco's Kronos Quartet have made a career out of unlikely musical associations -- a baroque arrangement of Jimi Hendrix, versions of Philip Glass music that don't put you to sleep -- and recently they have turned their attention to "world music," most notably in their imaginative Mexican odyssey, Nuevo, which came out in 2002. Here they immerse themselves in the rich, dense musical world of India's "Bollywood" film soundtrack industry, and more specifically of R. D. Burman, one of the most prolific and prestigious "filmi" composers. Joining them on this album is the ubiquitous "playback" singer, Asha Bhosle (who is also married to Burman), who has a voice that is instantly recognizable and iconic... Indeed, Bhosle is such a strong presence that her vocal tracks sound like they were sampled from films, rather than contributed to the album in fresh performances... This is a subtle album, not as gimmicky or as overtly arch and artsy as many other Kronos releases -- the opening third of the disc is mystical and mellow, with the manic, cut-and-paste techniques of Bollywood only rising to the fore towards the end, where they comfortably dovetail with the modernist avant-gardisms that are Kronos's stock in trade... It takes the Quartet a while to assert itself as an active partner in this album; perhaps it's because Burman's music is so multilayered and kooky to begin with, it takes Kronos a while to find an entry point with which to add some new twists... Or maybe they're simply content to present his music to heir audience, and not impose themselves on the proceedings. Regardless, this disc gathers momentum slowly, but it delivers richly on its promise, with a set of spooky, sensuous performances, certainly worth checking out for anyone in search of something new, outside of the usual crazed Bollywood fare. It's cool stuff.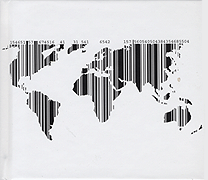 Various Artists "ANOTHER WORLD IS POSSIBLE" (Uncivilized World, 2005)


What's that old saying about, "if I can't dance, I don't want to be part of your revolution?" Well, the super-diverse cast assembled for this anti-globalist, crosscultural world/dance/sociopolitical mash-up can help you cover all those bases... There's music from a wide range of artists (with a notable emphasis on weird Balkan music; it seems to be the "in" thing these days...), with artists ranging from Femi Kuti, Salif Keita and the Skatalites to Asian Dub Foundation, Moby and Massive Attack along with written commentary from Noam Chomsky, Naomi Klein, Arundhati Roy and other intellectual political luminaries... For folks in the anti-WTO contingent, this may become the soundtrack for their lives; it's a little aggressive for me, but still has some cool stuff on it, including two Clash covers (including Emir Kustica's thickly-accented, semi-absurdist rendition of "All Lost In The Supermarket"). Plus, how interesting and odd is it to find out that Manu Chao's father is some sort of prominent political academic in the economic development field...? Who knew? A well-packaged set that packs a real wallop... in more ways than one.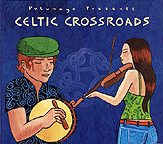 Various Artists "PUTUMAYO PRESENTS: CELTIC CROSSROADS" (Putumayo, 2005)


I suppose you could classify this album, or at least part of it, as a "guilty pleasure" for yours truly... I saw the description "ancient traditions meet modern technology" and involuntarily cringed, with a slight, uncomfortable tightening in my stomach... See... I'm not much for Celtic world-fusion, and I've found little that cheered me in the catalogs of famous bands such as Capercaillie, who are one of the headliners featured in this collection. However, I have to confess that the opening tracks -- including one from Capercaillie -- are quite lovely and lulling. To be sure, there is far better Celtic trad out there, but this set is well-selected and for the most part picks its way around the most excessive crossover styles and opts instead for a fairly conservative -- and pleasant sounding -- set of songs, with plenty of melody and acoustic musicianship draped around airy vocals. That's true of the first few tracks, featuring Emer Kenny, Capercaillie and a Scottish band called (ow, my stomach) Keltik Elektrik, who deliver one of the album's highlights, a trip-hop flavored update of "Wild Mountain Thyme," with lightly processed vocals by Jim Malcolm, gliding atop a loping drum machine beat... I almost hate to admit it, but it caught my imagination, and I've found myself with this version echoing about in my head, despite having long since fallen in love with richer, more melodic versions many, many years earlier. The rest of the album gets gooier and less distinct, but overall I'd say this is a fine set of modern Celtic easy listening, well worth checking out.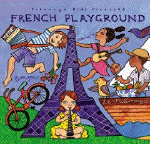 Various Artists "PUTUMAYO PRESENTS: FRENCH PLAYGROUND" (Putumayo, 2005)


Tres super-cool! This is a really sweet set of music which, apparently, is children's music from France and various French-language outposts, such as Haiti and Quebec. For kid's music, the arrangements sound pretty darn "adult," but I ain't complaining. Sounds nice, is what it sounds, and well worth checking out. Plus there's not a single artist on here that I'd ever heard of, but also not a single track I disliked, so that's a pretty good formula, as far as I'm concerned. It's a keeper!

Various Artists "SOUND OF THE WORLD: COMPILED BY CHARLIE GILLETTE" (Wrasse, 2005)


A fine, admirably diverse, well-programmed collection of music from across the globe, put together by BBC music reviewer Charlie Gillette (who can often be heard on the BBC public radio co-production, The World). The pacing of this 2-CD set is dynamic and thoughtful -- it feels like a good, well-planned radio show, or even a fairly aggressive club mix, with a few softer songs thrown in to vary the tempo and timbre... Anyway, it's a very good selection of some of the more striking, memorable releases of the past year. Definitely worth checking out!
Various Artists "VIBE ASIAN -- BHANGRA BEATS & GARAGE GROOVES" (Music Club, 2004)

---



World Music Index
Other Recent Reviews


---

*