<! MP3 03/05/09, 09/15/10 > <! pix 03/05/09 > <! archived 00/00/00 > <! icons 02/21/11 > <! *>
---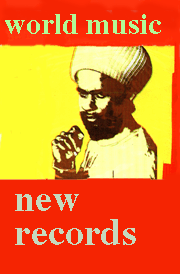 Welcome to Slipcue.Com's "Recent World Music" page, which highlights new(ish) African, Asian, Latin American and Celtic records, as well as your plain old "miscellaneous" categories... Basically, whatever catches my interest amid the roar and thunder of our global music marketplace...

These records were reviewed in November, 2005.
<! New Brazilian music >

---
Recommended Records: November, 2005 | Review Archives | World Music Index
---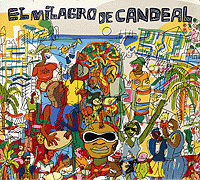 Carlinhos Brown & Various Artists "Milagro De Candeal" (BMG-Spain, 2005)


Brazilian percussionist and axe pop star Carlinhos Brown plays host to Cuban pianist Bebo Valdes, and elder statesman of the jazz-tinged descarga scene, as Valdes journeys to Brazil to soak up some of Bahia's African traditions... This disc is tied in to a documentary film by director Fernando Trueba, who previously directed Calle 54, also about contemporary Cuban son. Valdes and Brown are joined by a slew of high-profile Brazilian talent, including Brown's old group, Banda Timbalada, Marisa Monte, Caetano Veloso and other, newer artists. The overall production tone is a bit mellow and overly-perfect, which doesn't really work with the more rhythmic, heavy numbers... The highlights here are some fo the softer ballads, particularly Veloso's track. Valdes' contributions seem largely buried int he too-slick mix, although his influence is felt here and on Brown's similarly themed (and much more arresting) solo album, Carlito Marron. Worth checking out, though it is a bit on the safe side.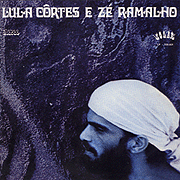 Lula Cortes & Ze Ramalho "Paebiru" (Rozenblit/Mocambo, 1974)



One of Northeastern Brazil's future rock stars, Ze Ramalho, plays various instruments on this aggressivley experimental psych/prog/avant rock album, backing Lula Cortes of the Brazilian psych band Satwa... For many, this is a lost treasure of Brazilian acid rock; I just found it to be tremendously irritating and jaggedly textured. If your taste in music tilts towards improvisational "free jazz," where constantly pushing against the envelope is an end in and of itself, then this album might be a real treat... Personally, I like a little more melody. (So I'm square; sue me, daddy-o.) This is an interesting historical relic, I suppose, but I far prefer the spacy folk-rock of Ramalho's first couple of solo albums, which came out a few years later... This reissue on the psych-fetish specialty label, Normal Records, is certainly much welcome, though: this was an extremely rare album, and for the right listeners it'll be a treasure. Too bad the CD booklet only reproduces the original liner notes, and doesn't provide any additional info in English that could help provide more context for this unusual album... Oh, well.


<! MR. BONGO reissued (!) >
Curumin "Achados E Perdidos" (Quannum, 2005)



This disc opens with "Guerreiro," a thunderously sexy, slinky, cool, irresistibly catchy pop-funk samba that recalls Stevie Wonder's grooviest work from the early 1970s... That sweet funk vibe is echoed on "Tudo Bem Malandro," which also uses a full, fat-toned keyboards to create a thumping funk beat -- Curumin's debt to Wonder is made explicit in his English-language cover of Wonder's "You Haven't Done Nothing," which rounds out the album's soft, sensual opening set. From there, more contemporary hip-hop and Brazilian pop influences kick in, and the record starts to lose some of its momentum, becoming more a collection of songs than a cohesive artistic statement. There's a little bit of a patchwork, kitchen-sink feel to the second half of the album, but this lack of cohesion also indicate's Curumin's searching, innovative creativity. A Sao Paulo native (whose given name is Luciano Nakata Albuquerque), Curumin makes a point of opening his album up to guest performances by off-the-radar locals; as is often the case, Sao Paulo's music scene offers a grittier, edgier alternative to the sleek elegance of Rio and the party-down sambas of Bahia... Of the many Brazilian artists who have melded funk, soul and samba over the last four decades, Curumin stands as one of the most fluid and accomplished. Sadly, the entire album isn't as funky as the opening numbers, but those few tracks go a long way towards establishing him as a contemporary pop artist worth keeping track of... While savoring the songs on here that get my toes tapping, I'm definitely looking forward to Curumin's next record!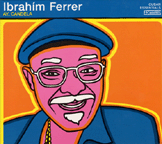 Ibrahim Ferrer "Ay, Candela" (Escondida, 2005)



As with other volumes in this fascinating series on the Escondida label, this album sheds light on some less well-known material from a popular Cuban performer. This disc collects material from 1963-85, after Ferrer first made his mark as a vocalist in "Chepin" Rosell's early 'Sixties band, but well before his elevation to global stardom as one of the artists featured in the Buena Vista Social Club documentary... These old EGREM recordings have much of the bright, brash, and relatively unpolished sound of Cuban music in the '70s and '80s, a tinny quality that stands in sharp contrast to the polished elegance of the more recent (and more high-budget) Buena Vista recordings. But it's also lively, highly energized material, with Ferrer riding atop arrangements that are joyous and wild -- and when he really hits a groove, watch out -- this is smoking hot! Recommended, especially if you want to dig deeper into Ferrer's "missing years."

Great Big Sea "The Hard And The Easy" (Rounder, 2005)



These mellow Canadian rockers score a grand slam (or the hockey equivalent...) with this fun set of traditional tunes from their seafaring home of Newfoundland. Easing up on their jam band tendencies, Great Big Sea live up to their name with a lively, earnest album of sea shanties and sailing songs... Ahhrrrr!! It's a fishin' live, up North! GBS give a rollicking, whole-hearted performance; fans of the good, old, yo-ho-ho gusto of the Irish Rovers should get a kick out of this fun, funky record. It's definitely worth checking out for the music alone, although the companion DVD is even more charming, capturing the trio in a series of informal jam sessions as they rehearse the songs and cheerfully explain where they learned each tune, also discussing the importance of music and DIY folksinging to the cozy Newfoundland social life. It's totally charming and will win over all but the stoniest of hearts. Nice album art, too!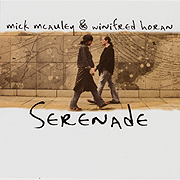 Winifred Horan & Mick McAuley "Serenade" (Compass, 2005)



Solas may have disbanded some time ago, but the popular Irish-American supergroup continues to cast a long shadow on the contemporary Celtic folk scene... Here is about the bazillionth Solas solo/spinoff project, a typically virtuosic collaboration between fiddler Winifred Horan and accordionist/piper/guitarist Mick McAuley. It's a sweet set, mostly instrumental with an oftimes sugary feel and plenty of dazzling musicanship... There's a bit much of the jigs'n'reels, jigs'n'reels repetitiveness to it, although the vocal numbers break things up a bit. I could live without their overly-languid cover of Neil Young's "After The Gold Rush," although McAuley's lovely, soulful performance on "Adieu Sweet Lovely Nancy" is an album highlight. Certainly, if you're a Solas fan to begin with, this disc'll do you no harm. Worth checking out.
Jorane "The You And The Now" (Six Degrees, 2005)



(Produced by Michael Brook)
French-Canadian cellist Jorane spins a pretty web, along with the aid of New Age-y world fusion producer Michael Brook... Deep string tones mix with skittering, Marc Ribot-esque rhythms, gentle, airy vocals, inscrutiable lyrics and an overall vibe that should remind more than a few listeners of those precious old Kate Bush albums. She squanders a lot of her artistic capital, though, with a peppily orchestrated version of Donna Summer's old disco hit, "I Feel Love," a too-cute misstep many fans may be willing to overlook... If you're looking for a mellow space-out album, this might fit the bill, although I have to confess I didn't find much to latch onto, especially as the album went on; the French-language material is welcome, although I wish she'd sing that material with as much gusto as the English-language songs... If you like things that are on the softer side, this may be worth checking out, although many may find it a bit too amorphous and coy.

Klezmer Juice "Klezmer Juice " (Arc Music, 2005)



A melodically rich klezmer set, centered around the deft, playful clarinet work of Gustavo Bulgach, an Argentinian now living in Los Angeles. This is a numble, youthful band, more fluid, perhaps, than some better-known, more traditional groups... They don't stray too far off the path, though, and this will sound familiar as well as fun. More of the same, but definitely worth checking out if you're into the style.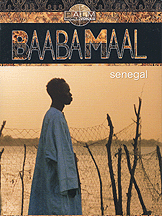 Baaba Maal "Palm World Voices: Baaba Maal -- Senegal" (Palm Pictures/Universal, 2005)


This deluxe package -- a best-of CD, a DVD and a really pretty booklet, along with an ornate map of Senegal -- is a fine introduction to Baaba Maal, one of the great African pop superstars of our time. The real heart of this collection is the video disc, which includes a nice documentary that introduces Maal in the flesh, as it were, presenting the mix of sincere humility and cold calculation that his celebrity requires. Maal takes a film crew to his hometown, and even into his family compound, a humble set of stone buildings inside a walled courtyard; he explains how the Senegalese griot class -- the keepers of West African musical tradition -- initially attacked him as an interloper. Maal's social background, coming from a family of fishers, should have prevented him from performing music... and would have, had he not pursued his career regardless of their wishes... Now, of course, he is a huge star and has been embraced by the griots as a keeper of the flame and a gift from the gods... The film also discusses how Maal and his partner, Mansour Seck, researched music from other cultures and tribes, and how he has sought to widen his status to that of an internationalist "African" performer, while still maintaining their connection to their local roots. It's a fascinating portrait of an artist who is both humble and driven: his charisma and inner power burst out of every frame, even as he appears to be the slightest and most demure of men. The music disc is less gratifying, though. It begins with several lovely acoustic tunes, than quickly shifts into a slick, fusion-y "pop" mode which holds less appeal for folks like me. Still, as an overview of his career and musical philosophy, this is a perfect introduction to Maal and his brand of Senegalese music. Recommended!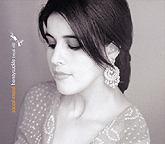 Souad Massi "Mesk Eli (Honeysuckle)" (Wrasse, 2005)



French-Algerian chanteuse Souad Massi returns with an elegant, ambitious album, full of soft songs cloaked in sleek, beautiful and multilayered arrangements. Working with members of Salif Keita's band, she stakes out a claim as a new-school, modern, pan-African artist, working with a variety of sounds, including West African pop, French chanson, flamenco, and a hefty dose of Arabic melodies... These influences are somewhat intangible, however, for she rarely works in just one mode at a time, preferring instead to mix diverse styles together in unexpected ways, constantly shifting from mode to mode... I'll confess, I'm not completely wild about her vocals -- she sounds nice, for some reason this just didn't move me -- but in terms of it's conception and technical execution, I'd say this is a seductive, innovative and pleasantly unpredictable album, just the thing to pique the interest of most "world music" fans. Definitely worth checking out.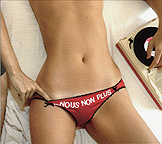 Nous Non Plus "...Nous Non Plus" (Aeronaut, 2005)



An outstanding album by this spinoff of New York's faux-French frogpop band, Les Sans Culottes. Unlike the various Sans Culottes albums, this disc seems like less of a one-note joke, displaying instead greater musical depth and variety, ranging from breathy, Francoise Hardy-esque ballads to nervy '77-style punk, jittery technobleepery ala StereoTotal, steamy Roxy Music-ish synthpop and New Wave, dreamy modern indie stuff... all done with great aplomb. The French-language lyrics remain blithe, silly and self-mocking, but the musical chameleon act is quite impressive. This is a darn good record; definitely worth checking out!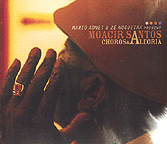 Moacir Santos "Choros & Alegria" (Adventure Music, 2005)



Veteran Brazilian jazzman Moacir Santos doesn't actually perform on this album, but he lent his approval as the original arranger and composer of all these songs, which are culled from a wide swath of his decades-long career... Guitarist Mario Adnet and saxophonist Ze Nogueira prodced this disc as a followup to the album Ouro Negro, which also featured rearranged, newly recorded versions of numerous Santos jazz classics... Like that album, this is laregly a straight jazz set, although this time around the songs are much mellower and less driving; the "smooth jazz" crowd should love this one. Santos explored some of the musical themes of the choro style -- sort of a Dixielandish, pre-jazz style from Brazil -- but does some interesting things to the music, slowing down the normally lightning-fast, slam-bang style to a relative crawl, allowing more room to explore the musical nuances and make the rich harmonic textures more apparent. This is a little too sweet and mellow for me, but if you use this album as a musical counterpoint to classic choro recordings from Pixinguinha and other masters of the genre, you may find it to be a very rewarding album.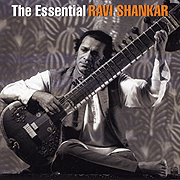 Ravi Shankar "The Essential Ravi Shankar" (Sony Legacy, 2005)


I have a terrible, terrible, terrible confession to make, one that make cause me to be drummed out of the League O' World Music Geeks... I... uh... (...let me take a breath here...) I, um... well... I've never really been all that big a fan of Ravi Shankar's music. Aaaagh! There...! I've said it!! Whew. That feels better. Whew. Okay, I mean, I know he's a big grandaddy of the "world music" scene, and that he's one of the greatest popularizers of Indian classical music that the world has ever known... He's a total mack-daddy show biz superstar, partied with the Beatles and thus brought the sitar into the international rock scene in the 1960s and is said to be the instrument's #1 virtuoso... That being said, I have still often found his perfromance style to be rigid-sounding and somewhat severe, and lacking in the sweet, sensuous side that I so deeply appreciate in Indian and Pakistani music. Anyway, there it is. I'm not with the program when it comes to Ravi. So, this 2-CD collection actually turned out to be a nice surprise... Disc One kicks off with an amusing historical curio: Shankar's 1957 monologue on how to best appreciate Indian music (in which he sternly warns that it is not "Indian jazz..."), and includes numerous tracks from early in his career, most of which fit into the rigid-sounding template I describe above. Disc Two is where the real surprises come in, arcing into his later work in the 1980s and '90s, where Shankar's rigorous musical purism gives way to a looser-sounding crosscultural experimentation, and the results of these raga-pop-world-jazz fusions are often quite delightful. This is a fine retrospective of his work, gathering material from a number of labels, presenting in in a brisk yet expansive format. Recommended!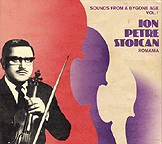 Ion Petre Stoican "Sounds From A Bygone Era, v.1" (Asphalt Tango, 2005)



Playful Balkan dance music from Romanian violinist Ion Petre Stoican, who supposedly was awarded the right to record an album as a reward for having reported a foreign spy to the Communist government in the mid-1960s, during the height of the Cold War. Well, James Bond's misfortune was our blessing -- Stoican milked the incident for years, recording a 4-song EP right away in '66 and finally got to record a full LP a decade later, packing the sessions with top talent such as cymbalom star Toni Iordache and Costel Vasilescu on trumpet. The album, which came out in 1977, is lively and playful, mixing regional elements with cosmopolitan pop-jazz touches, sort of like a kooky gypsy-jazz-meets-Crazy Otto set. Although the disc was issued anonymously (individual musicians were rarely credited on any of the state-owned labels...), folks knew who was on it, and it helped establish Stoican as a leading bandleader in the Romanian wedding band circuit... Modern listeners will find a lot to cheer about here as well; even for folks like me who may not care much for Balkan music per se, this is a pretty fun record. (Available though the label at www.asphalt-tango-shop.de )

Vocal Baobab "Yoruba Dream: Afro-Cuban Chant" (Arc Music, 2005)



Proteges of Cubo-Yoruban folk-vocal icon Lazaro Ros, the Havana-based Vocal Baobab ensemble hews closely to the traditional/folkloric sound; fans of groups such as Los Munequitos de Matanzas should like this, although the emphasis here is on vocal harmonies, rather than drumming, and the tone is much smoother and more sleek. This may be a bit tame for some listeners, but it certainly has the ring of authenticity and richness of tradition. Worth checking out!

Zarbang "Persian And Middle Eastern Percussion" (Arc Music, 2005)


A dazzling live performance, built around a dynamic percussive core, but with melodic embellishment from the Persian santur (a form of dulicmer, played here with amazing dexterity and fluidity) and the even more unusual sound of the Iranian bagpipes known as the ney-anban, which sounds a lot like the odd, primitive bagpipes used in Gallician folk music. The five-member Zarbang ensemble is made up of expatriate Iranian and Afghani virtuosi, living in various, far-flung European countries. Listening to this energetic, compelling concert album, fans in Europe have a lot to be thankful for... If you like the Persian classical group, Ghazal, you might also appreciate this group's lively, less stuffy performance style -- there's plenty of authenicity, but also a lively, playful showmanship that should draw you in. Nice!
---



World Music Index
Other Recent Reviews


---