<! MP3 03/05/09, 09/15/10 > <! pix 03/05/09, 09/15/10 > <! archived 00/00/00 > <! icons 02/21/11 >

Welcome to Slipcue.Com's "Recent World Music" page, which highlights new(ish) African, Asian, Latin American and Celtic records, as well as your plain old "miscellaneous" categories... Basically, whatever catches my interest amid the roar and thunder of our global music marketplace...

These records were reviewed in December, 2005.
<! New Brazilian music >

---
Recommended Records: December, 2005 | Review Archives | World Music Index
---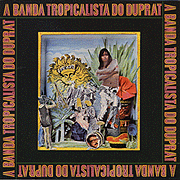 Rogerio Duprat "A Banda Tropicalista Do Rogerio Duprat" (Philips, 1968)


Hailed as a missing link and/or lost gem of the 'Sixties tropicalia scene, this was the first album by producer/arranger Rogerio Duprat, who helped shape the classical-avant elements of the early albums by key artists such as Gilberto Gil, Caetano Veloso and Os Mutantes. Duprat apparently studied in Europe with famed modernists such as Karlheinz Stockhausen and Boulez, but the musical ironies he brought to bear on his own recordings seem fairly facile. There are goofy, gogo-delic renditions of old sambas and modern bossa novae, but even taken as highbrow camp, or as cultural in-jokes that would have made sense to Brazilian intellectuals at the time, they still seem pretty ephemeral. I mean, this album's okay -- if you're into kitschy European soundtracks and stuff like that, this might be a lot of fun -- but it's not great or mindblowing... It includes a couple of Beatles songs and covers of other non-Brazilian pop hits of the day, and has Os Mutantes starring on four of the songs ("Cancao Para Ingles Ver," "Cinderella, Rockafella," "Lady Madonna" and the English-language "Rain, The Park And Other Things," which is an album highlight), and probably performing on the rest of the album as well. Mutantes fans will want to check it out, as will devotees of Brazilian psychedelia, although it's a little hit or miss as to whether or not you'll find yourself revisiting this disc all that often. (NOTE: The sound transfer on the 2005 reissue on the Cherry Red label is terrible... The music might benefit from a cleaner mix, but not so much so that you should pay big bucks for an original pressing...)
Frank London's Klezmer Brass Allstars "Carnival Conspiracy" (Piranha, 2005)



Opening as another mad, manic klez-fest that careens into ecstatic release at the drop of a hat, this ends with a sweet, solemn dirge, and tosses in a kitchen sink or two along the way... The presence of multiple oompalicious tubas sometimes gives this set a high-school marching band feel, but it would have been at a really, really weird high-school. There are also canny infusions of other world musics, such as the samba drums on "Who Knows One," the dubby feel of "A Time Of Desire" and the loopy, kooky, jazzy, Brazzy rhythms of "Out Of What," one of the coolest tracks on the disc. This is a pretty joyful, energetic album, one that dramatically pushes past the stylistic confines of standard-issue modern klezmer... If you're into the genre, you'll definitely want to check this disc out.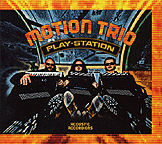 Motion Trio "Play Station" (Asphalt Tango, 2005)



Wild stuff! These guys do things with the accordion (or rather, accordions, plural...) that most folks would never dream possible, with a hyperactive mix of tango, gypsy jazz and avant-modernist classical music, ala Phillip Glass and Terry Riley. This is lively, challenging, somewhat manic material. Not as gripping, perhaps, as their previous album -- they seem to be straining a bit more to keep coming up with fresh approaches -- but still pretty amazing. Technically impressive, and purposefully difficult, for the right listener, this'll be a real jaw-dropper. Plus, if you're one of those kooky accordion fans, this is a must-hear ensemble.

Cathie Ryan "The Farthest Shore" (Shanachie, 2005)



A powerful all-star cast populates this Celtic trad album from Cathie Ryan of the Irish-American supergroup, Cherish The Ladies... Scottish fiddler John McCusker continues in his role as album's producer (having worked with her on previous recordings); other great players such as Phil Cunningham, John Doyle and Alan Kelly add their musical oopmph, while Karine Polwart (recently of the Battlefield Band) sings some fine harmony, and Galway's Sean Keane contributes gripping, gorgeous duet vocals to "What Will You, Love," one of the album's traddest highlights. Overall, I find Ryan's vocals and artistic approach to be a bit stuffy, but anyone looking for modern approaches to Celtic trad would do well to check this album out -- Ryan is innovative and adventurous without resorting to cheesy synths or drum machines... The instruments are all acoustic, and the musicians are all top-flight performers. Not totally my cup of tea, but pretty darn close!

Savae "La Noche Buena: Christmas Music Of Colonial Latin America" (World Library Publications, 2005)



The San Antonio Vocal Arts Ensemble, or SAVAE, is known for its ferreting out of obscure material, but they have really outdone themselves on this outstanding holiday offering, which gathers together sixteen exquisite, antique compositions from the Christmas music of colonial Latin America. The composers date back to the 1500s, 1600s and 1700s; most are from Mexico, but Bolivia, Guatemala and Peru are also represented, and while the predominant influence is liturgical, traces of the indigenous musical cultures (and regional dialects) are also present, particularly in the strong rhythms on several tracks. The texts are often fascinating as well, addressing the colonial experience of Africans and slaves... often heady subject matter that comes draped in gorgeous chant-like harmonies. If you are a fan of the various "chant" revivalists, or on the prowl for some exciting "new" music to add to your holiday repertoire, then this disc will be the best present you can get yourself this year. Elegant, lovely and soulful... a fascinating mix of European and Meso-American cultures. Highly recommended!

Silvinha "Silvinha" (Odeon, 1968/2005)


Better-than-average Brazilian jovem guarda teenybopper rock from the late 1960s... Produced by joven guarda veteran Tony Campello, this album frames Silvinha's talents well; the arrangements aren't as hokey or slipshod as many contemporary JG recordings, but they also aren't so kooky that they drown her out or distract from her singing. And she does sound good, very much like a "girl group" singer from the U.S.A., thin-toned and feminine, but also sassy and savvy; fans of the Dixie Cups, Little Eva, or even France Gall could probably get into this album. The hippest, most fuzzed-out teen-tunes are the album's opener, "Professor Particular," and "Banho De Sorvete," as well as the half-clompy, half-ebullient "Aconteceu" (a cover of Holland/Dozier's "The Happening"). Covers of "Playboy" and "Tell Him" are also standouts... All in all, this is one of the better JG albums I've come across -- not earthshaking rock'n'roll, but certainly worth checking out.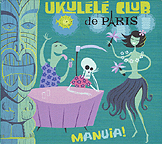 Ukulele Club Of Paris "Manuia!" (Universal-France, 2002)


Well, okay, this one is actually a few years old, but I just came across it and thought is was cool. The Ukulele Club of Paris is a wonderfully diverse, playful ensemble that commingles odd, cute, ukulelesized versions of old standards such as Hoagy Carmichael's "Hong Kong Blues" and the venerable "Teddy Bear's Picnic" with cool originals and perky covers of old Hawaiian standards. The album opens with a delightful cover on Benny Nawahi's "Girl Of The South Sea Isles," complete with the lyrics translated into French; wisps of Latin and Brazilian music come in as well... Admittedly, you have to be into uke music to begin with, and even so this is probably best taken in moderate doses... But these guys are top-flight... If you like listening to artists such as the Cheap Suit Serenaders and Bob Brozman, or the groups they inspired (Squirrel Nut Zippers, Asylum Street Spankers, etc....) and likeminded modern uke groups such as Petty Booka, then this disc might be right up you alley... Worth checking out!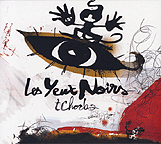 Le Yeux Noirs "Tchorba" (World Village, 2005)



Their fifth album finds this French gypsy-Jewish-fusion world pop ensemble pushing their sound into a more forcefully modern style. Le Yeux open this album with the drum-heavy title song, "Tchorba," a juggernaut instrumental tune that sounds for all the world like an old Jean Luc-Ponty track... I'm not sure these guys would shy away from the comparison, either -- there's a similar faith in slick, compact, decisive production styles, and a streamlined melodic and rhythmic sensibility. It's a bit on the clompy, overly-muscular side for me, but folks looking for more innovation in the now-popular Eastern European sound may want to check this one out...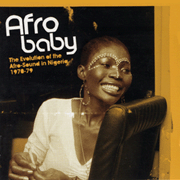 Various Artists "AFRO BABY -- THE EVOLUTION OF THE AFRO-SOUND IN NIGERIA: 1970-79" (Sound Way, 2004)



A first-rate set of vintage Nigerian Afro-Beat, which touches lightly on Orlando Julius and the famed Fela Ransome Kuti, but goes on to include numerous less well-known artists, such as The Sahara All-Stars, Bola Johnson, The Mebusas, Tunji Oyelana & The Benders, Thony Shorby Nyenwi, Victor Olaiya, et al. These bands may not have had the same overwhelming firepower as Kuti's juggernaut Africa 70 orchestra, but often made up for it with the rhythmic and melodic grace that Kuti often distained. I have to confess, I'm not a huge fan of this particular style of African pop, but I found this disc to be quite listenable and quite pleasant -- a cut above many similar collections. Strongly recommended -- an ideal introduction to the genre!
---



World Music Index
Other Recent Reviews


---

*