<! MP3 03/05/09; 09/15/10 > <! pix 03/05/09; 09/15/10 > <! archived 00/00/00 > <! icons 02/21/11 > <! *>

Welcome to my "New World Music" page, which highlights new(ish) African, Asian, Latin American and Celtic records, and "miscellaneous" records that I had the good fortune to listen...

These records were reviewed in January, 2006.
<! New Brazilian music >

---
Recommended Records: January, 2006 | Review Archives | World Music Index
---

Rachel Magoola "Songs From The Source Of The Nile" (Arc Music, 2006)


One of Uganda's most popular modern singers, Rachel Magoola originally hails from the band Afrigo, where she shone as a solo singer throughout the 1990s. In 2001, she started her own group and has released several albums, where these twelve songs are drawn from. It's a nice, sleek blend of styles, generally falling into the mainstream of modern African pop, but with plenty of traditional Ugandan elements in the mix. Magoola's voice is nice, the rhythms are mellow, the melodies seductive and easy on the ears. Perhaps not as electrifying or ethereal as some other African music, but still quite nice and solidly performed. Worth checking out!

Karen Matheson "Downriver" (Compass/Vertical, 2006)



A mellow, trad-oriented offering; the third solo album from the lead singer from Scotland's modernist Celt-pop-New Age supergroup Capercaillie. Matheson sings mainly in Gaellic (with a few songs in English), with a mellow, unhurried acoustic backing. There's a singer-songwriter side as well, which places this disc vaguely in the vicinity of Kate Bush and Aimee Mann, though with a distinctly Celtic twist. The band includes the venerable Donal Lunny on bouzouki and bodhran, as well as pianist-producer Donald Shaw and bassist Ewen Vernal, both of Capercaille fame. In general, this is a fine album, and sure to be a treat for fans who've hungered for more Matheson to return to more traditional-sounding material... For my part, I've never been a big fan of her voice -- I just don't like how she sounds -- but I found myself slowly won over to this record, the more I listened to it. Folks who are less picky and crabby than I am will certainly want to check this out.

Michael McGoldrick "Wired" (Compass/Vertical, 2006)



Another solo album from a member of the Scottish folk-pop fusion band, Capercaillie, this time from flautist Michael McGoldrick, who is also a founding member of the Irish band, Lunasa. This is a slick, glossy, unapologetically muzak-y, crossover oriented album, with dips into soft jazz ("Strange Journey") and funky Celt-pop easy listening. McGoldrick is an unquestionably talented player, and this is a fine showcase for his fluid, lyrical playing, but the backing music can get quite goopy, so you really have to be in the mood. Capercaillie's Donald Shaw plays keyboards and produces the album; most of the rest of the band appear on one track or another, along with a slew or top talent from the modern Celtic music scene. Worth checking out, if the slick stuff is your scene.

Plena Libre "Evolucion" (Times Square, 2005)



Energetic, uptempo Puerto Rican dance music that sharply recalls the glory years of the '70s salsa scene... Bandleader and arranger Gary Nunez guides this youthful ensemble; for the most part I found this a bit hurried and frenetic, but it's still nice to hear some old-school latin dance music holding its own against the current influx of high-tech pop and rap-oriented reggaton that's taken hold of the Islands these days. Bet the band's fun to see live!

Oleg Ponomarev "Master Of The Russian Gypsy Violin" (Arc Music, 2006)



Sweet... really sweet! I'm not all that attuned to Russian music, but this disc really stood out for its lovely melodic grace... It's romantic, but not syrupy or grandiose, and Ponomarev pushes the music in new directions, including a soft, contemplative mode -- with delicate counterpoint from an acoustic guitar -- all of which is quite nice. He's apparently from a Russian folk group called Loyko, but has since moved on to play in the Hot Club Of Dublin... which sounds like a group I'm going to have to track down! Anyway, this is a disc worth checking out -- whether or not you're already into the whole Eastern European thing, you're sure to find this album very rewarding.

Julia Sarr & Patrice Larose "Set Luna" (Universal-France/No Format, 2005)



An interesting acoustic set featuring vocals by Senegalese-Gambian expatriate Julia Sarr, along with French guitarist Patrice Larose. The opening tracks are the best, with a nimble, gliding feel that's more softer than much of the modern, electrified Senegalese pop we've heard in recent years. African pop superstar Youssou N'Dour guests on the title track (and has been a champion of Sarr's budding career); Leity M'Baye guests as well. This album has a distinctive feel; Larose adds a light, deft accompaniment which compliments Sarr's reserved, introspective vocals. As the album wears on, though, she shifts from more traditional-sounding African phrasing into an amorphous, free-flowing neo-soul crooning, and while it's okay for a tune or two, it goes on and on in the same vein from the middle of the record to the end and wears thin quick if you aren't already inclined towards modern soul music. Still, for many listeners I think Sarr will come as a minor sensation; folks looking for a new sound, and for something on the mellow side, may welcome her the same way that Cesaria Evora and Habib Koite have been embraced in recent years. I don't think this album is nearly on the same calibre as either of those artists, but I think the appeal may be much the same. For the right world music fan, this would certainly be worth checking out.

Sharon Shannon "The Sharon Shannon Collection: 1990-2005" (Compass, 2005)



Irish accordionist Sharon Shannon is one of the great modernizers in contemporary Celtic music... This 2-CD set greatly expands on her previous best-of collections, adding a second disc's worth of collaborations with pop, folk and country stars, including Jackson Browne, Steve Earle, Donal Lunny, Sinead O'Connor, John Prine and the late Kirsty MacColl. A lot of these performances have been featured on earlier albums, but here they are gathered on a separate disc; the first CD has a wide selection of Shannon's innovative solo work, including five new tunes. Shannon tilts back and forth between traditional-sounding folk and boundary-pushing Celtic-fusion... She may make more conservative folk fans grumpy, but listeners looking for innovation have rallied around her for years. Regardless of where you stand on her aesthetic choices, it's hard to fault her technical expertise -- Shannon is one of the most dazzling players in Celtic music today.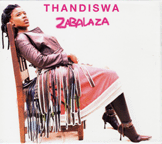 Thandiswa "Zabalaza" (Gallo/Escondida, 2006)



Modern South Africa pop and neo-soul; sort of like a Xhosa version of Macy Gray. This is Thandiswa's debut album, it's bilingual, with many lyrics sung in English... Musically speaking, it's really not my cup of tea, so I may not be the best person to comment on this disc. I can see lots of folks getting into it, though it's a bit mainstream and slick for me. (Feb. 7, 2006)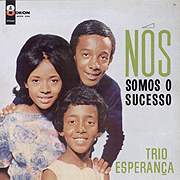 Trio Esperanca "Nos Somos O Sucesso" (EMI-Odeon, 1963/2005)


Great teenybopper pop from Brazil in 1963, recreating the ebullient charm of Annette Funicello and Brenda Lee for folks in the land of the samba. This was the premiere album by the trio of Regina, Mario and Evinha Correia Jose Maria, a family group from Rio that had been singing together for several years before they started making records. When this album came out, their ages ranged from ten to fifteen years of age; ten-year old Evinha is a classic cute-as-a-button child performer, but the Trio easily transcended the confines of novelty status -- they were actually quite good. Both their tricky vocal arrangements and the playful, inventive musical backing make this album a real gas. The song selection is fun, as well, with Portuguese-language covers of contemporary pop tunes such as "West Of The Wall," "Sad Movies," Henry Mancini's "Baby Elephant Walk," and even a meta-ironical cover of "Blame It On The Bossa Nova. There are also a few nice, notable Brazilian originals, including one by the teen-oriented Orlandivo. I'd heard a couple of Trio Esperanca best-of collections before this reissue came out, and thought, oh, they're not bad... But hearing a whole album's worth of how they sounded at the start of their decades-long career really bumped them up a couple of notches in my esteem. It's totally worth it to track this disc down... it's a gem. (By the way, this is one of about twenty jovem guarda teen-pop reissues that came out on EMI in 2005... It's one of the best, but the others are worth checking out as well; many are reviewed in my Brazilian section...)

Various Artists "ASAP: THE AFROBEAT SUDAN AID PROJECT" (Mobida, 2005)


A plea for help and a call to action come forth from this driving, impassioned set of modern-day Afro-Beat, a benefit album for the thousands of people dying in the Darfur region of the Sudan. Darfur is caught in what is politely called a "humanitarian crisis," although brutal genocide is more like it -- the light-skinned elite that controls the Sudanese government has countless people penned up in the country's remote Darfur region, starving to death those they don't kill outright, through the use of paramilitary proxy militias. The spirit of Afro-Beat apostle Fela Kuti runs strongly through this set, where his loping, unceasing beat sets the stage for squonking, muscular horn sections and political lyrics up the wazoo. There's one actual Fela track on here, but the work of his spiritual grandchildren -- bands such as Kokolo, Antibalas and the Akoya Afrobeat Ensemble -- adopts the style almost whole cloth, and shows that the music Fela made is alive and well, nearly a decade after his passing away. If you're an Afro-Beat fan, this disc might really wow you, plus the money goes to a good cause. To order the album, check out Mobida's website at: www.mobida.net; for more information about Darfur, go to http://savedarfur.org. )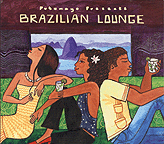 Various Artists "PUTUMAYO PRESENTS: BRAZILIAN LOUNGE" (Putumayo, 2006)


Nice...! A really beautiful set of mellow, modern bossa-electronica-samba crossovers, easy on the ears yet musically rich and spiritually fulfilling. There are plenty of heavy-hitters on here, including bossa elder Marcos Valle, Bebel Gilberto, Paula Morelenbaum (of the Jobim-Morelenbaum Quartet), manguebeat heroes Mundo Livre S/A (in a pleasantly mellow mood) and several hot younger artists such as Bossacucanova, BiD and the uber-mellow Katia B, as well as several fine artists I'd never heard of before (but will look into soon!). From start to finish, this is a well-programmed, revelatory set, relaxing but not sonambulent... It's one of those discs that wound up stuck in my stereo for a lot longer than I'd expected, getting played over and over, while delivering the goods every time. Recommended!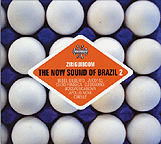 Various Artists "ZIRIGUIBOOM: NOW SOUND OF BRAZIL 2" (Six Degrees, 2006)


A nice representation of the Brazilian-tinged electro-lounge sounds of the Crammed Disc/Six Degrees empire... Most of these songs are taken from various albums that may already be on your record shelves, but there are four new tracks here -- all of equality to the previously released material -- the new material, along with the nice pacing of the set, makes this a bossa-techno disc worth owning. The the song selection is top-notch, putting the best face on this style (which I often find either too vaucous or monochromatic...) Here, each remix and rhythm track seems to have its place, and the musical ideas are well-developed and multi-textured. Bebel Gilberto leads the pack (naturally), along with Ziriguiboom stalwarts such as Bossacucanova, Cibelle, Celso Fonseca, Zuco 103, and others. For my money, this set is much stronger than Volume One, and is certainly worth checking out.
---



World Music Index
Other Recent Reviews


---