<! MP3 03/06/09; 09/15/10 > <! pix 03/06/09; 09/15/10 > <! archived 00/00/00 > <! icons 02/21/11 > <! *>
---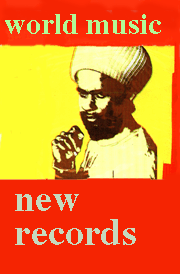 Welcome to my "New World Music" page, which highlights new(ish) African, Asian, Latin American and Celtic records, and "miscellaneous" records that I had the good fortune to listen to in March, 2006... Reviews include: Asha Bhosle, The Chieftains, Danu, Soweto Gospel Choir, Marcos Valle, Various Artists: "DEVOTION: RELIGIOUS CHANTS FROM INDIA", "ORIGINAL IRISH TENORS: THE LEGENDARY VOICES OF CELTIC SONG", "WHAT THE SHITE: SHITE 'N' ONIONS, v.2", "WHISKEY IN THE JAR"
This page is added to as new records come in... If you want more to read more reviews, many others are archived nearby, and there are separate sections for various kinds of world music that you might like exploring as well.
---
Recommended Records: March, 2006 | Review Archives
---
Asha Bhosle "Love Supreme" (Times Square)
The Chieftains "The Essential Chieftains" (Sony-BMG Legacy)
Danu "When All Is Said And Done" (Shanachie)
Sergio Mendes/Various Artists "Timeless" (Concord)
Soweto Gospel Choir "Blessed" (Shanachie)
Various Artists "DEVOTION: RELIGIOUS CHANTS FROM INDIA" (Arc Music)
Various Artists "ORIGINAL IRISH TENORS: THE LEGENDARY VOICES OF CELTIC SONG" (Sony-BMG/Legacy)
Various Artists "WHAT THE SHITE: SHITE 'N' ONIONS, v.2" (Omnium)
Various Artists "WHISKEY IN THE JAR" (Sony-BMG/Legacy)

---

Asha Bhosle "Love Supreme" (Times Square, 2006)



A nice 2-CD set that features one disc of newly recorded material and a second of older duets and video clips from this legendary queen of India's Bollywood movie/music industry. Seventy-three years young, Bhosle is still a formidable singer, and while producer Somesh Mathur's smooth, soft-soulish arrangements on the new recordings aren't quite my cup of tea, it's nice to hear her do something that sounds less harsh than the classic, often shrill "filmi" pop music mash-ups... She's always excelled at romantic ghazals, as this disc demonstrates. The second disc gives a good glimpse of Bhosle in her youth (one hesitates to say "in her prime," since she still seems to be there...), singing with R. D. Burman, Mohammed Rafi, Kishore Kumar and her great rival, Lata Mangeshkar... The disc also a couple of videos, giving a flavor of the Bollywood-style music vids. A good introduction to this Indian diva.

The Chieftains "The Essential Chieftains" (Sony-BMG Legacy, 2006)



Elder statesmen of the Celtic folk revival, the Chieftains have long since graduated from playing stout-drenched trad sets into the world of posh concert halls. They are a classy supergroup playing a refined, classicized version of Irish folk, sort of to Irish trad what Ricky Skaggs is to bluegrass. Nonetheless, the Chieftains also have plenty of serious musical ooompf, as much pure talent and trad-cred as you'll ever see in one place at one time. This generously programmed 2-CD best-of collection concentrates on more recent recordings, made for BMG and RCA in the 1990s, with a smattering of older stuff from the '70s, recorded for the Claddagh label. The first disc features a lot of their mellower material, including works recorded for various films and stage productions; Disc Two has the big treats, gathering together seventeen collaborations with high-profile guest-stars, recorded over the years. Sting I can live without, but Elvis Costello, Emmylou Harris, Alison Krauss, Los Lobos, Sinead O'Connor and others add some surprising elements to this well-aged Irish brew.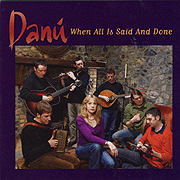 Danu "When All Is Said And Done" (Shanachie, 2006)



Another set of superior Irish trad from this talented new band. This band just keeps moving from triumph to triumph... Guitarist Donal Clancy (son of Liam) provides elegant fretwork which helps soften their instrumental work, while female singer Muireann Nic Amhlaoibh returns for her second full record with the group; she is growing into a fine, confident songer with the sort of resonance and gravitas as Dolores Keane and Mary Black, but little of the stuffiness those older grand dames have developed. The song selections are tilting towards more modern material -- including a contemporary folk song by Paul Brady -- but the feel is still traditional, and entirely satisfying. Danu are also still one of the only trad bands whose instrumental work I find consistently pleasing. There is a rounded, soft quality to their performances that takes some of the edge off their jigs and reels... Great stuff; highly recommended!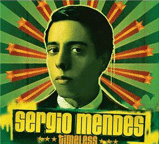 Sergio Mendes/Various Artists "Timeless" (Concord, 2006)



Brazilian loungecore icon/bossa nova pioneer Sergio Mendes is back with an album that is either surprisingly vital or remarkably static, depending on your attitude towards hip-hop, neo-soul and club music in general. Guest producer Will.I.Am, of the Black Eyed Peas brings along an all-star lineup of urban music stars, many of whom have a strong affinity for Brazilian music, albeit of the mainstream "smooth jazz" variety. Various members of the Peas perform, as well as folks from The Roots and Juraissic 5, along with guests of a calibre such as Erykah Badu, india.arie, Stevie Wonder, Justin Timberlake and John Legend (from the North American side) and from Brazil, old-schoolers such as Guinga and Gracinha Leporace, and neosoulster Marcelo D2, whose free-flowing Portuguese-language vocal work on "Samba Da Benacao" is a clear album highlight. The song selection includes slicked-up, souled-out versions of bossa classics by the likes of Vinicius De Moraes, Joao Donato, Tom Jobim and, of course, Jorge Ben's "Mais Que Nada," which was a huge early hit for Mendes back in the 1960s. There are also several newly-minted soul numbers written by some of the guest artists, including a couple of tunes that Mendes collaborated on. It's hard for me to say "yea" or "nay" on this one, since contemporary soul music really isn't my bag... But this sounds pretty well-produced for those of y'all out there who go for the mellow modern R&B sound. I would say, though, that the Brazilian side of the equation seems largely shortchanged -- many of these classic melodies seem pretty well obscured by the soft beats and verbal play... Still, it's definitely worth checking out if you are a fan of any of the artists mentioned above.

Soweto Gospel Choir "Blessed" (Shanachie, 2006)



Hearty, soulful religious music from modern-day South Africa. I've never been a huge fan of most South African township music, not even the lush harmony arrangements of Ladysmith Black Mambazo, although I do recognize the how technically amazing much of it is, and totally understand why it wows lots of other people... Naturally, this new group begs comparison to the much-vaunted Ladysmith, and overall they hold up well... Some notable qualities are the prominence of female voices (in contrast to Ladysmith's male chorus) and the overt, heavy influence of contemporary American-style gospel (with many songs sung in English, incuding standards like "Oh Happy Day"). In some ways, I'd say this is almost more of a straight, American-style gospel offering, than a "world music" record, or at least that folks who are used to the classic township style should be prepared for a sound that includes greater outside influence. Worth checking out.

Marcos Valle "Jet Samba" (Universal/Dubas, 2005)



A breezy, sleek pop-fusion set by this Brazilian bossa old-timer. I'm sure this is a musically proficient set, and one which will thrill a certain breed of "acid jazz" fans... But it doesn't do much for me: it's just too predictable and facile. If you yearn for the glory days of LA Express, Return To Forever and Sea Train, however, this album might be a lot of fun.

Various Artists "DEVOTION: RELIGIOUS CHANTS FROM INDIA" (Arc Music, 2006)


Sweet! Very nice, eclectic set of devotional music from the Indian subcontinent, including bouncy Northern styles as well as elegant classic Hindu bhajans and expansive modern world-pop. I found this disc very listenable and compelling... Definitely worth a spin!

Various Artists "ORIGINAL IRISH TENORS: THE LEGENDARY VOICES OF CELTIC SONG" (Sony-BMG/Legacy, 2006)



An absolutely delightful collection of old-fashioned, old-school commercial recordings from the days when Irish and Scottish song was simply seen as "ethnic" music, marketed to the Irish and non-Irish alike. In addition to numerous ultra-sentimental weepers, these old singles, recorded between 1921-51, include several unapologetic riffs on silly old stereotypes, full of shamrocks, stout and happy, red-cheeked Irish cops. The Celtic folk revival of the 1960s and '70s was in part aimed at undoing this legacy, reclaiming their music from its flirtation with "square," outside pop influences. Ironically, it's been so long since these recordings have been in the public mind that they now have more "obscuro" cachet than the purist trad that supplanted them, and in some ways these goofy old songs about misty-eyed Micks who miss the rolling green hills of home so much that they just gotta get drunk and swing a shilele during the St. Patrick's Day parade are a lot more fun, too. There are also plenty of standard, old ballads like "Danny Boy" and "When Irish Eyes Are Smiling," sung by masters of the genre, such as Morton Downey, Christopher Lynch, John McCormack and Phil Regan... Personally, I'm partial to the comedy by Dennis Day, but all the tracks on here are great. Put this into your latest Celtic mix; it'll fill in a few gaps!

Various Artists "WHAT THE SHITE: SHITE 'N' ONIONS, v.2" (Omnium, 2006)


It is remarkable to hear just how many pub-rock bands have taken up the anthemic Irish trad/punk banner first unfurled by bands such as the Pogues and Dropkick Murpheys... Not only that, but how good so many of these green-hued rockers sound. The driving, aggressive, bagpipe-and-power-chord formula wears better here than one might imagine... Admittedly, I come at Irish music with much more of a folk orientation, but when it comes down to it, if you want to get sh**faced and hammered on St. Patrick's Day, this is probably the kind of music you'd want on at the bar. Worth checking out!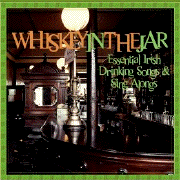 Various Artists "WHISKEY IN THE JAR: ESSENTIAL IRISH DRINKING SONGS AND SING ALONGS" (Sony-BMG/Legacy, 2006)



Surprisingly enough, this 2-CD set featuring boozy anthems by the Clancy Brothers and the Dubliners isn't simply an update on Sony's 1993 IRISH DRINKING SONGS COLLECTION, which also featured those venerable folk-revival bands. Indeed, even when there is overlap on particular songs, often the versions are different, with the earlier volume focussed on classic studio albums and this one drawing heavily on a more recent Clancy Brothers rarities set. And then there are the newer, younger artists such as the Pogues (very late edition of the band), Dropkick Murphys and Young Dubliners. Not all the songs are booze-oriented (the loophole being the "...and sing alongs" of the subtitle...) but, hey, if you've had enough of a snooter, hearing "Danny Boy" for the gazillionth time might be just what the doctor ordered. An okay collection.... and PS: Happy St. Paddy's Day!
---



World Music Index
Other Recent Reviews


---