<! MP3 03/06/09, 09/15/10 > <! pix 03/06/09 -- change Brazil gifs after conversion, 09/15/10 > <! archived 00/00/00 > <! icons 02/21/11 > <! *>
---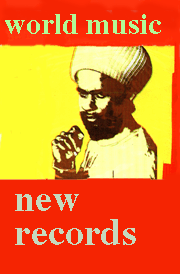 Welcome to my "New World Music" page, which highlights new(ish) African, Asian, Latin American and Celtic records, and "miscellaneous" records that I had the good fortune to listen to in May, 2006... Reviews include: Geraldo Azevedo & Alceu Valenca, Cabruera, Danilo Caymmi, Cheb i Sabbah, Hugo Diaz Trio, Lila Downs, Kal, Romica Puceanu & The Gore Brothers, Think Of One, Sam Ku West, Various Artists "YOUNG SCOTTISH PIPERS"
This page is added to as new records come in... If you want more to read more reviews, many others are archived nearby, and there are separate sections for various kinds of world music that you might like exploring as well.
---
Recommended Records: May, 2006
---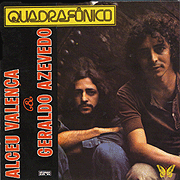 Geraldo Azevedo & Alceu Valenca "Quadrafonico" (Copacabana, 1972)


There are quite a few recent reissues of lost "psychedelic classics" coming out of Brazil and the rest of South America these days... This is one of the stronger releases you'll come across, the debut album by two of Brazil's biggest "regional music" stars of the 1970s and '80s. Hailing from Pernambuco, Azevedo and Valenca worked for a few years together as a duo, performing in the popular song contests that many artists used to launch their careers back then. This disc shows them very much in debt to the avant-rock of the tropicalia crowd, even working with composer-arranger Rogerio Duprat, who adds the same sheen of highbrow avant artsiness (musique concrete, atonality, etc.) that he brought to seminal albums by Caetano Veloso, Os Mutantes and Gilberto Gil. There's also a rich strain of melodic acoustic-folk, with a distinctive regional flair. Both artists went on to record solo "debuts" that were less effective than this disc, but here there's a real magic, a skillful, challenging mix of both wild and understated... Nice balancing act, great record.

Cabruera "Proibido Cochilar: Sambas For Sleepless Nights" (Piranha, 2005)



A dense, challenging, lively, irritating, inventive, noisy, amazing blend of regional Brazilian styles, along with creatively appropriated rock, rock-funk and tweaky acid-rock-samba... As on their earlier albums, Cabruera touch bases with contemporary manguebeat bands such as Pato Fu and Nacao Zumbi, as well as older psychedelic/samba pioneers such as Novos Baianos, who also mixed rootsy regional sounds with hard-edged "American"-style rock'n'roll... This is a little too aggressive and Red Hot Chili Peppers-ish for me, but in between the slamming testosterone injections, there's some really cool, surprisingly subtle experimental musicmaking... Definitely worth checking out! (Originally issued in Brazil as O Samba Da Minha Terra. )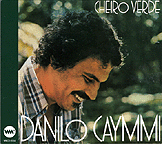 Danilo Caymmi "Cheiro Verde" (Terra, 1977 / Whatmusic, 2002)


A genuine lost classic from the world of mid-1970s Brazilian "MPB" jazz-pop... Flautist Danilo Caymmi, son of samba composer Dorival Caymmi, worked prolifically as a studio musician in the heady world of Brazilian MPB, as well as in conjunction with his well-known siblings, Dori and Nana Caymmi. But there's little record of his work as a solo artist, which is one of the reasons that this reissue disc is such a treat. The main reason, though, is the high calibre of the music within -- this is one of the best records in the genre, on a par with the finest work of Joao Bosco, Ivan Lins and Milton Nascimento, a super-mellow yet substantive set that grows stronger each time you listen to it. However, the album remained obscure and out of print for decades, since it was originally released on the independent Terra label, a pet project of Caymmi's wife, singer/lyricist Ana Terra. She produced this album and cowrote several of the songs -- also featured on this project are songwriters Nelson Angelo and Ronaldo Bastos, as well as superstar guests Airto Moreira and Milton Nascimento, who perform on a few of the tunes. All in all, this is a remarkable disc... If you are a fan of sleek, sensuous Brazilian pop, then this is a must-have album.
Cheb i Sabbah "La Ghriba: La Kahena Remixed" (Six Degrees, 2006)



Clubby, hiphoppish electronica remixes of Moroccan pop star Cheb i Sabbah's work... It's nice and very skilfully produced, and if you like the style I'm sure this disc has a lot to offer. Personally, though, I'm not into club music, so this isn't really one that grabs me that much. Results may vary.

Trio Hugo Diaz "Classical Tango Argentina" (Arc Music, 2006)



A fine reissue of some classy material from Argentinian tango composer and bandoneon master Hugo Diaz, who passed away in 1998. Simultaneously playful and dense, the Diaz Trio took its cues from Astor Piazzolla, the great modernizer of tango -- as with Piazzolla, these performances are richly realized blends of traditional tango and majestic, classical/baroque themes... For a three-piece outfit, these guys have an impressive sound! This particular set of music has been issued by the Arc Music label in a few different editions, but if you haven't heard it before, this new repackaging will be welcome... it's pretty cool!

Lila Downs "La Cantina: Entre Copa Y Copa..." (Narada, 2006)



A few fans may find Latin roots-pop pioneer Lila Downs' return to old-fashioned, romantic ranchera music to be a retrograde move, but her commanding presence and the astonishing skill and economy with which she embellishes these old-school Mexican ballads with modern rock, electronica and even a tasteful dash of hip-hop will blow your mind, if you give it a close listen. Similarly, she weaves in the rich rhythms of Cuban son and Central American cumbia, reconciling and uniting several strands of Latin American popular music. The repertoire blends striking originals with classics from Jose Alfredo Jimenez, while Downs' dark, husky vocals give more than a mild nod towards the great Mexican diva, Lola Beltran, while Tex-Mex accordionist Flaco Jimenez anchors the album in a solid border vibe. You have to be willing to get into the style (and not everyone is, including plenty of folks who listen to other kinds of Latin American music...) But if you give it a chance, this is a pretty cool album, particularly how it points the way to a canny revitalization and modernization of one of the hemisphere's liveliest and most musically conservative genres. Oh, and Downs' old fans will not be disappointed: she's as authoritative, innovative and charismatic here as on anything she's done. Check it out!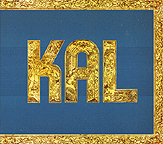 Kal "Kal" (Asphalt Tango, 2006)



Gypsy folk/hip-hop/dance-pop.. Cacophanous and wild, skillfully rendered and quite creative.. thogh not my cup of tea. Still, if you're into the whole contemproary Balkan musical renaissance, you'll definitely want to check this Belgrade band out... They seem to be at the top of their game!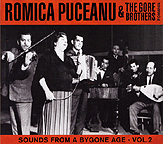 Romica Puceanu & The Gore Brothers "Sounds From A Bygone Era, v.2" (Asphalt Tango, 2006)



Archival recordings of old-school Romanian vocal tunes, recorded in 1964 by one of the country's leading practitioners of "suburb" songs... The backing by the Gore Brothers, a popular dance band of the time will seem, properly, somewhat antiquated, particularly given the recent rush of Eastern European brass band and gypsy music... But while a bit stiffer and more deliberate, these recordings have an authenticity to them that's hard to deny, the sound of a real, live, Cold War-era Romanian dance band playing in its heyday.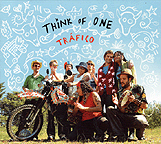 Think Of One "Trafico" (World Village, 2006)



A wild, far-flung crosscultural mish-mash, with an acoustic-based Dutch band mashing contemporary Brazilian party music (like coco, a high-energy toasting style popular in Recife, where the band hung out recently...) together with African, Latin and Balkan music, underlaid with a strand of quirky avant-jazz worthy of the Willem Breuker ensemble. I personally find ot a bit too busy and unrelenting, but if you like Antibalas, Zemog, LoJo or the Paris Combo, then this energetic group, singing in a heady mix of Flemish and Portuguese, may light a fire under your tailfeathers. I bet they're pretty wild live!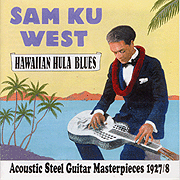 Sam Ku West "Hawaiian Hula Blues -- Acoustic Steel Guitar Masterpieces: 1928/29" (Grass Skirt, 2006)


Steel guitarist Sam Kuanoni grew up in Honolulu, but early in life he jumped on a boat and set out to make his fortune abroad, playing musichalls and vaudeville venues across Asia, Europe and on the United States mainland... This fine disc includes all of his officially released records, old 78s cut for Victor, Vocalion and some smaller labels during a brief period in the late 1920s. Kuanoni died young, apparently from exhaustion from a gruelling tour schedule, but he was one of the most highly regarded steel players of his time, and these two dozen-plus records are an impressive legacy. Several tracks may be familiar to Hawaiian music fans, through various compilation albums, but hearing all his records together in one place is a very different experience. Although he was a very adept player, Sam Ku's style was much softer and more reflective than that of other classic Hawaiian steel players of the era -- he was less of a "trick" player and more of a stylist, prefiguring in many ways the more contemplative feel of postwar-WWII slack key playing. At any rate, this collection, along with its well-researched liner notes, fills in a huge void in the Hawaiian guitar repertoire, serious collectors and fans will definitely want to pick it up. Great sound quality, too. (For more information, check out the Grass Skirt website... More classic island music is reviewed in my Hawaiian Music Guide. )

Various Artists "YOUNG SCOTTISH PIPERS" (Arc Music, 2006)



Modern, experimental bagpiping from virtuosi such as Anna Murray, Rory Campbell (of the band Old Blind Dogs), Fred Morrison (of Capercaillie), the group Catherach, and others. The Scottish bagpipe is, almost by definition, an acquired taste, so be forewarned that this set is a bit on the squeaky-squonky side... But it also contains some truly fresh, daring new approaches to this ancient instrument -- what Sharon Shannon and others have done for the button accordion, these folks are doing for the pipes, opening it up into new, wild arrangements and approaches... It's pretty cool, if you're into the instrument.
---



World Music Index
Other Recent Reviews


---