<! MP3 03/06/09, 09/15/10 > <! pix 03/06/09 - adjust Brazil; 09/15/10 > <! icons 02/21/11 > <! archived 01/01/11 * >
---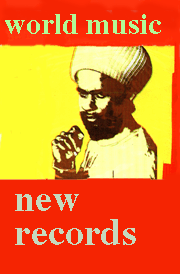 Welcome to my "New World Music" page, which highlights new(ish) African, Asian, Latin American and Celtic records, and "miscellaneous" records that I had the good fortune to listen to in June, 2006... Reviews include: Csokolom, Prince Diabate, Kad, Lenine, Sao Paulo Underground, Son Sublime, Marcos Valle, Various Artists: PUTUMAYO PRESENTS MUSIC OF THE WINE LANDS
This page is added to as new records come in... If you want more to read more reviews, many others are archived nearby, and there are separate sections for various kinds of world music that you might like exploring as well.
---
Recommended Records: June, 2006
---

Csokolom "Dog Daze" (Arhoolie, 2006)



A kooky set of traditional Transylvanian folk music, played acoustic by a loose, lively Hungarian foursome featuring three viola/violin players, one bassist, and a guitarist on only two of the tracks. These folks play with a careless craziness that brings to mind the chaotic feel of American "old-timey" music, which in some ways is a relief, given the formalism and gravity of so many other Eastern European modernists... Worth checking out!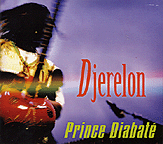 Prince Diabate "Djerelon" (Kora Company, 2006)



Beautiful, modernized and multilayered African Mandingo griot pop... This album made me sit up and listen not just because it's pretty-sounding, but also because Diabate has created some musical sounds that I haven't heard before... and that's pretty darn cool. The microtonal riffs that run counterpoint to the album's elegant kora work are quite striking, particularly on the eerie opening track, which is an album highlight. The entire disc is quite nice, actually -- if you enjoy gorgeous, melody-driven African pop, you'll want to check this album out!

Kad "Societe" (Beleza, 2005)



This one's a gem... a mesmerizing set of French-language bossa nova-cum-chanson, with a dash of modern electronica on a tune or two. This disc kept its spot in my CD player for the better part of a week; it was consistently listenable and compelling, a mellow, pretty-sounding, genre-bending set that mixes styles and sensiblities well. Algerian-Spanish singer Kad Achouri has a modest voice, but he's definitely hit on a rich, resonant, laid-back groove that'll draw mature listeners in and keep them coming back... Features covers of Baden Powell and Nirvana, as well as an old Cole Porter standard, and a slew of original tunes that translate the laid-back vibe of late-'50s Brazil into the modern age... This is Kad's second album, picking up where 2002's Liberte left off... I suppose Fraternite can't be far behind? Anyway, if you're looking a mellow record that also has some heft, you might wanna check this disc out.

Lenine "Vamos Pro Mundo" (SIx Degrees/Crammed Disc, 2006)



A soulful, well-selected set from the work of one of Brazil's most dynamic, inventive young rock-pop musicians... Lenine has worked with and written songs for the elite of Brazilian pop, and his own albums are a canny, skillful mix of hip-hop, rock, electronica and bossa/samba roots music.... This disc dips into his solo catalog, picking the best, most accessible material and arranging it in an elegant musical set... If you're looking for world artists who can really balance different styles while pushing the music forward into new, delightful directions, you'll want to check this album out. Recommended!

Sao Paulo Underground "Sauna: Um, Dois, Tres" (Submarine/Aesthetics, 2006)



A very unusual album from Brazil, an avant garde noise-rock/experimental/electronic set that has more in common with Calexico or Zoviet France than with Caetano Veloso. The "Brazilianness" of the album isn't readily apparent until well into the middle when, on "Olhosss" they tip their hat with some regional sounds are mixed into a dense, intense, relaxed mix. That track is really cool, though for most "world music" listeners, this disc may be a little too weird and murky... But for avant and difficult music fans, hearing stuff like this coming out of Sao Paulo may be a real revelation. (Check out the US label's website at www.aesthetics-usa.com for more info...)

Son Sublime "Bailando Con Son Sublime!" (LasemCo, 2006)



Another rock-solid old-school salsa/son tipica set from this revitalized East Coast dance band. If you love the classic sound of '70s salsa, this album (along with their last two) may come as a real treat. Tight, professional playing that still keeps a mellow, easygoing vibe. Recommended!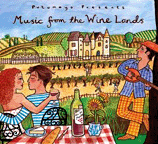 Various Artists "PUTUMAYO PRESENTS: MUSIC OF THE WINE LANDS" (Putumayo, 2006)


This new Putumayo collection joins previous commodity-oriented discs devoted to cocoa, coffee and tea -- the concept is a little strained, but the music is lovely. Lazy, mellow, heavy-lidded, eclectic music from France, Italy, Portugal, South America, South Africa, Spain and Greece (but no Australians! Poor Ozzies!) It's a nice record, ideal for cracking open a carafe of something white and cool or red and warm... My only complaint, living near San Francisco, is the listing of "USA" as one of the "wine lands..." Um, hello? "USA"? Don't you mean "California"? Last time I checked, Michigan wasn't doing so hot in the pinot noir department... Other than that, though, this is a fine little disc, sure to appear in the tasting room of a wine tour near you. As with most Putumayo collections of the last few years, it's well compiled and very listenable -- a much stronger set than you might imagine!
---



World Music Index
Other Recent Reviews


---