<! MP3 03/06/09, 09/15/10 > <! pix 03/06/09 - adjust Brazil; 09/15/10 > <! archived 00/00/00 > <! *> <! icons 02/21/11 >
---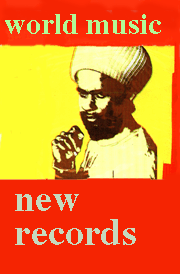 Welcome to my "New World Music" page, which highlights new(ish) African, Asian, Latin American and Celtic records, and "miscellaneous" records that I had the good fortune to listen to in July, August & September, 2006... (Sorry, I got kinda jammed-up this summer... ) Reviews include: Mario Adnet, Los Amigos Invisibles, Luiz Bonfa, Hamilton De Holanda, Seckou Keita, Lenine, John McSherry & Donal O'Connell, Phillipe Baden Powell, Daniel Santiago, Ska Cubano, Solas, Techung, A Voz Do Morro, Various Artists: "PUTUMAYO PRESENTS: ACOUSTIC AFRICA"
This page is added to as new records come in... If you want more to read more reviews, many others are archived nearby, and there are separate sections for various kinds of world music that you might like exploring as well.
---
Recommended Records: July-August-September, 2006
---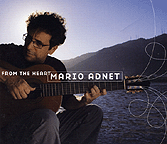 Mario Adnet "From The Heart" (Adventure Music, 2006)


Soft, delicate, Brazilian jazz, with an all-star slate of guest performers... Composer/guitarist Mario Adnet leads a compact ensemble that makes room for Joao Donato on a couple of tunes, and cellist Jaques Morelenbaum on several others. Monica Salmaso sings on "Paulistana" and "Paisagem Nordestina." Adnet composed almost all the songs, adding two little-known tunes from the 1940s and '50s... Overall, this straight jazz stuff isn't my cup of tea, even with the Brazilian-bossa twist, but for the genre, this is pretty strong stuff. If you like mellow modern jazz, you'll want to check this out.

Los Amigos Invisibles "Super Pop Venezuela" (Gozadera, 2006)



Gloriously brainless, brightly poppy dance music from this long-lived South American electro-dance outfit. The album's producer, Dmitri From Paris, is known for his light, good-time approach, and that's what you get here: unpretentious party music, equally rooted in Latin dance music and straight-up pop. The songs are all drawn from Venezuelan sources, some are modern and some are updates of older tunes... It's not my kind of music, but folks looking for something unpretentious and upbeat might like this a lot.

Luiz Bonfa "Le Roi Du Bossa Nova/The King Of Bossa Nova" (Fontana/Sunnyside, 1962/2006)



One of the first albums cut by Brazilian guitarist Luiz Bonfa, following his move to the United States after achieving global stardom for his contributions to the Black Orpheus soundtrack. The opening songs display the same mix of authoritativeness and subtlety as some of his earlier albums, although the rest of the record steadily devolves towards a more standard-issue light-jazz style, with Bonfa backed by enthusiastic North Americans. It's okay, but not as magical as some of his other work. Acoustic guitar aficianados will want to check this out, though: in technical terms, Bonfa really was a stunning performer.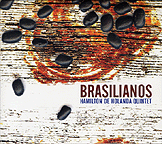 Hamilton De Holanda Quintet "Brasilianos" (Adventure Music, 2006)



An all-instrumental straight-jazz set, with deep moorings in the Brazilian choro style... Plenty of flashy playing, particularly on De Holanda's mile-a-minute mandolin picking. There's also a lot of jazz harmonica work, which is admittedly an acquired taste... But for folks who are into Toots Thilemanns or Rildo Hora, the harpwork of Gabriel Grossi (heard here playing lead on several tunes) is right in that tradition... Overall, it's too aggressive and headstrong a set for me, although there are some softer, more subtle tunes as well, such as "Small Country Train..." Guitarist Daniel Santiago, who has some records out as well, also plays throughout. Almost all of the tunes are originals; three tracks apparently have lyrics from Brazilian alt/rocker Zelia Duncan, although De Holanda sticks to instrumental versions here...

Seckou Keita Quartet "Tama-Silo: Afro-Mandinka Soul" (Arc Music, 2006)



This is a very, very nice record, a sweet mix of mellow, West African kora (harp) music and expansive, inventive arrangements that, while not straying too far from harpist Seckou Keita's Senegalese roots, still offers a new musical template to work from. Keita's band is a compact foursome, with players from Egypt, Gambia and Italy, but their sound is remarkably large, and thoroughly satisfying. Most of all, this album is quite pleasant and easy on the ears... there's depth here as well, but nothing abrasive or offputting. This disc has lasted a long time in the CD carousel around here, and we'll be listening to it for some time to come. Recommended!

John McSherry & Donal O'Connor "Tripswitch" (Compass, 2006)



This is a consistently inventive, all-instrumental Celtic set, branching off from the well-trod paths of traditional jigs and reels, but not so far as to alienate old fans or invite cries of "foul" from the anti-crossover contingent. Fans of instrumental trad music will want to check this out... Piper John McSherry and fiddler/keyboardist Donal O'Connor, who work together in the band At First Light, weave East European melodies in with Irish motifs... There are new, intriguing rhythms and start-stop patterns that'll make you sit up and take notice. Pretty nice!

Roberto Mendes "Traducao" (Atracao, 2002)



A super-groovy, funky-freeform, acoustic-samba-MPB groovefest... Bahian singer-songwriter Mendes readily brings to mind Gilberto Gil's exuberant improvisational work of the early 1970s -- the driving, hypnotic fervor is there, as is the light vocal tone. This affinity is borne out in a duet with Gil's old buddy, Caetano Veloso, who adds his elegant touch to "Namorar, Vem Namorar," one of the numerous Mendes originals on this delightful album. Margareth Menezes and Jussara Silveira also chime in, although it's Mendes's fervent, high-energy performance that really makes this album click. If you're a fan of Jorge Ben or Gilberto Gil's classic samba-funk grooves, you'll want to check this disc out as well! (Thanks to the folks at Cana Brava Records, in Salvador, for sending a copy our way...! )

Fernanda Porto "Giramundo" (Trama/Circular Moves, 2006)



Can't say I'm really loving this new, self-produced record by up-and-coming Brazilian electronica diva Fernanda Porto... There's a rushed, careless feel about the album that, I suppose, is a reflection of the club-oriented "baile funk" scene, which prizes high-energy exuberance above all else. I think Porto would have been better off exploring the silky, multi-textured electronic/ambient style of her previous album, but who knows? Maybe that sort of subtlety and sultriness is too "tired" these days, amid the coolness-obsessed, hip, happening young-uns. All I know is that rapid-fire club music like this doesn't do much for me, nor does it support Porto's modest voice as well as her more relaxed, thoughtful arrangements. You might wanna check it out for yourself, though -- maybe I'm just too old and geezerly to get what she's doing.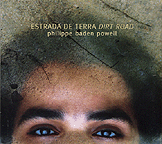 Philippe Baden Powell "Estrada De Terra (Dirt Road)" (Adventure Music, 2006)



The son of famed bossa nova guitarist Baden Powell, Brazilian pianist Phillipe Baden Powell is more or less a straight jazz player -- this is a fast, forceful set that largely eschews the subtlety of his father's work. But it also establishes an energetic newcomer that jazz fans may look forward to hearing more of in years to come. Not my cup of tea (not "Brazilian" enough), but others may dig it...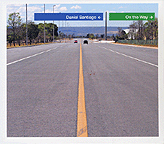 Daniel Santiago "On The Way" (Adventure Music/Brasilianos, 2006)


Splashy acoustic guitar jazz, with a heavy nod to the fusion-isms of the past. The trio behind this set of all-original material is plays at a lightning-fast clip, but with great delicacy, recalling old stuff by Milton Nascimento and his "Clube De Esquina" crowd, as well as classic fusioneers of the Return To Forever/LA Express/Spiro Gyra era. Again, it's not really my cup of tea, but there is an elegance and authority to this record that will make fans of jazz and new acoustic music sit up and take notice. It's a very accomplished album for the genre.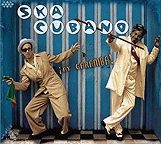 Ska Cubano "Ay Caramba!" (Cumbancha, 2006)



A pretty cool mix of island-style salsa and ska (along with a bit of cumbia and merengue from the mainland...) delivered with much more thoughtfulness and skill than you might imagine. This accomplished, cheerfully fluid ensemble gets the vibe just right, mixing the best of both styles, and moving through the different rhythms with a surprising grace and ease. Definitely worth checking out... these folks are pretty hot!
Solas "Reunion: A Decade Of Solas" (Compass, 2006)



WOW. Nice record... cool video! Solas are without question the preeminent Irish-American trad band, and an uber-allstar cast took part in this slam-bang, ten-year anniversary/reunion concert... Karan Casey and Winifred Horan shine as lead vocalists (while the combined female harmonies are astounding), and the instrumental work by John Doyle, Seamus Egan, Mick McAuley, John Williams and the rest will floor you as well. From the opening notes, there is a vibrant, propulsive, electrical feel to this album -- the giddy momentum and sense of joy never stops. A second, all-video disc features an entirely different set of songs, and that's a real treat as well. Fans of the band will be overjoyed, and anyone sitting on the fence will be won over, too. This is contemporary Celtic folk music at its finest... Highly recommended!

Techung "Songs From Tibet" (Arc Music, 2006)



Tashi Dhondup Sharzur, a Tibetan exile living in California, performs under the name of Techung, singing and playing several tradtional instruments, including the damnyen (lute), piwang (fiddle) and lingbu (bamboo flute). This is a lovely album of lulling, relaxing, classically beautiful songs from Tibet. My ear isn't sophisticated enough to differentiate this material from that of Chinese classical music, so that's the comparison I'll make... And it's a favorable comparison: this is a very nice record to have on to set a mellow, contemplative tone. Lovely melodies and nice, soft vocals... Recommended!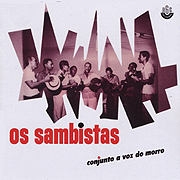 (Conjunto) A Voz Do Morro "Os Sambistas" (RGE, 1966)


Holy. Cow. If you want to talk about Brazilian music rosetta stones, check this one out. An early samba revival group featuring Jair Do Cavaquinho, Ze Keti, Elton Medeiros, Nelson Sargento and an up-and-coming Paulinho Da Viola, along with the lesser-known Anescar, Oscar Bigode and Jose Cruz... It's a ton of talent in a tightly focussed, thoroughly joyful acoustic samba set with songs sung in praise of the samba schools and slums, with bright, melodic arrangements and a richer sonic texture than many albums of similar vintage. Moreover, it's a ringing proclamation heralding the entry of Da Viola into the Brazilian pop scene... the stuff that history is made of! Snap this up if you get a chance.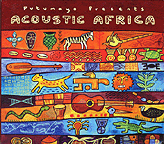 Various Artists "PUTUMAYO PRESENTS: ACOUSTIC AFRICA" (Putumayo, 2006)


A lovely set, calculated for maximal mellowness, but quite nice nonetheless... There are a few familiar names -- Habib Koite, Angelique Kidjo, Faya Tess and Vusi Mahlasela -- but more to the point there are a slew of great new artists (new to me at least!) who give this disc its real mystery and spice. Djelimady Tounkara, Dobet Gnahore, Laye Sow and Diogal are among the new faces that you may be looking for soon, down at your local Record Hut... In the meantime, this well-programmed collection'll make a few rotations in the home stereo... Sweet!
---



World Music Index
Other Recent Reviews


---