<! MP3 03/06/09; 09/16/10 > <! pix 03/06/09; 09/16/10 > <! archived 01/01/08 > <! *> <! icons 02/20/11 >
---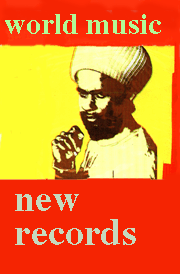 Welcome to my "New World Music" page, which highlights new(ish) African, Asian, Latin American and Celtic records, and "miscellaneous" records that I had the good fortune to check out in December, 2007. This page is added to as new records come in... If you want more to read more reviews, many others are archived nearby, and there are separate sections for various kinds of world music that you might like exploring as well.
---
Recommended Records: December, 2007 | Review Archives
---
Sola Akingbola "Routes To Roots: Yoruba Drums From Nigeria" (Arc Music)
O Bando "O Bando" (Discos Mariposa reissue)
Jorge Ben "Forca Bruta" (Dusty Groove reissue)
Grada "Cloudy Day Navigation" (Compass)
Sol Hoopii "Sol Hoopii In Hollywood" (Grass Skirt)
Eileen Ivers "An Nollaig: An Irish Christmas" (Compass)
Konono No.1 "Live At Couleur Cafe" (Crammed Disc)
Ladysmith Black Mambazo "Ilembe: Honoring Shaka Zulu" (Heads Up Africa)
Youssou N'Dour "Rokku Mi Rokka (Give And Take)" (Nonesuch)
Orquestra Imperial "Carnaval So Ano Que Vem" (Som Livre)
Las Rubias Del Norte "Panamericana" (Barbes)
Les Sans Culottes "Le Weekender" (VibraTone)
Jake Shimabukuro "My Life (EP)" (Hitchhike) Martin Simpson "Prodigal Son" (Compass)
Various Artists "PUTUMAYO PRESENTS TANGO AROUND THE WORLD" (Putumayo)
Various Artists "20 WAYS TO FLOAT THROUGH WALLS" (Crammed Disc)
---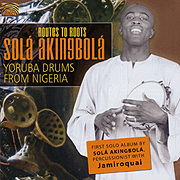 Sola Akingbola "Routes To Roots: Yoruba Drums From Nigeria" (Arc Music, 2007)



(Produced by Sola Akingbola)
A cool mix of tradition and experimentation from the Nigerian-born drummer of the world-beat band Jamiroquai. Akingbola says this disc was a return to his roots, but it's hardly and arid, hyper-traditionalist outing. There's music in a variety of styles, with plenty of melodic allure and multi-textured production... What unites the various strands is the joyfulness and intensity of the performances -- Akingbola and his crew obviously had a lot of fun making this album, and their pleasure bleeds through to the listeners, from the first note to the last. Definitely worth checking out!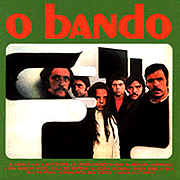 O Bando "O Bando" (Discos Mariposa/Polydor, 1969/2007)


(Produced by Rogerio Duprat)
A lively reissue of a "lost-classic" psychedelic rock album from Brazil's "tropicalia" era of the late-1960s/early-'70s... O Bando were a Sao Paulo band that nakedly emulated the better-known Os Mutantes, mixing clattersome pop-psychedelic rock with jazz, folk and indigenous Brazilian styles, then pushing their performances to furious crescendos. The likeness to Os Mutantes was hardly coincidental: tropicalia's avant-pop producer Rogerio Duprat helmed this project, and brought to it the same basic formula as he had used on the Mutantes records, and some Gal Costa albums of the same vintage. It's a bit shrill and driving, but if you are fascinated with that era and with the whole tropicalia scene, you'll definitely want to check this out. This was O Bando's only album; apparently they also released a single or two, and then went on to work elsewhere are backup musicians in the 1970s and beyond. (Available through Aquarius Music in SF, or Dusty Groove Mailorder)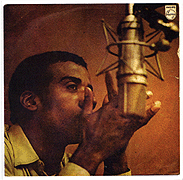 Jorge Ben "Forca Bruta" (Philips, 1970)



(Produced by Manoel Barenbein)
This much-welcome reissue is one of Brazilian funk pioneer Jorge Ben's finest albums. Mysteriously out of print for decades, Forca Bruta is a delightfully laid-back, silky set, featuring backing by the soul-oriented Trio Mocoto, who helped define Ben's sound in the early 1970s. Although this isn't quite the samba-soul funkfest that some collectors have billed it as (I'd say it's more of a stripped-back acoustic samba-pop session...) this is nonetheless a delicious, seductive album, and a couple of the songs on here are regularly included on best-of anthologies ("O Telefone Tocou Novamente," "Charles, Jr.") The rest of the record is quite nice as well, mellow and easy on the ears, but also a labor of love. Recommended! (PS - major kudos to the folks at Dusty Groove mailorder for reissuing this disc. Hopefully they'll dig around and get a few more classics like this one out of the vaults!)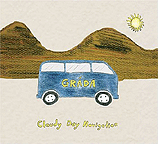 Grada "Cloudy Day Navigation" (Compass, 2007)



One of the preeminent new bands on the Celtic trad scene, here Grada throws their lot in almost entirely with the contemporary singer-songwriter camp of the trad-folk scene. Other than a few of the instrumental tracks, there are no traditional tunes on here at all(!) although the trad musical elements -- acoustic instruments, including fiddle, uilleann pipes, tin whistles and bodhran drum -- are certainly at the core of their sound. Singer Nicola Joyce handles most of the vocals, although the album closes with a male vocal on "Steerer John Begg," which is a standout track. I didn't find myself drawn in by most of these songs, but I'm sure many listeners will, particularly those eager for the Celtic trad scene to move in new directions. The musicianship is quite high, and the wealth of original material is impressive. The album also comes with an accompanying DVD disc that captures the band in 2006, playing a half dozen songs live at the Temple Bar, in Dublin.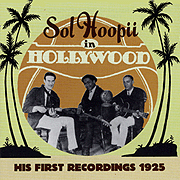 Sol Hoopii "Sol Hoopii In Hollywood -- His First Recordings: 1925" (Grass Skirt, 2007)


There's been an explosion of Sol Hoopii reissues recently, bringing the dazzling showmanship of this legendary Hawaiian steel guitar pioneer back to many happy modern ears. None of the new records dig back as far as this set, which gathers Hoopii's oldest recordings, a series of 78s recorded for the microscopic Los Angeles-based indie, Hollywood Records, in 1925, when Hoopii first moved to California. This disc is a marvel of musical scholarship, since the 78s on Hollywood (and its subsidiaries, Sunset and Silver Screen Records) are among the rarest West Coast 78s, and highly sought-after by collectors. At the time of these recordings, the major labels were just starting to set up shop on the West Coast, and not long afterwards Hoopii signed with the much larger, more powerful Columbia Records. As a result, these first recordings have been out of the public eye for many years, which is a pity, since they show just how good he was, and how advanced his technique and style were, and how seamlessly he fused Hawaiian elements with the jazz and pop of the day. The sound quality is excellent (Grass Skirt, along with Beer Records, put this collection together, and did a stellar job remastering the music) and the musicianship is phenomenal. Also included are several other rare Hawaiian 78s, also released by Hollywood, featuring Dave Mahuka & The Coppock's Hawaiian Quartet, Charles Frederick's Honolulu Syncopators, and guitarist Charles Diamond, whose instrumental "Sleep" is one of the most alluring steel guitar tunes I've ever heard. These records are all extremely rare, and one track, Charles Frederick's "Hello, Aloha, How Are You?", is actually taken from the only known copy in existence, a 78-RPM test acetate that, thankfully, sounds just as good as the records that surround it. This is a wonderful collection, both historically and musically -- collector nerds and Hawaiiana fanatics alike will definitely want to pick it up! (For more info, check out the Grass Skirt label's website.)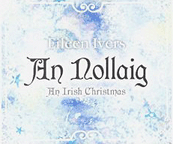 Eileen Ivers "An Nollaig: An Irish Christmas" (Compass, 2007)



A solid, if slick, holiday offering from this Celtic trad-fusion star. A veteran of Cherish The Ladies and the Riverdance troupe, Irish-American fiddler Eileen Ivers has been pushing the envelope for years now, but still has her roots intact... This album has plenty of chestnuts and standards -- "Hark The Herald Angels Sing," "Do You Hear What I Hear?," Vince Guaraldi's "Christmas Time Is Here," etc. -- and several tunes closer to the British/Celtic sensibilities, notably "The Wexford Carol" and the pagan-tinged "Holly Tree" (known to many trad fans through the early work of the Waterson family...) Christmas music tends, in general, to be a bit florid, and this disc is no exception, but for those who don't mind ornately-produced holiday fare, but are looking for a new twist or a slightly different flavor, this Irish-based excursion could be a real treat.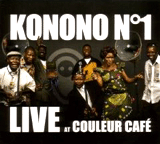 Konono No.1 "Live At Couleur Cafe" (Crammed Disc, 2007)



Awesome! The Konono ensemble cut a wide swath through the world of African pop, but while their studio albums were quite striking, they also had a slightly stiff, contrived air about them. However, this live concert performance is mindblowing, an irresistibly energetic, propulsive burst of musical giddiness and joy. The centerpiece sound is an amplified finger piano that blasts away with full-throttle melody and deliciously gritty electronic distortion. The rest of the band follows suit, with some of the wildest, giddiest party music ever recorded. The band goes at it full tilt boogie, and their audience responds in kind -- this is a crazy-sounding record, but it sure is lots of fun!

Ladysmith Black Mambazo "Ilembe: Honoring Shaka Zulu" (Heads Up Africa, 2007)



(Produced by Joseph Shabalala)
Another gorgeous album of vocal tunes from South Africa's much-vaunted Ladysmith chorus. If anything, they're just getting better and better, as well as mellower and mellower. The English-language tunes don't do much more me (partly because the spiritual/religious message becomes so artless and lyrically flat), but when they sing in Zulu, it sure sounds magical... Lovely stuff; this group is still worth checking out, well into their fifth decade performing together.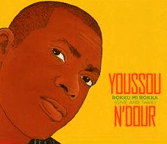 Youssou N'Dour "Rokku Mi Rokka (Give And Take)" (Nonesuch, 2007)



(Produced by Youssou N'Dour)
A nice, mellow album from Senegalese superstar Youssou N'Dour...Although it flirts with overproduction, this is, for the most part, a lovely album, with a more stripped-down feel and traditional orientation than most of what N'Dour has done over the last couple of decades... Nice to hear N'Dour in a simpler, less synth-poppy mode again, with instrumental backing by the core members of his SuperStar band, including lead guitar Papa Oumar Ngom, bassist Habib Faye and drummer/percussionist Mbaye Dieye Faye. It's pretty sweet righ up 'til the end: the next-to-last track, an abrasive, unfortunate rap duet with Nenah Cherry, is just awful, and the track that follows is also a bit clunky, but otherwise, this is clear sailing... Fans of African pop who have a more traditional orientation might find this disc a pleasant surprise - definitely worth checking out!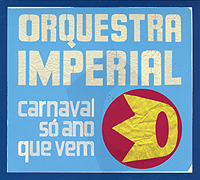 Orquestra Imperial "Carnaval So Ano Que Vem" (Som Livre, 2007)


(Produced by Berna Ceppas, Kassin & Mario Caldato, Jr.)
A far-flung cast of generation-next Brazilian upstarts propel this giddy, willfully cheesy mix of Brazilian pop and old-school Latin-dance schmaltz. It's unusual to hear Brazilians plying themselves so directly to Cuban-style salsa and son, but Orquestra Imperial seem to make it their mission, adapting it with Portuguese lyrics and numerous original compositions. The bandmembers include singer Thalma De Freitas, old-timer Wilson Das Neves, and all three of the guys from the "+2" project -- Domenico, Kassin, and Moreno Veloso -- along with their pal, guitarist Pedro Sa, who recently made his mark fronting an electric rock band backing Brazilian pop legend Caetano Veloso on his album Ce. I have to confess, although I was prepared to really enjoy this album, I wound up finding it hard to get into. The production is slick and fairly cheesy, and although that slickness is (partially) being used in an ironic way, the joke doesn't really carry. Some of the grooves are cool, but everything feels mediated and remote -- they're so busy being clever, cool and self-congratulatory, they never really seem to let their hair down and just enjoy the music, or to let the music take over, rather that the recording of the music. It seems heavy on concept and coyness, and light on either the genuine joyfulness or the cool reserve that has made many of the earlier albums (under their individual names) that have made these young artists so noteworthy. I bet these guys would be a blast to see live, though!
Las Rubias Del Norte "Panamericana" (Barbes, 2006)



(Produced by Las Rubias Del Norte & Olivier Conan)
This Brooklyn-based acoustic ensemble revives the classic music of Cuba (and other Latin American and European lands) with obvious affection and delight... On their second album, Las Rubias show themselves moving from strength to strength, and from nation to nation, in a wide-ranging collection of songs from several Latin American countries... While their first album was a also modestly produced, here the sound mix has more density and richer texture, and the music gets more complex and adventuresome, with hints of darker modernism, along the lines of Marc Ribot's forays into Latin American music. While not as far-flung or overtly avant-garde as Ribot's band, Los Cubanos Postizos, Las Rubias add slight, subtle grungy guitar tones and crunchy, hard rhythms amid the genteel confines of styles such as the bolero and vals... They also indulge in some funky dance music with good, old cumbias and old-fashioned Mexican ranchera music, along with a Brazilian tropicalia tune, thrown in for good measure. And, in keeping with their first album, there's another Sons Of The Pioneers cover... Now that's my kinda playlist! Vocalists Emily Hurst and Allyssa Lamb also seem to be loosening up a little and getting more down-home... All in all, a nice set and hopefully an indication of more good things to come... Students of archaic Latin American music such as the rumba and danzon will be happy to find a modern band in North America that's reviving this material: you can find out more through the band's website at www.lasrubiasdelnorte.com.

Les Sans Culottes "Le Weekender" (VibraTone, 2007)



Tres bien! or Je suis fatigue? Here are a bunch more crazed, kooky musical mashups of French ye-ye and various brands of non-Gallic rock. This New York-based novelty band composes songs that draw on the music of many eras -- garage, punk, glam, Motown, indie and new wave -- and throws themselves full-force into irreverent lampoons of French pop, with half-nonsensical lyrics packed with pop culture references galore. This fast-paced album is a bit relentless and even a bit exhausting at times, but taken in small, bite-sized chunks, it can be rewarding and hilarious. I'm sure the band must be a lot of fun live; they'd also sound nice blasting past at light speed in a good freeform radio mix -- or on a home playlist, for all you DIY musicaholics out there. Worth checking out, especially if you haven't heard their earlier albums yet.
Jake Shimabukuro "My Life (EP)" (Hitchhike, 2007)



There's a big difference between how Hawaiians and mainlanders think about "easy listening" music. For example, if someone on the mainland says a Hawaiian record sounds like Muzak or mall music, it's most likely a putdown, whereas for an islander, it's a sign of a hometown kid made good. Trust me: if you go to any island in Hawaii for the next year or two and don't hear ukulele prodigy Jake Shimabukuro's gooey-sweet instrumental version of Cyndi Lauper's "Time After Time" wafting out of every mall, stall and gift shop you see, then you may need new batteries for your hearing aid. It's stickier and more more syrupy than shave ice on a lava bed. On this six-song EP, Shimabukuro also covers a couple of Beatles ballads, takes "Somewhere Over The Rainbow" to places Israel Kamakawiwo'ole never dreamed of, and throws in Sarah McLachlan's "Ice Cream" for good measure. It's his cover of Led Zeppelin's "California Song" that has the most grit -- although still quite sweet, his amazing fretwork isn't overshadowed by the cutesiness -- and, man, can that kid play! Not a note out of place, and sometimes he plays about twenty times more notes than you'd think humanly possible. Shimabukuro has a big following, and fans won't be disappointed by this latest offering. If you want to get a better sense of what all the fuss is about, try checking him out live: or, this YouTube video might give you an idea of just how talented he really is. Personally, I'd prefer hearing him do more traditional-sounding material, but then again, I'm not the brilliant, gifted, musical genius, so maybe I should just keep it to myself...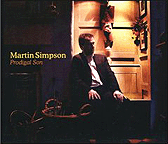 Martin Simpson "Prodigal Son" (Compass/Topic, 2007)



(Produced by Martin Simpson)
A majestic album from British trad-folk singer-songwriter Martin Simpson, a veteran performer who also, by the way, picks one helluva fine acoustic guitar. This album is something of a summary of all that is best about his career, the elegant bridging between traditional and contemporary folk, with equal shares of Celtic, English and American influences. Alongside cover tunes such as Randy Newman's "Louisiana, 1927" (an astonishingly prescient song about corruption and natural disasters, widely resurrected in the wake of Hurricane Katrina) are ancient ballads such as the grim, seductive "Little Musgrave" and the yearning "Andrew Lammie." Simpson also includes two of his finest and most personal original compositions, "She Slips Away," written after his mother died, and "Never Any Good," a song that both catalogs and celebrates the apparent shortcomings of his father. And, throughout, there is achingly beautiful guitar work, reminding us yet again why Simpson has long been considered one of the best players in the modern English folk scene. Certainly one of the finest trad-folk albums of the last few years.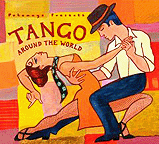 Various Artists "PUTUMAYO PRESENTS: TANGO AROUND THE WORLD" (Putumayo, 2007)


Tango music, which was one of the first great global dance crazes, was born in Argentina and is inextricably linked with the history and soul of that country. But, having spread across the planet nearly a hundred years ago, it has had ample opportunity to gestate elsewhere, and it is no surprise that a collection of modern tango music that spans the globe would yield such rich results. To be sure, Argentina is well-represented, by artists such as Hugo Diaz, Federico Aubele and Florencia Bonadeo, but the sampling of songs from other nations such as Serbia, Senegal, Norway and Portugal, will be as eye-opening as it is rewarding. Finland, one of the great European strongholds of tango, has its own distinct tango style and is represented here by a single track by M.A. Numminen and Sanna Pietiainen, while Brazil, a neighboring country that resisted the pull of tango in favor of its own, homegrown samba, contributes a fine song as well, "Tango Ishede," by Fortuna. Tango fans will enjoy this set, as will newcomers who may welcome the way these crossovers and variations often dilute the innate severity of the genre. As with many of Putumayo's best collections, this serves both as a fine album itself and as a signpost for deeper exploration of many fine artists who would otherwise be far off our radar. Recommended!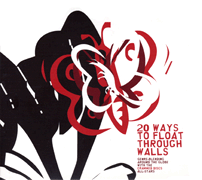 Various Artists "20 WAYS TO FLOAT THROUGH WALLS" (Crammed Disc, 2007)



An excellent sampler from one of the most innovative, wide-ranging world music labels around. Crammed Disc, a Belgian-based indie whose pioneering musical explorations have been licensed by numerous other labels in Europe and the US, has championed or brought to light artists such as the African avant-pop ensemble, Konono No. 1, the innovative Roumanian band Taraf De Haidouks, as well as numerous Brazilian musicians, including Bebel Gilberto, Celso Fonseca, DJ Dolores, Zuco 103 and Apollo Nove. The Brazilians, who are quite popular these days, dominate this 20-song collection, although there are numerous other delights and surprises, and all kinds of new, magical sounds. One find for me was the French artist Hugo, whose acoustic tune, "La Collection," is a standout track. (I bought his album afterwards, and wished that more of it sounded like that one song... but that's the thrill of discovery for you!) If you are the kind of music fan who likes continually finding new challenges and treasures, then this disc will be a welcome addition to your listening library.
---



World Music Index
Other Recent Reviews


---