<! MP3 03/06/09, 09/17/10 > <! pix 03/06/09, 09/17/10 > <! icons 02/20/11 > <! archived 01/01/11 > <! *>
---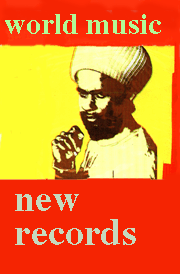 Welcome to my "New World Music" page, which highlights new(ish) African, Asian, Latin American and Celtic records, and "miscellaneous" records that I had the good fortune to check out in January, 2008. This page is added to as new records come in... If you want more to read more reviews, many others are archived nearby, and there are separate sections for various kinds of world music that you might like exploring as well.
---
Recommended Records: January, 2008 | Review Archives
---
Sola Akingbola "Routes To Roots: Yoruba Drums From Nigeria" (Arc Music)
Alex Alvear "Equatorial" (Colorado Music)
Jorge Ben "Big Ben" (Philips-Japan)
Benjamin Biolay "Trash Yeye" (Virgin-France)
Fredda "Toutes Mes Aventures" (Le Pop Musik)
Grey Larsen & Cindy Kallet "Cross The Water" (Sleepy Creek)
Mozaik "Changing Trains" (Compass)
The Savoy Family Band "Turn Loose But Don't Let Go" (Arhoolie)
She'koyokh Klezmer Ensemble "Sandanski's Chickens" (Arc Music)
Various Artists "AUTHENTICITE" (Stern's/Syllart)
Various Artists "PUTUMAYO PRESENTS: LATIN REGGAE" (Putumayo)

---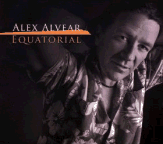 Alex Alvear "Equatorial" (Colorado Music, 2007)



(Produced by Alain Mallet)
Ecuadorian guitarist Alex Alvear delves into traditional roots on this deliciously diverse album, a multi-layered, mellow, fluid mix of various Latin American styles. Alvear blends Andean, Argentine, Caribbean, Central American and Brazilian motifs, anchored, most of all, by the music of his native Ecuador, with insistent, subtle guitar and gentle pan pipes on many tracks. This album is striking for how often it changes tone, yet how consistently pleasant and engaging it is: Alvear has a searching, adventurous approach that puts him within shooting distance of the jazz world, but cultural roots that also make this a "world music" gem. He also has plenty of likeminded comrades: vocalist Marta Gomez joins him on two tracks, as does jazz legend Paquito D'Rivera, who plays clarinet on two tunes. The results are multi-textured and richly rewarding -- one of the most striking jazz/world/latin hybrids of recent years. Definitely worth checking out!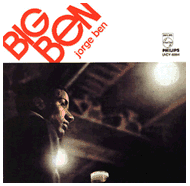 Jorge Ben "Big Ben" (Philips, 1965)


(Produced by Armando Pittigliani)
A much-welcome reissue of one of Brazilian pop star Jorge Ben's mysteriously long-out-of-print albums, the last record he recorded before be left the Philips label for several years in the late 1960s... It's of a piece with his earlier albums, swinging, rock-tinged samba as performed with a Brazilian jazz ensemble, some groovy riffs and rhythms obscured by the clattersome, full-speed-ahead approach taken by the Braz-jazzers of the era. (The liner notes don't say who the backing musicians were; he had been working with Copa Cinco before, although I suspect pianist Don Salvador or some of Wilson Simonal's crew were involved...) Nevertheless, you can hear Ben reaching for a new sound, and for more control over his own music -- his super-groovy acoustic guitar is mixed more prominently, and fuller, more rounded melodies emerge on the tracks where the grinding piano is less dominant. There are several tracks on here that do jump out at you, particularly "Patapatapata," a catchy, innovative tune that is oddly absent on most Jorge Ben retrospectives. Another interesting track is "Jorge Well," which seems like a dry run for the bilingual "Take It Easy My Brother Charles," recorded several years later. A solid album, with some of the same flaws as other Jorge Ben albums, as well as the same delights.

Benjamin Biolay "Trash Ye-Ye" (Virgin-France, 2007)



(Produced by Benjamin Biolay & Benedicte Schmitt)
An alluring album from this youthful French pop-rock auteur, more subtle and reserved than his last couple of records, yet still with its moments of purposeful excess. The opening tracks, particularly the discretely acoustic opening song, "Bien Avant," are cheerfully anchored in traditional French chanson but with each track he shifts into more modern terrain. Biolay's blend of rock drums, harmonic string orchestrations and softcore electronica coloration has been honed to perfection, and his half-detached, half-intimate husky whispering sets a gloriously wicked, relaxed tone. Less pleasant are the easy ironies of the keening, pointedly irritating background vocals on "Cactus Concerto" (an obvious homage to the spaghetti western soundtracks of the 1960s and '70s) or the grinding, prefab, alt-rock guitars of "Regarder La Lumiere," but on balance this is a fine album, and closer in spirit to his highly-regarded debut, Rose Kennedy. Biolay is still an icy-cool, tres hip pop-music smartypants, but her sure can make some seductive sounds when he wants to. A fine album for fans who like to imagine their musical heros with a cigarette dangling from their lips at every moment... The Serge Gainsbourg faithful should take heed: here is your new hero!

Fredda "Toutes Mes Aventures" (Le Pop Musik, 2008)



(Produced by Pascal Parisot)
Moody modern French indie-pop, mixing rock'n'roll attitude with the ironic, hip cool of the neo-chanson scene. Fredda, aka Frederique Dastrevigne, is the longtime collaborator of producer Pascal Parisot, and she croons her way through a wide variety of styles, from the smoky, slinky "Barry White" to a tinge of Dixieland on "Le Rose Des Filles," and a healthy dose of sometimes-mellow, sometimes-clanky guitar-based rock. Fredda's voice is declarative, yet unhurried, friendly though not overtly kittenish or coy... Plus, she plays the banjo! Although it ain't "Foggy Mountain Breakdown" bluegrass, there's a little deftly-placed plunking lacing through the album, adding something a little different into an already-diverse mix. A fine new entry into the booming nouvelle chanson scene -- definitely worth checking out!

Kitka/Various Artists "The Rusalka Cycle: Songs Between The Worlds" (Diaphonica, 2007)



An operatic song-cycle based on ancient Slavic tales about the Rusalki, mythic feminine spirits, the ghosts of women who suffered unnatural or violent deaths and whose shades go on to become natural forces: siren-like, they inhabit the waters and woods and lure living people to their doom by singing hypnotically and entrancing them. Doubtless, The Rusalka Cycle is a powerful piece of live theatre, although as a recorded work, it plays against one of Kitka's greatest strengths, that is, their impressive power as a chorus. Meeting the demands of the operatic form, here they sing solos and arias, with individual voices rising out of the shrill keening -- I'm not as fond of the atonalities of Eastern European vocals when they are taken out of the harmonies of a chorus... But Kitka fans will definitely want to check this out. (You can also check out the group's website to see if they have any performances scheduled, so you can see the show live...)

Grey Larsen & Cindy Kallet "Cross The Water" (Sleepy Creek, 2007)



A lovely Celtic-folk album from American fiddler/flautist Grey Larsen and Cindy Kallet, an endearing folksinger whose earnest, simple style has made her a favorite of mine since the late 1980s... Larsen provides the perfect musical backdrop throughout, at times in support of Kallet's sweet songs, as well as on several beautiful instrumental numbers. Likewise, Kallet bends herself into the contours of Celtic and British folk, and she has one of those voices that fits the style well -- she can sing with honey and lemon in her voice, or go low and get a little rumbling growl that adds to the air of authenticity and antiquity. The duo is in perfect synch, each adding to and building from the other's strengths; in addition to fine vocals, Kallet plays some gentle, Renbourne-esque guitar and pumps the harmonium on a tune or two. Kallet provides a half-dozen of her own original songs, which tend to draw on the contemporary folk tradition, earnest-hopeful optimism with a trace of spiritualism and a dash of politics in the mix. I'm drawn to this music for the trad elements, but the message of optimism is welcome as well. A fine record -- definitely worth checking out! (Available through their website: www.greylarsen.com )

Mozaik "Changing Trains" (Compass, 2008)



The year is still, obviously, quite young, but I'm pretty sure that when the dust settles, this dazzling, pan-Euro- Celtic tour-de-force will still be on the top of my list for 2008. This is a stunning showcase for the combined talents of Irish folk legends Andy Irvine and Donal Lunny, along with American old-timey icon Bruce Molsky, Hungarian flautist/multi-instrumentalist Nikola Parov and Dutch guitarist Rens van der Zalm. Where previous Mozaik releases were more experimental, this one tilts firmly towards a traditional sound, which makes it catnip for my ears. Yours, too, I'll bet. The set opens with with "O'Donoghue's," a tribute to the early 1960s folk club where Andy Irvine found his calling and formed his first trad band, Sweeney's Men. The song tells the tale of Sweeneys, but also of the many other performers, patrons and assorted characters involved with the pub... The sound is classic Irvine (his voice is as fine as ever) and the topic is completely fascinating. Several other Irish-trad songs follow in a similar vein, bracketed by equally soulful, lively instrumentals and a few American hillbilly songs, courtesy of Mr. Molsky. The Appalachian standard, "Reuben's Train," gets a musical update -- with Celtic and Slavic motifs skillfully woven in -- and reemerges as "Reuben's Transatlantic Express," while fiddle tunes like "Sail Away Ladies" also get lively readings. The Balkan and Slavic elements leap out at you, but they are used sparingly and rarely dominate... Irvine's interest in East European music goes back a long, long way, but even longtime fans may be surprised by how smoothly he's integrated it into his Celtic repertoire -- no big deal is made about it, it's just another part of his considerable sonic palette. All five musicians are working in perfect synch here. clearly enjoying each other's wealth of knowledge and the ability to slide their different styles together. This disc's a gem, especially for fans of pure, old-fashioned trad: this album may be pushing the music in new directions, but it still has a classic sound. Highly recommended!

The Savoy Family Band "Turn Loose But Don't Let Go" (Arhoolie, 2007)



(Produced by the Savoy Family)
Intricate, mellow, more-accessible-than-usual Cajun music from this lively musical dynasty. Marc and Ann Savoy, along with their kith and kin, have made another great record, this time infused with a hefty dose of country music and hints of old-fashioned traditional jazz. There's a marvelously playful honkytonk piano in the mix, too, courtesy of young'un Wilson Savoy... Your toes'll be tapping and you'll be reaching for your French-English dictionary for a translation of their version of "You Don't Know Me." Fine stuff - some of the best American folk music out there!
She'koyokh Klezmer Ensemble "Sandanski's Chicken" (Arc Music, 2008)



A lively, cross-cultural Jewish klezmer outing by a band from London that includes musicians asa diverse as their repertoire. Among them is bassist Oliver Baldwin, whose father played in Dunav, one of the first bands in England to play Balkan music, and members from as far afield as San Francsco and Zambia. Accordingly, the Balkan brass band sound is deeply embedded throughout this album, as well as dollops of Turkish music and flamenco. The band follows both the relentless tempo and the sly, textured melodies of the style -- klezmer fans will find plenty to enjoy here.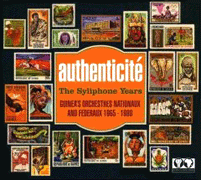 Various Artists "AUTHENTICITE: THE SYLIPHONE YEARS - GUINEA'S ORCHESTRES NATIONAUX AND FEDERAUX 1965-1980" (Stern's/Syllart, 2007)



An awesome 2-CD set of shimmering, scintillating, utterly hypnotic African guitar music from Guinea, featuring classic bands such as Bembeya Jazz National, Camayenne Sofa, Horoya Band, Keletigui and Pivi Et Ses Balaldins who recorded for the Syliphone label during the golden years of Guinean pop... Even though I had a lot of this stuff already, I just had to pick up this collection -- it looked so tasty! And it is: even though there are occasional passages that get on my nerves, the guitar playing is so awesome and so alluring, it's still some of the most addictive music ever made. These two discs are divided chronologically, with the first disc covering 1965-1972, and the second covering 1972-80, all of it well within the glory years of West African (and Guinean) pop... This is a perfect introduction to the style, including prime tracks by bands who have full albums out on Syliphone, as well as a slew of lesser-known groups that were no less musically exciting. All in all, this is a wonderful collection... Highly recommended!
Various Artists "PUTUMAYO PRESENTS: LATIN REGGAE" (Putumayo, 2008)


Although the frenetic hip-hop-salsa-reggae hybrid called reggaeton took off a few years ago to become a potent commercial force, plain-old roots reggae has also been thriving in the Spanish-speaking world, as heard on this solid set of riddims from around the world. Spain -- and Barcelona in particular -- seems to be ground zero for Spanish-language reggae: over half the songs on here come from Espana, with additional entries from Argentina, Chile and Puerto Rico... North America gets a little representation, too, by bands from Brooklyn (naturally) and Canada as well, where Montreal-based Sarazino get a little of the tropical vibe going, evenwhen there's three feet of snow. This is a fine record for reggae lovers (and lover's reggae!) and for world music fans who really like hearing different cultures mixin' it up. There isn't as much musical influence from the salsa side of the street as you might imagine, but in some ways hearing straight-up old-school reggae being sung en espanol but otherwise unchanged is even cooler than a big reggaeton-style mash-up. Definitely worth checking out!
---



World Music Index
Other Recent Reviews


---