<! MP3 02/24/09, 09/16/10 > <! pix 03/07/09, 09/16/10 > <! icons 02/20/11 > <! archived 01/01/11 * >
---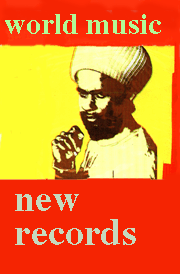 Welcome to my "New World Music" page, which highlights new(ish) African, Asian, Latin American and Celtic records, and "miscellaneous" records that I had the good fortune to check out in March, 2008. This page is added to as new records come in... If you want more to read more reviews, many others are archived nearby, and there are separate sections for various kinds of world music that you might like exploring as well.
---
Recommended Records: March, 2008 | Review Archives
---
African Virtuoses "The Classic Guinean Guitar Group" (Sterns)
Auktyon "Girls Sing" (Geometriya)
Celtic Fiddle Festival "Equinoxe" (Loftus)
Joao Gilberto "For Tokyo" (Universal-Japan)
Jovino Santos Neto "Alma Do Nordeste: Soul Of The Northwest" (Adventure Music)
Various Artists "COLOMBIA: THE GOLDEN AGE OF DISCOS FUENTES" (Soundway)
Various Artists "NIGERIA SPECIAL" (Soundway)

---
African Virtuoses "The Classic Guinean Guitar Group" (Sterns, 2007)



Fans of Ry Cooder's forays into "world music" might want to check this one out... Cooder's not in the band, but his clean, expansive guitar sound is... This disc collects vintage recordings from a Guinean guitar quartet out of Conakry in the late 1970s/early '80s... There's a sweet, relaxed feel and a smooth, sleepy production style that reminds me of Hawaiian slack-key legend Gabby Pahinui, and like Pahinui's music, this boasts a subtle blend of regional styles along with what some call "new acoustic" guitar. It's sweet stuff -- well worth checking out!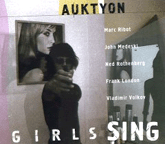 Auktyon "Girls Sing" (Geometriya, 2007)



Kooky stuff from the Russian avant-rock ensemble known as Auktyon. This disc leaps from indecipherable space-folk and the fusion-y atmospherics of songs such as "Tam-dam" to louder, harsher experimental "difficult listening" that would make the Japan-noise crowd curl their toes with orgasmic happiness. This album features contributions from American jazz modernists and avantniks such as guitarist Marc Ribot and trumpeter Frank London of the Klezmatics. John Medeski adds plenty of driving, surging organ riffs, buoying the playful, exhortatory Russian vocals, and lends a strong prog-fusion feel that blends well with the band's densely rendered Plastic People-y art-rock, with hints of the chaotic hijinks of the modern Balkan brass bands. A few tunes are softer, such as the halting, acoustic-based "Zhdat" and the epic, Chick Corea-ish "Girls Sing," which closes the album out. The wilder numbers have a distinctive sense of abandon -- clearly this album, which was recorded live in a small studio in New York, was a lot of fun to make. It certainly won't be everyone's cup of tea, but for folks with a penchant for out-there music, it'll be a blast. Definitely worth checking out!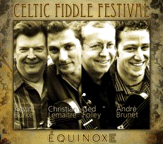 Celtic Fiddle Festival "Equinoxe" (Loftus, 2008)



This is the fifth album by the quixotically-named Celtic supergroup-powerhouse, Celtic Fiddle Festival, featuring the combined talents of three fiddlers (duh) -- Kevin Burke, Christian Lemaitre and Andre Brunet -- and one guitarist, Ged Foley, in as fine a set of Celtic instrumentals as ever you shall hear. Foley, a nimble accompanist also known for his work with the House Band, Battlefield Band and Patrick Street, anchors each tune with a lively, inventive style that is both supportive and wildly restless, the sort of playing that can both fade into the background or leap out at you in the middle of a song and and make you realize, oh my lord, is he really doing all that, too? Same with the fiddling: these are immensely accomplished musicians drawing on Breton, Irish and Canadian traditions, weaving it all together in a mix of tones and styles. There are keening, aggressive jigs alongside silken, melodic passages, all of it quite dazzling. Perhaps my favorite tracks -- because I am drawn to softer, more melodic material -- are the Brunet/Foley medley, "Reel Desjarlis/L'accroche-Pied/Danse Acadienne" and "Sir Sydney Smith's March", a showcase for Foley's guitar work that is simply lovely. If you like Celtic instrumentals, you'll love this album.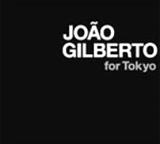 Joao Gilberto "For Tokyo" (Universal-Japan, 2007)


I got all excited when I stumbled across this disc online: the title and white-on-black album art made it look like a companion to Universal's black-on-white Joao Gilberto In Tokyo concert album with matching graphics. Could this be another trove of delicious live gems, twenty more tracks that got left off the other album? Well, it's not quite. It's actually a generously programmed best-of set, with songs drawn from various phases in Gilberto's career, including collaborations with Stan Getz, Astrud Gilberto, Miucha, and numerous live and studio performances. A great introduction to his work, though perhaps not essential for fans who already have heard his various albums.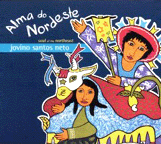 Jovino Santos Neto "Alma Do Nordeste: Soul Of The Northwest" (Adventure Music, 2008)



Jazz pianist Jovino Santos Neto delves into the music of Brazil's Northeastern region, home to frenetic styles such as forro music and the baiao. If you've ever wanted to hear the accordion as a lead instrument in a jazz context, then this disc will give you goosepimples of delight: in the album's first half, accordionist Toninho Ferragutti cuts loose with some fine improvisational flights, supported by the rest of Santos Neto's elastic, energetic band. The second half of the album gets into too much of a mainstream jazz mode for me, but the more "Brazilian" material is pretty exciting. Fans of either style -- forro or modern jazz -- will find a lot to appreciate here.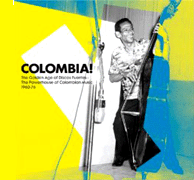 Various Artists "COLOMBIA: THE GOLDEN AGE OF DISCOS FUENTES" (Soundway, 2007)


A dazzling collection of latin-dance, salsa and jazzy gems from the vaults of Discos Fuentes, Colombia's preeminent popular music label. Founded in 1934, Discos Fuentes has been at the forefront of popularizing national styles such as the cumbia and vallenato, as well as numerous pan-American crossovers. Some of these tracks sound just like the top-flight salsa and boogaloo emanating from New York, Miami and Puerto Rico during the 1960s and '70s; other tracks feature the distinctive regional rhythms of Colombia and its Central American neighbors. As the chatty liner notes cheerfully inform us, many of the twenty tracks featured here come from impossibly rare records -- from leading artists such as Fruko, Wganda Kenya, the Latin Brothers and others -- albums that were popular in their day, but lapsed out of print decades ago. The set is powerful from start to finish, although fans who are looking for a "killer party record" may want to digitize the disc and pick their favorite tracks -- there's a wide stylistic variety and some tracks dip more heavily into jazz-oriented descarga jams, or jarring horn arrangements. It's all good, but not necessarily what you'll want to shake your booty to... This collection focuses on what many consider the peak years of Discos Fuentes, 1960-1976, and, indeed, it's pretty stellar. With about a bazillion other great songs in the vaults, there could easily be several more albums of equal calibre in this series (personally, I wouldn't mind hearing some of the older stuff from the 1930s and '40s, before the funky glory days that this disc covers...) Anyway, fans of Latin American dance music will definitely want to pick this disc up -- it's all killer, no filler.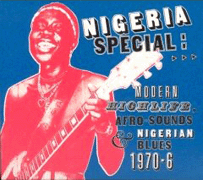 Various Artists "NIGERIA SPECIAL: MODERN HIGHLIFE, AFRO-SOUNDS AND NIGERIAN BLUES" (Soundway, 2007)



A fine, often electrifying 2-CD set of vintage Nigerian pop and funk from the 1960s and '70s... Although a few of the artists are relatively well-known, such as Sir Victor Uwaifo, this collection is mostly a crate-digger's special: it's not necessarily "representative" of the main or classic bands of the era, but it is packed with rare tracks and plenty of gems... And it's fun! There are some beautiful guitar-pop grooves, a few more challenging, dissonant tunes and several really slamming American-style funk tunes, notably "I Want a Break Thru" by the Hykkers and "Alabeke," by Dan Satch and His Atomic 8 Dance Band. There's also plenty of pure, potent Afro-Pop, with relaxed, hypnotic grooves. Great stuff - definitely worth picking up!
---



World Music Index
Other Recent Reviews


---