<! MP3 03/07/09, 01/19/10 > <! pix 00/00/00 - no pix, need to add, 01/19/10 some not all > <! icons 02/20/11 > <! archived 02/18/12 * >
---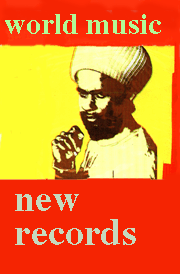 Welcome to my "New World Music" page, which highlights new(ish) African, Asian, Latin American and Celtic records, and "miscellaneous" records that I had the good fortune to check out in May-June, 2008. This page is added to as new records come in... If you want more to read more reviews, many others are archived nearby, and there are separate sections for various kinds of world music that you might like exploring as well.
---
Recommended Records: May-June, 2008 | Review Archives
---
Badma Khanda Ensemble "Mongolian Music From Buryatia" (Arc Music)
Joe Barbieri "In Parole Povere" (Le Pop Muzik)
Mbilia Bel "Bel Canto: Best Of The Genidia Years: 1982-1987" (Stern's Africa)
Capercaillie "Roses And Tears" (Compass)
Chambao "Con Otro Aire" (Sony-BMG/Norte)
Toumani Diabate "The Mande Variations" (World Circuit/Nonesuch)
Mary Fettig "Brazilian Footprints" (F Major Records)
Kassin +2 "Futurismo" (Luaka Bop)
Claudius Linton "Roots Master" (Sun King)
Lydia Mendoza "The Best Of Lydia Mendoza" (Arhoolie)
Os Mutantes "Live At The Barbican Theatre" (Luaka Bop)
Niyaz "Nine Heavens" (Six Degrees)
Lisa Ono "Best"
Sonantes "Sonantes" (Six Degrees)
Various Artists "PUTUMAYO PRESENTS: AFRICAN PARTY" (Putumayo)
Various Artists PUTUMAYO PRESENTS CAFE CUBANO (Putumayo)

---
Badma Khanda Ensemble "Mongolian Music From Buryatia" (Arc Music, 2008)



Sweeping, majestic vocal music from Mongolia... The style is what I would, in my infinite limitations, would stereotypically think of as "Chinese music," the sort of thing you'd hear in the background of a foreign film as the ancient castle appeared out of the mist-covered mountains, with an impossibly long road stretching out ahead, with peasants and oxen carrying water, etc. in the foreground. You see what I'm getting at, right? Anyway, the music is not Chinese, at least not originally. Vocalist Badma-Khanda is a folklorist preserving the traditions of her own family's heritage in the southeastern Siberian region of Buryatia. The Buryat culture is originally from Siberia, but like many regional ethnic groups, their culture was repressed under Soviet rule, and was better kept alive on the Chinese-controlled side of the border. Political history aside, it is lovely stuff, and if anyone's feeling in a Last Emperor mood, this might be just the kind of musical backdrop you'd enjoy.

Joe Barbieri "In Parole Povere" (Le Pop Muzik, 2008)



This cool, mellow Italian indie crooner would seem to be a big fan of Brazil's Caetano Veloso. He purrs along to a whispery, modern bossa nova -- gentle, delicate, quavering vocals set to spare piano-based arrangement. Sounds awfully Brazlian, except that the lyrics are in Italian. In the middle, the album tilts a little towards the soft-pop Italians are famous for, but Barbieri brings things back to a classy bossa core. All in all, a sweet, understated album. Fans of Paolo Conti might like this as well -- their styles are different, but the two men share an independent vision and bring new sounds into the Italian sphere. Nice stuff.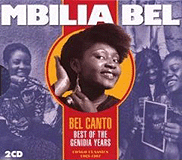 M'bilia Bel "Bel Canto: Best Of The Genidia Years (Congo Classics 1982-1987)" (Stern's Africa, 2007)



When M'bilia Bel first joined the band of Congolese bandleader Tabu Ley Rocherau, she was thought to be just another in a long line of female support singers. She swiftly emerged as one of the most potent forces in African pop music, an incandescent vocalist emanating vibrancy and good cheer in a series of gorgeously produced, uptempo recordings. Bel eclipsed Rocherau, whose own career spanned decades, and by decade's end they parted ways. Throughout the 1980s, however, Rochereau and Bel produced some of the most lovely African pop ever made -- this stunning 2-CD set gathers the best of their work on Rocherau's Genidia label, one sweet song after another, packed with the finest melodies that soukous music had to offer. Longtime fans and newcomers alike with instantly fall in love with this collection, one of the finest reissues I've heard in recent years. Highly recommended!
Capercaillie "Roses And Tears" (Compass, 2008)



Another strong Celtic crossover set by Scotland's fusion-y Capercaillie, with lead vocals from Karen Matheson and an lineup that includes Donald Shaw on accordion, Manus Lunny on bouzouki and Michael McGoldrick playing the pipes. The album opens up with the funky, resolutely pop "Him Bo," and then weaves back and forth between tradition and modernism. There's an anti-war anthem, courtesy of John Martyn, lots of mellow, electronic-tinged grooves, and a hefty dose of trad, woven deep into the mix. Personally, I love it when Matheson sings in Gaelic, although like many old-fashioned folkies, I prefer a more traditional acoustic sound. But Capercaillie fans know what to expect by now, and this album certainly will not disappoint listeners who are open to a bit of pop in with their Celtic music.
Chambao "Con Otro Aire" (Sony-BMG/Norte, 2008)



Modernized flamenco-pop, with a softer side overall... The album starts out on a raucous, buoyant note, a bouncy, rhythmic number called "Papeles Mojados" that recalls the poppy drive of Gipsy Kings and similar bands, but with a less jagged, less aggressive feel. "Papeles Mojados" is currently a European pop single, and it's easy to see why -- it's a pretty catchy tune. Things slow down and get mellower from there, even a bit gooey at times. This band has been labeled as a "flamenco chill" band, which implies a more modern, electronica-based sound than they actually have -- I guess they don't just call it "easy listening" or "soft pop" anymore, but I think those labels would be more apt. Marketing aside, this group from Malaga, Spain have made just the kind of album that folks with a taste for softer foreign sounds might greatly enjoy... I always like the sound of Spanish, and singer Maria del Mar Rodriguez ("La Mari") occasionally has some interesting pronunciation that seems to stray from textbook espanol. Too goopy for some, no doubt, but rapture for others.

Toumani Diabate "The Mande Variations" (World Circuit/Nonesuch, 2008)



A master musician from West Africa, Toumani Diabate has played the multi-stringed, lute-like harp known as a kora in a wide variety of circumstances and styles. He has played both traditional music and experimental pop crossovers, with expansive arrangements and simple, stripped-down sets. This elegant album of solo kora pieces is one of Diabate's purest and most personal recordings. A real jaw-dropper from a technical standpoint, "The Mande Variations" shows an amazing stylistic and tonal breadth - some pieces are quiet, peaceful mediations, others are driving and intense, a whirlwind flurry of notes and emotional power. It is certainly one of the finest African albums of recent years, utterly beautiful and quite moving from start to finish. Highly recommended!
Mary Fettig "Brazilian Footprints" (F Major Records, 2008)



Swingin', latin-flavored smooth jazz from flautist/saxophonist Mary Fettig, a veteran player who's worked with Tito Puente, Stan Kenton, Flora Purim, and others. Although there are tunes on here that would place more in the realm of "latin jazz," there is an authentic Brazilian vibe at play as well. The repertoire is refreshingly free of Brazilian standards (no Jobim, nor Pixinguinha) and includes several original compositions by Fettig's pianist, Marco Silva, and by guitarist Chico Pinheiro. Vocalist Claudia Villella also contributes... The sound is a little too "smooth" for me, but if you like the style, this is a very strong album, showcasing lots of new talent. (Available through Mary Fettig's website, www.maryfettig.com/a>)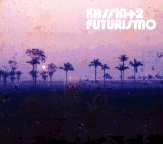 Kassin +2 "Futurismo" (Luaka Bop, 2008)



(Produced by Alexandre Kassin... +2)
This is the third (and possibly best) album by a trio of Brazil's most playful and innovative artists, avant-popsters Alexandre Kassin, Domenico Lancellotti and Moreno Veloso -- collectively known as the "+2". Each has has taken a turn "headlining" one album, and now it's Kassin's... Each of the +2-ers has made a mark for themselves working with various artists in the contemporary Brazilian pop scene, but Kassin may be cutting the largest swath, producing records for a wide variety of younger artists, including work with Bebel Gilberto, Thalma de Freitas and the Orquestra Imperial (which is more or less an expanded version of the +2 band...) and playing backup for Caetano Veloso and others. Here on his own "solo" album, Kassin fully explores the smooth, swank, easygoing Latin-pop-lounge vibe he's worked on elsewhere, and the results are simply yummy. Soft-salsa, samba, funk, dub, surf, rock and electronica all merge together with the delicious, all-encompassing ease that typifies the best of Brazilian pop. There's are wide variety of textures and tones, and all of it sounds alluring and fresh. One of the most subtle and subtly challenging Brazilian pop albums of recent vintage, the sound of a younger generation branching out and finding a global audience. Well worth checking out! (Note - the extended version features three bonus tracks co-produced with Sean O'Hagan (of The High Llamas) and John McEntire (of Tortoise). This trio of hipster lovefests are quite satisfying; they are also sung in English, giving them a distinctly separate, but not distracting feel from the rest of the album. )

Claudius Linton "Roots Master" (Sun King, 2007)



Reggae fans looking for new sources of old material will greatly enjoy this album, which gathers about a dozen rare, vintage tracks from Jamaican vocalist Claudius Linton, a lesser-known compatriot of Bob Marley, Peter Tosh, and the rest of the conscious-roots reggae set. This disc includes tracks spanning 1969's "Woman Wash Your Hair" to later efforts such as 1986's "Third World," and a hefty dose of dub as well. It's mostly politically-minded material, and while the social preaching may fall flat on occasion, the soulfulness of the music is never in dispute. One highlight is Linton's 1976 hit, "Crying Time," heard here in the single version that topped the Jamaican charts, and as a monophonic demo... These songs are part of the huge wealth of independently released singles that delighted in-the-knowfans, back in the day, but which remained hard to track down well into the CD era. It's sweet stuff, with great vocals, very much in the classic roots mode.
Lydia Mendoza "The Best Of Lydia Mendoza" (Arhoolie, 2008)



Arhoolie Records has long been the curator of the legacy of Texas music legend Lydia Mendoza, one of the most powerful singers to hail from the Tex-Mex border area in the 20th Century. Mendoza passed away in December, 2007, and this collection is a fitting legacy. Culled from the many albums Arhoolie issued over the years, it presents Mendoza's passage from the powerful stylist of her youth (the opening tracks, from the 1930s, evoke the same sort of gravitas and depth as Edith Piaf during the same era) to her more mature years, including live performances in the 1980s that show her still a tremendous singer and interpreter of song. There is musical experimentation along the way, and a variety of styles that always serves to underscore the clarity and beauty of her voice. This is a great single-disc introduction to a highly-revered artist; if you like what you hear on this best-of set, there's plenty more to explore from here.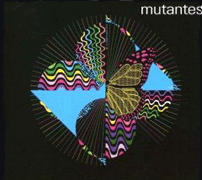 Os Mutantes "Live At The Barbican Theatre: 2006" (Luaka Bop, 2007)



The reunion of the legendary Brazilian psychedelic-surrealistic rock band Os Mutantes was one of the most highly anticipated events in the global hipster-sphere... The band had fragmented and flamed out in the 1970s, after a glorious career in the vanguard of the provocative, revolutionary tropicalia scene. Of the original three members, one went mad, another became a mainstream pop star and a third turned to jazz. This 2-CD live album captures the reconstituted group at London's Barbican Theatre, with '90s pop-rockster Zelia Duncan taking the place of Rita Lee, who declined to take part in the reunion. Probably just as well: even though it undercuts the historical impact of the band's comeback, Lee's absence means the music is stronger, since her musical output has been rather bland for several decades, and bereft of inspiration. Duncan, on the other hand, is younger, enthusiastic and full of good cheer and exudes a healthy dose of the chaotic charm that made Mutantes such a groovy band to begin with. She almost has trouble keeping up with the geezers, though: singer-pianist Arnaldo Baptista and his brother, guitarist Sergio Dias, burst with energy and excitement. It's been a long time since they could really cut loose and go crazy, and they clearly relish the chance to summon up their old magic again. Many of the sound elements appear to be prerecorded, but even with this technological crutch, the show is remarkably powerful and coherent. Recreating the kaleidoscopic avant orchestrations of their old hits, the duo rides atop the well-manicured cacophony, proving themselves as lively and inventive as ever. As with their original studio work, this may be a bit too cluttered and bombastic to listen to recreationally, but it's still great to hear these avant-pop heroes back in action.
Niyaz "Nine Heavens" (Six Degrees, 2008)



This is the Niyaz band's second album, a rich, vibrant mix of musical styles from Turkey, Iran and India, with modernizations (electronic effects and electronically processed percussion) that perfectly compliment but never overwhelm the traditional elements. Fans of Natacha Atlas and Dead Can Dance will totally groove on this, as well as folks who picked up singer Azam Ali's earlier albums, before she joined the Niyaz troika. This album includes two separate discs, and two separate versions -- there's an acoustic mix and an "electronic" mix (which I would simply call a fuller "pop" mix; it doesn't seem particularly tripped-out to me... ) Each disc plays in a different song sequence and has its own distinct feel. Initially I thought I would prefer the acoustic version, and checked it out first, liked it, then went for the full pop mixes... Wow. I'd expected some kind of loud, clubbed-out, remixxy bombast, but was pleasantly surprised by the restraint and elegance of the enhancement, and by how much power and depth this gave to the songs. The additional production mainly includes light keyboards and other touches that add texture, but not brute force, and the embellishments are in keeping with the musical traditions that Niyaz were working from to begin with, evoking flutes and other instruments heard on old records, rather than the drum machines heard in the 1990s. In short, it sounds great. If you like Middle Eastern and Asian music, this'll give you a real thrill. Nice.
Lisa Ono "Best: 1989-1996" (EMI-Japan, 2008)


Here are a couple of swell-looking best-of collections from Japanese bossa nova artist Lisa Ono... I can't afford 'em with the current exchange rates... but they sure look tasty!
Lisa Ono "Best: 2002-2006" (EMI-Japan, 2008)





<! http://lisaono.homestead.com > <! http://en.wikipedia.org/wiki/Lisa_Ono >

Sonantes "Sonantes" (Six Degrees, 2008)



A Brazilian pop/electronica album unlike any you've heard before, infused with the slinky, cross-cultural feel of international soundtrack music, tinged with rock, funk, blues and dub. Vocalist CeU resurfaces in the company of numerous pop innovators from Sao Paulo, notably members of Nacao Zumbi, Rica Amabis of the band Instituto and several guest performers such as Mestre Ambrosio's Siba, and electronic-popster Apollo Nove. CeU shines throughout, but particularly while riding atop the buoyant, ecstatic "Quilombo Te Espera," a song that leaps out at listeners midway through the album, and pulls them in with its radiant cheerfulness. Other standout tracks include the surf-flavored instrumental, "Looks Like To Kill," and "Defenestrando," a sly, slinky jazz-funk workout with a slithering guitar line worthy of the Talking Heads in their art-funk heyday. On "Miopia," CeU shares the limelight with Mestre Ambrosio's Siba, who contributes haunting vocals that evoke the arid feel of Brazil's northeastern provinces. The album darkens towards the end, particularly on the spooky, ethereal "Itapeva," but closes on a sleek, blith bit of retro-tropical pop, "Frevo De Saudade," which nonetheless has a kooky rhythmic undercurrent that again shows the skillful eclelcticism of this surprising ensemble. Highly recommended!
Various Artists "PUTUMAYO PRESENTS: AFRICAN PARTY" (Putumayo, 2008)


A fun record! This collects several sweet African pop grooves from artists such as Oliver Mtukudzi, Bonga and Sekouba Bambino, as well as several lesser-known artists such as BoPol Mansiamina, from Congo, and Macire Sylla, from Guinea... The songs come from 2000 to 2008, with a lone 1990s track by Oakland, California's venerable band, Kotoja. Almost all the songs sound lively and cheerful, living up to the album's promise of a good time party vibe for all. There are one or two tracks that are a little too overproduced for my tastes, but that's still a darn good batting average: like many Putumayo discs of recent vintage, this is an excellent set, sticking to more soulful, rootsy material that will make longtime world music fans quite happy. Just the kind of album to have on all morning long to brighten up your day.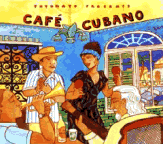 Various Artists PUTUMAYO PRESENTS CAFE CUBANO (Putumayo, 2008)


A fine, rich set of contemporary Cuban (and Cuban-style) music, spanning a decade from 1999-2008. Emigres are included, as well as regional artists from across the island, younger artists and Buena Vista-style old-timers, large salsa bands and urgent acoustic balladeers, political singers and romantic traditionalists -- it's a nice cross-section of music and very little of it veers into the slicker, poppier jazz terrain of the '80s-era bands such as Irakere, et. al. Most of these artists will be new to US listeners, and they'll be welcome as well. Another strong release from the pleasantly revitalized Putumayo label.
---



World Music Index
Other Recent Reviews


---