<! MP3 03/07/09 > <! pix 00/00/00 - downloaded many pix, but none added yet > <! icons 02/20/11 > <! archived 02/17/12 * >
---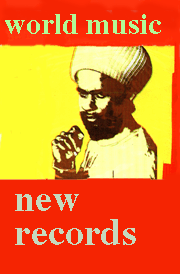 Welcome to my "New World Music" page, which highlights new(ish) African, Asian, Latin American and Celtic records, and "miscellaneous" records that I had the good fortune to check out in July, 2008. This page is added to as new records come in... If you want more to read more reviews, many others are archived nearby, and there are separate sections for various kinds of world music that you might like exploring as well.
PS - Sorry about the lack of graphics this month. My old computer died, and it's new, supposedly sexier replacement doesn't support my version of Photoshop. Unfortunately, I can't afford to buy new software, so I'm pondering my options. Hence the lack of album art. Oh, well. At least the text is incredibly brilliant.
---
Recommended Records: July, 2008 | Review Archives
---
Daoud & Saleh Al-Kuwaity "Masters Of Iraqi Music: Original Recordings Remastered" (Arc Music)
Breabach "The Big Spree" (Compass)
CeU "Remixed EP" (Six Degrees)
Hamilton De Holanda & Andre Mehmari "Continuous Friendship" (Adventure)
Dengue Fever "Venus On Earth" (M-80)
Helena "Bang! Dillinger Girl & Baby Face Nelson" (Sunnyside)
Kakande "Dununya" (Jumble)
Aidan O'Rourke "Sirius" (Compass)
Baden Powell "Os Afro-Sambas/A Votande" (Cherry Red)
Rupa & The April Fishes "Extraordinary Rendition" (Cumbancha)
Various Artists "BRAZILIAN BEATS" (boxset) (Mr. Bongo)
Various Artists "DUTCH RARE FOLK" (Food For Thought)
Various Artists "MAMBO A PARIS: 1949-1953" (Fremeaux)
Various Artists "PUTUMAYO PRESENTS: QUEBEC" (Putumayo)
Various Artists "SCOTTISH FOLK AT ITS BEST" (Arc Music)

---
Daoud & Saleh Al-Kuwaity "Masters Of Iraqi Music: Original Recordings Remastered" (Arc Music, 2008)


Fascinating historical recordings taken from the golden era of Arabic music. The Al-Kuwaity brothers were born (naturally) in Kuwait, but emigrated to Iraq when quite young, and swiftly rose to the top ranks of that country's musical elite during the 1930s and '40s. They were favorites of King Faisal, and wrote hit songs for the great Egyptian diva, Um-Kulthoum, including one of her signature pieces, "Galbak Sacher Jalmud." The Al-Kuwaitys were also, interestingly enough, Jews, although they went to great lengths to hide their Jewish identity, so as to not alienate their fans and the wider Arabic public. Nonetheless, when Israel achieved statehood, the brothers left behind their life of wealth and privilege in Iraq in order to live in the Jewish state. Eventually they became celebrities again, and were broadcast widely on the Arabic-language channel of Israeli state radio. These recordings capture the Al-Kuwaitys in their prime, playing hardcore traditional Arabic music -- unfortunately the liner notes do not pinpoint when these recordings were made, but since they originally came out on an Israeli label, one imagines they date back to the 1950s or '60s (they also sound of that general vintage... ) Fans of classic Middle Eastern music will delight at this strong, assured performances and the melodic richness of the Al-Kuwaity compositions. Definitely worth checking out!
Breabach "The Big Spree" (Compass, 2008)



A gorgeous set of Celtic trad instrumentals and songs from a new, up-and-coming Scottish folk band. This debut album showcases strong contributions from pipers Donal Brown and Calum MacCrimmon (who's originally from Canada) as well as fiddler Patsy Reid, who has a thin, spritely tone that's perfect for her playful spirit. (Reid particularly stands out on tunes such as the "James Gunn Henderson/Dusky Meadow" medley...) The band plays straight trad, with a warm, melodic bent that gives the slip jigs and reels a softer feel than many recorded instrumental numbers. Quite nice!
CeU "Remixed EP" (Six Degrees, 2007)


A nice remix set by Brazilian pop-tronica singer CeU, who hails from Sao Paulo and gathers many of that rock-oriented big city's finest young performers into her crew. Some of you may have noted that I am not the world's biggest fan of or expert in clubby dance music and electronica, nor am I generally all that into remix projects -- most times, I think the artists probably got it right the first time. That being said, this EP (which is commercially available only as an electronic download) has a nice feel... Several dubby tracks take remixing back to its reggae roots, and CeU's vocals, drifting atop and in between whatever soundscapes her producers concoct, carry you along in a variety of settings. Her debut album, where these songs originally appeared, has a stronger, more cohesive pop edge, but this is a nice chill-out disc. Worth checking out.

Hamilton De Holanda & Andre Mehmari "Continua Amizade/Continuous Friendship" (Adventure, 2008)


(Produced by Hamilton De Holanda & Andre Mehmari)
A classy collaboration -- sometimes reserved, sometimes playful -- between Brazilian bandolim whiz Hamilton De Holanda and classically trained pianist Andre Mehmari. The set slips between slowed-down samba and choro tunes, avant-classical themes and tandem, whirlwind jazz flights in which the two instruments interlock and cavort at dizzying speeds. It's both technically impressive and soulful with many original compositions an a real sense of joyfulness and adventure. De Holanda is emerging as one of the finer improvisational artists of his era...and this piano guy ain't no slouch, either! Definitely worth checking out.


<! import = B000VLIXE8 >

Dengue Fever "Venus On Earth" (M-80, 2008)



From their home base in LA, Dengue Fever have quickly established themselves as one of the hottest live acts on the West Coast, and on their latest album, their third to date, the band proves more nuanced and versatile than ever before. The high-octane ensemble provides fluid for Cambodian singer Chhom Nimol, but where their earlier albums were a wild, aggressive, and utterly amazing recreation of the insane garage-pop mashups of Cambodian 1960s rock, this time around their sound has greater tonal depth and variety... A bit of Zappa and classic jazz seems to have crept into the mix, along with soul music and funk. Although there's still plenty of rock and electric guitars, the sound is less shrill and the band's musical chops are more fully explored... It's still pretty out there, but now it sounds more like something you could expose more than just a couple of friends to... If you like crazy Asian pop, you'll want to check this out!
Helena "Bang! Dillinger Girl & Baby Face Nelson" (Universal France/Sunnyside, 2007)



Strummy-strummy acoustic nothings from French indie-popster Helena Noguerra and Federico Pellegrini (from the band Little Rabbits), who resurrect the playful, silly DIY spirit of the early-1990's lo-fi twee scene, kinda like Tracey Thorn paired up with Daniel Johnston. These are cutesy, goofy songs built on simple hooks -- most seem ephemeral while others are impossibly pretentious, but some, like "Share," plunge down to unexpected and satisfying depths. Unfortunately, it's mostly sung in English, which serves to accentuate the sense of disposability and artistic self-absorption; Helena only sings in French in a couple of spots (the song "Love" is in French, and sounds more fun) and though this disc didn't really do much for me, I am curious to hear what she's done on her French-language releases. Not my cup of tea, but it might be a cult fave for just the right kind of folk-freak fan.
Kakande "Dununya" (Jumble, 2008)



(Produced by Peter Fand)
Lively, modern West African music with strong melodies and urgent rhythms... Malian balafon player Famoro Dioubate and vocalist Missia Saran Dioubate lead this energetic ensemble in a set that opens with a real bang, on the propulsive pop tune, "Kakande," which combines the manic beauty of Zimbabwean chimurenga music to the lush melodicism of Malian acoustic music. It's a great, groovy, irresistible African pop song, one that will send you back to hit the "replay" button a time or two. The rest of the album is mellower and set at a more relaxed pace, but it mines familiar, comforting terrain. Like so many others, Famoro comes from a long line of musical masters, and as a young, up-and-coming virtuoso, he shows a lot of promise here. Looking forward to the next album!
Aidan O'Rourke "Sirius" (Compass, 2008)



Originally released in 2006, this is the solo debut from the fiddler for the Scottish trad trio, Lau. Fusion-jazzy pop, not unlike that of America's Bela Fleck, though with instrumentation that stems from Celtic trad, rather than Appalachian folk. Some of it is quite forceful, with snare drums dominating several tunes; there's a poppy vibe on a lot of the tracks, although there are also softer, more lyrical passages throughout. It's not quite my cup of tea, but Celtic modernists might really dig it.
Baden Powell "Os Afro-Sambas/A Votande" (El/Cherry Red, 2008)


A much-welcome reissue of two albums of classic 1960s Brazilian bossa nova with groovy guitar work by the great Baden Powell. Out of print for many years, the 1966 album, Os Afro-Sambas, was a record collector's "holy grail," and having it out in an affordable version will be a boon for many fans. It's a spooky, challenging album, made in collaboration with poet-lyricist Vinicius De Moraes, and it delved deep into Powell's knowledge of Brazil's African musical heritage, producing many classic bossa nova songs. The pairing of this album with 1967's A Vontande is well-placed: although Powell had a wide stylistic range (and recorded a lot of what could be considered "easy listening" throughout the decade) but these two albums had a very similar feel, a eerie texture and depth that still gives listeners goosebumps. I haven't heard this reissue yet, although I know there are folks out there who are critical of the sound quality and mastering of various reissues on the Cherry Red label -- I can't tell you whether that is the case here as well.
Rupa & The April Fishes "Extraordinary Rendition" (Cumbancha, 2008)



Hailing from San Francisco, CA., this band concocts a lively, diverse, acoustic-based mash-up of gypsy music, flamenco, French chanson string-band swing and Latin ballads. The band's primary songwriter and vocalist, Rupa, sings in Spanish, French and English, and even a bit of Hindi. She tackles each song with gusto and fervor, as well as a undeniable authenticity: you may be amazed to find that Rupa is American, so thoroughly drenched in the sensibilities of the European folk-swing renaissance. An ideal album for folks who like bands such as Pink Martini, Paris Combo, or any of the numerous Eastern European gypsy bands or French nouvelle swing/chanson acts.
Various Artists "BRAZILIAN BEATS" (boxset) (Mr. Bongo, 2007)


An awesome and elegantly packaged collection of the first seven albums in the Brazilian Beats series, along with an additional disc of breakbeats and mixing from one of the djs in the Mr. Bongo label's orbit. This is the motherlode of the European/UK Brazilian-lounge-club dance scene, with an impressive mix of modern, clubby dance music and various archival entries from a variety of styles, including rediscovered Brazilian funk and soul, sleek MPB pop, dazzling batucada drumming and a smattering of authentic acoustic samba songs and regional music such as forro. The first disc is particularly strong on "lost gems" of the booming Braz-jazz scene of the 1960s and '70s, with strong tracks from solid jazz players such as Milton Banana, Sambalanco Trio, Tenorio, Jr. and fusion-jazz cult figures such as Anna Mazzotti. Pianist/bandleader Dom Salvador's "Barumba" is a standout track; later on the series unearths wild gems like "La Lupita" by Nino Gomez and Joao Donato's unusual "Cala Boca Menino." The series becomes progressively more clubby and electronic, particularly when showcasing the spazzy, hyperactive "baile funk" style, which is supposedly really big in Brazil. Along the way, standards and old faves from artists such as Jorge Ben, Joao Bosco, Orlandivo, Elis Regina and Tim Maia rub up against modern artists such as Marcelo D2, Seu Jorge and Ive Mendes, and novelty material such as the Barbatuques band, who use the human body to replicate the sounds and style of electronica and of Brazilian percussion. Although patterns run through the series, each volume has its own character, with the remixes and new stuff peaking on Volume 4, then giving way again to the retro, crate-digging vibe on later volumes. This really is an impressive collection -- even an old coot like myself who isn't that into the rap, techno and retro-fusion-disco tunes can find lots of to appreciate here, and music fans who use compilations as signposts to discover new artists and styles will find this box set a treasure trove that they can mine more deeply for years to come. Highly recommended!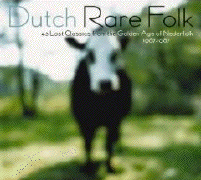 Various Artists "DUTCH RARE FOLK: 43 LOST GEMS FROM THE GOLDEN AGE OF NEDERFOLK" (Food For Thought, 2007)


A delicious, super-groovy 2-CD collection of folk, freak-folk and folk-rock rarities from Holland. Psychedelic pop fans have long treasured the hard-driving Nederbeat garage rock of the 1960s and '70s, but this is a new, gentler and equally delightful sound, Dutch artists following the lead of American and British artists who dreamt of capering about the forests with unicorns and elves, sowing the seeds of peace and love, teaching the world to sing. There are a variety of styles on here, most of them recognizable from their English-language counterparts -- there are soft, pastoral folk and folk-pop pieces, as well as edgier rock-oriented tracks, and a wide spectrum of acoustic tunes, and only the slightest hint of '70s prog. Perhaps most amusing (though also compelling) are the clompy folk-rock artists such as Sido Martens, the Eerste Hollandse Dansband, Fungus and others, who studiously aped the style and mannerisms of British bands such as Fairport Convention and Lindesfarne. There are also plenty of gals -- Dageraad, The Deirdres, Ouwejan & Makkers, and Whitsuntide Easter -- who sang genteel Judy Collins-ish folk ditties and lofty art-folk ala Shirley Collins. Of course the sometimes too-faithful imitations are a great part of the charm; artists who drew more directly on purer Dutch folk traditions, like Cobi Schreijer, are at times less appealing, but the historical perspective is definitely welcome. Likewise, I prefer hearing them singing in Dutch -- there are several English-language songs included, and somehow hearing what fluffy, fuzzy the Holland hippies were actually saying has a bit less charm. Overall, this is an astonishing collection -- music fans who yearn for obscurities and exotic recordings that don't also suck will swoon over this set. I know I did.
Various Artists "MAMBO A PARIS: 1949-1953" (Fremeaux & Associes, 2007)


This is a frantic, fun 2-CD collection of homegrown Latin dance music performed by French orchestras in the post-WWII era. Parisian nightclubs and Riviera casinos had hosted a large Latin-American contingent for several decades before these recordings were made, with numerous top-tier artists moving to France from Cuba, Puerto Rico and elsewhere. The cabaret scene changed in the war years as American-style swing became the big rage; after the war, the newer, harder-edged mambo craze brought Latin music back into style, and several bands excelled at reproducing the crazy, cha-chadelic rhythms. You'd think there would be nothing but "ringers" in these bands -- Latin-American musicians propping up Gallic frontmen, but actually there were a lot of homegrown French performers who mastered the new music. A few, like Venezuelan-born Benny Bennet, had a natural Latin dance pedigree; others just picked up on it because it was cool. This collection concentrates on a handful of artists, including the prolific and dynamic German-born Eddie Warner (he emigrated to France in 1934, and fought with the French Resistance during the War), as well as playful practitioners like Sebastien Solari and Henri Rossotti, who was one of the earliest mambo maniacs. Most of these artists hewed pretty closely to the tight, muscular arrangements favored by Perez Prado, although they were often unable to get past the severity of Perez's style and find the more fluid groove favored by other bandleaders (contrast Henri Rossotti's "Almrendra" to Tito Puente's version, for example... ) Although these Gallic cha-cha orchestras were comparatively rigid and sluggish, this is still a fun set and sounds surprisingly authentic. Indeed, the biggest disappointment was that so many of them sang strictly en espanol -- only one song on here is sung in French; I would love to hear more of this material with French lyrics. Overall, this is worth checking out, and not just as a historical curio. Although for pure mambo action you might want to go straight to the original source, this is still pretty groovy.
Various Artists "PUTUMAYO PRESENTS: QUEBEC" (Putumayo, 2008)


Happy birthday, Quebec City! This is a delicious, surprising set of French-language music from Quebec, issued in honor of the city's 400th anniversary. The influence of the mother country is never far off, and there are plenty of pleasant echoes of the current French chanson revival, along with a hefty, healthy dose of homemade Quebecois pop and Canadian-style folk. I personally like nothing better than discovering a bunch of groovy new artists, and this disc is packed with eleven "new" singers and bands that I'd never heard of... It's a consistently pleasing, subtly challenging set, a collection that makes a good case for emigration up towards the North. Take for example, the difference between their TV-generated pop stars and ours: singer Annie Villeneuve is a recent winner of Star Academie, Quebec's version of American Idol -- her hit, "Un Homme," is included here, but instead of being some crapulent, ultra-generic, warbly-vocal, faux-soul disaster (like every Idol contestant ever) it's a really catchy, sensual song, full of the texture and tone that American radio largely lacks. If you're looking for something different and new, and don't have any problems with the francophone world, you might want to check this out.
Various Artists "SCOTTISH FOLK AT ITS BEST" (Arc Music, 2008)



A sleek set of contemporary Scottish folk, featuring a couple of relatively well-known artists -- Old Blind Dogs, Tannas -- and a slew of others who will be less familiar to the casual world music fan. Canterach, The Hudson Swan Band, Anna Murray, Wendy Weatherby, Ross Kennedy and Coila are some of the "new" names -- for the most part this is a little too much on the slick side for me, with floating synths on a tune or two, and a light poppiness on others. Still, it's certainly worth checking out, especially for Celtic folkniks in search of new names and new voices to explore.
---



World Music Index
Other Recent Reviews


---