<! MP3 03/07/09, 01/13/10 > <! pix 03/07/09, 01/13/10 > <! icons 02/20/11 > <! archived 02/17/12 * >
---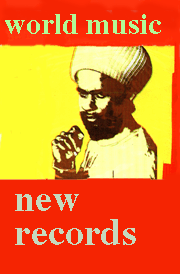 Welcome to my "New World Music" page, which highlights new(ish) African, Asian, Latin American and Celtic records, and "miscellaneous" records that I had the good fortune to check out in August, 2008. This page is added to as new records come in... If you want more to read more reviews, many others are archived nearby, and there are separate sections for various kinds of world music that you might like exploring as well.
---
Recommended Records: August, 2008 | Review Archives
---
Maria Bethania & Omara Portuondo "Omara Portuondo & Maria Bethania" (Biscoito Fino)
Cilibrinas Do Eden "Cilibrinas Do Eden" (Philips)
Clube Do Balanco "Swing & Samba-Rock" (Spin Music/MCD)
Fausto Delgado "Fausto Delgado Y Los Amigos" (Flex Media)
Fausto Delgado "Mojica En Puerto Rico: Latin Favorites" (Lata)
David Fanshawe/Various Artists "Chants From The Kingdom Of Tonga" (Arc Music)
Marc Gunn & The Dubliners Tabby Cats "Whiskers In The Jar" (Mage Records)
Benedito Lacerdo "Bene, O Flautista" (Maritaca)
Tom Lellis & Toninho Horta "Tonight" (Adventure Music)
Momo "A Estetica Do Rebisco" (Dubas)
Fernando Otero "Pagina De Buenos Aires" (Nonesuch)
Plena Libre "Plena Al Salsero: Live In Monterrey, Mexico" (GN Musica)
Sidestepper "The Buena Vibra Sound System" (Palm Pictures)
Tcheka "Lonji" (Times Square/Lusafrica)
Various Artists "PUTUMAYO PRESENTS ACOUSTIC FRANCE" (Putumayo)

---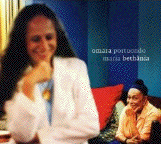 Maria Bethania & Omara Portuondo "Omara Portuondo & Maria Bethania" (Biscoito Fino, 2007)



Two grand dames of romantic Latin American balladry -- Brazil's Maria Bethania and Cuban bolero queen Omara Portuondo -- combining their talents on a set of slow, sorrowful, sentimental splendor... I haven't heard this disc yet, but just knowing it's out there gives me a little tingle.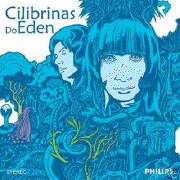 Cilibrinas Do Eden "Cilibrinas Do Eden" (Philips, 1973)


A stunning psychedelic-rock reissue from the vaults of the Brazilian tropicalia scene... This is cool acid rock album from Rita Lee, of the band Os Mutantes, singing here with her friend Lucia Turnbull and (as was common in her early solo career) some help from her buddies in the Mutantes bands. Turnbull is a cipher to me -- outside of this album, I know very little about her -- but this album is a real dazzler, one of Lee's grittiest and most impressive rock records, better than pretty much anything she did with her '70s solo band, Tutti Frutti. It features Brazilian cult classics like "Ainda Bem (Bad Trip)" and some of the wickedest electric guitar work of her career. This album was built around an electrifying performance at the 7th International Song Festival, in 1972 -- a live concert single (also included here) led to a studio recording, all of which is pretty striking. The album's original liner notes make nods towards Alice Cooper and the subversive hard rock of the era, and unlike the 1970s Mutantes and Tutti Frutti albums, this disc doesn't tilt as heavily towards a commercialized, stadium-rock sound, sticking instead to the more piercing, disturbing end of the glam/hard-rock/psychedelic spectrum. It's pretty cool, if not entirely the kind of record you'd want to relax to at home. If you can track it down, this is definitely worth snapping up.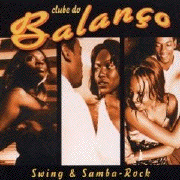 Clube Do Balanco "Swing & Samba-Rock" (Spin Music/MCD, 2005)



This one was recommended to me by a reader... and it's pretty cool! This Sao Paulo-based ensemble pays homage to the smooth Brazilian soul-samba sound of the 1970s, picking up where artists such as Jorge Ben, Banda Black Rio and Tim Maia left off. And they get the style completely right: this is smooth, mellow party music, perfect for a relaxing evening on a steamy, summery dancefloor. The grooves are sweet, the rhythm is gentle but persistent, and the vibe is just right. Plus, they are amazingly well-connected: guest performers include Brazilian pop and funk icons such as samba-funkster Bebetos and Marku Ribas, jovem guarda legend Erasmo Carlos, Seu Jorge and a host of younger soul-funk-triphoppers like Max De Castro, Paula Lima and Wilson Simoninha, each seamlessly mixed into the band's groovy party vibe. If this sounds like it's up your alley, trust your instincts: it's really quite good!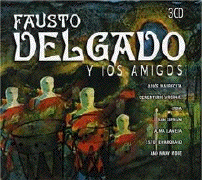 Fausto Delgado/Various Artists "Fausto Delgado Y Los Amigos" (Flex Media, 2005)


Yeah, I know this record is a couple of years old, but it's new to me, and probably new to most of you, as well... and it's definitely worth checking out! This is a spectacular 3-CD set covering the work of Puerto Rican vocalist, Fausto Delgado, working with numerous bands on dozens of classic recordings from 1931-1949. It's wonderful, richly romantic, richly rhythmic material, Latin American balladry at its finest and most rewarding. Delgado leads his own band on many recordings; on others he is the featured singer in the orchestras of Billo's Caracas Boys, Bobby Cabo, Xavier Cugat, Carlos Molina, Rafael Munoz, Chuy Reyes, Alselmo Sacasas, Pepito Torres, and others. Delgado was a marvelous singer -- sometimes a bit florid, but basically pretty robust and heartfelt. The sound quality on these remasters is a bit too clean and warm for me -- I'm used to my Latin oldies sounding a bit sharper and tinny -- but really, there's nothing to complain about. This collection is a gold mine.
Fausto Delgado/Various Artists "Mojica En Puerto Rico: Latin Favorites" (Lata, 2008)


The songs on this single-disc collection are also included on the more expansive ...Y Los Amigos collection listed above. But that means, of course, that it's all great stuff! If you're shopping for a cheaper, more compact overview of Delgado's work, this is a mighty fine option as well.

David Fanshawe/Various Artists "Chants From The Kingdom Of Tonga" (Arc Music, 2008)



Field recordings and original compositions by British-born music ethnographer David Fanshawe, who has devoted himself since 1978 to the music and culture of the Pacific islands... This disc includes "Pacific Song," a sampling of his own original work, Pacific Odyssey, as well as a series of curiously mesmerizing field recordings of Tongan chants. Although thousands of miles separate the Tongans from the more familiar Hawaiians, their shared Polynesian ancestry will be readily apparent to anyone who has listened to traditional hula music -- it is fascinating to hear the shard language and realize how distinct the two cultures are. Fanshawe's intimate connections to Pacific island culture ensure that this disc is packed with some of the most striking, soulful examples of the style, and while the music is mainly sung a capella without much overt ornamentation, it feels lush and expansive. This may surprise you!

Marc Gunn & The Dubliners Tabby Cats "Whiskers In The Jar" (Mage Records, 2008)



Well, this is downright silly...!! Austin, Texas autoharpist Marc Gunn is also the town's biggest cat lover, and he is making a whole musical career out of crafting feline-oriented parodies of classic Celtic songs. This CD is the second in what may prove to be a long line of warm, fuzzy, purr-inducing albums, (starting with the now-legendary Irish Drinking Songs for Cat Lovers). Gunn's approach is more along the lines of those old Makem Brothers & Clancy albums, somewhat stripped down and with robust, jovial vocals. In addition to the surprising song selection (a puddy-tat parody of "Arthur McBride"! Now you're talking my language.) one of Gunn's great strengths is his intimate, couch-level understanding of the felid brain: I think my favorite songs on here are "Kitty At The Door" and "Danny Boy" which deal with the timeless scourge of cute little kitties who can't decide whether they want inside or out, and won't stop piteously meowing, either way. If, perchance you happen to know a cat lover or two who also like Celtic folk tunes, this disc could be the purrfect present. (For more info, check out: www.marcgunn.com )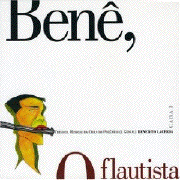 Benedito Lacerdo/Various Artists "Bene, O Flautista" (Maritaca, 2008)



A stunning 4-CD set covering the career of fabled Brazilian flautist Benedito Lacerda (1900-1958), who is best known for his work with saxophonist and choro pioneer Pixinguinha, but who also recorded profilically with many of the greatest samba stars of the 1930s and '40s. This collection includes many of his most famous recordings, including a flurry of dazzling duets recordings from the 1940s that included lively, definitive versions of instrumental duets with Pixinguinha, as well as classic samba-cancao tracks from Francisco Alves, Silvio Caldas, Carlos Galhardo, Carmen Miranda, Mario Reis and other stars of the 1930s, as well as numerous recordings of Lacerda's own bands, Grupo Gente Do Morro and Velha Guarda de Almirante. Some of the greatest treasures come from the Grupo Gente recordings (an entire disc's worth!) that often feature Lacerda singing, as well as taking the lead on his flute. The sound of his pixielike piping laces through all these recordings, and is remarkably familiar to anyone who has delved into the music of this era -- nice to finally put a name to the face, as it were! There is significant overlap between this set and other recent reissues -- notably the CD reissue of RCA's old Lacerda-Pixinguinha LP -- but you'd be hard pressed to find any music fans who will complain about the duplication. Personally, I could listen to this stuff for days on end. Just start off with the jaw-dropping "1 x 0", perhaps the best-known Pixinguinha tune, and you will be in awe of Lacerda's technical skill and soulfulness; for a more humorous, comedic side, check out the live performance of "Urubu Malandro, where they playfully try to one-up each other in a dazzling, virtuosic duet. This beautiful, compact box set includes a capacious, chatty, authoritative booklet that gives background on all the songs, steers you towards more modern versions, and provides much-welcome biographical sketches of dozens of Lacerda's collaborators -- bandleaders, composers, guitarists, percussionists, singers -- that will help fill in a lot of gaps in ones general knowledge of the early 20th Century Brazilian music scene. A great, great box set -- highly recommended!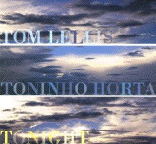 Tom Lellis & Toninho Horta "Tonight" (Adventure Music, 2008)


(Produced by Tom Lellis & Toninho Horta )
Brazilian jazz legend Tonininho Horta and North American crooner Tom Lellis get mellow on a sweet set of bossa nova-flavored, English-language tunes, drawn mainly from the American standards songbook, along with several Horta-Lellis originals, and a fine rendition of Tom Jobim's "Dindi." Lellis tackles evergreens by Harold Arlen, Hoagy Carmichael, George Gershwin, Cole Porter, Vincent Youmans and others. It' a nice set, with a decidedly Sinatra-esque vibe (as heard in the inclusion of "Fly Me To The Moon"). For his part, Horta plays some delicious, beautiful acoustic guitar that is both marvelously restrained and wondrously complex. Lellis' piano work fills out the sound, providing a larger, warmer sound than you'd imagine from just two people. This album comes fifteen years after their first collaboration, 1993's Mountain Flight, and gives an even more intimate glimpse into their collaborative process. Smooth jazz, pop vocals and bossa fans will dig this one.

Momo "A Estetica Do Rebisco" (Dubas, 2007)



(Produced by Marcelo Frota)
An unusual and entirely atypical Brazilian rock album, drawing heavily on the space-rock and soft-prog sounds of the early 1970s. Bowie, Syd Barrett, the gentler side of Pink Floyd and a gazillion less well-remembered psychedelic strummers of that era are evoked in this gentle, diffuse album, a collection of spaced-out songs that is unlike any other Brazilian record I've ever heard. (Perhaps Otto's trip-hoppy electronica comes closest...) Singer/keyboardist Marcelo Frota is the main creative force, although several of the songs are co-written with others (anyone know if co-composer Alvinho Lancellotti is related to Domenico Lancellotti, of the Moreno Veloso/+2 crew? Just wondering.) It's nice stuff: folks who dig Davendra Banhart and his brand of freak-folk might also get a kick out of this odd, dreamy disc. Worth checking out!

Gary Nunez & Plena Libre "Plena Al Salsero: Live In Monterrey, Mexico" (GN Musica, 2008)



(Produced by Gary Nunez & David Gaar)
Hot, high-energy Puerto Rican salsa (aka "plena") recorded live in front of an appreciative Mexican audience. This is a dynamic, enthusiastic band that performs with no mercy given and no mercy asked. The percussion, in particular, is pretty impressive, with some dazzling work done at a breakneck speed. One thing that's a little odd is how little the crowd noise is mixed in -- I really only heard them at the very end of the album. But if you like this style hot and fast, you might wanna check this disc out. Better yet, make a trip down to San Juan and catch 'em live.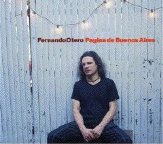 Fernando Otero "Pagina De Buenos Aires" (Nonesuch, 2008)



(Produced by Fernando Otero)
The austerity and inventiveness of modern Argentine tango -- as the genre was reconceived by the late, legendary Astor Piazzolla -- is alive and well in the hands of younger artists like pianist-composer Fernando Otero. This album blends the style's swooping romanticism with a deeper, darker severity, in a still-turbulent marriage between the old-world Latin American ballrooms and European classical traditions. Otero originally had a classical and jazz background, but has also richly mined Argentinian musical traditions for inspiration... I'm not personally a ginormous fan of tango (or nuevo tango), but I'm pretty sure that anyone who is into the genre will want to check this out, particularly fans of Piazzolla's later works.

Sidestepper "The Buena Vibra Sound System" (Palm Pictures, 2008)



A mellow, laid-back, deconstructed dub-remix project, building in part around classic Latin American dance music -- son, salsa, guarachas, etc. The sampled old stuff gets a little buried in the melodic structure of the remixes, which tilts towards blip-bleepy dancehall reggae and dub, with a tinge of reggaeton in there as well. It's a little on the cute side for me, but there are some smoky, moody moments as well, and on the whole it's very listenable. Fans of the Nortec Collective or Gotan Project may also greatly also groove on this loopy Latin disc.

Tcheka "Lonji" (Times Square/Lusafrica, 2008)



(Produced by Lenine)
Lush, pretty-sounding acoustic music from the Cape Verde islands, off the coast of West Africa, featuring the vocals and guitar work of Manual Lopes Andrade, otherwise known as Tcheka... This is super-mellow stuff, with some of the same amorphous, meandering, jazzy spaciness as Brazilian pop star Milton Nascimento. This album sounds unlike much Cape Verdean music, forgoing the overt romanticism of their national music, the ballad-like morna, for a more experimental, meditative sound. Yet the eclecticism of Cape Verde is there as well, dipping into African and European wellsprings, often with beguiling results. For example, the restless accordion work of Toninho Ferragutti, on "Tuti Santiagu," begins as an echo of French musette, and shifts abruptly into a wild, improvisational take on Argentine tango... At first blush, this disc may seem too gooey for some listeners -- Brazilian producer Lenine leaves his own rock'n'roll inclinations behind and limits himself to subtle, electronica-ish textural touches -- but for folks who enjoy the super-mellow end of the spectrum, this album offers unexpected musical twists while remaining consistently soft and unobtrusive, as well as lyrical and emotive. Fans of Milton Nascimento and fellow Brazilian Djavan may find this particularly alluring.


<! image too grainy? >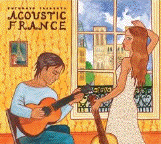 Various Artists "PUTUMAYO PRESENTS ACOUSTIC FRANCE" (Putumayo, 2008)


A sweet sampling of the Nouvelle Scene, a modern musical movement that revives and reworks some of France's best musical traditions, producing sweet acoustic tunes with sleek, sly lyrics. Some of these artists were familiar to me from a bit of persistent poking around on the Amazon-France website, but many were not... The most famous singer here, of course, is model-gone-musician Carla Bruni (these days also known as "Mrs. Sarkozy," the newly-minted wife of French President Nicolas Sarkozy...) who contributes one fine, understated track from her delicious debut album. And if you loved that record, you'll delight in this disc as well. There's plenty of soft-voiced female crooning on here, too, with particularly nice entries from acousto-chanteuses Constance Amiot and Rose as well as some nice stuff from the boys. A particularly groovy discovery was actress Sandrine Kiberlain, whose "Le Quoditien" (co-written with Pierre Souchon) is an album highlight. To cap things off, there's a bit of gypsy jazz from guitarist Romane (aka Patrick Lequidcoq) and from Thomas Dutronc (the son of French ye-ye superstars Jacques Dutronc and Francoise Hardy) as well as some crazed, catchy Eastern European hybridization from the multi-national Rupa & The April Fishes. All in all, a really nice record, the kind of album you can leave in rotation for weeks on end and never grow tired of. Recommended!
---



World Music Index
Other Recent Reviews


---