<! MP3 03/07/09, 01/13/10 > <! pix 03/07/09, 01/13/10 > <! icons 02/20/11 > <! archived 02/17/12 * >
---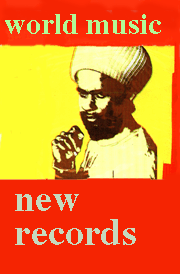 Welcome to my "New World Music" page, which highlights new(ish) African, Asian, Latin American and Celtic records, and "miscellaneous" records that I had the good fortune to check out in September, 2008. This page is added to as new records come in... If you want more to read more reviews, many others are archived nearby, and there are separate sections for various kinds of world music that you might like exploring as well.
---
Recommended Records: September, 2008 | Review Archives
---
Natacha Atlas & The Makeeza Ensemble "Ana Hina" (World Village)
Jorge Ben "Jorge Ben: 1969" (Dusty Groove reissue)
Maria Bethania "...Canta Noel Rosa E Outras Raridades: 1965" (Sony-BMG)
Buika "Nina De Fuego" (Warner Music Latina)
Chiwoniso "Rebel Woman" (Cumbancha)
La Clave "La Clave" (Dusty Groove reissue)
Cordero "De Donde Eres" (Bloodshot)
Funkadesi "Yo Baba" (Self-Released)
Kayhan Kalhor & Brooklyn Rider "Silent City" (World Village)
Sandrine Kiberlain "Manquait Plus Qu'a" (EMI-Virgin France)
Sandrine Kiberlain "Coupes Bien Net et Bien Carre" (EMI-Virgin France)
Catriona McKay "Starfish" (Compass)
Arsenio Rodriguez "El Alma De Cuba" (box set) (Tumbao)
Alexandra Roos "Huit Du Pique" (Naive)
Solas "For Love And Laughter" (Compass)
Beto Villares "Beto Villares" (Six Degrees)
Various Artists "ABSOLUTELY IRISH" (Compass)
Various Artists "BATANGA HISPANIC HERITAGE SAMPLER" (Six Degrees, 2008)
Various Artists "PUTUMAYO PRESENTS: ACOUSTIC ARABIA" (Putumayo)

---

Natacha Atlas & The Makeeza Ensemble "Ana Hina" (World Village, 2008)



(Produced by Harvey Brough)
Since her early days in Transglobal Underground, Natacha Atlas has excelled at blending the traditional with the modern and high-tech -- she has soared along in some of the largest, most expansive arrangements in the "world beat" scene. It's a special treat, though, to hear someone who has perfected such as large sound deciding to scale things back and go for a smaller, sparser, quieter style. Here, Atlas goes acoustic, with quite pleasant results. Working here with the small-scale Makeeza Ensemble, she goes to the heart of Arabic musical poetry, evoking the memory of great ballad singers such as Fairuz and Umm Kulthum, with an intriguing dash of gypsy-ish guitar thrown in as well. Folks who are looking to be surprised will find this disc a fresh take from a well-known world artist -- I'd certainly be happy to hear more albums like this from Atlas is future days!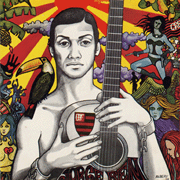 Jorge Ben "Jorge Ben" (Philips, 1969) (Reissued by Dusty Groove, 2008)


(Produced by Manoel Barenbein)
(Arranged by Jose Briamonte & Rogerio Duprat)
Great acclaim should go to Dusty Groove mailorder for reissuing this classic Brazilian psychedelia album, one of the clear highpoints of the late-1960s tropicalia era. While this edition doesn't include any bonus tracks, it does have a great sound mix -- indeed, it sounds better than the now out-of-print Brazilian CD editions from the 1990s. This is an excellent album, with some of Jorge Ben's best guitar work and catchiest songs, many of which often make it onto best-of compilations. Wildly inventive, syncretic, experimental pop music, ranging from San Francisco-sound psychedelia to spaghetti western schmaltz, and deep, heavy samba-soul: if you want to plunge into Brazilian rock and pop and want to start with the very best stuff, this is where to start. The album is soulful, joyous and playful, as when Ben sings the last half of "Pais Tropical" in a nasal voice, with his nose pinched shut, or when the string section veers into bent-note atonality. (The album is also one of the best-realized efforts of tropicalia arranger Rogerio Duprat, whose influence here includes both compositional elements and fascinating experimental production techniques, such as isolating unexpected elements in the sound mix -- bringing percussion to the fore, while burying the guitars. In general, this is a lushly multi-layered, challenging and delightful record, one which has a deserved and enduring appeal, generations after it was made.) The album art shows Ben with the emblem of the Flamengo futbol team on his guitar, and broken manacles on his wrists -- the latter presumably a statement both about the history of slavery in Brazil, and about the military dictatorship which was running the country at the time, and actively trying to repress the tropicalia movement. One of his best records... definitely worth snapping up!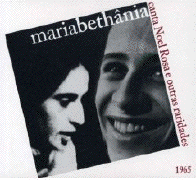 Maria Bethania "...Canta Noel Rosa E Outras Raridades: 1965" (Sony-BMG, 2007)


If you're digging into the origins of modern Brazilian pop, this reissue album is manna from heaven: it features some of the earliest recordings of emerging Brazilian superstar diva, Maria Bethania, made when she was quite young and still a more reserved song stylist. This disc includes a sparsely arranged 6-song EP and a 45rpm single of a live concert, both recorded in 1965, when Bethania's career was starting to take off. The EP was a quiet, reflective tribute to 1930s samba-cancao composer Noel Rosa, an early indication of her classy, historical bent. It's just Bethania, confident but quiet, with a soft acoustic guitar behind her, playing in Spanish-classical style. It's quite delicate and charming, and an interesting stylistic contrast to her later, strong, declarative performance style, which is already starting to emerge on the "Viramundo/Eu Vivo Num Tempo De Guerra" single that followed. These rare offerings from her brief stint on the Brazilian RCA label are paired up with another Noel Rosa tribute disc, a 7-song EP recorded in 1980, with restrained, delicate arrangements by Jose Briamonte. Although this material was recorded fifteen years after the 'Sixties songs, it all fits together perfectly, making this not just a fascinating historical find, but a lovely album as well. Snap it up if you get a chance.

Buika "Nina De Fuego" (Warner Music Latina, 2008)



(Produced by Javier Limon)
Spanish singer Concha Buika has an interesting pedigree: her family were African immigrants but she grew up around Spanish gypsies, and has incorporated various modern and traditional styles in her music, a genre known as copla music in Spain. On this disc, she largely forgoes the soul and electronic touches of earlier albums, and hews closer to traditional flamenco and romantic boleros, with some pronounced jazz overtones as well. It's a grand, romantic approach that brings to mind other Afro-Latina artists such as Cesaria Evora, Omara Portuoundo, Virginia Rodrigues... You kind of have to be on that romantic, melodramatic wavelength for this to work, although there is a touch of Cuban-style salsa on a tune or two that may appeal to a wider pool of world music fans. This is her third album, and fans of the first two will appreciate the emotional intensity and stripped-down sound of this latest record.

Chiwoniso "Rebel Woman" (Cumbancha, 2008)



(Produced by Keith Farquharson)
I'm a big fan of Zimbabwean mbira (finger piano) music, and found this sophomore album by American-born Shona singer Chiwoniso Maraire to be solidly in the tradition set by stars such as Stella Chiweshe, blended with the influence of more guitar-oriented African artists such as Thomas Mapfumo and Oliver Mtukudzi. There's also a softer pop/soul influence -- Chiwoniso doesn't hammer as hard at the tempo of her tunes, in the way Chiweshe does on her propulsive chimurenga style, but the hypnotic allure of the mbira still cascades forward, and draws receptive listeners inside a lush, multi-textured mix. Likewise, while Chiwoniso tilts towards the classy vocal style of Angelique Kidjo, et. al., she doesn't lose the African-ness and traditional sound her music is based on. Since I don't speak the language(s), the political content escapes me (which is probably just as well, considering what a mess Zimbabwe has become in recent years...) but the universal dialect of musical joyfulness comes through loud and clear. A nice new African pop album - definitely worth checking out!

La Clave "La Clave" (Verve, 1973) (Reissued by Dusty Groove, 2008)


(Produced by Tony Bruno)
This San Francisco-based Latin funk-jazz ensemble cut a wide swath on the Bay Area music scene in the early 1970s, ultimately recording this fast-paced, funky album which showcased both the band's Latin American roots and modern, fusion- and dance-oriented elements. There are some interesting choices in repertoire, such as an amped-up version of "Sally Go Round The Roses" (a folk-pop hit for others a few years before) and a hefty dose of "Low Rider"-style Chicano funk. In the studio, La Clave's leader Benny Velarde made room for legendary jazz-pop composer-arranger Lalo Schiffrin, who plays keyboards and contributes a couple of tunes as well. This may be a bit forceful for the casual jazz fan, or Latinophile, but acid jazz fans will be psyched by this reissue on Dusty Groove's fledgling label.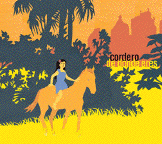 Cordero "De Donde Eres" (Bloodshot, 2008)



(Produced by Ethan Donaldson)
This Brooklyn-based punk-pop quartet has explored round the edges of the rock en espanol movement, placing both English and Spanish lyrics on an even par while pursuing an ofttimes rather dense post-punk rock sound, leavened with Latin-American motifs... Here, singer-composer Ani Cordero digs deeper and more deliberately into her Latin roots, opting for a more acoustic-based sound that recalls the folk-ish feel of the Cuban trova movement. The album also has its fair share of power chords and bouncy melodies (as heard on the poppy opening song, "Quique") but the half-sad, half-strident ballads will stand out here, as will the devotion to pan-American musical themes. More of a "world" album than the band has made before, with interesting hints of things perhaps to come(?)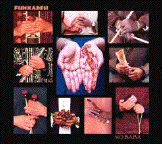 Funkadesi "Yo Baba" (Self-Released, 2008)



(Produced by Inder Paul Singh & Rahul Sharma)
A lively world-beat band from Chicago, skillfully blending roots-riddim reggae, dancehall, Indian bhangra, latin salsa and a bit of funk'n'soul. This is my first exposure to this band, though they've recorded a couple of records before this one, and from what I've heard, they really pack 'em in live on the dance floor. The Indian vocals are the strongest element in this mix, at least for me.
Kayhan Kalhor & Brooklyn Rider "Silent City" (World Village, 2008)



(Produced by Kayhan Kalhor & Brooklyn Rider)
A remarkable, challenging -- and often unsettling -- world/classical mix, with Persian kamancheh lute master Kayhan Kalhor joined by the Western string ensemble, Brooklyn Rider. The music is equally varied in style and tone, as well as a wide dynamic range -- the half-hour long title track, "Silent City," lives up to its name, with an ominous, prolonged passage of near-inaudibility. Much of the record has a foreboding feel to it, but there is also joyful release -- playful flights that recall the bluegrass-based acoustic "space grass" scene, as well as grand, large strokes that hold the bold formality of modern classical music. Throughout, Kalhor asserts the quiet strength and historical depth of Persian classical music, with its power to evoke a foreignness not only of culture, but also time. These four tracks vary in their accessibility and familiarity, and alternate between stronger compositional elements and what seems like ecstatic improvisations. Might not be for everyone, but fans of Iranian music -- and of Kalhor's work in particular -- will find this an enticing experiment.
Sandrine Kiberlain "Manquait Plus Qu'a" (EMI-Virgin France, 2006)


(Produced by Michel Coeuriot)
A fabulous, low-key, acoustic-based album from French actress Sandrine Kiberlain. I got hipped to this disc by a standout track on the Putumayo Presents Acoustic France collection (reviewed last month) and ordered a copy of this album as fast as I could. I was thrilled to find that the rest of the album was equally hypnotic and alluring: I've been listening to this album, nonstop, in auto-repeat for about three weeks straight and have yet to grow tired of it. Every song has a unique and distinctive feel, each with a different stylistic tone, and all of them (except for an English-language Beatles cover at album's end) are sensually fulfilling and memorable. This is easily one of my new favorite albums, and a real find, as far as I'm concerned. Naturally, I ordered her follow-up album, , and I look forward to reviewing that disc here as well. (Also, since many of the songs were co-written by French pop star Alain Souchon and his son(?) Pierre, I expect to go on a big Souchon kick soon, too...)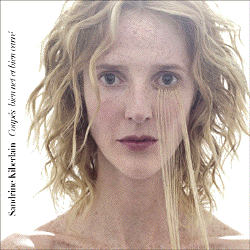 Sandrine Kiberlain "Coupes Bien Net Et Bien Carre" (EMI-Virgin France, 2007)


(Produced by Dominique Blanc-Francard)
Well, the good news is, this is also a quite pleasant, subtly addictive album. It doesn't have the same singularly magical feel as Kiberlain's first album, but it's still pretty sweet. The first time I heard it (after listening to the acoustic-based Manquait Plus Qu'a about a bazillion times in a row) I was put off by the fuller, electrified rock-pop production: oh, this sounds just like any other French pop album, I thought. But that initial impression faded fast as I left it in the play queue for a week or so, and sure enough it grew on me, too. Kiberlain has a wonderful voice and a playfulness that comes through on every song. Like the previous disc, this has a lot of stylistic diversity, so each song has a distinctive feel and a personality of its own. Pierre Souchon co-writes several songs, as does Etienne Daho, and Kiberlain herself has writing credits on every song (one suspects she is the lyricist?) Highlights include a winsome duet with a guy named Bazbaz (Camille Bazbaz... apparently my next French pop pit stop...) although, as before, this disc is simply packed with songs that keep you coming back, time and time again. Recommended!
Catriona McKay "Starfish" (Compass, 2008)



(Produced by Catriona McKay)
This set of inventive, modern Celtic instrumentals feature Scottish harpist Catriona McKay, along with guitarist Seamus Egan and others... The music is acoustic based and the instrumentation is traddy, though the approach is pretty jazzy, with unusual phrasing and rhythms... It's not totally my cup of tea, but folks who are looking for music that expands the boundaries of Celtic music will find this both challenging and aesthetically pleasant, sort of the trad equivalent of what David Grisman and his cohorts did for American bluegrass. Definitely worth checking out.
Arsenio Rodriguez "El Alma De Cuba" (Tumbao, 2008)


This awesome box set gathers all of the solo work by the legendary Cuban guaracha player Arsenio Rodriguez, six CDs worth of prime material recorded for RCA Victor between 1940-1956. It's really amazing stuff -- he is one of my favorite classic Afro-Cuban artists, and while I haven't actually bought this collection, I would if I could. I already have a lot of it on other albums, and it's all really, really good.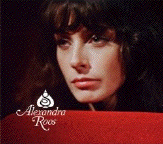 Alexandra Roos "Huit De Pique" (Naive, 2007)


(Produced by Ian Caple)
A moody, moving set of sometimes-sparse, sometimes-piercing French-language space-rock. A groovy, well-realized album, with an atypical, distinctive mood. Roos is a postmodern art-rocker: her previous album, Fanfares, featured contributions from a member of the Calexico crew, and this disc continues along in that vein, incorporating trippy, American indiepop-style soundscapes and surprising wisps of folk-country twang. For some French rock music that's a bit different than the rest, this is a disc well worth checking out. Also features a groovy duet with french pop elder, Julien Clerc.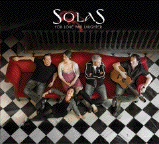 Solas "For Love And Laughter" (Compass, 2008)



(Produced by Seamus Egan & Solas)
Contemporary Irish-American folk at its best, from one of the finest bands in the field... The album opens with a lively instrumental piece, showing the group's solid foundation in traditional roots, although it quickly settles into a more modern mode, with numerous songs with a more contemporary folk feel. The group that spawned the careers of solo greats such as Karan Casey, John Doyle and John Williams now sports a new lead vocalist, Mairead Phelan, who glides through a number of airy, ethereal songs. The set is balanced out with a number of tunes composed by guitarist/multi-instrumentalist Seamus Egan and fiddler Winifred Horan (the band's two remaining founding members) and accordionist Mick McAuley. The group is still a powerhouse, although reactions of fans to the modern folk style that predominates on this disc will vary, depending on the listener's devotion to (or rejection of) strictly traditional material. Folks with more modern tastes should be quite happy with this one!
Beto Villares "Beto Villares" (Six Degrees, 2008)



(Produced by Beto Villares)
Brazilian pop guitarist/producer Beto Villares, best known for his work with the Sao Paulo-based vocalist called CeU, makes his own solo debut with an utterly charming, deliciously relaxed set of eclectic rock-electronica-folk-samba crossovers... While it's a virtuoso performance, it's the creative tone that is most appealing -- Villares projects the same playful, casual ease of goofball "lo-fi" indie artists up North; he's making beautiful music, but not taking himself too seriously. Along for the ride is his posse of younger Brazilian popsters, talented musicians who seem to have absorbed the mangue beat movement's taste for musical diversity while feeling little need to "rock hard" or, really, be musically aggressive in any way whatsoever. Gone are the manic funk and alt-rock elements, replaced by a groovy, unhurried blend of regional Brazilian styles and chill-room 'tronica. If you're looking for a cool, hip record that you can listen to time and time again (and find new facets to every time), this is a mighty fine option. In addition to Villares' vocals (which I find quite nice), he is joined by his protege and pal, CeU, as well as Fernanda Takai (from the esteemed, Mutantes-esque alt-rock band Pato Fu), Zelia Duncan (another Brazilian '90s indierock pioneer), dub singer Valnei Aine, and numerous rappers and indie scenesters who will be unfamiliar to Yanqui zines, but welcome to our ears. This is a really pleasant record, well worth tracking down! (By the way, this was originally released in Brazil under the title Excelentes Lugares Bonitos, back in 2004... Glad it finally made it up here!)

Various Artists "ABSOLUTELY IRISH" (Compass/American Focus, 2008)



(Produced by Mick Moloney)
An absolutely delightful live set, recorded and filmed for a American Public Television, exploring the roots, branches and the very mulch of Irish and Irish-American music. The venerable cultural historian Mick Moloney produced this extravaganza, gathering a high-powered horde of cohorts, including Liz Carroll, Karan Casey, John Doyle, Seamus Egan, Eileen Ivers, Joanie Madden, Susan McKeown and many others -- the cream of the Irish-American musical renaissance. The mix of instrumentals and vocal numbers is just perfect: there are several driving jigs and reels, but nothing that grates on one's nerves, and the song selections are all quite nice, and include several songs that are well off the beaten track. Moloney digs into his bag of historical knowledge and comes out with one of his trademark historical novelty songs, with the humorous immigrant ditty, "McNally's Row Of Flats," one of many songs on the theme of the Irish diaspora (including the haunting "Leaving Of Liverpool," which closes the album with a brilliant group vocal. This is the welcome sort of trad album that you can listen to from end to end, time and time again, with each audition leaving you a little bit richer than before. Highly recommended!
Various Artists "BATANGA HISPANIC HERITAGE SAMPLER" (Six Degrees, 2008)


FREE MUSIC! Yup, that's right: free! Free, I tell you! The Six Degrees label, in conjunction with Batanga.com, is offering ten tracks, free via iTunes from now through October 21st, to celebrate Hispanic Heritage Month which, oddly enough, spans both September and October. Featured artists include Bobi Cespedes, CeU, Da Cruz, Ojos de Brujo, The Spanish Harlem Orchestra, Sonantes, Beto Villares and others. Not familiar with any of these artists? Well, now's your chance to check 'em out. (One quibble: doesn't the term "hispanic" properly refer to the lighter-skinned, more aristocratic Spaniards? Does Brazilian and Afro-Cuban music really fit under this heading? Oh well: the music is great, regardless.) For more info, go to www.batanga.com/freesampler or just head straight to iTunes and download the stuff you like. Tell 'em Joe sent you.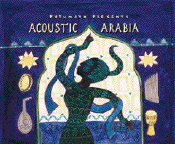 Various Artists "PUTUMAYO PRESENTS: ACOUSTIC ARABIA" (Putumayo, 2008)


A compelling set of modern Arabian pop. Other than Saoud Massi, I'm not that familiar with any of these artists, but I liked how they all fit together. The "acoustic" theme is particularly welcome: it's nice to have a break from the big pop production that has dominated Arabian and Middle Eastern pop music since the 1980s... I'd welcome another collection that goes even deeper into the lyrical, introspective side of the style, while still retaining the modernity that sets it apart from straight folkloric material. Definitely worth checking out.
---



World Music Index
Other Recent Reviews


---