<! MP3 03/06/09 > <! pix 03/06/09 > <! archived 10/15/09 > <! *> <! icons 02/20/11 >
---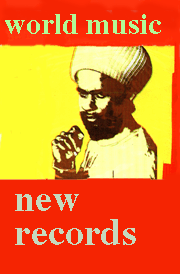 Welcome to my "New World Music" page, which highlights new(ish) African, Asian, Latin American and Celtic records, and "miscellaneous" records that I had the good fortune to check out in February, 2009. This page is added to as new records come in... If you want more to read more reviews, many others are archived nearby, and there are separate sections for various kinds of world music that you might like exploring as well.
---
Recommended Records: February, 2009 | Review Archives
---
<! Anne Briggs reissue on Runt? > <! Jean Bosco Wendo - late entry :-) > Salvatore Adamo "Le Bal Des Gens Bien" (Polydor-France)
A Filial "$1,99" (Verge)
Beoga "The Incident" (Compass)
Leonardo Cioglia "Contos" (Quizamba Music)
Garoto "Historical Guitar Recordings: 1950-1954" (Chanterelle)
Loane "Jamais Seule" (Virgin-France)
The Sakura Ensemble "Minyo Du Japon/Minyo Of Japan" (Fremeaux)
Tommy Sands "Let The Circle Be Wide" (Appleseed)
Vassilis Tsitsanis "1936-1940" (JSP)
Various Artists "PUTUMAYO PRESENTS: AFRICAN REGGAE" (Putumayo)
Various Artists "PUTUMAYO PRESENTS: INDIA" (Putumayo)
Various Artists "REMBETIKA: GREEK MUSIC FROM THE UNDERGROUND" (JSP)
Various Artists "WELLS FOR ZOE: WATER FOR LIFE" (Compass)

---

Salvatore Adamo "Le Bal Des Gens Bien" (Polydor, 2008)


It wouldn't be quite accurate to call this one a "comeback album," since, like many French pop stars, 1960s teen idol Salvatore Adamo never really went away. But this is a remarkable disc: the still-boyish Belgian-Italian crooner is joined by an impressive all-star cast packed with high-profile 21st Century French popsters (and a few elders) pitch in on this elegant guest-fest, including artists such as Benabar, Isabelle Boulay, Cali, Jeanne Cherhal, Thomas Dutronc, Loane, Raphael, Olivia Ruiz, neo-chansonniste Juliette and a few old coots like Yves Simon and Alain Souchon. The music didn't blow me away, but it is pleasant to listen to, and for an old-timer such as Adamo -- who's well into his fifth decade as a pop star -- this is a very strong effort. Certainly worth checking out. (Note: I haven't seen it in the States yet, but if you check out Amazon France, they'll have some info for you.)

A Filial "$1,99" (Verge, 2008)


(Produced by Edu Lopes)
A playful, high-energy set of modern Brazilian hip-hop and baile funk, with a healthy dose of the creative, eclectic chaos of the manguebit samba-rock scene in there as well. These guys are pretty fun, and pretty cheerful and upbeat as well... They can summon up big, funky beats along with little, lo-fi larks -- if you're looking for something different and new (even by Brazilian standards) this album is definitely worth checking out.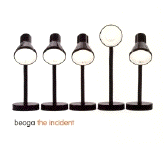 Beoga "The Incident" (Compass, 2009)



Although they describe themselves as "a trad band on steroids," this youthful Irish folk fivesome are pretty mellow-sounding, mixing Celtic trad with sweet pop and a bit of a classical-chamber music vibe at times. There's also an eclectic jam-band sensibility as well, a modern embrace of different approaches and styles that gels together well. Fiddler Niahm Dunne also contributes sweet vocals on a tune or two, adding that well-known mournful tone that so many Irish women excel at... Guess I'm gonna have to go back and check their old records out as well!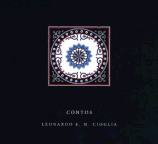 Leonardo Cioglia "Contos" (Quizamba Music, 2008)


Swank, mellow, self-produced jazz from bassist Leonardo Cioglia, a Brazilian-born expatriate now living in New York... I don't hear as much of a Brazilian influence on this disc, but it's pretty solid for fans of "smooth jazz" -- strong, confident playing throughout. It's not totally my cup of tea, but it's quite good for the genre.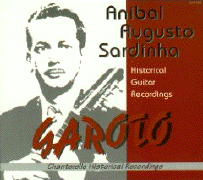 Garoto "Historical Guitar Recordings: 1950-1954" (Chanterelle, 2006)


Guitarist Anibal Augusto Sardinha, better known by the stage name Garoto, is best remembered as an accompanist in Carmen Miranda's Banda Da Lua, the group she took with her when she went to the United States to conquer Broadway and Hollywood. While his work on her classic samba songs was superlative, he was also a stunning, classically trained technician, deeply steeped in the challenging instrumental choro style. These informal early-1950s recordings highlight Garoto at his most soulful and innovative, performing solo on many of his own compositions, as well as plugging in and playing electric on a half-dozen songs composed by classical legend Radames Gnattali. The Gnattali songs are a bit clumsy -- Garoto was clearly ill-at-ease playing electric, but the solo acoustic tracks are gorgeous, appealing to both guitar wonks and fans of Brazilian choro.. The generous liner notes point out that Luiz Bonfa was one of Garoto's students, and hearing him play solo, as opposed to in a band, you can really hear it. There's the same dense level of musical complexity, along with a rich lyrical soulfulness and sweetness and love of innovation... If you like Bonfa, or acoustic guitar music in general, this disc is definitely worth tracking down.


<! Jobim box set >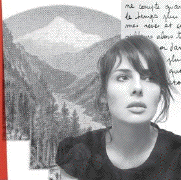 Loane "Jamais Seule" (Virgin-France, 2008)



(Produced by Fabrice Dumont & Frederic Fortuny)
The French indie scene just keeps getting better an better... Singer Loane Rathier has a distinctive vibe, a bit rougher than your typical French alt/pop stuff, with hints of folk and blues and American-style lo-fi rock, all of which accentuates the plaintive beauty in her voice. This is a very pleasant, listenable record, which has stood up to many rotations in the CD player, thought there's some grit in there as well... If you're looking for some hip, new stuff from France, this one is definitely recommended.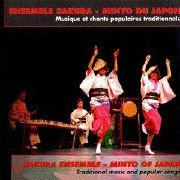 The Sakura Ensemble "Minyo Du Japon/Minyo Of Japan" (Fremeaux, 2008)


A delightful album of traditional Japanese folk songs, performed with the "genki" (high energy, enthusiastic) spirit that is highly valued in the style. This all-female group features a trio of singers and a modest array of traditional instruments -- shamisen, koto, mokkin, and percussion such as small taiko drums -- all played with a lively mix of authority, reverence and giddy abandon. Some tunes, such as "Awe Odori" and "Owase Bushi," may be familiar to folks who are into the taiko revival, while other songs follow in the same path. This is a delightful record, perhaps a little stark or shrill at times, but pleasantly captivating nonetheless. If you are into Japanese folk culture, you will be delighted by this album.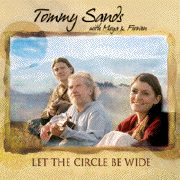 Tommy Sands "Let The Circle Be Wide" (Appleseed, 2009)



(Produced by Tom Newman & Colum Sands)
A dense, lovely, and complicated record, with one of Ireland's best respected folk songwriters mulling over and celebrating the recent resolution of the centuries-old conflict between the English and the Irish, and the end to the "Troubles" of the last few years, in which seemingly endless sectarian violence tore the island apart. The album is lovely because of its musicianship -- in addition to a host of talented trad players, such as guitarist Arty McGlynn, Sands is also joined by members of his family, including his son and daughter, who contribute a nice family-harmony feel to the vocals, as do other members of the Sands Family band. Some songs celebrate Ireland's musical culture -- "The Song Sings On" is an homage to Sands' friend, folk legend Tommy Makem, who passed away in 2007, and on "Send For McGuire," he tells the tale of how an ailing family member sent not for the doctor, but for a local fiddler, whose music revived him from his deathbed... The album is complicated, though, even vexing at times, because of the politics involved -- Sands' joy at the end of violence is radiant and sweet, but there is also a trail of lingering pot-shots and little I-told-you-so moments. The bloodshed between Catholics and Protestants may be at an end, but there seems to be an inevitable temptation to get the last word in, even while breathing a sigh of relief. Also, to outsiders the history and baggage of these moments can be hard to penetrate or accurately assess; although the album feels significant, it may also seem puzzling and hard to crack. This denseness also applies to Sands' wider appeal for peace and justice outside of Ireland. His September 11th-related song, "Time For Asking Why," begins with a strong, gut-level emotional response to the horrors of the day -- familiar to us all -- but quickly moves into a probing left-wing critique of the social and geopolitical inequalities that may have led to the attacks to begin with. This line of reasoning might play well abroad, but many Americans, even liberal folkies, will have a hard time with the emphatic connect-the-dots message -- indeed, this is a very political album, and like many political folk records, can feel a bit forced from time to time. But it also sounds beautiful, and has a soulful feel that will draw listeners to it for years to come -- Sands has put his passion on the line -- both spiritual and social -- and that's really about all we can ask of any artist. Definitely worth checking out, though it may take a while to fully sink in.
Download picks:

The Song Sings On (Ballad of Tommy Makem)


Young Man's Dream (Danny Boy)


Send For Maguire
Vassilis Tsitsanis "1936-1940" (JSP, 2008)


A budget-priced 5-CD set celebrating the work of one of Greece's most popular performers of the pre-WWII era... Fans of the arcane "Greek blues" style known as rembetika will totally salivate over this one... It's a doozy, and a great historical resource for this super-obscuro genre. You might also want to check out JSP's previous two rembetika box sets, which are listed below...


<! Jean Bosco Wendo >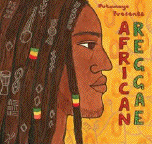 Various Artists "PUTUMAYO PRESENTS: AFRICAN REGGAE" (Putumayo, 2009)


A strong set of modern reggae tunes from various Africa countries, including Burkina Faso, Ghana, Guinea-Bissau, South Africa and several artists each from the Cape Verde Islands and Ivory Coast. The appeal of reggae music, which is a product of the African diaspora, to African artists is readily apparent -- it shares a musical heritage with Africa's past, along with a politically conscious world view in the present... Most of the artists here are unknown to me (which I usually find appealing) and several are pleasant surprises. There are some pretty cool songs on here, particularly those sung in local languages (most of the tracks on this collection) and even with an English-language tune or two that recall the dreary days of 1980s reggae, this is a pretty engaging and invigorating collection. Indeed, hearing reggae sung in different languages does a lot to help an old-timer like me to hear the music with new ears, and feel the vibes of the music again, rather than get caught up in the whole "reggae is dead" feeling of years gone by. Another strong collection on Putumayo -- definitely worth checking out!


<! and even with a tune or two that recall the dreary days of 1980s reggae (mainly English-language tracks, like Majek Fashek's seven-minute long "Man Of Sorrow", which closes the album) >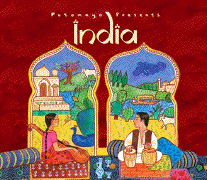 Various Artists "PUTUMAYO PRESENTS: INDIA" (Putumayo, 2009)


Not what I would expect from an overview of Indian music, but certainly a change of pace from the standard-issue Bollywood, bhangra and classical ragas we've come to know so well over the years. This is more of a pop-oriented album, with strong elements of Euro-American pop and soul, although (thankfully) none of the dreadful electro-dance crossovers one associates with Indian music-pop crossovers. This is a rather delicate album, with a variety of styles and tones, only obliquely moving into classical music towards the last few tracks. The various influences reflect not only the cosmopolitanism of contemporary Indian culture, but also the far-flung Indian diaspora, including work by artists such as South African flautist Deepak Ram, and Canada's Kiran Ahluwalia. After listening to this disc a few times, I was won over, although it's still a little on the slick side for my tastes -- nonetheless, it's nice to hear stuff that expands my appreciation of Indian popular music. Worth checking out, particularly if you are looking for something smooth and mellow.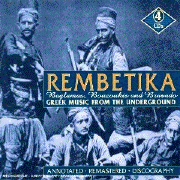 Various Artists "REMBETIKA 1: GREEK MUSIC FROM THE UNDERGROUND" (JSP, 2008)


One of the last frontiers of more-obscure-than-thouishness in the world music pantheon, rembetika is a modern, urban music that's often called "the Greek blues" -- mysterious, rugged songs born in the brothels and bars of early 20th Century that, similar to American blues or French musette, reflect the rough living of the big cities. This 4-CD set is a strong selection of these rare old records, by artists mainly known to devoted aficianados. If you're interested in this genre, this collection and the one that follows would be excellent places to start.


<! MP3 for disc C B000QZV9KE >
Various Artists "REMBETIKA 2: MORE OF THE SECRET HISTORY OF GREECE'S UNDERGROUND MUSIC" (JSP, 2008)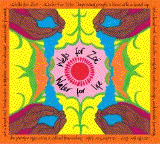 Various Artists "WELLS FOR ZOE: WATER FOR LIFE" (Compass, 2009)



There are some things that many of us take for granted that others -- literally -- would die for. Little things, like clean water, water that won't give your kids diseases, water that you can bathe in and raise crops and drink without fear. Having clean water is a big step towards solving other problems; once you can survive you can succeed elsewhere and prosper, but without it, life is untenable. That was the keystone of the efforts by the Irish-led nonprofit, Wells For Zoe, which helps build sustainable farming and other development in the tiny country of Malawi, an East African nation with shockingly high infant mortality rates and little economic infrastructure. This benefit album features many major talents, mostly drawn from the Irish pop and folk scene, with contributions from likeminded artists from across the globe. There's something delicious hearing the transition between Scottish singer Karine Polwart's "Well For Zoe" into Sinead O'Connor singing the wry "Baby, Let Me Buy You A Drink" -- here are two classic Celtic voices singing beautifully on the same theme, with equally rewarding results (either song will echo in your mind all day long...) Also on board are Celt-folk legends Dougie MacLean and Paul Brady, as well as guitarist John Doyle and Heidi Talbot, and bluegrassers such as Alison Brown and Tim O'Brien. It's a nice album -- only a couple of tracks seemed untenable (...a crossover-folk cover of "Sisters Are Doing It For Themselves"? No, thank you.) But several tracks are lovely, and the cause is certainly good. If you're interested in downloads, here are some options:

Well For Zoe


Baby, Let Me Buy You A Drink
---



World Music Index
Other Recent Reviews


---