<! MP3 10/15/09 > <! pix 10/15/09 > <! archived 10/15/09 > <! *> <! icons 02/20/11 >
---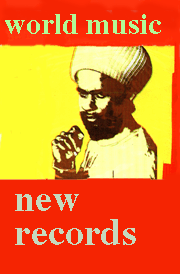 Welcome to my "New World Music" page, which highlights new(ish) African, Asian, Latin American and Celtic records, and "miscellaneous" records that I had the good fortune to check out in April, 2009. This page is added to as new records come in... If you want more to read more reviews, many others are archived nearby, and there are separate sections for various kinds of world music that you might like exploring as well.
---
Recommended Records: April, 2009 | Review Archives
---
Ballet Exotic Du Robert "Caribbean Tropical Music: Martinique" (Arc Music)
Karan Casey "Ships In The Forest" (Compass)
Franco & Le TP OK Jazz "Francophonic" (Stern's Africa)
Corrina Hewat "Harp I Do" (Big Bash)
Christy Moore "Whatever Tickles Your Fancy/Christy Moore" (Raven)
Karine Polwart "Fairest Floo'er" (Hegri Music)
A. R. Rahman "Music And Magic From The Composer Of Slumdog Millionaire" (Sony-BMG Legacy)
Eva Scow & Dusty Brough "Sharon By The Sea" (Adventure Music)
Alain Souchon "100 Chansons" (box set) (EMI-France)
Various Artists "PUTUMAYO PRESENTS: SALSA" (Putumayo)

---

Ballet Exotic Du Robert "Caribbean Tropical Music: Martinique" (Arc Music, 2009)



A nice homage to the glory years of Antillean jazz and swing, from a revival band led by Fred Adelaide that was founded in 1990 to preserve the diverse musical culture of Martinique... The music is a fun mix of European, African and Creole culture, dipping into waltzes, mazurkas, boleros and -- of course -- the bouncy, giddy dance known as the beguine, which returned home to the Antilles after World War Two, following its European heyday on the 1930s. Admittedly, there is a fly-in-amber feel to these folkloric performances -- they don't have the kooky abandon of 1940s artists such as Sam Castendet or Stellio -- but it's still a fun record, and I imagine seeing this ensemble live would be a real gas. A nice introduction to a very diverse regional scene, and perhaps a good starting point for further explorations.


Karan Casey "Ships In The Forest" (Compass, 2008)



(Produced by Donald Shaw)
Opening with the elegant, elegaic "Love Is Pleasing," this album gives way to a slower, somewhat sombre pace, placing Irish singer Karan Casey in the stately, serious company of folk-scene grand dames such as June Tabor or Dolores Keane... Casey isn't quite as dour or severe as Tabor, but she certainly is gathering gravitas and moving beyond the standard folkie fare. Casey gives a nod to like-minded American auteurs with a lovely cover of Joni Mitchell's "The Fiddle And The Drum," which features some of her finest vocals, set to sparse but sweet bagpipe accompaniment. She picks up the tempo a little, five songs in on "Town Of Athlone," one of the only songs on here to be driven by guitar, rather than piano, but by and large this set has slower songs with atypical arrangements. The ghosts of the past are never far from the surface in Ireland, and some interesting issues are raised by her inclusion of the traditional ballad, "Dunlavin Green," about a 1798 massacre that is key to the culture of rebellion: what is to be done with all this political baggage, two hundred years later, now that the "Troubles" are thought to be done, following the Belfast Agreement of 1998? The songs still arise, and so do the feelings behind them -- is it acknowledging history, or tending to old grievances? Either way, the music is lovely, as is Casey's voice, one of the sweetest and most purely "Irish" female voices around. Fans will definitely want to pick this one up, although it is a bit on the doleful side.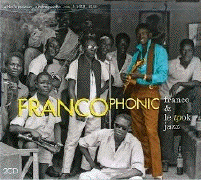 Franco & Le TPOK Jazz "Francophonic: A Retrospective Vol. 1 1953-1980" (Stern's Africa, 2008)



An awesome 2-CD overview of one of Africa's greatest musicians, Congolese bandleader Francois Luambo Makiadi, aka Franco, one of the most innovative and influential guitarists in the African pop scene. This is an luscious, luxurious collection, including some of his earliest work -- including a track from his first recording session, in 1953 -- and arcs forward to 1980, presenting ample chunks of his joyful early years as well as the deep, hypnotic grooves of the funk-laced 1970s. In his later work, long tracks of ten minutes or more were common, and the songs on Disc Two are fabulous examples of African psychedelia at its finest... I also love the early stuff -- there's something very special about West African pop from the 1950 and '60s, and this collection perfectly captures that magical essence. If you want to explore classic African guitar pop, begin here and you'll be off to a great start. Highly recommended!

Corrina Hewat "Harp I Do" (Big Bash, 2008)



An innovative album of solo Celtic harp compositions... I still find the instrument itself a bit too prissy-sounding, but this is as fine a set of modern tunes as you'll ever hear. Scottish harpist Corrina Hewat is perhaps best known for her work with the "folk orchestra" known as Unusual Suspects... Here, you can enjoy her music in its purest, simplest form. Many of these tunes are originals, and all the tracks will be sure to delight harp music fans.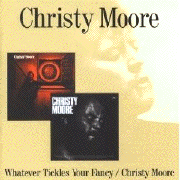 Christy Moore "Whatever Tickles Your Fancy/Christy Moore" (Raven, 2004)


Better late than never: I just finally got hipped to this much-welcome reissue of two of Irish folk legend Christy Moore's earliest solo albums, 1975's Whatever Tickles Your Fancy and Christy Moore, from 1976. Originally issued on the Irish branch of Polydor, these records have languished in major label limbo for ages, much to the dismay of his fans. Recorded after Moore's initial departure from the band Planxty, these records point the way to his future work -- Whatever Tickles Your Fancy starts out acoustic, then slips into a rugged-sounding trad-electric mix, in anticipation of his work with the folk-rock band Moving Hearts. It's not, frankly, the most enjoyable work that Moore's ever done, but you'll want to check it out anyway. Ditto with the next record from '76 -- this one's more strictly acoustic, and a little more fluid-sounding, although overall both albums have a curiously stiff sound to them... Moore would later relax into his sound a bit more, and become a more mature artist, but hearing the youth in his voice and the unsteadiness to his early work is informative as well. Worth checking out!

Karine Polwart "Fairest Floo'er" (Hegri Music, 2008)



After forays into pop-oriented songwriting, Scottish singer Karine Polwart dips back into traditional song wellspring, with a healthy dose of Robert Burns and fine examples of the Child Ballads catalog, such as the sombre "The Death Of Queen Jane." Polwart's voice is as fine as ever -- she's taking on more of that stately, "grand dame" tone that seems inevitable in the best female trad singers -- and the arrangements are simple and elegant, just her and guitar, for the most part, with a bit of piano one several songs. The album has a nice, light touch, and is the first release on her own independent label. If you liked her work with Malinky or the Battlefield Band, you'll want to check this album out as well.

A. R. Rahman/Various Artists "The Best Of A. R. Rahman: Music And Magic From The Composer Of Slumdog Millionaire" (Sony-BMG Legacy, 2009)



With the stunning Academy Awards sweep by the film Slumdog Millionaire, Bollywood music stands poised to make new inroads on the global popular culture, particularly in the United States, where the bedroom dance sequence from Ghost World was probably the last time that more than a handful of the uninitiated got a good dose of India's wildly eclectic pop music scene. This is a top-notch collection of songs by composer A. R. Rahman, who got an Oscar of his own that night, and who is one of India's best-known and most highly regarded contemporary songwriters. The disc opens with an irresistible dance number, "Rang De Basanti", performed by Chitra Daler Mehndi, and branches out into a variety of styles. Although rhythmic toe-tappers are clearly a style that Rahman is master of, sweet, lyrical romantic songs are as well... Kavita Krishnamurthy's vocals on "Dheeme, Dheeme" are gorgeous; they give way to the more sedate, cinematic "So Gaye Hain," one of the mellower Lata Mangeshkar songs you'll ever hear. This is a fine introduction to Rahman's work (there are several others to be found as well...) and an enticing doorway into the world of modern Bollywood pop. Recommended!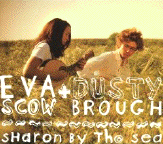 Eva Scow & Dusty Brough "Sharon By The Sea" (Adventure Music, 2009)



Drawing equally on Latin-American and bluegrass traditions, this is perfect melding of the acoustic jazz style pioneered by David Grisman and his pals, and the dynamic Brazilian improv genre called choro. The California-based duo of guitarist Dusty Brough and mandolinist/fiddler Eva Scow -- along with modest accompaniment of a tune or two -- produce a large, expansive sound that will appeal to fans of the original "spacegrass" scene of the late 1970s and early '80s. This album is surely the kind of record Mike Marshall was dreaming of when he started the Adventure Music label: inventive, eclectic and engaging.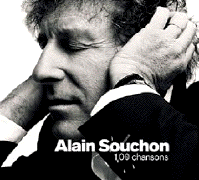 Alain Souchon "100 Chansons" (EMI, 2007)


This 5-CD set gives a good overview of French pop songwriter Alain Souchon's career... There are a few deficiencies, however. The substitution of key early hits from the 1970s with later live renditions is problematic and unfortunate, particularly for the 1977 album, Jamais Content, which for some reason is almost entirely represented by clompy live versions, with clumsy concert arrangements. Oh, well. Then come the 1980s, and while this collection does provide a good representation of his work, the music is pretty awful. Thank god for the 'Nineties: Souchon gets back his mojo and makes some lovely, more measured, music; 1993's C'est Deja Ca and 1999's Au Ras Des Paquerettes are presented almost in their entirety, while in the new millennium Souchon pursues his muse with renewed vigor. Ultimately, I'll probably track down the albums I like and pass this collection along, but it is a good introduction to his work. Also, in terms of material culture, it's a pretty nice package: the slim-lined CD cases fit into a modest cardboard shell that takes up scarcely more shelf space than a regular double-disc set. Definitely worth checking out.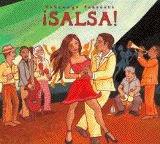 Various Artists "PUTUMAYO PRESENTS: SALSA" (Putumayo, 2009)


A rock-solid set of modern salsa music, mainly from the US and Cuba, but also with popular South American bands such as Colombia's venerable Fruko y Sus Tesos or Juanito y La Agresiva. Although these are all songs recordedin the lastten years, the sound is pure New York-style salsa, derived from the 1970s Fania Records template: catchy melodies, syncopation and unrelenting, sexy rhythm. One through-line is the elegant, inventive piano playing highlighted on most tracks, from delicate, complex improvisatory passages to the thunderous keyboard pounding on Eddie Palmieri's "Sujutate La Lengua." Other old-timers such as Pocho Sanchez and Orchesta Aragon are represented, as well as relative newcomers like Ricardo Lemvo, Grupo Gale and Son Boricua. Unlike previous Putumayo collections that made a point of showcasing salsa bands from unlikely locales, this album opts for power over novelty -- if you want a strong set of dynamic, old-school latin-dance music, this is a pretty strong set. Recommended!
---



World Music Index
Other Recent Reviews


---