<! MP3 10/15/09 > <! pix 10/15/09 > <! archived 10/15/09 > <!*> <! icons 02/20/11 >
---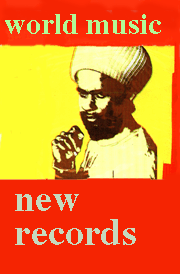 Welcome to my "New World Music" page, which highlights new(ish) African, Asian, Latin American and Celtic records, and "miscellaneous" records that I had the good fortune to check out in July, 2009. This page is added to as new records come in... If you want more to read more reviews, many others are archived nearby, and there are separate sections for various kinds of world music that you might like exploring as well.
---
Recommended Records: July, 2009 | Review Archives
---
<! NOVA LIMA + REMIXES > Bapi Das Baul/Baul Bishwa "Sufi Baul: Madness And Happiness" (Arc Music)
Joe Bataan & Las Fulanos "King Of Latin Soul" (Vampisoul)
Ceu "Vagarosa" (Six Degrees)
Depedro "Depedro" (Nat Geo Music)
Andre Hajj "Amaken: Instrumental Music From Lebanon" (Arc Music)
Victor Olaiya "Victor Olaiya's All Stars International Soul" (Vampisoul)
Ramin Rahimi & Tapesh "Iranian Percussion" (Arc Music)
Jean Sablon "100 Chansons" (box set) (EMI-France)
Tea "Dreams" (Teajuana)

---

Bapi Das Baul/Baul Bishwa "Sufi Baul: Madness And Happiness" (Arc Music, 2009)



(Produced by Bapi Das Baul)
Lively, joyful, beautiful Indian Sufi music, with the giddy rhythmic bounce of Punjabi music and bhangra pop... Nice flute and vocals, too. Some songs have modern soul/hip-hop production touches, but mostly this is a fairly traditional-sounding set. If you enjoyed albums such as Shujaat Husain Khan's Hawa Hawa, you might want to check this out as well. Recommended!

Joe Bataan & Las Fulanos "King Of Latin Soul" (Vampisoul, 2009)



New stuff from one of the legends of '60s Latin-funk boogaloo... Bataan is a Filipino-American from New York who was one of the top-name artists on the legendary Fania label, and had several big hits in the 1970s, including an early rap classic recorded 'way back in '79. This is his second album on the Spanish label Vampisoul, recorded after a two-decade retirement that started in 1981. His voice ain't quite what it used to be, but he's still got a funky band and he sure knows how to party. Nice to hear an old-timer gettin' down and gettin' gritty.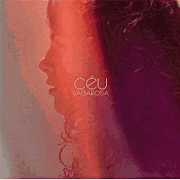 Ceu "Vagarosa" (Six Degrees, 2009)



(Produced by Beto Villares, Gustavo Lenzo, Gui Amabis & Ceu)
Wow. This one's a doozy. I've been getting more and more tapped into Ceu, particularly in her role as the "face" of the newly invigorated Sao Paulo pop scene. Not only is she pals with some of the most creative young musicians in Brazil, but she's a singularly appealing vocalist in her own right; her tone is pleasant, and her phrasing is decisive and strong. This record floored me, though. Indeed, I had trouble getting past the second track, "Cangote": it took me almost a week to quit hitting the rewind button, because I kept getting tingles each time I heard it. It's a rich, fresh mix of styles, a heavy dub reggae, mixed with Brazilian harmonics and some tweaky melodic elements, particularly some Arabic-flavored lead organ and mellotron riffs that bring to mind the Ethiopian groove of Mahmoud Ahmed. It's such a cool song. So totally cool. The track that follows, "Comadi," also shows a strong familiarity with the best classic Jamaican dub, although this time with a ska-like uptempo vibe. Maybe Sly & Robbie never got to cut a session with Gal Costa back in the day, but if they had, it might have been this good. Anyway, a whole album in this reggae stylee would have been fine by me, but the tracks that followed were equally rich and rewarding, blending samba, jazz, bossa nova, indie rock and more dub in an entirely satisfying, confident mix. Along for the ride are Sao Paulo scenesters such as Gui Amabis, Curumin and Beto Villares, as well as a number of guest performers, including old-time soul star Luiz Melodia, who is surprisingly good in his duet cameo. Although there's still some of the sexy, mellow electronica cool of Ceu's labelmate Bebel Gilberto in the mix, these guys have gone way past the chill-room club mix mentality, and they're making some of the most adventurous yet sensuous music modern music coming out of Brazil today. I think you'll really like this record.

Depedro "Depedro" (Nat Geo Music, 2008)



(Produced by Jairo Zavala & Craig Schumacher)
A delectable, super-listenable record from Spanish indie scenester Jairo Zavala, from the band Nat Geo. This set mixes traditional Spanish and modern pop influences, with a bit of contemporary freak-folk and mellow-tronic ambient spaciness... If the blend sounds subtly familiar, perhaps you won't be surprised to hear that Craig Schumacher for Calexico is one of Zavala's collaborators on this album, helping sculpt a gentle, evocative sound that will utterly draw you in. This was one of the big happy-surprise records for me this spring, a disc that stayed glued inside my CD player for weeks on end, with several songs that slipped into my dreams at night. Definitely worth checking out.


<! DePedro may be the first solo album for the man behind the name, Jairo Zavala, but in no way is it his debut. Already a celebrated recording artist in Spain, where he was born and raised, Zavala has spent the past two decades playing, writing, and performing with bands like Amparanoia, Vacazul, Los Coronas, and Calexico. Mixed by Craig Schumacher (Calexico, Giant Sand, Neko Case, Devotchka, The Sadies), DePedro, also the first full-length release for the newly minted Nat Geo Music. >

Andre Hajj "Amaken: Instrumental Music From Lebanon" (Arc Music, 2009)



(Produced by Andre Hajj)
A gorgeous set of traditional Arabic music drawn from the Lebanese tradition. Lute player Andre Hajj is a master of his instrument and though the emphasis of this music is on ensemble performances, he has some fine moments as a soloist. This is particularly true on the gorgeous, meditative solo excursion, "Dafa," in which he shifts delicately from theme to theme, showing an absolute mastery of the repertoire an style. This is a very beautiful album, confidently performed and satisfying on every level. Highly recommended!


<! also with his brother, Raymond Hajj >

Victor Olaiya "Victor Olaiya's All Stars International Soul" (Vampisoul, 2009)



A nice reissue of some raw, raucous Afrobeat from the 1960s and '70s. Nigerian bandleader Victor Olaiya had an obvious allegiance to American funk pioneer James Brown, and often breaks into pen emulation of Brown's famed "The One" beat, alternating this with giddy highlife and proto-juju riffs, sometimes all in the same song. These performances are more rough-hewn than some of Olaiya's contemporaries, but this gives a good sense of the DIY-ish of the old. regional African pop scene. Definitely worth checking out if you're digging deep into the roots of Afrobeat and African funk.

Jean Sablon "100 Chansons" (EMI-France, 2008)


One of France's great romantic singers of the 1930s and '40s, Jean Sablon is a favorite of mine. This is a generously-programmed 4-CD set of his later recordings, which are still corny and cute, despite lacking the antique charm and freshness of his early work. I like the old stuff better, but this certainly has a strong kitschy attraction. Oooh-la-la.


<! Another glorious collection of sweet, sweet songs from Jean Sablon's golden years...This disc easily rivals the ASV album listed above; it's well-programmed and packed full of delicious, doleful, delightfully corny romantic songs (and a few comedic numbers as well...) And oh, that voice! Oooh-la-la! Sablon was surely the greatest crooner in all of France. Highly recommended. >

Tea "Dreams" (Teajuana, 2009)



A sleek world beat/world jazz mix, a true global mix of styles and personnel. The group's main duo of guitarist Franck Balloffet and drummer Phil Bunch were in several earlier global beat bands; along with them here is a host of African performers, including veterans of Manu Dibongo, Angelique Kidjo and Tabu Le Rochereau's bands. The African vocals (in various languages) help propel these tracks through a sometimes syrupy jazz-pop mix... A lot of this is too clubby and house-y for me, but it's certainly an accomplished performance, a tour-de-force, really, if you're into the style. There's also a strong jazz-fusion strain, aided in no small part by British fusion elder Brian Auger, who plays the Hammond B-3 throughout. If you're into fluid, modern world music (and less stuck on traditional sounds) then this is a disc you might wanna check out.
---



World Music Index
Other Recent Reviews


---