<! MP3 02/09/11 > <! pix 02/09/11 > <! icons 02/09/11 > <! archived 02/16/12 * >
---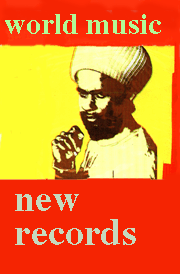 Welcome to my "New World Music" page, which highlights new(ish) African, Asian, Latin American and Celtic records, and "miscellaneous" records that I had the good fortune to check out in Spring, 2010. This page is added to as new records come in... If you want more to read more reviews, many others are archived nearby, and there are separate sections for various kinds of world music that you might like exploring as well.

<! Various Artists "DJ El Chino Presents: Venezuela Salsa World Series" (Walboomers, 2010) -- NOT ON AMAZON as of 5/10 >

---
Recommended Records: Spring, 2010 | Review Archives
---
<! http://www.retroafric.com B001VAA13O 0 SAMBA ROCK comp > Tony Allen "Secret Agent" (Nonesuch)
Altan "25th Anniversary Celebration" (Compass)
Maria Bethania "Encanteria" (DRG/Quitanda)
Maria Bethania "Tua" (Biscoito Fino)
Maria Bethania "Amor Festa Devocao: Ao Vivo" (Biscoito Fino)
Buika & Chucho Valdes "El Ultimo Trago" (Warner-Spain)
Karan Casey & John Doyle "Exiles Return" (Compass)
Ry Cooder & The Chieftains "San Patricio" (Hear Music)
Hamilton De Hollanda "Brasilianos 2" (Adventure Music)
Os Haxixins "Os Haxixins" (Get Hip)
Lhasa "Lhasa" (Nettwerk/Audiogram)
Teada "Ceol & Cuimhne (Music & Memory)" (Compass)
Various Artists "BRAZILIAN GUITAR FUZZ BANANAS" (World Psychedelic)
Various Artists "LE POP, v.5" (Le Pop Musik)
Various Artists "NIGERIA SPECIAL 2" (Soundway)
Various Artists "POMEGRANATES" (Finders Keepers)
Various Artists "PUTUMAYO PRESENTS: LATIN PARTY" (Putumayo)
Various Artists "TRADITIONAL GYPSY FLAMENCO" (ARC Music)

New To Me:
Patrice & Mario "100 Titres D'Or" (Marianne Melodie)
Rosita Serrano "Bei Dir War Es Immer So Schon" (Membran)
Patapio Silva "Flauta Imortal" (Revivendo)
Various Artists "ARGENTINE SWING: 1936-1948" (Harlequin)

---
Tony Allen "Secret Agent" (Nonesuch, 2010)



New stuff from legendary Afro-Beat percussionist Tony Allen, best known for his work with the late Nigerian groovemaster Fela Kuti. Though I haven't heard it yet, this is sure to be a fab, funky outing...

Altan "25th Anniversary Celebration" (Compass, 2010)



One of the great Irish trad bands of the last thirty years, Altan is a showcase for fiddler Mairead Ni Mhaonaigh, who took the craggy, rough-hewn fiddling style of Donegal to an international stage. Here the band celebrates their twenty-fifth year(!) with a new studio album, bolstered by the RTE Concert Orchestra, led by David Brophy. Predictably, the classical-pop orchestrations may not be to the liking of many fans, particularly tradder-than-thou purists, but as with many long-lived, trad-oriented ensembles, I'm sure Altan feel the need to try something new from time to time. The rich, traditional core of their music remains, however, and actually, I don't find the added orchestrations all that intrusive -- mostly they just add emphasis to the traditional Celtic motifs, building on Altan's music, rather than distracting from it. And Mairead's voice is still absolutely gorgeous; both the instrumental and vocal tracks are quite lovely. Definitely worth checking out -- I'm a little surprised to say so, but I like this album a lot.
Maria Bethania "Encanteria" (DRG/Quitanda, 2005/2009)

Maria Bethania "Tua" (Biscoito Fino, 2005/2009)

Maria Bethania "Amor Festa Devocao: Ao Vivo" (Biscoito Fino, 2010)



Buika & Chucho Valdes "El Ultimo Trago" (Warner-Spain, 2009)



Spanish singer Concha Buika and Cuban pianist Chucho Valdes explore the songs of Mexican diva Chavela Vargas, a huge Latin American star in the 1950s and '60s. Buika's fans will appreciate the chance to hear her cut loose on these ripe old weepers... She reaches into the raspier end of her range to roll out the syllables in their most romantic, rueful manner. Nice stuff!


<! El Ultimo Trago is a celebration of Chavela Vargas's 90th birthday. Recorded in Cuba with live musicians this album is a collection of Chavela's greatest hits performed with the powerful vocals only Buika can deliver and accompanied by masterful pianist Chucho Vlades. >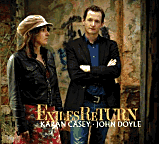 Karan Casey & John Doyle "Exiles Return" (Compass, 2010)



(Produced by Dirk Powell)
An outstanding collaboration between singer-guitarist John Doyle and vocalist Karan Casey, two of the founding members of the Celtic-trad supergroup Solas, who reunite here for a gloriously rich, stripped-down acoustic set. Casey takes the lead on most of the songs, with Doyle singing lead on three tracks (while harmonizing on several others, and providing typically strong, sympathetic accompaniment throughout...) The repertoire is a fab collection of traditional and traditionally-oriented songs, delivered with the soulfulness and depth of understanding we've come to expect from both these artists. Old-timey scholoar Dirk Powell and flautist Michael McGoldrick add subtle support on a tune or two. Beautiful stuff: you can't go wrong with any of these artists.
Ry Cooder & The Chieftains "San Patricio" (Hear Music, 2010)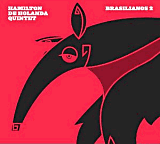 Hamilton De Hollanda "Brasilianos 2" (Adventure Music, 2010)


A zippy, zingy jazz set featuring Brazilian mandolinist Hamilton de Hollanda, in tandem with guitarist Daniel Santiago, bassist Andre Vasconcellos, drummer Marcio Bahia and gaita (harmonica) player Gabriel Grossi, who adds a Mauricio Einhorn-esque touch to the performances. This is a little too manic and modern for my tastes, but contemporary jazz fans might wanna check it out. The album comes along with a second disc of video material, with an earlier edition of the band playing a 2008 gig in France...

Os Haxixins "Os Haxixins" (Get Hip, 2009)



For decades, Sao Paulo has had the reputation as the cradle of Brazil's hard rock scene, with louder guitars and harder rhythms than the more jazz-influenced band of the MPB movement. A modern band, Os Haxixins hearkens back to the half-hidden history of the '60s garage bands that sprang up in Sao Paulo and environs. The band's production is slicker and the delivery more confident than many of the original groups, but the snarly, wild vibe is right, and these guys seem to be having a lot of fun. The predominant sound is a driving, relentless Farfisa organ -- it frequently overwhelms the rest of the group, including the vocalist, but fans of 'Sixties garage rock (Brazilian or otherwise) will dig it. I particularly like that they (mostly) sing in Portuguese, always a plus, as far as I'm concerned.

Lhasa "Lhasa" (Nettwerk/Audiogram, 2009)



(Produced by Lhasa)
A super-artsy, and also super-sad, downtempo indierock set by Lhasa de Sela, an American-born, multiethnic singer who was part of the French rock scene for several years. This album is sung entirely in English, and starts out with a relatively buoyant, Joni Mitchell-esque feel, but inexorably settles into a heavier, darker, somewhat morose mode -- a slowcore set that winds itself down, clocklike, into a state of near-stasis. The effect is intense and arresting, an uncompromised vision that pulls the listener to a full stop as well... It is difficult to assess this album apart from the unfortunate news that Lhasa died, of breast cancer, mere months after the record's release. Although she clearly had to have been confronting this reality through her music, I would hesitate to call the record bleak, or foreboding, although it does seem dark and somber, certainly very serious and weighty. Not a light or poppy record, but certainly one that would be rewarding to attentive, open-hearted listeners.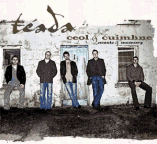 Teada "Ceol & Cuimhne (Music & Memory)" (Compass, 2010)



A lively, rich, densely layered all-instrumental set, featuring fiddle, accordion and flute, the instruments dancing around each other in a series of uptempo tunes, mainly jigs and reels, all played with great clarity and eloquence. In the record's closing half, some slower tunes creep in, soulful airs like "A Sligo Air" and "Clothiers," which add tonal variety and that draw me in a bit more than the fast stuff. Top-notch Celtic musicianship... hard to beat these fellas!


<! 04/10: no producer credits >
Various Artists "BRAZILIAN GUITAR FUZZ BANANAS" (World Psychedelic, 2010)





<! 1. Tema De Batman (Celio Balona) 2. Era Uma Nota De (Loyce E Os Gnomes) 3. I Want To Be Your Man 4. Ourico (Serguei) 5. Lindo Sonho Delirante (Fabio) 6. O Carona (Tony E Som Colorido) 7. God Save The Queen (14 Bis) 8. Dia De Chuva (Banda De 7 Legues) 9. Vou Sair De Cateveiro (Ton E Sergio) 10. As Turbinas Estao Ligadas (Ely) 11. Ele Seculo XX (Com Os Falcoes Reais) 12. Cinturao De Fogo (Marisa Rossi) 13. Som Imaginario De Jimmi Hendrix (The Pops) 14. Que E Isso? (Loyce E Os Gnomes) 15. Heroi Moderno (Piry) 16. The Lantern (Mac Rybell) >

Various Artists "LE POP, v.5" (Le Pop Musik, 2010)


Various Artists "NIGERIA SPECIAL 2 -- MODERN HIGHLIFE, AFRO SOUNDS & NIGERIAN BLUES: 1970-6" (Soundway, 2010)


Various Artists "POMEGRANATES" (Finders Keepers, 2010)



Iranian pop-psychedelic music from the 1960s and '70s... Haven't heard it yet, but it sounds pretty groovy...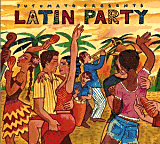 Various Artists "PUTUMAYO PRESENTS: LATIN PARTY" (Putumayo, 2010)


Contemporary Latin dance music from all across the Americas... This is newer stuff, mainly from the last decade (with one older track from 1995) and with a heavy tilt towards Colombia, with tracks from Cuba, Puerto Rico, Mexico, Peru and elsewhere. It's slick, funky, fun modern stuff, and mostly from artists who are well off the radar up here in Los Estados Unidos... There's one track from Colombia's legendary bandleader Fruko Estrada, but other than that, these names will probably be new to most listeners. And in my book, that's a good thing! The music is slick, sensual and well-selected: this collection lives up to its name as a solid party album.

Various Artists "TRADITIONAL GYPSY FLAMENCO" (Arc Music, 2009)



With performances by Los Alhama and Andres Fernandez Amador... modern practitioners of a highly traditional artform. If you're a hardcore flamenco fan, you might want to check this one out.
---
New To Me...
---
Patrice & Mario "100 Titres D'Or" (Marianne Melodie, 2008)



This 4-CD box set is a glorious helping of one of my favorite old-school French chanson acts... The vocal duo of Patrizio Paganesse and Mario Moro, a duo who specialized in "Latin" songs... (They were, after all, of Italian descent, and like many French-Italian singers, they gravitated towards "exotic" material...) Sambas, rumbas, boleros, polkas, cowboy songs -- you name it. If it was foreign to France, they were all over it! What's most striking, though, is how great their harmonies sound... This is one of the smoothest and most enjoyable of these classic chanson collections you're likely to find. Patrice & Mario harmonized together handsomely, and each and every one of these tunes is a lot of fun. This disc gathers material from the late '40s, roughly 1947-49. Highly recommended!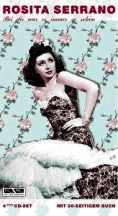 Rosita Serrano "Bei Dir War Es Immer So Schon" (Membran, 2004)


This is one of the weirder world music records you'll ever come across... and that's saying a lot. Rosita Serrano was a genuine South American, the daughter of a Chilean diplomat and opera singer Sofia del Campo... She wound up moving to Germany just as World War Two loomed on the horizon, and made her mark as an "exotic" stage and film star and recording artist during the peak of the Nazi era. Starting in 1938, she recorded hundreds of Latin-themed dance and novelty songs, many written by Germans and other Europeans, some adapted from Latin American sources, but all of them sung -- here's the kicker -- auf Deutsch. What's amazing, though, is that even though she was singing in German and with German bands, these songs have the right feel -- they certainly match the vigor of most of the Cubans-in-exile recordings coming from Paris around the same era. It's the recording dates that are most troublesome: Serrano recorded regularly throughout the war, and clearly had the favor of the German government, which tightly controlled music and artist under its grasp, and banned lots of jazz and ethnic music as being too "decadent," etc. Indeed, the Nazi propaganda minister Joseph Goebbels is said to have personally helped her career, and even though she fled Germany towards the war's end, Serrano became a cultural outcast, reviled by Germans and South Americans in the postwar era. Still, maybe the issue of artists as Nazi collaborators doesn't have the same bite that it did sixty, seventy years ago -- I suppose now we can just listen to the music and hear it for what it was, and Serrano's repertoire is certainly an intriguing cross-cultural melange. The politics are creepy, but the music has its merits.

Patapio Silva "Flauta Imortal" (Revivendo, 1996)


An international star at the turn of the Twentieth Century, Patapio Silva is the big granddaddy of modern Brazilian flautists... Benedito Lacerda, Altamiro Carrilho, all owe a stylistic debt to this showy, inventive player, whose nimble musicianship and puckishness radiate from these ancient recordings. Silva was one of the great popular composers of the Belle Epoque and began recording at the dawn of the Brazilian record industry. This disc includes all the recordings he made for the fledgling Odeon label in 1901(!) including classical tunes by Schubert and Chopin, various Brazilian composers, and nine of his own compositions, which have all passed down into the national repertoire. Silva was a true prodigy, a working-class kid who earned a spot in a prestigious musical academy and broke open social boundaries in Brazilian popular and classical music... Most of all, he was a dazzling performer and although these tracks are not formally considered choro music, fans of that style will want to check this album out: Silva's virtuoso runs are both rugged and masterful, soulful and technically dazzling. The recordings themselves are rough; you can barely hear the accompaniment of piano and other instruments, but really you don't need to... The heady, intoxicating flute is the main attraction, and this collection is pure gold. (Here's a link to the Revivendo label's website, for more info: www.revivendomusicas.com.br

Various Artists "ARGENTINE SWING: 1936-1948" (Harlequin, 1989/2000)


Dude, I had to check it out... Particularly since I am a fan of the Harlequin label, and am always curious about their dips into the obscuro artists of the past. Anyway, this is a pretty solid set of rare, vintage swing and trad-jazz and gypsy guitar recordings from Argentina, all from roughly around the World War Two era... The musicians are a mix of homegrown and expatriate performers. Of particular interest are several tracks by saxophonist Booker Pittman, who had recently moved from Paris to South America, and one featuring French guitarist Henri Salvador, who came to Buenos Aires in 1943, along with Ray Ventura, and hung out for a while to jam with the locals. There was also a group called the Santa Paula Serenaders that featured a female vocal group (Baby Lamar & The Blackbirds) who did a pretty spiffy Andrews Sisters imitation. All of these tracks are top-flight, but it is disappointing that they are so completely North American-sounding... nary a hint of the tango or any other Argentine styles, and when there are lyrics, they are invariably in English. But if you like old-school, pre-bop jazz, this is a great collection, and a fascinating historical excursion.


<! HQ-CD 152 >

---



World Music Index
Other Recent Reviews


---