<! MP3 02/09/11 > <! pix 02/09/11 > <! icons 02/09/11 > <! archived 02/16/12 * >
---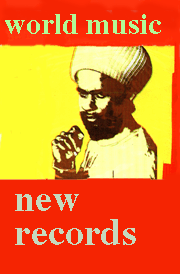 Welcome to my "New World Music" page, which highlights new(ish) African, Asian, Latin American and Celtic records, and "miscellaneous" records that I had the good fortune to check out in Summer, 2010. This page is added to as new records come in... If you want more to read more reviews, many others are archived nearby, and there are separate sections for various kinds of world music that you might like exploring as well.

<! Various Artists "DJ El Chino Presents: Venezuela Salsa World Series" (Walboomers, 2010) -- NOT ON AMAZON as of 5/10 >

---
Recommended Records: Summer, 2010 | Review Archives
---
<! http://www.retroafric.com B001VAA13O 0 SAMBA ROCK comp > Antonio Adolfo & Carol Saboya "La E Ca: Here And There" (AAM)
Joe Barbieri "Maison Maravilha" (Le Pop Muzik)
Gino Bordin "Virtuose De La Guitare Hawaiienne: Paris 1930s" (Grass Skirt)
Jeanne Cherhal "Charade" (Universal/Zoom)
Hilario Duran Trio "Motion" (Alma)
Grada "Natural Angle" (Compass)
Antonio Carlos Jobim & Frank Sinatra "The Complete Reprise Recordings" (Concord)
Merima Kljuco & Amira "Zumra" (World Village)
Old Blind Dogs "Wherever Yet May Be" (Compass)
Septeto Nacional Ignacio Pineiro "Sin Rumba No Hay Son!" (World Village)
Sharon Shannon "Saints And Scoundrels" (Compass)
Solas "The Turning Tide" (Compass)
Various Artists "LE POP, v.5" (Le Pop Musik)
Various Artists "PUTUMAYO PRESENTS: SOUTH AFRICA" (Putumayo)
Various Artists "PUTUMAYO PRESENTS: TRIBUTE TO A REGGAE LEGEND" (Putumayo)

New To Me:
Barry Dransfield "Barry Dransfield" (Spinney)

---

Antonio Adolfo & Carol Saboya "La E Ca: Here And There" (AAM, 2010)



(Produced by Antonio Adolfo)
Brazilian jazz pianist Antonio Adolfo and his daughter, singer Carol Saboya, make a compelling artistic duo... On their previous album, Adolfo went out of his way to shine a spotlight on her, although this time around. I'd say the emphasis is more on his deep jazz roots and on the instrumental and compositional side of his work. (She sings here, but on less than half the tracks...) The repertoire is drawn heavily from American standards by greats such as Sammy Cahn, Jerome Kern, Cole Porter, Dizzy Gillespie ("A Night In Tunisia") and Thelonious Monk (" 'Round Midnight") along with a trio of Adolfo's own compositions and one from the Antonio Carlos Jobim catalog... It's a good showcase for one of Brazil's strongest and most respected hard-jazz practitioners; definitely worth checking out if you're so inclined.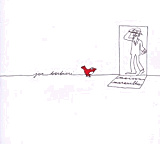 Joe Barbieri "Maison Maravilha" (Le Pop Muzik, 2009)



Great independently produced Italian pop... On his second album, this cool, mellow Italian indie crooner continues exploring his love of Brazilian balladry -- he doesn't cover a bunch of bossa nova oldies, but rather captures the essence of the style in his own original compositions. Barbieri also still sounds uncannily like MPB legend Caetano Veloso, although on this album the arrangements are less ethereal and he works in more of the emotive, grand drama of Italian popular music. In addition to his own songs, Barbieri covers one by Paolo Conte ("Wanda") and another by Henri Salvador ("La Muraille De Chine") which fit in nicely with his own subtle, subtly textured approach. Sweet stuff!
Gino Bordin "Virtuose De La Guitare Hawaiienne: Paris 1930s" (Grass Skirt, 2009)


In the dawning years of the 20th Century, Hawaiian music hit the shores of France pretty much the same way as it did elsewhere, through showcase performances at grand fairs and exhibitions, swiftly followed by tours by pioneering Hawaiian performers. Although the exotic appeal of the new style clicked with listeners, few French musicians were able to master the style, at least not until guitarist Gino Bordin stepped up to the plate. Born in Vincenza, Bordin was one of the tens of thousands of Italian immigrants coming to France after the First World War -- he swiftly moved up in the ranks of France's musical elite, and when the Hawaiian music bug hit him, Bordin became the dominant figure in a particular musical niche. Bordin was one of the first French players to master Hawaiian-style slide guitar, and he applied it to a variety of popular genres, including waltzes, French chanson and musette, as well as good old "hapa haole" Hawaiian songs (novelty pop songs written to appeal to non-Hawaiian listeners). This disc gathers twenty-five prime recordings from Bordin's extensive catalog, recorded for a variety of labels between 1931-1937. The sound quality is great, the accompanying booklet is both chatty and informative, and the music is a lot of fun (although, admittedly, a bit more prim than some of the tunes being recorded by actual Hawaiians during the same era...) All in all, a great historical document with a lot of groovy vintage music... This is the second release from the fledgling Grass Skirt label: let's hope number three is equally exciting.

Jeanne Cherhal "Charade" (Universal/Zoom, 2010)


(Produced by Jeanne Cherhal)
One of the most dynamic and puckish of the new crop of French indie artists, the pixie-like Jeanne Cherhal has gone overboard on this new album, on which she plays all the instruments(!) as well as produced several videos (currently being hosted on her website...) I have to confess, I'm a little on the fence about this one... I've been ga-ga over earlier Cherhal albums, particularly 2006's L'eau, but I do think perhaps Cherhal got a little too into her own head on this one, which includes some playful, melodically tuneful pieces, along with several goofy, more amorphous tunes that lean on the instrumental side and, while she was clearly having fun making the album, aren't quite as compelling as her more structured avant-pop material. If you liked her previous albums. you'll still want to check this out; and who knows, perhaps with time and more examination, this one'll grab us in as well...

Hilario Duran Trio "Motion" (Alma, 2010)



(Produced by Peter Cardinali)
Contemporary latin-jazz, with the emphasis on the "jazz" part of the equation... and on the "contemporary." Although there is some punchy rhythmic work, it's generally subsumed to the softer, more romantic and ornate arrangements, and the complex harmonics. It's a little too lush for me, but fans of modern "smooth jazz" who are looking for something kind of adventurous might wanna latch onto this one.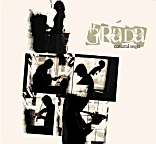 Grada "Natural Angle" (Compass, 2010)



(Produced by Tim O'Brien)
Celtic music is alive and well, and keeping up with the times, and despite extensive changes in the band's lineup, Grada remains one of the most potent forces in the Irish trad-folk scene. One of the band's founding members, flautist Alan Doherty, has moved on, as well as fiddler Colin Farrell, although their replacements, Stephen Doherty and David Doocey are also rock-solid players, equally confident on both traditional and crossover-y material. Singer Nicola Joyce is given front stage during the album's first half, and her style has matured into a husky burr, similar to Celtic grand dames such as Dolores Keane, though also capable of lighter flights, such as her bright vocals on a nice version of Mississippi John Hurt's "Louis Collins." Guest artists abound, including bluegrasser Tim O'Brien, banjoist Alison Brown on a couple of tunes, and Bearfoot's Odessa Jorgensen singing some harmony... All in all, another triumph for this intelligent, youthful band... Give 'er a spin!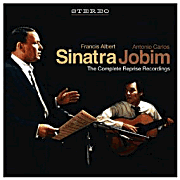 Antonio Carlos Jobim & Frank Sinatra "The Complete Reprise Recordings" (Concord, 1967/2010)



The 1967 collaboration between legendary Brazilian composer Antonio Carlos Jobim and pop-vocals demigod Frank Sinatra was one of those amazing, magical crossover miracles, a meeting of great talents that transcended both artists and brought out a remarkable new synthesis that put each of their careers in a new light. For me, personally, this was all the more remarkable, since I am an avowed Sinatra hater (admittedly, a black mark on my name, but I can't help how I feel...) and yet this album has always wowed me. Anyhoo, the big "wow factor" to this 2010 release is that now, for the first time, the session's "missing tracks" -- previously unreleased in the US -- are finally available and now we can hear all the songs Sinatra and Jobim recorded together... That's the good news. The maybe-bad news is that this edition also features a different sound mix than the original album, a mix that apparently has some fans a bit steamed. Still... nice to be able to hear that handful of songs that were previously only available on a hard-to-find Brazilian LP... Thanks, Concord!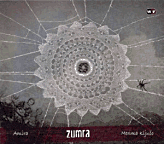 Merima Kljuco & Amira "Zumra" (World Village, 2010)



(Produced by Merima Kljuco)
Bosnian folk music is a little out of my fields of expertise, but this album by accordionist Merima Kljuco and the singer known as Amira is certainly a provocative, challenging set, full of off-kilter, arty arrangements and spooky, keening vocals... It is a "difficult listening" album, but rich with tradition while also decidedly modern and avant. This could fit in nicely with many styles -- haunting, old-school ambient, grating "noise" music, or with other European trad-experimentalists such as Portugal's Madredeus, or Hungary's Muszikas... It's weird and not for everybody, but the right listeners will definitely dig it.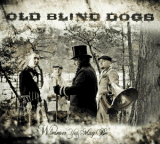 Old Blind Dogs "Wherever Yet May Be" (Compass, 2010)



(Produced by Old Blind Dogs)
This top-flight Irish trad band takes a crossover-y turn, with hints of jam-band rock, Paul Brady-esque soft-pop, a smidge of country and bluegrass (with a dash of dobro on several songs) and a general sense of softening those craggy Celtic edges. It's not quite my kind of trad-folk, but listeners who are looking for bands that are breaking out of the confines of the old-school jigs'n'reels sound will probably appreciate where these guys are headed. Solid performances; just a matter of whether you like the style or not.

Septeto Nacional Ignacio Pineiro "Sin Rumba No Hay Son!" (World Village, 2010)



(Produced by Francisco David Oropesa Fernandes)
A richly satisfying set of traditional acoustic Cuban dance music in the son habanero style... The Septeto Nacional is one of Cuba's longest-lived ensembles: founded in 1927 by composer Ignacio Pineiro, it has survived through political upheavals and changing cultural tides, playing pure, old-school rumba music. This is the fourth generation of musicians to take on the Septeto Nacional's mantle, led by singer and musical director Eugenio Rodriguez Rodriguez, who also goes by the nickname "Raspa." Raspa is a magnificent vocalist, excelling in the shouted, exclamatory style of old-timers such as Beny More and Pio Leyva -- he sings with conviction and joy, buoyed by crisp percussion, sleek tres guitar and a sly trumpet. Fans will also want to take note of the guest vocals by Nacional's infrequent collaborator Bertha Portuondo, on a sizzling version of "La Mulata Rumbera," an old Ignacio Pineiro original. This is all great stuff, solidly in the true, authentic tradition. Recommended!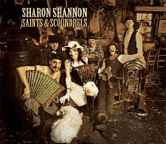 Sharon Shannon "Saints And Scoundrels" (Compass, 2010)



(Produced by Sharon Shannon, Keith McDonnell & John Dunford)
If you put this record on for your average Celtic music fan (assuming there is such a thing) and didn't tell them anything about it, I doubt many listeners would guess that this was an album by Irish accordion wizard Sharon Shannon. A robust, lively mixture of styles, with lusty jug-band blues and rollicking roots-Americana -- along with a healthy dose of Celtic craic -- this album is a radical departure from most of Shannon's earlier work. Sure, the adventurous, acclaimed Ms. Shannon has never shied away from blending genres or stylistic experimentation, but this energetic, joyful set dips deep into the wellsprings of American country and blues, and really brings out a new side to her work. Guest artists include a group called The Cartoon Thieves, as well as Shane McGowan (of the Pogues) and Mike Scott and the Waterboys, who Shannon toured with for many years. It's quite a nice album, with a boisterousness and sense of fun that's completely infectious... Definitely worth checking out!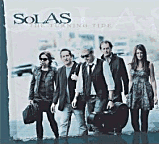 Solas "The Turning Tide" (Compass, 2010)



(Produced by Seamus Egan)
A fairly safe, slightly pop-tinged Celtic trad album... The rougher edges of Irish folk are carefully buffed down in favor of smoother, streamlined melodies, simpler rhythms, a more mainstream feel. It's not an all-out pop-fusion or world-fusion album, but it's notably un-jarring and accessible. Newcomer Mairead Phelan has a very nice voice, reminiscent of Sandy Denny, and the band hums along like a well-oiled juggernaut, playing tightly synchronized riffs, all with a buoyant melodic bounce. It's pleasant and effective, easy on the ears, but some trad fans may wish there were a little more bite.

Various Artists "LE POP, v.5" (Le Pop Musik, 2010)



Another triumphant collection of contemporary French indiepop, gathered by the German-based Le Pop Musik label, who seem to have unerring good taste in this department... If you're looking for guideposts to help you explore the French indie scene, the LE POP series beats all other competitors -- you'll be introduced to dozens of great artists, including many popular and off-the-radar faves. This volume is as strong as the others, with some of my favorite new artists, such as Vincent Delerm, Mathieu Boogaerts and Bastien Lallemant, as well as many others that were new to me. It's a pretty fun set: you can also check out my French Pop section to find out more about some of these bands.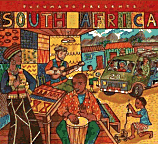 Various Artists "PUTUMAYO PRESENTS: SOUTH AFRICA" (Putumayo, 2010)


A nice sampling of contemporary South African pop, featuring recordings from 1998-2009 (and one anachronistic dip back to the '50s, for a classic Miriam Makeba track, thrown in for good measure...) Like much South African music, the production style is generally too slick and posh for my tastes, but there's some nice, mellow stuff on here. Includes a few English-language tracks, a smidge of rap and soul, and lots of traditional instruments blended with more modern sounds. If you're looking for an update from the township music of the 1980s, this disc would be a good introduction to some f the newer artists.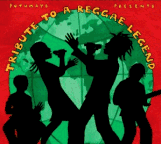 Various Artists "PUTUMAYO PRESENTS: TRIBUTE TO A REGGAE LEGEND" (Putumayo, 2010)


Reggae music travels well, as those who've been to Hawaii... or England... or Africa... or Bulgaria... can testify. This mellow, melodic collection gathers a dozen covers of classic Bob Marley songs, from artists across the globe. It's a very pretty-sounding, easy-on-the-ears set, with two Hawaiian bands (Three Plus and Robi Kahahalau), several African artists, a nice dub track from Brazil's CeU and even a song featuring hippie-billy elder Jonathan Edwards. This isn't a challenging exploration of hidden world-music gems, but it is a nice collection that delivers exactly what it promises: some sweet tunes that's sound pretty nice down by the beach.
---
New To Me...
---

Barry Dransfield "Barry Dransfield" (Polydor, 1972)


(Produced by Bill Leader)
The first solo album by English singer-fiddler Barry Dransfield, a cult favorite and beloved figure in the British trad-folk revival, best known for his work with his brother Robin, and for his participation in the "Morris On" album and other Albion Band-related records. A great mix of traditional themes and kooky, poetical psychedelic flights of fancy. It's all quite nice!
---



World Music Index
Other Recent Reviews


---