<! MP3 00/00/00 > <! pix 00/00/00 > <! icons 02/09/11 > <! archived 02/15/12 * > <! B00440D2SE - Dennis Brown V/A "TO SCRATCH YOUR HEART: EARLY RECORDINGS FROM ISTANBUL B003E3ZKZ0 V/A "BEGINNERS GUIDE TO CUMBIA" (Nascente) V/A "THE WORLD ENDS" (Soundway) V/A "NEXT STOP SOWETO V/A "PSYCH FUNK SA-GE-RA Addrecs V/A "something is wrong" V/A "SOUNDS OF SIAM" V/A "SLOVENIA, USA" Arthur Verocai Mercedes Sosa "Deja La Vida" - last tour Hector LaVoe "Complete, v. 1-2" > <! http://www.retroafric.com B001VAA13O 0 SAMBA ROCK comp >
---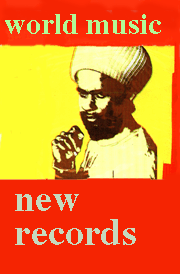 Welcome to my "New World Music" page, which highlights new(ish) African, Asian, Latin American and Celtic records, and "miscellaneous" records that I had the good fortune to check out in Late Spring/Summer, 2011. This page is added to as new records come in... If you want more to read more reviews, many others are archived nearby, and there are separate sections for various kinds of world music that you might like exploring as well.
---
Recommended Records: Fall, 2011 | Review Archives | World Music Index
---
Antonio Adolfo "Chora Baiao" (AAM)
Kiran Ahluwalia "Aam Zameen/Common Ground" (AIS)
John Doyle "Shadow And Light" (Compass)
Les Freres Jacques "Les Premiers Recitals: 1948-1959" (Fremeaux)
Georges Guetary "Anthologie: 1937-1960" (Fremeaux)
The Lijadu Sisters "Danger" (Knitting Factory)
Hossam Ramzy/Various Artists "Rock The Tabla" (Arc Music)
El Rego "El Rego" (Daptone)
Lucas Santtana "Sem Nostalgia" (Mais Um Discos)
Martin Simpson "Purpose + Grace" (Topic)
June Tabor & Oysterband "Ragged Kingdom" (Topic)
Various Artists "OI! A NOVA MUSICA BRASILEIRA" (Mais Um Discos)
Various Artists "PUTUMAYO PRESENTS AFRICAN BEAT" (Putumayo)
Various Artists "PUTUMAYO PRESENTS: CELTIC CHRISTMAS" (Putumayo)
Various Artists "PUTUMAYO PRESENTS LATIN BEAT" (Putumayo)

---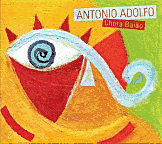 Antonio Adolfo "Chora Baiao" (AAM, 2011)



(Produced by Antonio Adolfo)
New stuff from Brazilian jazz pianist Antonio Adolfo, who explores the music of composers Chico Buarque and Guinga, with a trio of his own originals tunes woven in between a bunch of their songs. Adolfo largely sidesteps the bigs hits of the Buarque and Guinga repertoires in favor of lesser-known material that gives him a chance to stretch the songs out into a jazz context without fear of ruffling the feathers of fans... The album has a soft-jazz/fusion feel, with some elegant piano work, particularly on a pair of songs, "Voce, Voce" and "A Ostra E O Vento," which feature Adolfo's daughter, vocalist Carol Saboya. If you've enjoyed his recent records, or if you are generally into softer contemporary jazz styles, this is certainly worth a spin.

Kiran Ahluwalia "Aam Zameen/Common Ground" (Avokado, 2011)



(Produced by Rez Abbasi)
A real stunner! Indo-Canadian singer Kiran Ahluwalia is no stranger to cross-cultural experiments -- on previous albums she has worked with musicians such as Celtic guitarist John Doyle (of Solas fame) and her husband, producer/musician Rez Abbasi crafting a canny mix of folk, pop and jazz touches into classical Indian music. On this album, she takes it to another level, matching the giddy rhythmic bounce of Punjabi traditional music with the hypnotic pulse of Tuareg rock. Members of two Tuareg bands, Tiniarwen and Terakaft perform on several songs, notably the album's mind-blowing opening track, "Mustt Mustt," which she revisits in two remixes. The musical alloy is seamless, the beats identical and both traditions nurture drones and mesmerizing repetitions; above it all, Ahluwalia soars, her crystalline, gorgeous voice in the same keening pitch as Indian icons such as Lata Mangeshkar, et. al., but without the grating edge of some classical vocals. Ahluwalia takes the softer romantic tones of bhajans and brings them into a beautiful modernity. Am I gushing? Yes I am: this is easily one of my favorite records of the year. Highly recommended.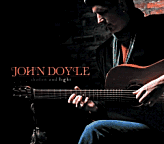 John Doyle "Shadow And Light" (Compass, 2011)



(Produced by John Doyle)
Although he's been around for many years, Celtic folk guitarist John Doyle keeps evolving and taking on new voices... On his latest album he has the stern, earnest passion of Andy Irvine on historically-oriented songs such as "Liberty's Sweet Shore," "Clear The Way" and "Bound For Botany Bay," stories about the Irish emigration to America and Australia; elsewhere he shows some of the odd, slightly askew neo-folk poetics of Barry Dransfield, and as this album came to a close, I heard on songs like "Bitter Brew" a strong similarity to the late Bert Jansch, a prim combination of economical guitar work and a distinctly clipped vocal style. This album bears the stamp of Doyle's Irish-American heritage, recorded in Nashville with backing by several top-tier bluegrassers (Stuart Duncan on fiddle, Todd Phillips on Bass, with cameos by Alison Brown and Tim O'Brien) and perhaps more importantly an entire album's worth of original compositions, with Doyle showing his mastery of traditional song. A little more dour and a little less jaunty than his other recent records, but certainly an album with resonance and heft... Recommended!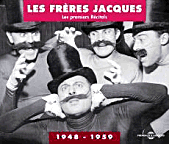 Les Freres Jacques "Les Premiers Recitals: 1948-1959" (Fremeaux, 2010)


A jolly, boisterous 3-CD set celebrating one of postwar France's best musical acts. Les Freres Jacques were a comedic quartet who came together while doing radio work in the late 1940s and, discovering how well they harmonized vocally and artistically, they created an delightfully playful repertoire that celebrated and teasingly lampooned the best of the then-modern French popular song. A lot of the wordplay is beyond me, but the infectious good humor of their performances comes through decades later, especially on the live tracks, where the audiences roar with delight. These discs are intriguing in that they recreate the quartet's carefully rehearsed stage shows, arranging studio recordings in the same order as their old set lists and, in the case of the live tracks, capturing an actual show, complete with the banter and the palpable thrill of the crowd. These discs are a lot of fun, and a great historical treasure, reviving one of the most vigorous musical groups from an era when French music (like American) was moving towards more staid orchestral style. Not this stuff: there's wit, whimsy and plenty of rhythm here... Highly recommended!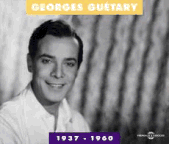 Georges Guetary "1937-1960" (Fremeaux, 2011)


Excellent! This 3-CD set profiles French vocalist Georges Guetary, a star of the 1940s perhaps best known to American audiences for his role as Henri, in the film "An American In Paris." Guetary was a Greek immigrant, born and raised in Egypt, who came to Paris as a teenager and who quickly came into the spotlight thanks to his uncle's connections to the classical music salon scene. He became a protegee of the chanson diva Mistinguett, and was poised to become a star himself when World War Two interrupted life as usual; by the early 1940s, however, he had several hits under his belt, and he became a headliner before the war was over. This collection is quite strong, tracking Guetary's career from his rare first recording (made under his real name, Lambros Worloou, in 1937) to later pop-vocals material in the late '50s and early '60s. The songs are sentimental yet sincere, flowery but not saccharine, bridging the trilling style of of French operette and more tragic romanticism of chanson pop ballads. Included are two tracks from the "An American In Paris" and an entire CD's worth of recordings with bandleader and arranger Jo Moutet, which many consider the apex of Guetary's career. This retrospective towers over other Guetary collections I've heard elsewhere: the scope and the pacing are superb, allowing listeners to really settle into the singer's gentle, joyful vibe, and shows the progression of Guetary's art as well as the changing musical modes of several decades' worth of song. An excellent, authoritative overview of a classic French performer.

The Lijadu Sisters "Danger" (Afrodisia/Knitting Factory, 1976/2011)



(Produced by Biddy Wright)
A very cool reissue of the first album by the Lijadu SIsters, practically the only female stars of the Nigerian 1970's pop scene... The Lijadus, sisters Kenhinde and Taiwo, were relatives of the legendary Fela Kuti and performed behind the scenes as session vocalists, and went on to record their first single in the late 1960s, and later toured with prog-rock drummer Ginger Baker during his early '70s foray into African music. The Lijadus released four albums in the 1970s, all produced by and featuring the music of multi-instrumentalist Biddy Wright, whose distinctive funk-meets-psychedelic guitar work gives an unusual edge to this debut disc. The sisters also have fabulous voices and gorgeous harmonies, particularly on the opening tracks (the album's second half is a bit ragged, but the opening track, "Danger" is awesome...) A genuine gem from the classic Afro-Beat scene. This disc is the first of four straight-up reissues of their music, and is worth tracking down. Look for the other three albums to come out next year...

Hossam Ramzy/Various Artists "Rock The Tabla" (Arc Music, 2011)



A drum lover's delight. Egyptian percussionist Hossam Ramzy convenes yet another all-star world-beat extravaganza, with Indian composer A. R. Rahman, taiko master Joji Hirota and jazz drummer Billy Cobham among the many collaborators. Ramzy anchors the album with his wild, insistent, irresistible rhythms, matched on several tracks by Cobham's incisive, precise snare work (Cobham being no stranger to world music, as a founding member of the Mahavishnu Orchestra in the early 1970s... ) Overall, this album was a bit too manic for me, but the level of musicianship is quite high, and folks who appreciate pure musical chops will find plenty here to make their toes tap and their jaws drop. Some tracks have mellower, more subtle grooves, with highlights including "Rock The Tabla" and "Ancient Love Affair." Definitely worth a spin.

El Rego "El Rego" (Daptone, 2011)



Jittery, chunky, funk-oriented proto-AfroBeat from late 1960s/early '70s West Africa, a collection of rare 45s by Benin-born singer Theophile Do Rego (known by his stage name, El Rego). This is aggressive, high-octane material, very similar to the work of Segun Bucknor and Orlando Julius, which is to say very much influenced by American R&B legend, James Brown. Personally, I'm mre into vintage African pop with a subtler, more African feel, but this is still a disc that many Afrobeat fans will want to check out... The result of some very intensive cratedigging by DJ/collector Frank Gossner... definitely worth checking out.

Lucas Santtana "Sem Nostalgia" (Mais Um Discos, 2011)


Martin Simpson "Purpose + Grace" (Topic, 2011)






<! With guest appearances from Richard Thompson, June Tabor, Dick Gaughan and Fay Hield, the album marks a bold and confident step for Simpson. Building upon the strengths of Prodigal Son and True Stories, like a movie producer, he conceived the whole project over a number of months and then invited some of his favorite musicians to bring their stellar talents to the recording sessions. The material shifts from Anglo-American ballads, Scots and English traditional songs to new compositions from Bruce Springsteen, Richard Thompson, the aforementioned Yip Harburg and Martin Simpson. >
June Tabor & Oysterband "Ragged Kingdom" (Topic, 2011)






<! Twenty-one years ago, June Tabor and Oysterband got together to record what is now recognised as an English folk-rock classic. It wasn't exclusively a folk album, though there were some traditional tracks, but rather an eclectic, powerful reworking of anything from Lou Reed to Shane McGowan. Now, at long last, comes the followup that so many of us have been asking for, and it's no disappointment. The energy is still there, along with the desire to startle and experiment, but so is a new maturity and emotional depth, and even greater variety. The traditional songs include Bonnie Bunch of Roses, in which the stomping backing is never allowed to overshadow Tabor's no-nonsense storytelling; then there's a glorious melodeon and fiddle-backed treatment of Fountains Flowing, that song of parting and grief, and there's delicate, unaccompanied vocal harmony singing on the Scottish lament (When I Was No But) Sweet Sixteen. The contemporary songs range from a fiddle-backed stomp through Dylan's Seven Curses, through to a thoughtful, gutsy reworking of PJ Harvey's That Was My Veil, and a pained, acoustic version of Joy Division's Love Will Tear Us Apart, which features a powerful duet between Tabor and John Jones, who come together again for a very English treatment of the bittersweet Dark End of the Street. This was worth waiting for. --Robin Denselow, The Guardian Product Description Freedom And Rain remains one of the finest collaborative albums of the past three decades. Bringing together the immense, individual talents of the sublime English folk singer June Tabor and the raucous roots rebels Oysterband, it produced something quite new and enduring. When they reunited last year to perform at fRoots Magazine's 30th birthday party at The Roundhouse, they felt the chemistry spark again. And 21 years on, they've made the brand new Ragged Kingdom, a brilliant, belated follow-up that mixes the traditional with the contemporary in startling fashion. ''June Tabor & Oysterband - a marriage made in heaven'' - Rolling Stone. >
Various Artists "CHICAS -- SPANISH FEMALE SINGERS: 1962-1974" (Vampi Soul, 2011)


A truly groovy collection of femme-led "twist" rock and teenybopper pop singles from Franco-era Spain... Fans of French ye-ye and other "foreign" rock scenes will appreciate the raw energy and charming innocence of these performances, culled from countless rare 45s, many from the long-lived Catalonian indie label, Belter. Personally, I love collections that introduce me to music and musicians that I'm not familiar with, and I'm pleased to admit that I didn't know a single artist on here before checking this album out - now I'm a fanatic. There's plenty of stuff that sounds like you'd expect, enthusiastic, uncomplicated kiddie-pop, often delightfully imitative of American and British trendsetters (and several cover songs, such as a fun version of the Rolling Stone's "Off Of My Cloud...") There are also some quirky, more modern tracks from the early '70s, such as Los Que Vivimos's vaguely Abba-esque "Contrapunto" and others that hint at the sunshine pop and nascent disco of the era, along with a legion of perky Petula Clark/Dusty Springfield wannabees. Altogether, a really fun collection well worth tracking down.
Various Artists "OI! A NOVA MUSICA BRASILEIRA" (Mais Um Discos, 2010)



A far-reaching, 2-CD sampler of new Brazilian music, much of it with heavy pop, rock and electronica influences... I haven't heard this one yet, but look forward to checking it out!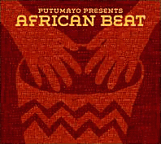 Various Artists "PUTUMAYO PRESENTS: AFRICAN BEAT" (Putumayo, 2011)



A smooth mix of African pop and modern production. The first half of this collection sounded fairly generic but more alluring, ear-bending sounds crept in towards the end, like the angular, unexpected riffs on Donso's "Mogoya," Afro Fiesta's slinky, Marley-esque reggae-funk on "Baweli" and Vieux Farka Toure's Toureg-influenced groove on "Wosoubour." The album closes with "Lagos Sound System" by Les Barons, one of the only tracks that sounds like pure Afro-Beat, in the Fela style (which is kind of what I expected this album to be full of...) The clubby stuff up front didn't do much for me, but like many Putumayo collections, this is full of signposts to a variety of artists and styles that might otherwise be hard to find. Definitely worth checking out!


<! August 30 > <! B005FTRH6Q - nonfunctional MP3 link >
Various Artists "PUTUMAYO PRESENTS: CELTIC CHRISTMAS" (Putumayo, 2011)



Celtic music fans do love their holiday songs, and this collection offers several gems. I'm particularly fond of the translations (into Celtic) of holiday standards, such as Lasairfhiona Ni Chonaola's sleepy, relaxed "Nollaig Bhan," a deliciously understated version of "White Christmas" that was actually commissioned by Putumayo for inclusion in this album. (One wonders: is that the first time Putumayo has done this? Nice move!) I also enjoyed Steve Schuch's instrumental version of "Joy To The World," played on fiddle and mandolin and David Huntsinger's "Angels We Have Heard On High" (played as an Irish reel) which has a similar vibe. Ever nostalgia-bound, Douglie MacLean closes the album with a lovely rendition of "Auld Lang Syne": fitting to have a Scottish singer top things off with this Robbie Burns chestnut. There's also plenty of Celtic harp on here, which is to be expected -- all in all, a nice addition to the growing treasury of Celtic holiday music. A cheerful, sweet set, well worth checking out.

Various Artists "PUTUMAYO PRESENTS: LATIN BEAT" (Putumayo, 2011)



A nice, multi-textured mix of traditional Latin dance styles -- son, cumbia, reggae, flamenco, et. al -- mixed with traces of dancetronica, funk, pop, hip-hop and rock. I like that most of the songs seem to come from a more traditional, Latin-American base, rather than adding "Latin spice" to modern pop songs: the groove is both heavier and more subtle, and several tracks have a pleasantly narcotic, hypnotic groove. Some artists, like Grupo Lokito, play straight-up old-school son while others, such as New Zealand's Sola Rosa tweak things around and bend your ears a bit. Not surprisingly, Columbia and Cuba are the best represented countries, although Spain, the US and UK also get their licks in... I would have enjoyed a bit of Mexico's "Nortec" scene in the mix (some amazing stuff happening there!) but like many Putumayo sets, this can point you in some interesting directions. If you like old-school, but have new ears, you could give this a spin and see what happens.


<! August 30 > <! 02/12: B005FSQ62S - nonfunctional MP3 link >

---
New To Me...
---

Godwin Kabaka Opara & Oriental Brothers International "Do Better If You Can/Onye Ikekwere Mekeya" (Original Music, 1995)


Finally tracked down this obscurity from the Original Music label...
---



World Music Index
Other Recent Reviews


---