<! MP3 01/31/11 > <! update 01/31/11 > <! pix 00/00/00 > <! icons 01/31/11 >
---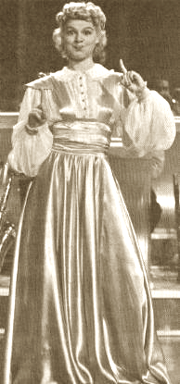 An underrated actress and comedienne from the 1940s wartime era, Betty Hutton was the younger sibling of Marion Hutton, longtime "girl" singer with the Glenn Miller orchestra. A remarkably elastic performer with a powerful range, Hutton's vocal work was augmented by its comedic aspects -- although she was capable of crooning ballads and love songs every bit as sweetly as her big sister, she often yonked and squawked her way through songs, and was a superior onstage performer. Her amazing dexterity in veering from comedy to "straight" singing, changing direction in a heartbeat, made Hutton's musical work even more impressive. Tunes like "I'm Just A Square (In A Social Circle)" and "Can't Stop Talkin' About Him" are impressive just for their swinging, toungue-twisty dynamics; this, along with her facial mugging and easygoing physicality made her unique among female performers of her time -- sort of like Martha Raye without as much sexist baggage.
Hutton's legacy has been obscured over the years, in part due to the hard life she led. The Hutton sisters entered into show business out of necessity. Abandoned by the girl's father, who died when Betty was in her teens, their mother turned to a variety of jobs to make ends meet. Her most successful venture was as a bootlegger, running several speakeasies during the Prohibition Era. The sisters discovered their flair for performing when they began to sing for the customers who came to their mom's bar; later they were hired by sweet band leader Vincent Lopez to sing in his orchestra in the late '30s. Marion Hutton was hired away by Glenn Miller, becoming one of his top singers before Miller joined the Air Force and was lost at sea in 1944. After a fling with RCA, Betty Hutton was signed as one of the first stars on Johnny Mercer's fledgling Capitol label, and became an important early interpreter of his and Frank Loesser's work. She left Capitol at the end of the '40s, having become frustrated that the songs she was pitched tended to be strictly comedic material, often tied to her film performances at Paramount.
Betty Hutton's film roles are perhaps her most enduring legacy... Billed as "The Blonde Bombshell" during World War Two, Hutton starred in about a dozen films, of varying levels of artistic merit. Her best known roles are as Annie Oakley in the 1950 adaptation of the stage play, Annie Get Your Gun, and in Preston Sturges' 1944 wartime comedy, Miracle Of Morgan's Creek, which was one of her few non-singing, serious dramatic roles. Other, less well known films may be more revealing of Hutton's talent, especially those that showcased her manic physical comedy and wide vocal range. In the 1950s, Hutton's career swifty declined -- her fiery temper helped burn bridges in Hollywood, while the new medium of television eluded her grasp. Hutton sank into depression, drug abuse and obscurity, resurfacing in the late '60s and early '70s, as reporters learned of her painful recovery under the care of a small church in Rhode Island. It's a pity Hutton wasn't able to overcome the challenges of the post-1940s show biz scene, as her tremendous talent was really quite impressive. In particular, her brand of exuberant humor seemed to later find a home in the work of Lucille Ball, who's off-the-wall shenannigans echoed Hutton's work a decade earlier. Here's a quick look at Hutton's legacy in music and on film...
---
Discography
---

Betty Hutton "Spotlight On Betty Hutton" (Capitol, 1994)


This Capitol collection concentrates a little more on her more serious straight "pop" stuff, although there are also plenty great goofy tunes, such as "Can't Stop Talking" and Frank Loesser's "Hamlet," which condenses Shakespeare's play into a breathlessly delivered, tounge-twisting pop music tour-de-force. Equally striking are Hutton's more serious turns at romantic material, delivered in a voice as rich and emotive as any other singer in the early pop vocals era. Many of these songs are studio versions of songs featured in Hutton's films -- they often are more solidly arranged and vary somewhat from the onscreen versions. Sadly, this collection seems to be out of print, but is worth searching for. It would be great to see a companion disc come out sometime that included the film version (or better yet, a DVD compilation with the visuals as well!)

Betty Hutton "Best Of The RCA Years" (One Way/BMG, 1996)


A great set of recordings culled from her career before and after she worked for Capitol. It includes her early recordings with Vincent Lopez, as well as later work in the early 1950s on RCA, with plenty of ornate pop production of the time. Tunes like "I'm Just A Square (In A Social Circle)" and "Can't Stop Talkin' About Him" are impressive just for their swinging, tounge-twisty dynamics, and her mugging was what made her unique. This BMG set is certainly deliberately kooky, but also has a few songs that will make your toes curl with their dramatic impact. This collection does have the liability, however, of offering absolutely zilch in the way of liner notes... A shame, really, since Hutton's career was so fascinating, although it probably won't get in the way of your enjoying her great music. Definitely worth tracking down!

Betty Hutton "Hollywood's Blonde Bombshell" (Collector's Choice, 2004)


This budget-line collection is a welcome addition to the Betty Hutton canon... The sound quality is sharp and the performances are uniformly entertaining on these zippy live performances. The come mainly from the "Command Performance" radio show, with dates ranging from 1942-48... And Hutton gives it her all on each and every track. She's accompanied by the orchestras of Ray Noble, Billy Artzt and Meredith Wilson, and she pulls 'em kicking and clapping through some of her best known song. Great stuff! Definitely recommended.
Betty Hutton "At The Saints And Sinners Ball" (Warner Brothers, 1959)


A fine old album, recorded when Betty's career was in decline, but still pretty charming. It's a thematically arranged LP, with one side devoted to faux gospel tunes, and the flip side indulging in mildly raunchy "sinful" songs. Both styles are lustily delivered with punchy, sorta-rockin' R&B-ish pop arrangements -- the sort of goofball, not-quite stuff the squares did to both co-opt and tease the rock'n'roll crowd with in the late '50s. Hutton is game, and though this disc has a slightly forlorn, runaway feel to it, it also has a certain impact. I enjoyed it. (Reissued on CD with ten extra tracks)
Betty Hutton "Hutton In Hollywood" (Vedette, 1974)
An independently-released collection of songs from films shot between 1942-49. As with many of her film-oriented albums, this was released on a sort of off-the-radar specialty label and, as far as I know, is not available on CD. Can't comment on the sound quality either, since I've never heard it.
Betty Hutton/Various Artists "The Fleet's In" (Soundtrack) (Hollywood Soundstage)
Bob Eberly, Helen O'Connell and one of the Dorsey Brothers also provide musical oompf for the soundtrack to the first of Hutton's many Paramount films.

Betty Hutton/Various Artists "Annie Get Your Gun" (Soundtrack) (Rhino, 2000)


The soundtrack to the film that is doubtless Hutton's most famous role. It's probably more fun to see Hutton singing these tunes (especially her fab face-off with Howard Keel on "Anything You Can Do...") but don't let that dissuade you from picking this disc up anyway. The movie version (reviewed below) is a gas, too.

Betty Hutton "Satins And Spurs" (DRG, 2003)


AT LAST! A long overdue update of the Hutton catalog... A new best-of that also includes eight songs from her 1958 TV special, Satins And Spurs, which originally came out on a Capitol 10" and features some of her most brassy, showtunes-y vocals since Annie Get Your Gun. Then comes a much-welcome reprise of her best Capitol material, including "A Square In The Social Circle," "Rumble, Rumble, Rumble," "Doin' It The Hard Way," and others. Not merely a replacement, but an upgrade for the old Capitol Spotlight CD mentioned above. Fans and Hutton-curious alike should snap this puppy up... It's likely to be the best disc of hers we'll see in a long while!
Betty Hutton "Somebody Loves Me" (Sepia, 2005)


Betty Hutton "The Blonde Bombshell" (Jasmine, 2006)


A 2-CD set drawing on a variety of sources..
Betty Hutton "It's Oh So Quiet!" (DRG, 2003)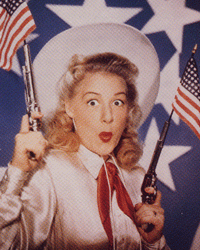 ---
Filmography
---
"The Fleet's In" (Paramount, 1942)


In her screen debut, Hutton plays second fiddle to Dorothy Lamour, but also works opposite the hangdog nebbish Eddie Bracken, in the first of several films they made together.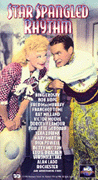 "Star Spangled Rhythm" (Paramount, 1942)



Mega-smoothie Bing Crosby croons the closing number in this flimsily-scripted wartime tossoff in which Paramount Studios hosts a patriotic all-star revue to entertain our men in uniform. Eddie Bracken is a goofy sailor back home to get a girl... Lucky for him that Betty Hutton -- in her first major role -- has her eyes set on him as well. She fast-talks and finagles (in a very Lucy-like way) to get Bing Crosby, Bob Hope, Fred MacMurray and a bunch of other stars to come on board for the (spontaneous, yet amazingly elaborate) really big show, and in the process Hutton gets her man. The song and dance numbers, despite being written by Johnny Mercer and Harold Arlen, are notably not first rate, although the Golden Gate Quartet have a nice cameo (even if they are playing train porters...) and a trio of starlets -- Paulette Goddard, Dorothy Lamour and (aroooogah!! woof! woof!) Veronica Lake -- do a hilarious number together, based on their images as stars. Also notable is a silly, prolonged skit in which men pretend to be women (eek.) and Bing's big patriotic number at the end, which is some of the clumsiest wartime propaganda committed to film. Betty Hutton is given the film's biggest role, and though she hams it up, she's still totally adorable. Let's see more of her!! Film buffs will also enjoy the chance to see director Preston Sturges and studio legend Cecil B. DeMille onscreen.
"Happy Go Lucky" (Paramount, 1943) (DVD-R)

"Let's Face It" (Paramount, 1943)
With Bob Hope...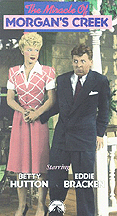 "The Miracle Of Morgan's Creek" (Paramount, 1944)



Probably Hutton's best straight dramatic role (even though this is ostensibly a comedy...) In this surprisingly frank wartime romance, she plays a young, restless smalltown hottie who goes gallivanting off to USO dance (in order to help "boost morale") and winds up, inconveniently enough, pregnant with an unknown soldier's child. Eddie Bracken plays the hangdog hometown schnook who offers to marry her and help cover things up, even though he knows she doesn't feel the same way for him as he does about her (especially since he's 4F and unable to join the fight abroad). As usual, director Preston Sturges embues his characters with a touching balance of human frailty, worldliness and moral resolve... This is one of his best films, and an unusually rich part for Hutton as well. A longtime favorite!


<! B005QPPQJ4 >

"And The Angels Sing" (Paramount, 1944)
With Dorothy Lamour and Fred McMurray.



"Here Come The Waves" (Paramount, 1944)


Split screens and rear projections let Betty Hutton star -- twice -- in this rousing patriotic film about a pair of twin sisters who join the Navy as WAVEs and in the process find true love. One sister, Suzie, holds a torch for world-weary pop singer Johnny Cabot (played by Bing Crosby), while her older sister Rosemary, subjected to Suzie's endless moonstruck swooning, finds both the crooner and his fame repellant. Hutton switch-hits as a ditzy blonde and a responsible redhead, appearing onscreen with herself throughout the film, while Crosby just turns on his natural charm. Actually, he's one of the few actors who was ever able to upstage Hutton -- Crosby's simply more magnetic than she is, and at times their charismas seem to cancel each other out. (She doesn't really come alive onscreen until the end of the film, when she get's to cut loose on the cute "Man In Poughkeepsie" skit, which shows us what gals would be like if they acted like men. Hutton whips out her "little red book," phones a few fellows up, and lets loose with some great song and dance.) Co-starring with Crosby is ex-athlete Sonny Tufts, who while he occasionally muffs his lines, is a pretty solid, amiable presence. The plot creaks a little, but the film provides a great glimpse into WWII popular culture, particularly a concert scene showing the bobbysoxer phenomenon, along with the general ambiance of a nation optimistically at war. On the downside, the blackface routine for "Ac-cent-u-ate The Positive" is disturbing, although the closing number, with several platoons of singing, marching Waves, and a glimpse at their wartime work, is brilliantly staged and worthy of comparison to Busby Berkeley's best choreography. A nice '40s film, and one of Hutton's bigger roles.
"Incendiary Blonde" (Paramount, 1945)


Hutton stars as nightclub queen Texas Guinan, in what became her typecast role: a showbiz gal who gets a little too big for her britches, and finds out that life's lonely at the top. (See also: The Stork Club and Perils Of Pauline, below.)
"Duffy's Tavern" (Paramount, 1945)

"The Stork Club" (Warner, 1945)



A fun film -- one of the best vehicles to really "get" Hutton's full charm. Betty stars as a gal working as a hat check girl in the hottest club in town, in the waning days of WWII. Being wholesome and all-American as she is, when Hutton spots a doddering old man falling into the ocean when she's out for a swim, she naturally saves his life and hauls him back onshore. What she doesn't know is that the old curmudgeon, played in a broad Irish brogue by a winsome Barry Fitzgerald, is really a misanthropic bazillionaire, who is naturally quite moved by her selflessness. He anonymously arranges for her to be provided for financially, but can't resist hanging around to see what happens when she's given all his dough. Complications ensue when her boyfriend comes back from the war and gets bent out of shape wondering who her new sugar daddy is, and she has to try to patch things up. At the heart of this movie is a fabulous performance by Betty Hutton... She's as cute and as charming as they come, and when she does her big comedic song-and-dance numbers, she'll blow your mind. Hutton's vocal range and physical ability are both amazing -- how many people have you seen moon-walk in high heels while belting out a great tune like "Square In A Social Circle"? The other great performance is by the no-nonsense nightclub owner, played by Bill Goodwin, who gets off some crisp one-liners. The plot drags a bit, but this is still a nice wartime B-movie, and a must-see for any potential Hutton fans out there.
"Cross My Heart" (Paramount, 1946)

"The Perils Of Pauline" (Paramount, 1947)



Once again, Hutton plays a show girl whose talent overshadows her grouchy, envious boyfriend, making him cold and rejecting. This time, she plays silent movie actress Pearl White, star of the popular "Perils Of Pauline" cliffhanger serial adventures... The role is mainly dramatic, and though Frank Loesser is the film's songwriter, Hutton only gets in two good numbers before the schmaltz sets in. But what doozies they are! "Rumble Rumble Rumble," about an upstairs neighbor who plays the piano all night long, is a charming novelty song. Hutton's comedic inflection is better on the studio version (heard on Capitol's Spotlight album, above), but it's a gas seeing her singing it live on film. She also really seems to enjoy herself a lot on "Papa Don't Preach To Me," a full-on dance number with a legion of smoothies in top hat and tails whirling her around... Hutton positively beams as she closes the number, knowing that she nailed the take, hands down. The film, directed by George Marshall, is a straightforward melodrama and once again her leading man, John Lund, plays a guy who is a real pill (...those uptight '40s "real men" characters really bug me somehow). The ending, in which a recently paralyzed Pearl still manages to rush to the train station to meet her man, is as preposterous as the Pauline serials the movie satirizes. Still, the film does give a nice glimpse at the early, early, early years of Hollywood, and the ramshackle, seat-of-their-pants production style of the one-reeler studios, and the film's scenes, which play with the transition of film from silent to sound, are pretty clever. Also, check out William Demarest as the grouchy director who makes White a star -- a role that was tailormade for his talents. Not the greatest film ever, but it has its charms.
"Dream Girl" (Paramount, 1948)

"Red Hot & Blue" (Paramount, 1949)

"Annie Get Your Gun" (1950)



Blonde bombshell Betty Hutton stars in this charming musical based on the life of sharpshooter Annie Oakley, who was one of the big stars in Buffalo Bill Cody's wild west show... As Hutton portrays her, Oakley is a Lil' Abner-style backwoods hick, who is hopelessly smitten with the show's original star marksman, Frank Butler (smugly played by the ever-geefy Howard Keel), and she joins up with the troupe in order to win his heart. Hutton is absolutely magnetic -- no matter who is in the scene, all eyes are on her. It's not her best role in terms of conveying her unique performing style (in fact, on many songs Hutton seems to be paying homage to Judy Garland, who was originally cast for the role), but she's still cute as a button. One of the movie's highpoints is her dead-on vocal lampoon of co-star Keel, as she heartily bellows away in Keel's cornball style; her winsome charm and emotional range build Oakley into a nearly three-dimensional character, rather than just a charicature. A cohesive plot, good performances, plenty of fun songs by Irving Berlin and vivid Technicolor make for a classic old-school musical. (The one cringe-worthy moment comes with the patently racist musical number, "I'm An Indian, Too!" in which Annie is inducted into the Native American fold by her 'adoptive' father, Sitting Bull... played by a white guy in heavy dark makeup. Apparently, this number was dropped from the play in the Bernadette Peters revival... yay.) Amazingly, this film had been out of print for decades until the Y2K re-release -- bonus features include a couple of outtakes of songs shot with the then-drug-troubled Judy Garland, before she was dropped from the project. Depressing really, as she seems haggard and somewhat hostile -- the exact opposite of what Hutton brought to the project.
"Let's Dance" (Paramount, 1950)


With Fred Astaire.
"Sailor Beware" (Paramount, 1950)


Hutton has a cameo role only.


<! region 2 >

"The Greatest Show On Earth" (Paramount, 1952)


"Somebody Loves Me" (Paramount, 1952)
Betty Hutton portrays stage actress Blossom Seeley, in a familiar scenario of a show biz gal whose romantic partner is envious of her success. This was her last film made for Paramount; apparently she walked out on her contract after this was made.
"Spring Reunion" (1957)

"Satins And Spurs" (NBC-TV, 1954?)
A made-for-TV musical, with songs written by Ray Evans and Jay Livingston. I'm not sure of the original broadcast date, but there was a 10" EP issued by Capitol, with eight songs including "You're So Right For Me," "Nobody Cares" and "The Little Rock Roll." The soundtrack has made it into print on CD, but I have no information about the TV show itself... Anybody have more information about this one?
---
Links
---
---



Main Jazz Index
Sisters Who Swung




---