<! MP3 03/25/10 > <! update 00/00/00 > <! pix 00/00/00 > <! icons 01/31/11 >
---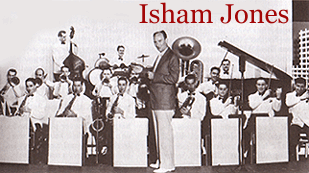 Isham Jones (1894-1956) was one of the most important and most influential bandleaders of the early 20th Century. A Midwesterner who dominated the Chicago scene, Jones resisted efforts to call his music "jazz", although he was clearly a pioneer in developing the sleek, orchestral style of the big band era, and helped popularize dance styles which were considered vulgar and low-class by the elite of the times. In the 1920s, Jones's band was the place for song pluggers to try and get their material performed and recorded. Many Tin Pan Alley standards were first heard in the repertoire of Jones and his orchestra -- Gus Kahn in particular used Jones as a conduit for his work. Like many of the early dance orchestras, the Jones band was also a training ground for some of the best musicians of the big band era: Woody Herman took over the Jones organization in 1936, after Jones went into temporary retirement, and it was here that the Herman's Thundering Herd found its start. Most of all, though, there was the warm, compact, melodic -- and thoroughly enjoyable -- sound of Jones' band. Here's a quick look at that great, great music.
---
CD Discography
---

Isham Jones "...And His Orchestra: 1922-1926" (Timeless, 2000)



A swell selection of Jones' earliest material. The first half of this disc features trumpet work by Louis Panico, a white player whose early-'20s performances were greatly admired by Louis Armstrong, as well as youthful would-be jazzmen such as Bix Beiderbecke and Eddie Condon. Panico was apparently lured away from Jones' orchestra by a rival outfit, but was replaced by Frankie Quartell, who was no sloutch himself. Even this early on, Jones had a clear sense of how to bring out the melody in the then-clattersome jazz idiom... Sweet stuff!

Isham Jones "Plays His Own Compositions" (Swing Time)


Although he was primarily known as a bandleader and popularizer of other people's songs, Isham Jones was also an accomplished songwriter and composer. This CD covers a wide swath of his career, from 1923-1934, and features nearly two dozen songs written by Jones himself (often in collaboration with others). Here, Jones' signature sweetness comes out in its most refined form; you really get a sense of his personal musical aesthetic... Also several of these songs apparently have never been reissued in any form, on LP or CD... so it's worth tracking down if you're an Isham fan. Great stuff -- really, really nice. Good sound quality, too.
Isham Jones "Swingin' Down The Lane" (Memphis Archives, 1995)

Isham Jones "Swingin' Down The Lane" (Viper's Nest, 1994)

---
Recommended LPs
---
Isham Jones "The Great Isham Jones And His Orchestra" (RCA, 1964)
This is pretty much the definitive -- or at least the most widely-distributed Isham Jones album out there. Part of RCA's excellent "Vintage" series, this showcases Jones in the early 1930s, when his band was arguably at it's most sophisticated and polished. The material is sublimely schmaltzy, with a higher-than-normal proportion of vocal material, deliverd by the likes of Joe Martin, Eddie Stone and Frank Hazzard. The instrumental selections are also quite lovely, full of softly-rounded, full tones and warm, expansive melodies. I love this stuff! This disc covers his work on the Victor label from 1932-34. Great sound quality.
Isham Jones "Great Isham Jones And His Famous Orchestra" (Sunbeam, 1973) (MFC-8)
More wonderful stuff from Jones and his band. This LP covers his work on the Brunswick label from 1929-30, and is musically a little more rinky-dink than his better-known material on RCA, but is no less enjoyable. The liner notes are pretty brief -- mainly what's missing is information on the vocalists. Oh, well. It's still fun stuff.
Isham Jones "Swingin' Down The Lane" (Decca/Ace of Hearts, 1966)
More material from Jones's Brunswick years, this time a little later on, in 1930-31. As ever, this British-based label has classy packaging and very good sound quality.
---
Links
---
Red Hot Jazz has a nice essay on Isham Jones which catalogs all of his recordings separately (and includes many sound samples) and also lists many of Jones' sidemen. The article is adapted from Tim Gracyk's book, Popular American Recording Pioneers, 1895-1925. The site also has a separate page detailing the recordings of Jones's Rainbo Orchestra, of the early 1920s.
Wolverine Antique Music Society has a shorter profile of Jones and his band (as well as plenty of info about his contemporaries...)
The Slipcue Crosby Filmography has reviews and comments on a few of Bing's many film appearances. Some great stuff can be found in those old flicks!
---



---