<! cd = 03/30/10 > <! MP3 03/30/10 > <! update 03/30/10 > <! pix 03/30/10 > <! icons 01/31/11 >
---
Buddy and Ella Johnson, a brother and sister pair who recorded some of the most phenomenal R&B of the 1950s, are inexplicably way off the radar, even for most blues and oldies fans. With their driving, powerful sound, the Johnsons can certainly be seen as rock'n'roll pioneers... Ella, in particular, was an absolute dynamo, a majestic blues and soul singer whose voice will completely wow you the first time you hear her belt one out. Here's a quick look at their work...
---
Discography
---

Buddy Johnson "...And His Band: 1939-1942" (Classics, 1996)



This disc captures the Johnsons at the start of their career, as Buddy emerged out of the Cotton Club jazz scene, a talented but obscure pianist who made the leap into starting a band of his own. Here he's solidly in the Chick Webb/Lionel Hampton proto-R&B camp, a swing musician with a strong bluesy bent. As World War Two ground on, Johnson developed a more muscular style, similar to Louis Jordan's, though never losing track of that original blush of big band classiness. Although these early recordings are not as magical as his stuff from the 'Fifties, it's still pretty distinctive, and stands out among this brand of wartime dance music for it's blend of bombast and polish. If you're on the trail of the Johnsons, then this is definitely worth checking out.
Buddy Johnson "...and His Orchestra: 1942-1947" (Classics, 2000)


Buddy Johnson "...and His Orchestra: 1947-1949" (Classics, 2000)


Buddy Johnson "...and His Orchestra: 1950-1951" (Classics, 2000)



Buddy Johnson "Walk 'Em" (Ace, 1996)


This disc tracks Buddy and Ella through the '40s and early '50s, recording for Decca Records. It mainly concentrates on harder, bluesier material... jump blues type stuff. It's good, but not as wicked and sleek as their best stuff on Mercury, a few years later. Ella sings on several tracks, and they're all pretty groovy.

Ella Johnson "Swing Me!" (Mercury-France, 1989)


WOW. This album is the f-ing Bomb...!! Man, oh, man, is this good. Okay, so now let's talk about Ella! What is up with this woman not being at the top of everyone's list of all-time awesome blues-jazz singers?? She was such a distinctive and dynamic a performer that it's amazing no one seems to remember her now. There's some crossover between her style and other, better-remembered gals... If perhaps that other Ella (Fitzgerald) had ever cut loose with some Big Maybelle style blues, gotten her fingers a little dirty from time to time, that would give us a good reference point. Johnson had a rawness to her that anticpated Etta James, but wasn't quite as unruly or uncontrolled. Rather, it was tempered by an uptown swankiness not unlike Dinah Washington's... but again, not as restrained or genteel. If these lofty comparisons stir up your curiousity, then get in line. This stunning 20-song CD is great because it concentrates exclusively on Ella's vocals (whereas most other collections give Buddy equal time...) and collects the best of her material from 1956 and 1957, when she and Buddy had hit upon a killer mix of black rock and latter-day '50s swing. Trust me -- if you can track this import down, don't hesitate to snap it up.
Buddy & Ella Johnson "Rockin' And Rollin" (Collectibles, 1995)


This is an even more concentrated blast of the Johnson's high-power R&B; Ella sings on about half the tracks, but this has the advantage of being relatively easy to find & affordable. Highly recommended!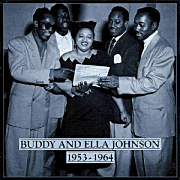 Buddy & Ella Johnson "Buddy And Ella Johnson: 1953-1964" (Bear Family, 1992)


Then again, if price is no object, you might consider tracking down this fab 4-CD box set compiled by the posh German Bear Family label... I often find their box sets a little overwhelming, but you know the sound and the music will be top-notch.
Buddy & Ella Johnson "At The Savoy Ballroom: New York, 1945" (Galaxm, 2003)


A live, concert recording from the tail end of WWII...
Buddy & Ella Johnson "Jukebox Hits: 1940-1951" (Acrobat, 2004)


Buddy & Ella Johnson "Gotta Go Upside Your Head" (Rev-Ola, 2006)


---
Links
---
Songbirds is a pop/jazz vocals treasure trove, collecting articles written by a wide-ranging list-serve group. Includes sappy pop singers and jazz musicians alike... Lotsa great info here, although it looks like the site went on hiatus sometime in 2000... So I'd recommend you check the site out now... while you can! Here's a link to an article someone wrote on Mildred Bailey.
CD Now actually has a nice biographical entry about Bailey on their website.
R. Richard Saville's Jazz Age Page has a nice entry on how Mildred Bailey helped Bing Crosby get his start in show business.
---



Main Jazz Index
Sisters Who Swung
Pop Music Index




---