---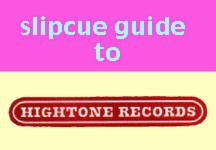 One of the best independent labels around, HighTone Records has a killer track record and a diverse catalog -- hard country, western swing, roots rock and acoustic blues all mingle under this big tent. HighTone has been great at spotting new talent, as well as getting some old-timers back in the public eye -- pretty much want you'd want an indie label to do! Several of the artists listed here also have their own pages that you can click onto.
---
Recommended Hightone Artists
---
---
Recommended Records
---
Biller and Wakefield "The Hot Guitars Of..." (HighTone, 1999)

The pedal steel and Fender Telecaster duo of Biller and Wakefield first met while playing back-up for Wayne Hancock... This is a lovely, mostly instrumental, album which starts off on an EZ mellowtone that would have made Russ Morgan envious, and swiftly gallops off into twangier territory. By and large this is a lot more engaging than other recent entries in the instrumental chic arena... However, there are also some cool vocal tracks, including two by the briefly reunited Dave and Deke, as well as the super-hummable "Steel Crazy," which Big Sandy claims he wrote in the car on the way to the recording session. Well, if that's what his toss-offs are like... no wonder we love him so!
The Calvanes "In Harmony" (HighTone, 2001)

If you've ever spent an afternoon listing to one of those great doo-wop collections that Rhino put out, and found yourself thinking, "why don't they make music like that anymore?", well fear no more... They do make music like that, Virginia! The Calvanes are the surviving lineup of one of an old '50s West Coast doo-wop group... They've recently cut a few records with retro-billy revivalist/guitar god Deke Dickerson, and now they're in the studio on their own, crooning away on a bunch of vocal group standards. It's pretty nice, particularly for a bunch of guys who are well into their middle years.
Johnny Dilks and His Visitacion Valley Boys "Acres of Heartache" (HighTone, 1999)

A strong debut from this San Francisco Bay Area honkytonker. The most obvious comparison is with Wayne Hancock, whose Hank Williams-y whine is nearly identical, though Hancock is a more powerful and consistent singer. Thematically, Dilks is prone to novelty songs, and he zaps off some doozies, such as the hilarious barfight anthem, "Comin' On Thru," which opens the record. Almost all the tracks are Dilks originals, and range from good old-fashioned romp'n'stomps to softer, Louvins/Everly style weepers. The latter style would work better if Dilks had lined up more sympathetic harmony singers, but all in all, this is a top-notch album. Check it out.
Joe Goldmark "Strong Like Bull... But Sensitive Like Squirrel!" (HighTone, 2001)
Local pedal steel luminary Joe Goldmark is back with a mostly-instrumental outing that features his dazzlingly ornate brand of twang-bending. The Mussel Shoals-y pop-R&B arrangements which he favors throughout might not be to everyone's taste, but Goldmark's fluidity and mastery of the instrument are pretty impressive. By the way, anyone interested in the pedal steel are well-advised to check out Don't Quit Your Day Job Records and Goldmark's bio page on the Globe Records website, where love of the mutable note is taken to new heights.
Jessie Mae Hemphill "She Wolf" (HMG, 1981)

Jessie Mae Hemphill "Feelin' Good" (HMG, 1997)

Hemphill is a southern blues singer with a very raw, very distinctive sound. Yeah, sure, after a while all her songs start to sound the same, but it's a pretty cool, compelling sound. If you haven't heard her yet, you really should check her out. It's raw and weird in the way the best old blues players were back in the Great Depression...
Hot Club of Cowtown "Swingin' Stampede" (HighTone, 1998)

A sweet three-piece swing stringband which draws evenly on Tin Pan Alley and western swing standards (Gershwin, Bob Wills and the usual suspects). Their approach to the standards is brisk and bouncy, with nods towards Django Rinehardt, Chet Atkins and Wills himself, as well as Depression-era outfits like the Prairie Ramblers. The lead singers -- guitarist Whit Smith and fiddle player Elana Fremerman -- are limited as vocalists -- but they nonchalantly shrug it off, with the sort of just-plain-folks, come-and-hear-us-play-at-the-cafe attitude which reminds us that you don't have to be a rock god to make good music. For an extra dose of authenticity country/swing veteran Johnny Gimble pitches in on several tunes. Sweet, swinging, and fun to listen to. They're also pretty awesome live.
Hot Club of Cowtown "Tall Tales" (HighTone, 1999)

Their debut was so sharp and so accomplished, it was hard to envision them topping themselves (and not mucking it up) but ... surprise! This album is a real stunner. One big, BIG reason is that this time the trio had Dave Stuckey of the Dave and Deke Combo in tow as the album's producer. Dave has perfect pitch when it comes to reclaiming old-time western swing and hillbilly material, and as a producer he is so faultlessly sympathetic to the goals and passions of the Hot Club, that this album is one of the best of it's kind you're likely to hear. He also adds a punchy, slightly manic energy that is a nice balance to the band's somewhat cool natural demeanor. HIGHLY recommended!
Hot Club of Cowtown "Dev'lish Mary" (HighTone, 2000)

And again, amazingly enough they seem to just get better and better... In the final balance, I do prefer Dave Stuckey's sublimnal rowdiness as producer of the last album, but Texas fixture Lloyd Maines keeps things on a cool, even keel at the helm of this disc. More great old-time acoustic swing, with novelty songs and sweet licks galore. Need I say it? Recommended!
Hot Club of Cowtown "Ghost Train" (Hightone, 2002)

Whether bold or foolhardy, these innovative Austinites have penned a slew of new acoustic swing tunes with a heavier-than-usual dose of Tin Pan Alley jazziness, much of it almost Brechtian in its thickness and lyrical density. I gotta say, even though it makes me feel smallminded to admit it, most of this doesn't really work for me -- it feels belaboured and the band sounds overly-conscious of its own efforts. Besides lacking the spontaneous-sounding bounce of earlier efforts, it also feels like each of the bandmembers are trying to prove themselves as individuals, with Elana Fremerman and Whit Smith competing to sound more "original" than each other, rather than working as an ensemble. Dave Stuckey (of Dave & Deke fame) cowrote a few tunes, although this time they asked Gurf Morlix to produce the album. Still, ya gotta give 'em credit for trying something new, and for pushing themselves as artists... I just wish they could sound a little more relaxed about it. Worth checking out, though!
Bill Kirchen "Tied To The Wheel" (HighTone, 2001)

Over the years, Bill Kirchen has certainly racked up plenty of hours on the road, first as the hotshot lead guitarist for Commander Cody's hard-edged hippiebilly bar band, the Lost Planet Airmen, and then as the tireless roadhouse troubadour we know and love today... So when he sings of the lure of the highway on songs like "Roll Truck Roll," and "Hillbilly Truck Drivin' Man," you can tell the guy knows what he's talking about. Kirchen's band is also one of the tightest, most versatile outfits in the alt.country scene today, and this is one of their best albums in years. The trucking theme continues on the title track and on the humorously post-apocalyptic "Truck Stop At The End of The World"... My favorite track may be his perky cover of Merle Haggard's "Prison Band," where a jailbreak is thwarted by a talent show audition. With three decades worth of touring and recording under his belt, Kirchen shows no sign of slowing down or losing his sense of adventure, which is good news for country fans in every town on the Interstate. Check this one out!
Mark Olson & The Original Harmony Ridge Creekdippers "My Own Jo Ellen" (HighTone, 2000)

The gods must have smiled on the day that Jayhawks guitarist Mark Olson met his wife, the mousy voiced singer-songwriter, Victoria Williams. The two share a uniquely goofy world view, a whimsical, wide-eyed sense of wonder that encompasses the kind of hippie-ish love of gravel roads, thunderstorms and rainbows that fell out of fashion 'way back in the '70s. Their willful naivete comes across loud and clear on this beguiling, off-kilter ode to a nostalgic rural past. Looking through the eyes of a rambling pair of ten-year olds, the Creekdippers take us into the heart of a small desert community, where we meet weary farmers facing foreclosure, elderly agoraphobes learning to face the big world ouside, and dusty faced little kids who talk to god on rainy afternoons. Williams' oddball narrative style and Olson's knack for catchy country-rock refrains compliment each other perfectly, creating delicate songs that defy our most cynical leanings. Every time they begin to sound unbearably precious, something genuinely charming takes hold, tossing us back onto a cactus-strewn country road, where you whistle as you walk and the bees hum along. I love this record!
Tom Russell "The Man From God Knows Where" (HighTone, 1999)

With the recent deluge of Ken Burns-inspired folk/Americana concept albums rehashing the Irish migration to America, I was completely prepared to dislike this record, for a number of reasons, but came away pleasantly surprised. Most of these would-be Americana operas founder heavily on their own pretensions and lack of follow-through. Russell, however, sculpts his disc with a crude enough chisel that the hoary, dissonant voices of the past come through with convincing clarity. The songs are uniformly unromantic, yet affectionate -- more Larry McMurtry than Riverdance. In addition, it's unusual to see an artist subsume himself so thoroughly to the voices of others -- guest stars including Iris DeMent, Dave Van Ronk and Dolores Keane take most of the vocal chores, and Russell shepherds them through their roles as carefully as a film director. With equal skill, he crafts his impressionistic story-songs with an almost leaden style, doling lyrics out line by line, creating a sense that his characters are thinking things through even as we listen in. The result is a palpable authenticity, as well as a credible literary weight. Because there are connecting threads between most tracks, only a few songs stand on their own. It's not the sort of record you would put on in the background to while away an afternoon, but it holds up to close listening, and is pretty compelling.
Sprague Brothers "Forever And A Day" (HighTone, 2000)

This SoCal duo has picked a fairly unique musical path away from the peripheries of the rockabilly-and-surf rock nostaglia scene... Ditching the twitching in favor of tinny teen yearning, the Spragues dive deep into the currents of forgotten teenpop stylings of the earnest, early '60s, Everly-esque variety. At its far edges the Sprague Brother sound takes on a Byrdsy tone, but for the most part it's more reminiscent of the neglected Gene Pitney/Jimmy Clanton school of adenoidal pop. Points are scored for picking a sound that nobody else is attempting, and for tackling it with such a strong appreciation for its nuances and variety. Retro, but in a league of its own.
Hank Thompson "Seven Decades" (HighTone, 2000)

This disc's a real jaw-dropper, just 'cause it's so darn good, and 'cause that Thompson feller ain't no spring chicken. Produced by the illustrious Lloyd Maines, this album frames Thompson perfectly, catching all his strengths as a performer and storyteller, while shifting effortlessly through the various styles he excels at: bouncy western swing; sweet, boozy standards; cheerfully dopey, '70s-style, chicken-pickin' novelty songs and the like. There are old favorites aplenty, along with some new songs such as "Sting In This Old Bee" that fit seamlessly into the Thompson legacy. Most important, the band sounds like its heart is really into it, and that means a lot. This doesn't reach the heights of his late-'50s hits, but if you ever liked his stuff from the '70s, then this will certainly not disappoint you. Recommended!
Dallas Wayne "Big Thinkin'" (HighTone, 2000)

A nice little jolt of old-fashioned rednecky honkytonk, packed with songs about the virtues of heartbreak and heavy drinking, and a pro-country anthem or two. All the songs are written or co-written by alt-country firebrand Robbie Fulks, who also plays on and produced this album. Missourian Dallas Wayne has the perfect voice for belting out Fulks' neotrad anthems, a sort of a George Jones-y growl that just won't quit. He's also got a convincing air of danger about him, like this isn't a guy you'd like to piss off some night down at the local bar. Plus, Fulks turns in his best set of songs since his debut album in 1996... Moe Bandy would be proud of both these boys.
Dallas Wayne "Here I Am In Dallas" (HighTone, 2001)

This time around, Wayne gets the full-on HighTone studio treatment, with a big, rich-sounding, pedal steel-heavy mix that's reminiscent of the best MCA albums of the mid-'70s... The material's still great, too -- plenty of great hard-drinking hillbilly novelty songs, and even a cover of Hank, Jr.'s "Here I Am In Dallas"... A really solid sound, at times perhaps a little too dense for the lyrics to come through, but satisfying nonetheless... Recommended!
Various Artists "TULARE DUST: A SONGWRITER'S TRIBUTE TO MERLE HAGGARD" (HighTone, 1994)

I think this may have been the first Merle Haggard tribute album of the 1990s -- it's certainly the best. Jam-packed with an all-star alt-country cast, the disc includes tracks by Dave Alvin, Dwight Yoakam, Lucinda Williams, Iris Dement and John Doe, as well as several other eminently talented folks who are in the HighTone orbit. What's most striking about this record is its overall high calibre of performances -- most tribute albums are a bit lame; this one doesn't have a dull moment! In fact, never having been a diehard Merle fan, I'd even say that in a few instances these tribute tracks manage to sound more soulful and less stuffy than ol' Hag himself... HIGHLY recommended!
Various Artists "A COLLECTION OF... DRINKIN' SONGS: AN EMPTY GLASS" (HighTone, 2001)

Various Artists "A COLLECTION OF... TEXAS SONGS: TEXAS BOOGIE" (HighTone, 2001)

Two nice labels samplers... It's all old stuff, but if you're new to HighTone, these might give you a sense of the high caliber of their releases.
---
Links
---
The HighTone Records Homepage is funny, informative and easy to navigate. Includes tour information of various bands, as well as information on how to order any of their releases.
---


Favorite Roots Labels
Hick Music Index
Slipcue Main Index


---
Copyright 1998-2006 Slipcue.Com. All Rights Reserved.
Unauthorized use, reproduction or translation is prohibited.
---