---


MCA's Country Music
Hall of Fame


---
MCA is notorious for its stinginess and carelessness with its country reissues, preferring to put out budget-line "best-ofs" for major artists that have as few as 8 or 10 cuts(!) Recently Universal has put out a few nice collections, but for the most part the label sticks to the tightwad policy. One exception was the MCA "Country Music Hall of Fame" series which came out in the early 1990s -- most of the CDs in that series were pretty darn good, and had 16 tracks apiece. Here's a look at those albums (which are still pretty common, even though the series is out of print...), along with a few other choice reissues.
---
The Carter Family "Country Music Hall Of Fame Series" (MCA, 1991)
A sampling of their brief 1937-38 association with Decca Records. The same stark, simple ballads, though the vocals are a little less haunting and perhaps a little less heartfelt than their earlier RCA Victor recordings (which are now all out on CD, courtesy of Rounder Records). Regardless, it's hard to go wrong with the original Carter Family -- this is still prime material.
Jimmie Davis "Country Music Hall Of Fame Series" (MCA, 1991)
Bluesy hillbilly jazz from the future gospel singer and two-time governor of Louisiana. Includes only a few of the smutty blues innuendo tunes he recorded in the 1930s, when he was a devotee of Jimmie Rodgers. Also has his big hit, "You Are My Sunshine" (later to become the state song of Louisiana...) and some nice weepers. If you like the bluesier stuff on here, Bear Family put out two LPs worth of similar material in the 1980s which are worth looking for.
Red Foley "Country Music Hall Of Fame Series" (MCA, 1991)
A tasty sampler of his best years, from 1944-1953, when the pop-oriented country crooner took over the role of emcee on the Grand Ole Opry. This disc is mercifully light on the gospel schmaltz which later would become the sole focus of his career, including instead tracks like the un-PC but catchy-as-all-getout "Tennesee Saturday Night," duets with Ernest Tubb and Kitty Wells, and "The Sugarfoot Rag," with hot picking by guitarist Hank Garland. A nice slice of Nashville history.
Grandpa Jones "Country Music Hall Of Fame Series" (MCA, 1991)
One of the gems of this series. This disc collects all fifteen tracks Jones made for Decca in the late 1950s, and it's a doozy. On several tracks Jones reprises the themes and songs from his '40s heyday, when he recorded with Merle Travis and the Delmore Brothers on the King label. Remakes of old standards "Dark As A Dungeon" and "Mountain Dew" fall a bit flat, although only in comparison to the rawer King originals. Later on, Jones finds his feet with newer material, including a slew of great novelty tunes such as the "protest" song, "Daylight Saving Time" and the rocknroll spoof, "The All-American Boy." Sentimental material provides balance, and tracks like the gospel song, "Falling Leaves" are genuinely haunting. Definitely recommended.
Loretta Lynn "Country Music Hall Of Fame Series" (MCA, 1991)
Not enough to do her justice, but still a pretty solid collection. This sticks to her early-ish stuff on Decca, and has faves such as "Fist City" and "The Pill, " as well as lesser-known but still spiffy selections. There are lots of Loretta best-ofs which have come out since, but this disc won't disappoint you.
Uncle Dave Macon "Country Music Hall Of Fame Series" (MCA, 1991)

Bill Monroe "Country Music Hall Of Fame Series" (MCA, 1991)
Great bluegrass. Picking good stuff from Monroe's Decca catalog is like using dynamite to fish in a barrel. This disc has been superceded by several excellent Monroe releases over the years, but you'd still be plenty happy if you picked this one up.
Tex Ritter "Country Music Hall Of Fame Series" (MCA, 1991)
Here are about half the song he recorded for Decca in the 1930s, when he was a Hollywood box-office star. Several tracks are traditional cowboy songs, though the bulk of them were churned out by Tin Pan Alley tunesmiths, specifically for the movies. Ritter's style is poppy and stiff, but sometimes he hits the mark-- much moreso here than on his later Capitol recordings, which tend towards out-and-out corn.
Roy Rogers "Country Music Hall Of Fame Series" (MCA, 1992)
A beautiful set of "western" songs -- sentimental pop material from old cowboy films. Rogers has a fine voice, and joined here by Bob Nolan and the Sons of the Pioneers, he's got it made. The band is really what makes these tracks wonderful, with the perfect balance of sincerity and polish.
Sons Of The Pioneers "Country Music Hall Of Fame Series" (MCA, 1991)
Outstanding retrospective of the best "cowboy" singers ever; from their first 1934 recordings with Roy Rogers in the band, to their final Decca sessions in 1954 (when none of the original members were left in the band). The disc includes charming topical songs among the standard ride 'em, cowboy sentimental schmaltz (such as the New Deal propaganda of "When Our Old Age Pension Check Comes To Our Door" and the post-Pearl Harbor "Private Buckaroo.") To be sure, the Sons were formulaic, but it's such a sweet sound, you gotta love it. Highly recommended!
Hank Thompson "Country Music Hall Of Fame Series" (MCA, 1992)
Thompson's later stuff, recorded for ABC/Dot Records during the late 1960s and '70s. These tracks don't nearly match up to his stellar work from the late 1940s, '50s and early '60s, but still have a certain charm. The arrangements often work best as kitsch, but if you're a fan of his classic material then this is at least worth checking out.
Floyd Tillman "Country Music Hall Of Fame Series" (MCA, 1991)
One of the great old pioneers of Texas honkytonk, Tillman was an expressive and compelling singer. This collection includes material from 1939-1944, but sadly omits his best known song, the 1949 Columbia single, "Slipping Around," one of first hit records to deal openly and sympathetically with adultery. Nonetheless, this MCA collection is highly recommended, especially since it's the only Tillman record widely in print for during the last 25 years. If you see it, snap it up.
Ernest Tubb "Country Music Hall Of Fame Series" (MCA, 1991)
If you see this, snap it up. It's a very solid -- though woefully inadequate -- collection, featuring the original '40s versions of hits such as "Walking The Floor Over You" and "Letters Have No Arms," which are sublime. Once you get hooked on Tubb, though, these sixteen tracks are hardly enough. Tubb (or "E.T.," as he was affectionately known) was a major pioneer of Texas honkytonk, though he stuck to the clean-cut family values side of the bar; mostly singing love songs, love lost songs and novelty tunes. He was also one of the biggest sellers Decca Records had in the 1940s and '50s. For years, this MCA disc was the only Ernest Tubb record in print domestically, outside of a few random releases on collector labels. Rhino Records and Rounder have both helped fill the void with specialty issues, but the only other alternatives are Bear Family's exhaustive bazillion CD box sets (and 144 Tubb tracks in a row might be a bit too much just about anyone...) or a few tasty LPs which came out on the Cowgirlboy label, which are out of print and hard to find anyway. Hopefully MCA will eventually fill the void; their stinginess so far has been mystifying.
Kitty Wells "Country Music Hall Of Fame Series" (MCA, 1991)
Kitty Wells is, admittedly, an acquired taste. She's the forerunner of all the country women stars who came in her wake; her song, "It Wasn't God Who Made Honky Tonk Angels," was the very first #1 hit by a solo female country singer, and as a singer of weepers and moralistic heartsongs, she's pretty topnotch. But there's definitely a nails-on-the-chalkboard aspect to her voice which must be reckoned with. This CD has a lot of her best material, and is a great introduction one of the biggest stars in the 1950s country scene.
Bob Wills "Country Music Hall Of Fame Series" (MCA, 1992)
Later material from the king of western swing. These 1955-67 recordings on Decca and Kapp Records sit nervously in the shadow of rock'n'roll, tentatively mixing the new style into Wills' already bluesy repertoire. The main problem is that none of the singers Wills used around this time come close to the stylish warmth of Tommy Duncan, the featured vocalist from the heyday of the Texas Playboys. Also, the band sounds a bit weary. Not the amazing, electrifying Tin Pan Alley country-jazz of the 1930s and '40s, though there are some interesting moments. If you're interested in Wills' output during this time frame, this is a pretty good sampler.
---
Other Recommended Records
---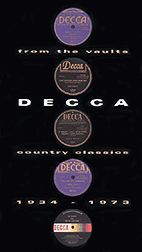 Various Artists "FROM THE VAULTS: DECCA COUNTRY CLASSICS 1934-1973" (MCA, 1994)
Given MCA's generally abysmal track record regarding reissue material, the scope and quality of this fab 3-CD box set is fairly astounding. Although Decca had big-name pop artists such as Bing Crosby to lean on, a pretty hefty chunk of the label's early cashflow came from country artists such as Ernest Tubb, Tex Owens and Rex Griffin... Later on it was Kitty Wells, Red Foley and Webb Pierce who shouldered the load... That's why it's nice to see a classy collection like this that pays tribute to those early hitmakers... Plus, the music is awesome. Sure, most of these artists need more than just one (of many) hits to represent them, but the hits that are on here are all pretty solid. "Cattle Call," "Cool Water," "Tennessee Saturday Night," and the like are all pretty groovy, as are biggies such as Kitty Wells' proto-feminist anthem, "It Wasn't God Who Made Honkytonk Angels", and cornball classics like "If Jesus Came To Your House," by Red Sovine. Better yet are the well-chosen obscurities by artists such as the Shelton Brothers, Goldie Hill and Bill Phillips, who were pretty big in their day, but are unlikely to get a retrospective of their own anytime soon, at least on this side of the Atlantic. I'm pretty sure this collection is out of print, but copies are still floating around, and are well worth searching for.
---
Links
---
I've also got a Decca Records fan page which ineffectually attempts to explain my love of the label (and has lots of pretty pictures...
To see what the label is up to these days, check out the MCA Nashville website...
---


Favorite Roots Labels
Hick Music Index
Slipcue Main Index


---
Copyright 1998-2006 Slipcue.Com. All Rights Reserved.
Unauthorized use, reproduction or translation is prohibited.
---