---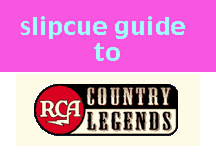 RCA Records was the birthplace of "The Nashville Sound". More than anyone else, RCA's A&R head Chet Atkins is responsible for making string sections, cornball pop backup singers and generalized schmaltz part of the mainstream of country music. It was a freaky Frankenstein style which started in the 1950s and '60s as a reaction to plummeting sales figures in the face of rock'n'roll. Also maybe because the studio heads were bored and wanted to play around with all the new recording techniques the hi-fi age brought in. Unfortunately, it worked so well that it almost completely killed off hardcore country. A handful of artists such as Webb Pierce and Ernest Tubb were able to stay the course, but mostly cheese was the dish of the day.
The Country Legends series is the successor to the 1995-97 RCA Essentials series, which leaned heavily on soft countrypolitan ballads. This time around, RCA seems to be taking more note of the booming, rock-oriented alt.country scene, dipping into more vigorous, upbeat material. On the whole, I'd say it's a big improvement. Here's a quick look at some of the titles in this great series.
---
Recommended Records
---
Eddie Arnold "RCA Country Legends" (Buddah, 2001)

Chet Atkins "RCA Country Legends" (Buddah, 2001)
As RCA Nashville's head of A&R and chief studio producer in the late '50s and '60s, guitar whiz Chet Atkins sculpted the Nashville Sound as we know it, and paved the way for today's lavish pop-country production. This collection is a vast improvement over the previous RCA Essential best-of, if for nothing else, because of the inclusion of the teen-ish "Boo Boo Stick Beat", which is sort of a pre-surf, lounge-rock instrumental that I've long been fond of...
Floyd Cramer "RCA Country Legends" (Buddah, 2001)

Skeeter Davis "RCA Country Legends" (Buddah, 2001)

Yay. This disc is a marked improvement from the overly-slushy Essential collection, which didn't highlight enough of the super-great girl-groupish stuff Skeeter did in the 'Sixties. This set is generally more upbeat, and more rock-oriented, and captures more of Davis' spunky, innovative approach to the Nashville Sound. There's still plenty of room for a more complete, exciting retrospective (2 CDs would cover it...), but this is a good introduction to her work. Naturally, there's some overlap with the previous RCA best-of, but this is much better programmed.
Don Gibson "RCA Country Legends" (Buddah, 2001)

This disc makes up for crooner Don Gibson's mysterious absence from RCA's late-'90s Essential series... Gibson's earliest hits, late '50s ditties such as "Oh Lonesome Me" and "Blue Blue Day," are marvels of compact, bouncy, melodic pop irresistibility. They're a near-perfect hillbilly distillation of the perkiness of classic 'Fifties rock, but with a polished quality that makes them all that much more delicious. Initially, Gibson tried to follow the basic pattern he'd set on these hits, repeating the loping downbeats on tunes such as "Sea Of Heartbreak..." But then he got "soft", or all croony and countrypolitan, which ultimately was a real drag. This disc sticks pretty closely to his earliest material -- all but two songs on here comes from 1958-1961, when Gibson was still regularly crossing over into the Pop charts. On later tracks, such as 1966's "Funny, Familiar, Forgotten Feelings" (an early Mickey Newbury composition) Gibson seems to have lost his perky muse, but fans of early countrypolitan will also find a lot to cheer about on this collection. Recommended!
John Hartford "RCA Country Legends" (Buddah, 2001)

A long-overdue reissue of the late Hartford's early work on the RCA-Nashville label. Sure, this material had its shortcomings... Mostly, it's the forced nature of the lyrics that comes through; it seems as if the studio heads were trying to impose a style on Hartford that didn't quite match up to his unique sense of humor. The half-Dylan, half Don Bowman "oddball" pose sounds a bit stiff, as does the musical backup. Still, this disc has some sweet moments, including the original versions of "Easy On My Mind" and "Washing Machine," as well as the more effective novelty songs, like "Category Stomp" and "How Come You're Being So Good To Me", and "Front Porch," a nice early example of the type of offbeat love song that Hartford later made his own. This disc doesn't include any material off of his final RCA album, Iron Mountain Depot, which remains an unrecognized country-rock masterpiece... Hopefully that means a separate reissue is planned for that album all by itself! In the meantime, check this disc out.
Waylon Jennings "RCA Country Legends" (Buddah, 2001)

This is an awesome 2-CD set of one of my all-time favorite country singers. Waylon's sly, bluesy, matter-of-fact delivery has such a great sound... I have to confess, I prefer the more compact delivery of the earlier single-disc collection on the Essential series (a better record to just put on and enjoy from start to finish), but this new best-of is a fitting tribute to the late Texas legend. Also, it includes way more of his hard-to-find early work when he still hadn't left Nashville to hunker down, back home in Texas. Good collection -- highly recommended!
Ronnie Milsap "RCA Country Legends" (Buddah, 2001)

Just like this CD, Milsap's career started off innocently enough, basically as an imitator of Conway Twitty's gruff-sounding-but-teddybear-soft style... As time went on, he developed his own persona, getting poppier and poppier, paving the way for the ornately produced sensitive-guy crossover artists of today. Like Milsap, this disc gets a little scary towards the end, but it also has its gems... even many of the poppier tunes from the 1980s turn out to be guilty pleasures, even after all these years. A very good overview of his career.
Dolly Parton "RCA Country Legends" (Buddah, 2002)

This disc is probably the single greatest triumph of this series. The previous Parton collections in the Essential series were kind of dismal -- at the least the first voume was, concentrating exclusively on her worst, most pop, material, and then tacking "I Will Always Love You" on at the end, in a nod to the then-phenomenal success of Whitney Houston's cover version. This new CD, though, dispenses with the pop crap and goes straight for the country tunes, dishing out one great song after another. It's really all killer, no filler, and is the kind of best-of that Dolly Parton really deserves. Highly recommended. If they came out with a second volume that was equally as good, I'd pick it up, too!
Charley Pride "RCA Country Legends" (Buddah, 2001)

Once again, kudos to the producers of this series, this time for turning out a highly listenable retrospective of a guy I consider one of the blandest stars RCA had in its 'Sixties lineup. Even though there's considerable overlap between this disc and its Essential series predecessor, this set is mysteriously *much* more engaging... enjoyable, even. Recommended.
Jerry Reed "RCA Country Legends" (Buddah, 2001)

As with the other discs in this series, this is an improvement on the early Essential collection (although that was one of the better ones in that series...) Reed was an RCA protege of Chet Atkins, or at least one of the more notable hotshot pickers to fill his shoes as the studio's house guitarist. His exaggeratedly plunky, cheerfully aggressive style complimented plenty of RCA's early '70s albums, and his solo records often had a lot more grit than the countrypolitan of the time. His hits tended towards half-recited novelty songs, and there are plenty of them on this disc. Among other "new" tracks on this disc is his cover of Dick Feller's anti-automobile anthem, "Lord, Mr. Ford." Recommended!
Jim Reeves "RCA Country Legends" (Buddah, 2002)

Like other discs in this series, this is a real improvement on the previous Jim Reeves best-of, in the Essential series... Admittedly, Reeves was a super-corny crooner, but this time around, BMG's compilers have shifted gears and seem freer to include more of his uptempo material, as opposed to the endless slow ballads that dominated the last collection. This album is a lot more fun than the Essential disc, and is pretty listenable from beginning to end. A nice new look at Reeves's career. Recommended!
Hank Snow "RCA Country Legends" (Buddah, 2001)

Nothing to complain about here... Snow's best-of collections are always a treat. I guess the previous Essential collection was a bit stronger, but this has several different tracks, as well as the big, big hits ("I'm Movin' On", etc.) that we know and love so well... Either way you go, you'll be happy if you check Snow's classic work out.
Dottie West "RCA Country Legends" (Buddah, 2001)

Folks nowadays barely remember Dottie West's days as a "girl" singer back in the '60s, but for a while there she was a groundbreaker. Her material was seldom as swinging or lively as her RCA labelmates Skeeter Davis and Connie Smith, but West certainly held her own as far as chart action went. A slew of her hits are on this disc and, as with other albums in this series, the material is largely more vigorous and exciting than the RCA Essential collection that this replaces. True, there's a lot of overlap, but the eight "new" tracks on this best-of are all pretty welcome. Sappy early countrypolitan, but still worth checking out.
---
Links
---
The recently-revived Buddah Records has been given the bulk of BMG's pop-rock and country oldies reissues, including the "RCA Country Legends" series. As far as I can tell, they've been doing a great job. Plus, their website is pretty user friendly...
For a look at RCA's earlier CD reissues, check out my comments on the 1995-97 RCA Essentials series, which has some overlap with the releases on this page.
---


Favorite Roots Labels
Hick Music Index
Slipcue Main Index


---
Copyright 1998-2006 Slipcue.Com. All Rights Reserved.
Unauthorized use, reproduction or translation is prohibited.
---