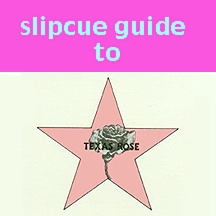 ---
The origins of the Texas Rose label are a bit murky to me -- all I know is that during the 1980s, they had the western swing reissue field practically to themselves. Texas Rose LPs -- retrospectives of half-forgotten artists such as Bill Boyd, William Lee O'Daniel, Ocie Stockard and others -- would turn up here and there, and they would always be quite good. All those albums are, I fear, long out of print, but I'll mention the ones I've heard, as well as the fab CD-era Milton Brown box set listed below. It's all great stuff.
---
Out On CD
---
Milton Brown And His Musical Brownies "Complete Recordings - 1932-1937" (Texas Rose, 1994)

Although most of its records are out-of-print vinyl oldies, Texas Rose had its most brilliant success in the CD age: a stunning 5-disc box set of the complete recordings of Milton Brown and His Musical Brownies, the only band to seriously challenge Bob Wills' early status as the king of western swing. Brown died in a 1937 auto accident, but left behind dozens of killer, jazz-infused country tunes. The sound here is a bit rough -- Texas Rose isn't exactly a multizillion dollar operation -- but the archival value, and sheer fun of the music, is priceless. As far as I know, this is the only record Texas Rose has out on CD, and can still be found with relative ease. (An accompanying book about Milton Brown, written by western swing archivist Cary Ginell, also came out on the University of Illinois Press, and is reviewed in my country books section.)
Milton Brown And His Musical Brownies "Western Swing Chronicles, Vol. 1" (Origin Jazz Library, 2001)

This single CD version of the '94 mondo-Milton box set is definintely all killer, no filler. Great, classic western swing, and a brighter, smoother sound mix. If you can't spring for the multi-disc version, don't worry: this disc will make you happy as a clam. Highly recommended!
---
Recommended Records
---
Bill Boyd "...And His Cowboy Ramblers - 1934-1947" (Texas Rose, 1982)
One of the most neglected, underrated western swing stars of the '30s and '40s... Boyd had an infectiously charismatic, good-natured presence... All his old recordings were a real gas, but few have remained in print or on the radar, even among the devoted ranks of the western swing true believers. Thus, if you find this album, snap it up. It's fun stuff. Vinyl only.
Milton Brown "The Complete Bluebird Recordings 1934" (Texas Rose, 1992)
I'm not sure if Texas Rose had more Milton Brown LPs out in this series, but this disc is pretty swell. All this material is included on the CD box set, but if you're a vinyl enthusiast, then this is an LP worth searching out!
Buddy Jones "Louisiana Honky Tonk Man: 1935-1941" (Texas Rose, 1984) (LP)
One of the rowdiest and most raggedy-ass western swingers, Buddy Jones specialized in smutty novelty songs... His early '30s recordings almost fall more in the country "hokum" camp than as western swing proper, but there's definitely a bit of a bounce here as well. Fans of Jimmie Davis' early hokum recordings will probably enjoy this material. Vinyl only.
The Light Crust Doughboys "Complete Recordings - 1936-1939" (Texas Rose, 1982)
These days folks get their knickers all in a bunch over "product placement" in the movies... Well, how about the good old days of radio, when entire bands were named outright for the products they helped shill on the air? The Doughboys were hired the Burris Mill and Elevator Company in the mid-'30s to push their flour products... and I can't think of a better sales pitch!! One of the top-flight bandds of the era, the Doughboys will still knock your socks off, decades later. Vinyl only.
W. Lee O'Daniel "...And His Hillbilly Boys - 1935-1938" (Texas Rose, 1982)
Wilbert Lee ("Pappy") O'Daniel was one of the most colorful characters in early country history... He was the brains behind getting the Aladdin Laddies to change their name to the Light Crust Doughboys (above), and his history of huckster-like promotional gimmicks even extended to his own life, hiring this band to play gigs using his name, even though he himself wasn't even a musician! Regardless, this is also great music -- even though O'Daniel couldn't play a lick himself, he certainly could spot talent! Vinyl only.
Ocie Stockard "...And The Wanderers - 1937" (Origin Jazz Library, 1981)
This is one of my favorite Texas Rose LPs -- fiddler Ocie Stockard had a more pronounced jazz and Tin Pan Alley streak than many of his backwoods brethren. These are great recordings, with more than a touch of Joe Venuti-style licks throughout. If you can track this disc down, it comes highly recommended! Vinyl only.
The Tune Wranglers "1936-1938" (Texas Rose, 1982)
One of the hottest bands of the 1930s, this San Antonio outfit that had a way with saucy novelty songs, and a real sweet-tooth for jazzy arrangements... Also, check out Joe Barnes' trademark trick banjo playing -- where he plays so fast that the notes start to blur and distort chromatically... another great record from this hard-to-find series. Vinyl only.
Bob Wills "1934-1941" (Texas Rose, 1983)
Some of Wills' lesser-known recordings... at least at the time this LP came out. Actually, this disc has held its own over the years -- many major label releases have gone over the same turf time and again, and diehard Wills fans will be happy with the "new" material on this LP. Vinyl only.
---
Links
---
Texas Rose can be reached via email at originjazz@aol.com
Although the Texas Rose LPs are all long out of print, many of these same artists have found the light of day in the digital age on the German Binge Disc label. Check their catalog out!
---


Favorite Roots Labels
Hick Music Index
Slipcue Main Index


---
Copyright 1998-2006 Slipcue.Com. All Rights Reserved.
Unauthorized use, reproduction or translation is prohibited.
---