---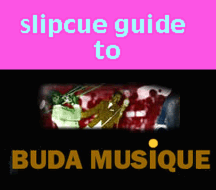 Buda Musique -- This fab French label has a flawless track record as far as I'm concerned, putting their stamp on some of the classiest "world music" reissue series out there. Folks all over the globe are starting to sit up and take notice of the oldies discs spinning our way out of Paris... Here's a sampling of what I've heard so far...
---
Recommended Albums
---
Mama Sissoko "Soleil De Minuit" (Buda Musique, 1999)

Nice, low-key, guitar-based Afropop from Mali, with plenty of layered, hypnotic guitar riffs. This is slickly-produced, but remains engaging and not at all icky. Gentle and relaxed -- really quite nice.
Various Artists "ANGOLA 60s: 1956-1970" (Buda Musique, 1999)

Various Artists "ANGOLA 70s: 1972-1973" (Buda Musique, 1999)

Various Artists "ANGOLA 70s: 1974-1978" (Buda Musique, 1999)

Various Artists "ANGOLA 80s: 1978-1990" (Buda Musique, 1999)
Various Artists "ANGOLA 90s: 1993-1998" (Buda Musique, 1999)

An outstanding series which spans the length of Angolan popular music, from its traditionalist and Congolese-style rumba origins, through the peak years of the early '70s, and on into glossier material recorded in the '80s and '90s. The music is great, as are the liner notes, which among other things describe how many of the best bands were torn apart, politically co-opted -- and in some cases murderously liquidated -- by various military factions following the 1974-75 independence from Portugal. Many of the songs from the late '70s mask political material in pop coating... The music is no less seductive, though, and this is another magnificent series on this French reissue label. Highly recommended.
---
ETHIOPIQUES v. 1: Various Artists
"GOLDEN YEARS OF MODERN ETHIOPIAN MUSIC 1969-1975" (Buda Music/France, 1999)

This first volume is a perfect sampler of all that's best of the series, paying special mind to the slinky soul-and-pop blends that run through the best Ethiopian tracks of the time. One of the best discs in the series -- HIGHLY recommended.
ETHIOPIQUES v. 2: Various Artists
"TETCHAWET! URBAN AMARIS OF THE '90s" (Buda Music/France, 1999)

The series veers sharply away from the mysterious worldliness of the soul-flavored pop into a different urban party style. Although the "azmaribets" - or cabarets - of modern Ethiopia feature contemporary bands, the style sounds (to outside ears) distinctly rustic and old-fashioned. This may be one of the least accessible albums to listeners who are approaching the series from a "pop" orientation, but it's still cool stuff, particularly if you are a fan of African tuareg music, which is somewhat similar.
ETHIOPIQUES v. 3: Various Artists
"GOLDEN YEARS OF MODERN ETHIOPIAN MUSIC 1969-1975" (Buda Music/France, 1999)

This disc picks up where Volume 1 leaves off, with an exotic blend of Ethiopia's five-note scale and Euro-American pop. Another lively, heady set of tunes, with a more pronounced soul flavor on many of the tunes... also highly recommended!
ETHIOPIQUES v. 4: Mulatu Astatqe
"ETHIO JAZZ & MUSIQUE INSTRUMENTALE - 1969-1974" (Buda Music/France, 1999)

This disc documents one man's limited success trying to build a jazz scene in Ethiopia's habitually insular culture. Mulatu Astatqe was classically trained, and while studying abroad, performed in several European and American jazz and latin dance bands. Be brought new musical ideas back with him, and formed several ensembles in Ethiopia that aimed at creating a new musical tradition, almost out of whole cloth. Astatqe's records share a lot of the adventurous mix-and-match quality of the other ETHIOPIQUES artists (he also played in a lot of the other bands featured in this series...) but the jazz thread is pretty distinct. It's not uniformly compelling, though -- improv soloists were presumably in short supply and many tracks simply sound like somewhat marginal easy listening. But if the rest of the series has caught your attention, this is worth checking out, to round off your appreciation of the big picture.
ETHIOPIQUES v. 5: Various Artists
"TIRIGNA MUSIC - 1970-1975" (Buda Music/France, 1999)

Certainly some of the most distinctive music in this series, "Tirigna" music comes from the northern part of the Ethiopia, near Eritrea. The style features squeeky vocals and instrumentation... all of which is made even more appealling with the introduction of modern instruments such as electronic keyboards -- into the mix. Unfamiliar to Eurocentric ears, but hardly less accessible, Tirigna music is also built on a five-note scale, but has a radically different sound than other Ethiopian styles. Definitely worth checking out.
ETHIOPIQUES v. 6: Mahmoud Ahmed
"Almaz - 1973" (Buda Music/France, 1999)

Mahmoud Ahmed is probably the single best-known Ethiopian musician in the world today. His 1975 album, Ere Mela Mela, (reviewed below) was a watershed record for African pop, following its reissue by a European label in the mid-1980s. Ahmed's uniquely hypnotic style is a mix of what can most efficiently be described as Middle Eastern bellydancing music with African pop, American soul and jazz. It's got a distinctly mystical bent to it, elusive and enthralling, and is one of the clearest demonstrations of just how distinct Ethiopian music is from the rest of the African styles. These earlier recordings are less sleek than the reknowned Ere Mela Mela, but all the elements are in place. Fans of Ahmed's music will find this disc a must-have as well.
ETHIOPIQUES v. 7: Mahmoud Ahmed
"Ere Mela Mela - 1975" (Buda Music/France, 1999)

Probably the single most accomplished -- and magical -- album to come out of Ethiopian groove's golden years. This disc contains the entire original Ere Mela Mela LP, as well as several "new" tracks from the archives of the Kaifa label. Ere Mela Mela is the flagship release of the rejuvenation of interest in Ethiopian music; in 1986 it was reissued on the Crammed Disc and Hannibal labels, and blew the minds of world music fans worldwide. Ahmed had, quite simply, one of the fattest and most sensuous grooves of anybody, anywhere, projecting the vibe of master musicians who transcend their own styles and connect with the hearts of listeners across many divides. It's a great record. Almaz (Volume 6) shows the earlier incarnation of this style, but this is its perfection. Highly recommended.
ETHIOPIQUES v. 8: Various Artists
"SWINGING ADDIS - 1970-1974" (Buda Music/France, 1999)

This may be the funkiest volume yet in this supreme series, concentrating exclusively on funk and R&B oriented artists who took their cues straight from James Brown and the early '70s soul scene. More surprisingly, there are several tracks with a heavy New Orleans stroll influence... stuff that would have made Ernie K-Doe and Dave Bartolemew proud. Even without the exoticism of hearing this great lost pop, these tracks are pretty catchy on their own... some of these grooves are really heavy! Wild stuff and highly recommended.
ETHIOPIQUES v. 9: Alemayehu Eshete
"1969-1974" (Buda Music/France, 2000)

When folks talk about Ethiopian pop in terms of "groove" or "world beat", the singer Alemayehu Eshete should be at the top of the list. Eshete's music derives straight lineage from American rock'n'roll, with hints of New Orleans R&B and outright teenybopper pop throughout; he's one of the most "Western" of the great Ethiopian pop stars. There's also more than a smidge of James Brown-styled funkiness here, filtered, naturally, through the peculiar stylings of the Abyssinian folk sounds. This CD is truly an amazing set, collecting about half the material Eshete released in the days of "Swinging Addis". It's unfortunate but understandable that several of his best songs are not included on this album -- they are instead heard on Volumes 2 and 8 of the ETHIOPIQUES series. There inclusion elsewhere is noteworthy because they are some of the best songs in the entire series, but unfortunate for Eshete's legacy since this current volume then lacks some of his hardest rocking, grooviest recordings. Nonetheless, what's on here is pretty incredible -- this disc will not disappoint!
---
Various Artists "MUSIQUE DU NORDESTE v. 1: 1916-1945" (Buda Music/France, 1999)

Various Artists "MUSIQUE DU NORDESTE v. 2: 1928-1946" (Buda Music/France, 1999)

Two stunning CDs of distinctive and primordial music from Brazil's Northeastern states, including some of the earliest forro classics. This series is very similar to other recent collections of early Brazilian recordings, but if anything it digs a bit deeper, and has a stronger regional flavor. Most folks will enjoy the second disc more -- its melodies are more modern and gentle, whereas the first disc is starker and has a close affinity to the style of Portuguese fados and ballads found on the Heritage label. Featuring long-lost artists such as Luperce Miranda, Joao Pernambuco, Irmaos Valenca and -- of course -- forro founder, Luiz Gonzaga. HIGHLY RECOMMENDED.
---
Links
---
The ETHIOPIQUES series was reviewed in The SF Weekly, December 13, 2000 issue... (Gosh that L.Kay guy has a way with words...)
Buda Musique has a nice website, which includes info (and a chance to mailorder) all the records listed above, along with plenty of other stuff I haven't had a chance to hear yet...
Allegro Music distributes all of Buda's releases within the U.S., as well as several other fine world music labels.
---


World Music Index
African Music
Slipcue Main Page



---
Copyright 1998-2006 Slipcue.Com. All Rights Reserved.
Unauthorized use, reproduction or translation is prohibited.
---