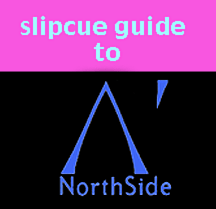 ---
Okay, so Northside Records isn't exactly a Celtic label, per se, but what fan of Celtic music could fail to go ga-ga over such a great source of fiddling and weirdo acoustic artists? In recent years, there's been a huge resurgence in traditional and experimental acoustic music in the Viking lands, particularly in Sweden, where the bulk of the Northside artists hail from. Dedicated to making the music of the best new Scandanavian artists available to folks here in the States, Northside is one of the most dynamic, challenging world music labels around... particularly recommended for fans of fiddling -- these Swedes have all kinds of exotic, spooky-sounding multi-stringed fiddles, and all kinds of ways to play them. Here are some recommendations!
---
Recommended Records
---


Various Artists "Nordic Roots" (Northside, 1998)

Various Artists "Nordic Roots v.2" (Northside, 1999)

These collections are definitely your single best bet if yo want to check out what Northside has to offer. When the folks at the label bill these two samplers as "cheaper than food", they mean it! At two bucks a pop, either disc is sure to give you more sustenance than your average falafel or burger joint, plus you'll get a chance to hear all this wild, weird Swedish stuff. These feature many of Scandanavia's best new artists, including Hedingarna, JPP, Vasen and others... Both CDs are highly recommended!
Various Artists "Nordic Roots v.3" (Northside, 2002)
Aly Bain & Ale Moller "Fully Rigged" (Northside, 2001)

Lovely fiddle music featuring Aly Bain (of the Scottish band, Boys Of The Lough) along with Nordic mandola whiz, Ale Moller, of the band Frifot. The two are obviously very much in synch with other, and this is a very dreamy, pleasant album. Interesting blend of the Celtic lilt and the Nordic lurch... Recommended!
Anon Egeland "Anon" (Northside, 1999)

Of the Northside releases I've heard, I'd have to say this is my favorite. Not only is there greater stylistic variety - Egeland switches between bouncy, surging fiddle tunes to moodier, guitar-led pieces with equal ease -- but the album also has a sort of brooding soulfulness and magical quality that I find rather appealling. Highly recommended!
Fiamma Fumana "1.0" (Northside, 2001)

As the numeric title suggest, this is a high-tech pop crossover, featuring the plaintive vocals of an Italian vocalist, Ms. Fiamma Orlandi, laced over a rather house-y musical backdrop. While her voice is lovely, its the last part -- the "house" bit -- that sinks this one for me. I'm just not into the glitzy electronic music, although many others may enjoy this more than me...
Fiamma Fumana "Home" (Northside, 2003)
Fiamma Fumana "Contatto" (Mescal, 2005)
Fiamma Fumana "Onda" (Mescal, 2006)
Garmarna "Garmarna" (Northside, 1993)

The groundbreaking first album by this revered Swedish folk group. On the opening track, this inventive quartet runs a bit close to the edge of elves-and-druid terrain, or even sub-Riverdance goofiness, what with the use of rousing drums and a twangy jew's harp. But things sober up quickly and on the whole this album is both creative and stately, full of odd melodic twists and playful musical challenges. Definitely worth checking out. (Re-released in 2003 with extra tracks.)
Garmarna "Vittrad/Withered" (Northside, 1994)
Garmarna "Guds Speleman/God's Musicians" (Northside, 1996)
Garmarna "Vedergallningen/Vengeance" (Northside, 1999)
Garmarna "Hildegard Von Bingen" (Northside, 2001)
Groupa "Utan Sans" (Amigo, 1988)
Groupa "Imeland" (Northside, 1995)
Groupa "Fifteen Years" (Northside, 1998)
Groupa "Lavalek" (Northside, 1999)

Singer Sofia Karlsson has a lovely voice, in the same evocative mode we've grown used to from Celtic artists such as Dolores Keane and Mairead Ni Mhaonaigh, but the new-fangled, crossover oriented arrangements are a bit on the goofy side... for my tastes at least. Again, fans of more experimental, modernized acoustic music may really enjoy these folks...
Hedningarna "Hedningarna" (Northside, 1987) (NSD-6057)

One of the most intriguing (and popular) of the bands in the Northside stable, Hedningarna focus their musical energies on the obscure Finnish region of Karelia, half of which was swiped by the Russians in 1945. Hedningarna's stylistic breadth is considerable, including Slavic and Middle-Eastern influences which may bring to mind Balkan groups such as Kitka, The Mysterious Voices of Bulgaria, and the like. Singers Anita Lehtola and Sanna Kurki-Suonio both have absolutely lovely voices; the bouncy arrangements may be a little goofy -- or even grating, depending on your temperament and tastes -- but this ensemble is undeniably adventuresome and challenging, and well worth checking out. The all-instrumental Hedningarna album is one of their simplest and best.
Hedningarna "Hippjokk" (Northside) (NSD-6003)
Hedningarna "Kaksi!" (Northside) (NSD-6007)
Hedningarna "Tra" (Northside) (NSD-6008)
Hedningarna "Karelia Visa" (Northside, 1999) (NSD-6025)
Hedningarna "1989-2003" (Northside, 2003)
Maria Kalaniemi "Maria Kalaniemi" (Green Linnet/Xenophile, 1992)
Maria Kalaniemi "Iho" (Hannibal, 1995)
Maria Kalaniemi & Aldargaz "Ahma" (Northside, 1999)
Maria Kalaniemi & Sven Ahlback "Airbow" (Northside, 2001)

A moody, beautiful set of fiddle and accordion pieces featuring Finnish accordionist Maria Kalaniemi and Swedish fiddler Sven Ahlback. This subtle set is very close in temperament to Irish fiddler Martin Hayes' best work. This is a lovely record to have on when you're in a quiet, but slightly offkilter mood. Lovely; highly recommended. Note: Kalaniemi has also worked with groups such as Accordion Tribe, Aldargaz, Niekku, and the Unto Tango Orchestra, with a variety of collaborator spread across continental Europe.
Maria Kalaniemi & Timo Alakotila "Ambra" (Amigo, 2001)
Maria Kalaniemi & Sven Ahlback "Ilmajousi-Luftstrak" (Amigo, 2001)
Maria Kalaniemi Trio "Tokyo Concert" (Amigo, 2004)
Maria Kalaniemi "Bellow Poetry" (Alula, 2006)
Mari Boine "Gavcci Jahkejuogu (Eight Seasons)" (Northside, 2003)

Mari Boine "Remixed" (Northside, 2003)

Bracketed by quotes of ancient Roman accounts of the Empire's first contact with the "wild" nomadic peoples of Scandinavia, these mellow electronic forays recall Bjork's ethereal style, but also drift into looser "joik" vocalizations that sound oddly like Native American tribal chanting. Shamanistic singer Boine works here with a variety of mixmasters; not as raw or as folky as other Northside releases, but some "world beat" fans will find this thrilling.
Anders Norudde "Kan Salv/Himself" (Northside, 2000)

Hedingarna's piper and fiddle player Norudde goes out solo on a striking instrumental album that highlights his affinity for Middle Eastern and Celtic melodies. The keening of bagpipes and the flutter of flutes dance throughout, as does his proficiency on a wide variety of styles. Pretty cool.
Anders Norudde "Med Hull Och Har" (2003)
Anders Norudde & Lennart Gybrant "Bondernas Underverk" (2005)

Nyckelharpa Orchestra "Byss-Calle" (Northside, 2000) (NSD-6051)

A six-piece group specializing in the multi-stringed nyckelharpa keyed fiddles. As it turns out, there are several types of nyckelharpa - altnyckelharpa, tenornyckelharpa, the plain old nyckelharpa nyckelharpa, and one called a kontrabasharpa. All are on display here, as this Stockholm ensemble pays tribute to 19th Century composer Carl Ersson Bossa - who went by the nickname of "Byss-Calle." As ever, the sound is striking and impactful, though for my personal taste it lacks the lilting touches and stylistic variation that makes many other Northside releases seem so magical.

Ranarim "Till The Light Of Day" (Northside, 2000)

A youthful band with a somewhat bouncy sound, specializing in the multi-stringed, keyed nyckelharpa fiddle, Ranarim also have a keening vocal style which may be off-putting to some, but enthralling, say, to fans of Eastern European groups such as Kitka or the Mysterious Voices of Bulgaria. Great stuff, but perhaps best in small doses.
Ranarim "Morgonstjarna/Morning Star" (Northside, 2007)
Sorten Muld "Mark II" (Northside, 1999)
Sorten Muld "III" (Northside, 2001)

Danish folk mixed with electronic dance music... I'm not a big fan of these sort of folk-techno fusion albums, but this is actually a bit more listenable than most. The main problem is that there's not enough of the traditional stuff on here -- several tracks are mainly instrumental, and to be honest its the vocals that are distinctive here, not the dance programming. Still, if you're into world beat-fusion along the lines of the Anohka project, et al, you might find this disc to be kinda fun...
Swap "[sic]" (Northside, 2000)

The second all-instrumental album by this Celtic/Norse crossover band, whose repertoire is primarily Scandanavian, but with a distinctive Celtic lilt. Swooping, surging jigs, reels and scottisches with a cheerfully warm guitar-fiddle-accordion mix. This is one of the Northside releases that I would most readily recommend to fans of Celtic music.
Karen Tweed & Timo Alakotila "May Monday" (Northside, 2001)

Swap's Karen Tweed continues her fascinating career as a Celtic/world crossover artists with this richly understated set of accordion-based instrumentals. Teamed up with the pianist of JPP and Troka, Tweed spins out melodic yet moody ballads and airs. The Celtic influence is undeniable, but moderated with a wealth of other styles, including just a hint of Astor Piazolla-influenced tango. Only a couple of tunes become cloying (note to Tweed: drop the flugelhorn), on the whole, though, this is a masterful album, and something quite nice to have on for a quiet moment at home. Recommended!
Varttina "Musta Lindu" (Olarin, 1989)
Varttina "Oi Dai" (Green Linnet/Xenophile, 1991)
Varttina "Seleniko" (Green Linnet/Xenophile, 1992)
Varttina "Aitara" (Green Linnet/Xenophile, 1994)
Varttina "Kokko" (Nonesuch, 1996)

Varttina "Ilmatar" (Northside, 2001)

One of Northside's most popular groups, Varttinna feature a tight, keening female chorus similar to Slavic-folkloric groups such as Kitka or the Mysterious Bulgarian voices. On this album, they bend their unusual sound into a darker form, mixing now-familiar harmonies in with brooding, artsy pop. A few times the blend falls flat, as when they give free rein to some sort of mad Scandanavian free-verse poetry, but when the gals are singing, it certainly gets your attention.
Varttina "6.12." (Northside, 2001)

A concert album; also called Live In Helsinki (in the USA)



<! - 2-CD compilation containing all of 6.12. and tracks from studio albums.>
<! Varttina "Snow Angel" (2005) A retrospective set with both live and studio material... (unable to find it listed on Amazon 7/08) >


Vasen "Vasen" (Drone, 1990)





Vasen "Vilda Vasen" (Drone, 1992)





Vasen "Essence" (Ethnic Records, 1993)
Vasen "Varldens Vasen" (Northside, 1997)

Released in the USA under the title, Whirled.
Vasen "Spirit" (Northside, 1997)
Vasen "Gront" (Northside, 1999)

As one of the better-known and most celebrated of the new Swedish acoustic bands, Vasen take a lot of the same musical chances and near-pratfalls as their more fusion-oriented Celtic brethren... This disc is full of experimental arrangements and unusual, if somewhat bouncy instrumentation, all in support of their uniformly solid fiddle playing... For my particular tastes, I prefer them on their moodier numbers, as opposed to when they indulge in perky poppishness. This kind of genre-bending is always a delicate balance, but I guess for the most part I prefer when folks play it straight -- having heard plenty of similar efforts coming out of Ireland and the UK, I guess I'd have to say I'm more of an Altan fan than a Clannad listener. Still, if you like modern Celtic crossover trad, then this may be your cup of tea as well.
Vasen "Live At The Nordic Roots Festival" (Northside, 2000)

Deft Nordic fiddling and Middle Eastern fiddling mark this excellent live recording. Some of the modernizing touches are a little distracting, but not much. Overall, this is a pretty nice testament to the skill of the band -- if only every band could sound this tight live! Vasen fans will be happy as clams, and this is also a nice document of the remarkable Nordic Roots Festival, hosted in Minneapolis by the folks at Northside.
Vasen "Trio" (Northside, 2002)
Vasen "Keyed Up" (Northside, 2004)
Vasen "Live In Japan" (Northside, 2005)
Vasen "Linnaeus Vasen" (Northside, 2007)
Vasen With Mike Marshall And Darol Anger "Mike Marshall & Darol Anger With Vasen" (Adventure Music, 2007)

Two newgrass elders, violinist Darol Anger and mando/multi-instrumentalist Mike Marshall, tune in and turn on with the group Vasen, one of the most dynamic bands in the modern Swedish acoustic music scene. Various 'grassers have flirted with Celtic and other European forms, so Anger and Marshall already have an affinity for the style... The debt apparently runs both ways, as the Vasen trio leaps in full throttle along with the Northern California superpickers... It's a very energetic, hurly-burly set, dominated by note-heavy improvisational flights. The repertoire is split pretty evenly between originals and traditional material brought to the table by Marshall, and originals and traditional material from Vasen's guitarist, Roger Tallroth, and violinist Mikael Marin. Acoustic music fans who like their improvs fast and furious will get a kick out of this one, and folks who are new to the Swedish sound will probably be inspired to check out other, older Vasen albums as well.


<! http://en.wikipedia.org/wiki/Vasen >

Wimme "Barru" (Northside, 2003)

Gravelly Finnish vocals mix with light beats and electronic keyboards, in a stripped down set that seems like a mix of mellow techno and indigenous song; several tracks were recorded live at the Noric Roots Festival. Vocalist Wimme Saari scats and vocalizes in a style that sounds like Native American chanting. Although I'm not a big electronica fan, this album was consistently listenable and engaging, with a nice contrast of elements.
---
Links
---
Northside Records website includes information on their many artists, as well as ordering information on their releases, information about the music and instruments, as well as information about the massive music festivals and artist tours they help promote in the United States and elsewhere. Tell 'em Joe sent you!
Shanachie Records -- you might also want to check out the excellent Scandanavian fiddle collections that Shanachie put out in the early 1990s, which was the first dose of this style that most folks got, here in the States.
Mabel's Music Shop is an independent store with a nice page devoted to some early Northside releases,
---



Main Celtic/Brit Index
Main World Music Index
Slipcue Main Page



---
Copyright 1998-2006 Slipcue.Com. All Rights Reserved.
Unauthorized use, reproduction or translation is prohibited.
---